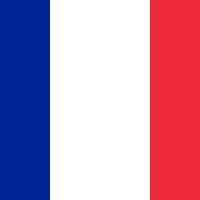 +
France
France, officially the French Republic, is a sovereign state comprising territory in western Europe and several overseas regions and territories.
The European part of France, called metropolitan France, extends from the Mediterranean Sea to the English Channel and the North Sea, and from the Rhine to the Atlantic Ocean. France spans 675,000 km2 (251,000 mi2) and has a total population of 66.6 million (2014).
Due to its numerous Overseas departments and territories scattered on all oceans of the planet, France possesses the largest EEZ (Exclusive Economic Zone) in the world, covering 11,691,000 km2 (4,514,000 mi2) just before the EEZ of the United States as the second largest (11,351,000 km2 / 4,382,000 mi2).
It is a unitary semi-presidential republic with the capital in Paris, the country's largest city and main cultural and commercial centre. The Constitution of France establishes the state as secular and democratic, with its sovereignty derived from the people.
Lists Featuring France
Related Lists