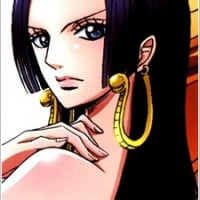 12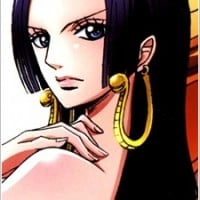 +
Boa Hancock
Hancock has a well proportioned figure compared to the abnormal and huge appearance of her sisters. She is a very tall, slender woman with long black hair that extends past her waist with locks of hair that frame her face down to her chin, pale skin, large breasts, a high forehead, and dark brown (dark blue in the pre-time skip anime then changed into black after the time-skip) eyes that have long, voluminous lashes. Like most of the females in the series, she has a narrow waist.
Her three measurements are (according to Vinsmoke Sanji and series creator Eiichiro Oda in supplemental material): B111-W61-H91 (B 43.7" - W 24.02" - H 35.83"), making her breasts a J-cup in Japan, and bigger than Nami's or Robin's breasts.
Her attire changes frequently. When first introduced, she wore a revealing red blouse that showed much of her chest and a loose sarong that exposed her long, slender legs with the green symbol of the Kuja adorned on it, along with a white cape sporting epaulettes more commonly found on the jackets of high-ranking Marines, and red high heel pumps. She then wore a qipao with a hooded cloak which she used it to cover Luffy until they arrived at Impel Down and then took it off during the battle against Whitebeard.
During the Whitebeard War, she wore a purple dress with Kuja designs on it and purple high heel pumps. Upon her return to Amazon Lily, she reverted to her original outfit (with the exception of her cape). In all her outfits, she has worn a pair of golden earrings that resemble snakes and high-heeled shoes; her attire is also adorned with the emblem of the Kuja, with an exception of when Hancock fell ill due to her Love Sickness, during which she wore a red blouse. After the timeskip, her attire looks the same as when she was first introduced, except it is colored blue (although it remains red in the anime).
Her extraordinary beauty is noted by many throughout the world: to one of the Risky Brothers, her beauty is second only to that of the mermaids,[8] while others like Marguerite and Hannyabal claim she is the most beautiful woman in the world. She is also almost always seen with Salome, her large Snake Weapon, which, despite the skull it wears, is usually smiling.
Despite Hancock normally looking either calmly beautiful or cute (in an attempt to "apologize" for her actions), when she is angered, she looks very intimidating, with her eyes bulging madly and her teeth bared, as seen when Smoker nearly killed Luffy.
Before Hancock fell in love with Luffy, and when she is not around Luffy, her eyes tend to look emotionless, but when she is around Luffy, her eyes show much more emotion, making her look like a girl in love.
Along with her sisters, on her back is the slave mark of the Celestial Dragon, something that she was so intent on keeping secret and was willing to petrify anyone (other than her sisters and Elder Nyon) who saw it. In order to make sure it was never seen, she and her sisters concocted a lie that what was really on the sisters' backs were pairs of Gorgon eyes which would petrify anyone who sets eyes on them. Hancock uses this "curse" as an excuse for her and her sisters' Devil Fruit abilities.
As a young child, she looked similar to how she does now, only her side-locks went past her shoulders and were worn in beads. During her escape from Mariejois, she wore rags and tied her hair in pigtails.[9]
In Volume 63, SBS Oda drew the Shichibukai as children. Hancock is shown wearing a small laced top with exotic swirl patterns leaving her mid-riff exposed. Her only other piece of clothing is a small loin cloth around her hips.
Lists Featuring Boa Hancock