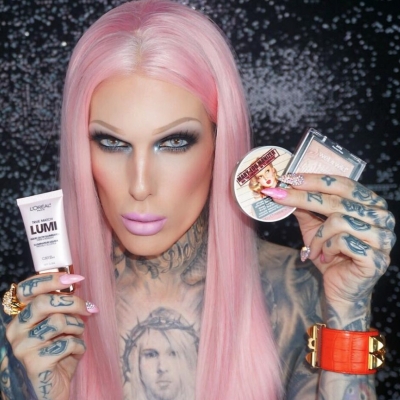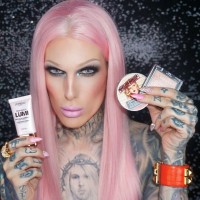 +
Jeffree Star
Jeffree Star is an American pop singer, songwriter, make up artist, fashion designer and internet personality born on November 15, 1985.
Star rose to fame through MySpace where he quickly became one of the most viewed people on the website. Back then, his main focus was set on his music career, with him having released several songs that were highly popular on MySpace. After becoming one of the most famous unsigned musicians, he internationally released an EP, "Cupcakes Taste Like Violence", and an album, "Beauty Killer", as physical releases through his own label Popsicle Records. After that, he signed to Akon's label Kon Live, but however never released any other album or EP, and only a handful of singles. In 2014, he uploaded all of the unreleased material he recorded with Akon on Soundcloud for free.
In more recent years, Star has focused on his make up and fashion career, and has not recorded any music material for years.
His make up is vegan and animal cruelty free. Star is noted for his genderbending style, with him often appearing in entirely female-oriented extravagant and colorful clothing and always wearing make up. Despite him barely wearing clothes associated with males, Star does not consider himself female or gender fluid, but fully male. He is, however, bisexual, a fact that is often adressed in his music.
Jeffree Star's musical direction can be described as electronica based pop music and has been compared to early Lady Gaga, also by his former label boss Akon. His songs usually have an upbeat and light hearted tone with simplistic but memorable hooks and stomping beats loosely resembling house music. The lyrics are often based around sex, living an extravagant lifestyle, love, heartbreak or beauty. In the comment section of some of his videos, his music is noted for its guilty pleasure qualities. Star also runs a successful YouTube channel, where he promotes both his music and beauty products.
Jeffree Star's birth name is Jeffrey Lynn Steininger, he however had it changed by law to be his stage name.
Version History:
Lists Featuring Jeffree Star
Related Lists

Best Jeffree Star Songs