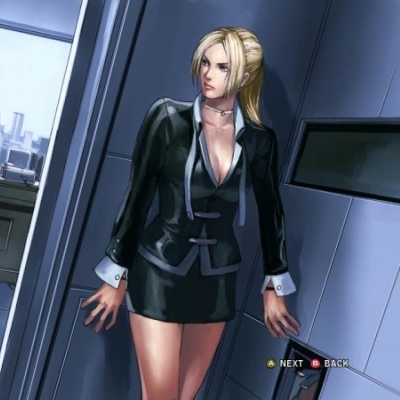 4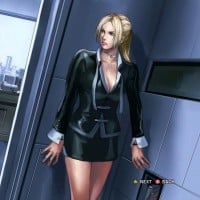 +
Nina Williams
Nina Williams is a fictional character from Namco's Tekken fighting game series. A cold-blooded Irish professional assassin, Nina made her first appearance in Tekken, the original game in the series She is one of four playable characters to appear in all main installments in the series and the only female with that record (with the noticeable exception of the original version of Tekken 7). She also starred in her own spin-off game, Death by Degrees.
Nina has an unstable and often violent relationship with her younger sister, Anna Williams, who is frequently her arch-rival in the series. As an assassin, Nina masters firearms from submachine guns to sniper rifles as well as bladed weapons and garrottes. She is known for her fast and lethal fighting style, assassination arts based on aikido and koppojutsu, among others. Her bare-hands strategy mostly relies on vicious slices, huge slaps, flash kicks combo, a lot of nasty tricks and lethal chain-throws submissions .
Nina Williams is blond with icy blue eyes. Her skin is ivory-colored. She is both voluptuous and athletic, her tight fitting outfits enhancing the luscious curves of her hourglass shape . Her trademark costume is the catsuit (as she has worn many different designs of catsuit in Tekken and Death By Degrees) which are made of materials resembling spandex, PVC and leather to suit her occupation and remain stealth . Her signature color is purple, as she has at least one purple outfit per game. She almost always wears lipstick and her hair tied into a ponytail or a braid. Most of her shoes consist of heels (eventually high heels).
Nina's personality remains monotonous yet sadistic when it comes to teasing her opponent. Nina's win poses range from tomboyish and masculine to flirtatious and sultry, usually by placing a foot on top of the opponents body or showing off her slender body sculptural figure. Although she is an assassin, most of her missions are inclined for the good of the world.
The character was mostly very well received, often regarded as one of the best Tekken characters as well as one of the most attractive and stylish female characters in gaming. Nina is probably the most famous female character in the Tekken series and is the only woman to be present in all the episodes of the game.
Version History:
Lists Featuring Nina Williams