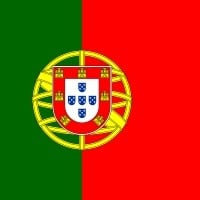 +
Portugal
Portugal (est.1152), officially the Portuguese Republic, is a country located mostly on the Iberian Peninsula in southwestern Europe. It is the westernmost country of mainland Europe, bordered to the west and south by the Atlantic Ocean and to the north and east by Spain. Its territory also includes the Atlantic archipelagos of the Azores and Madeira, both autonomous regions with their own regional governments. Portuguese is its official language and is the birthplace of it and Mirandese is considered a co-official language spoken only in a small northeastern section of the country. The most predominant religion is Christianity, mainly Roman Catholism.
The total population is 10.29 million (as of 2017). Lisbon is the capitol city with a population of 505,526. Other popular cities and areas include Porto, Sintra, Coimbra, Faro, and Funchal.
Portugal is most famous for being a major contributor to Europe's Age of Discovery from the 15th to the 18th centuries colonizing most of Africa, the Americas, and parts of South Asia. Its most well-known former colony is Brazil. It is also praised for its Port wine, cuisines, coastlines, and national football team with Cristiano Ronaldo being their most famous player.
Lists Featuring Portugal
Related Lists