Most Annoying Celebrities
The Top Ten
1
Justin Bieber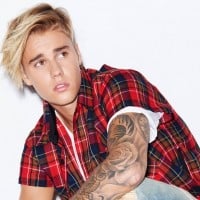 Justin Drew Bieber (born March 1, 1994) is a Canadian singer, songwriter, and record producer. He currently resides in Ontario, Canada and is Christian. He is the son of author Pattie Mallette. ...read more.
I hate him and his overrated music started out as a lame copy of Jesse McCartney and now it's just...TRASH. I mean anyone could copy his annoying voice, have a fake physique in every term possible and smell like a sweaty hobo. His songs are meaningless and trashy, the beat's trash, the lyrics are terrible and creepy as hell, his voice is so annoying, and don't even get me started on the videos. Do us a favor and stop singing because you're a wannabe. I don't know why you're winning Best Male Artist over good ones like Nick Jonas and Shawn Mendes.
If you think he is a piece of slime and wish you could turn back time, well I bet you wish you could turn back time. No not have his mum having an abortion.

Justin Bieber is a be careful what you do on the internet.

According to Wikipedia Scooter Braun clicked on one of Justin Bieber's 2007 videos by accident.

Yes an accident.

If Scooter Braun had never accidentally clicked on his video then there would be no Justin Bieber well by that I mean no one would know who Justin Bieber was unless they want to watch a teenager singing RnB songs before he did Pop Music.

Justin Bieber was an accident just remember that.
He is an evil, dumb, gross, hated, little idiot! He makes me so angry when he corrupts teens, this coming from a very mad-at-him sixteen year old girl! UGGGHH GRR are the two things I would say to him for making one of my friends go on drugs. He is the worst but you know why he is famous? Justin Bieber's thoughts: I'm gonna get drunk and do drugs, get idiot tattoos and post horrible videos cause girls dig rebels! NEWS FLASH girls like kind, caring, brave, calm boys that have BRAINS. Also, we don't like boys who have terrible voices, stupid ideas and the weirdest song lyrics! Bieber should still be in jail.
How can people say he's just five? Him and is bowlhead should get out of earth and never come back. I can say many flaws about this kid, but he's just to much to handle. He uses auto tune to cover up his screeches, his songs ore all about how he tries to date girls, he doesn't have a good education because he obviously doesn't know what German is, his "Beliebers" are always shoving his worthless music down my throat, wile I should be listening to metal, but anyways, I can mention a lot more, but in my opinion he should be #1 at the top of the list. HANDS DOWN.
2
Kim Kardashian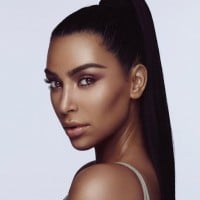 Kimberly Noel Kardashian (known as Kim Kardashian; formerly West; born October 21, 1980) is an American socialite, media personality, and businesswoman. She first gained media attention as a friend and stylist of Paris Hilton, but received wider notice after the sex tape Kim Kardashian, Superstar, shot in 2003 with her then-boyfriend Ray J, was released in 2007. Later that year, she and her family began to appear in the E! reality television series Keeping Up with the Kardashians (2007–2021). Its success led to the formation of the spin-off series Kourtney and Kim Take New York (2011–2012), Kourtney and Kim Take Miami (2009–2013), and Hulu's The Kardashians (2022). ...read more.
Kim Kardashian is very annoying. From her fame, which was based on how she became famous, to the way she deals with her haters by acting like nothing bothers her, to her habit of constantly dumping men for attention. Honestly, I feel sorry for her children because they have inherited their parents' unattractive looks and are being exposed to a terrible example. Not only are they witnessing plastic surgery, but they also seem to have an unhealthy fascination with Hitler. It's alarming how they don't know when to stop.
She should be on number one. Why? Because Justin Bieber sings and actually works for a living. Meanwhile, Kim Kardashian made money and fame off a sex tape. She is a businesswoman, which is great except that all the products she tries to sell us are fads. Like, remember the time she tried to convince us that she stays in shape by using Spanx trainers (when in reality, it's liposuction). Or when she tried to sell us some slimming pills (that got sued later on). Or the time her sister, the little Kim, tried to tell us her lips are bigger because of superb makeup skills (to sell Kylie Lip Kit). Or when they said eating candy gummies made hair stronger. This is all true. Please don't encourage Kardashian business. They are cheats who will lie and stoop low to make money. And please don't believe anything they say. They lie about the products they sell as well as their personal lives on their fake show.
Kim and that whole joke of a "show" So staged and pretentious. They talk to the camera in their solo interview crap and act like they are talking to people that have no clue about anything in life. Famous for nothing, well except the porn. These people would die if they did not get attention. How pathetic. They rub there lucky lives in the peoples faces like they are better than the average person. I will celebrate the day that show tanks and quits polluting the air waves. Go away! Scott is te ONLY talent in that family and I do not know how he puts up with that miserable woman he is with. Uggghhh!
I REALLY don't like this woman. She's definitely not worse than Hirohito or Eichmann (unlike what the worst people list here says), but it doesn't mean that I have to LIKE her.

It feels like she's CONSTANTLY on the news 24/7/365, and In my opinion, she DEFINITELY deserves a high spot on THIS list. When can I catch a break from the Kardashians? Geez.
3
Miley Cyrus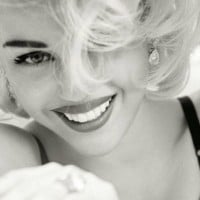 Miley Ray Hemsworth (born Destiny Hope Cyrus), known as Miley Cyrus, is an American singer, songwriter, and actress. She was born on November 23, 1992, in Franklin, Tennessee, to Tish Cyrus and Billy Ray Cyrus. Her voice type is Mezzo-Soprano and has 4 octaves. She became a teen idol starring as the character Miley Stewart in the Disney Channel television series Hannah Montana in 2006. After that Miley had numerous worldwide hits, such as ''Party in the USA'', '' We Can't Stop'', and ''Wrecking Ball''. On December 23, 2018 she got married to Australian actor Liam Hemsworth, but they divorced shortly after.
Her on and off again relationship with Liam Racist Hemsworth. Liam is very racist because he's a White Australian. Miley has not so good fashion choices that even she doesn't know what she's wearing at all: looks like she just put any clothes on herself and calls it fashion when she dresses up like an very cheap under-age prostitute, trying way too hard to attract attention when she's making it worse. Plus, even Hannah Montana is a terrible and annoying show.
Miley Cyrus sucks. She's only famous because her daddy wanted her to be. She was on Disney, and everyone loved her. She wanted more because she's a selfish brat who can't appreciate what she has. So she wanted to get noticed. She cut her hair and started wearing inappropriate clothing on stage and stripping on a wrecking ball. Poor daddy, he must get a lot of comments about his daughter. There are no Miley fans. Nobody likes her, and she doesn't care. She thinks the world revolves around her, and everyone loves her. NOBODY LOVES Miley. She's just so ugly. Her teeth are hideous, and her eyes look like lemons. Her lipstick makes her look like a forty-year-old. Her voice is so annoying; she sounds like a donkey. Miley Cyrus is the worst person in the world to exist. People used to love her, and she turned the tables around. Shaking your butt around won't make people like you, Miley. Nothing can, not anymore.
Reason of fame: Her daddy wanted her to be, so he put her on a Disney show where she was the star. It became the most popular Disney show and one of the most popular shows overall. Cause: She gained notice, became well-liked, and grew in popularity. Effect: Her popularity blinded her, making her spoiled and wanting even more. Despite already having more than enough, she did many things for attention and became widely disliked.
There are many celebrities that are really annoying. One of them is Miley Cyrus, and the others to me are Justin Bieber, Britney Spears, Selena Gomez, Bella Thorne, The Jonas Brothers, and Mariah Carey. Miley Cyrus annoys me because she can't sing, act, or dance, but mostly because she has no talent in her whole entire body.
4
Paris Hilton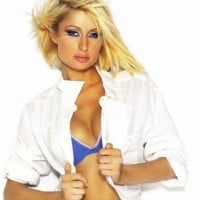 Paris Whitney Hilton is an American businesswoman, socialite, television personality, model, actress, singer, DJ, and author.
She's only rich and famous because her grandfather owns a hotel, because no one would have known who she is if it weren't for that. So entitled she is. The way she talks sounds as if she has an attitude problem - very tired and very bored. I even heard that she's racist. Her look was disgustingly gross when a Black man kissed her face. I don't know why people like Paris Hilton so much.
The precursor of celebs who got famous for the utmost wrong reasons, all the way from Kim Kardashian to Snooki, are her successors. As a rich heiress to a hotel chain in name only, she got famous by starring in reality shows, not that the shows are based on reality. Falseness appears everywhere, just like her features.
No discernible talent, about as smart as a well-trained hound, not particularly attractive, and extremely obnoxious to boot. It doesn't say much about our society that a person like this can become so popular.
Only famous because of her family. She - no, IT must be destroyed. Maybe the armies of the world could launch missiles at her. I bet it would make a lot of people feel better. You know, I've always wanted to punch her in the face... And I hope someday that dream can be fulfilled.
5
Taylor Swift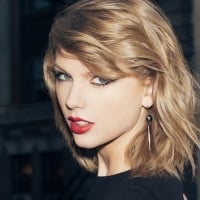 Taylor Alison Swift is an American singer-songwriter. She was born on December 13, 1989 in Reading, Pennsylvania. She is best known for writing personal songs and for having won 11 Grammys. She became interested in country music when she was around 9 years old, and after watching a documentary about Faith Hill, Swift felt that she should go to Nashville to begin a country music career. She then signed a contract with RCA Records and began to write songs.
She always wins awards, then uses that "I totally didn't even expect this" speech. One time, there was an award for the best music soundtrack for a movie, and Taylor Swift was nominated for "The Hunger Games" soundtrack. The announcer was like, "And the winner is..." Then the camera landed on her, and she had this smirk on her face, and she started to get up out of her seat. The announcer said, "Adele for 'Skyfall'!" And she acted all pouty and sad! She thinks she can win every award! Plus, the only reason she's pop and country is so she can be eligible for more awards! And now she's going to start acting! Seriously?! She's playing Rosemary in "The Giver," which is going to look so bad now! In conclusion, I just find her overdramatic.
Taylor has a good singing voice, but she has some very annoying problems that have been all over the news a lot of times. I wonder who's at fault: Taylor or the many guys she's dating. Moreover, Taylor's interaction with fans makes me wonder how she treats her fans when the cameras aren't rolling.
What annoys me is that she's so boring! Her songs sound the same. They're not even catchy; it's like cheesy song after cheesy song. Jeez, she's the most mediocre singer out there. Really, guys, take a walk on the underground, find anyone to sing or have a competition for writing the cheesiest, crappiest lyrics, and you'll end up with the new Taylor Swift. And you might even get them to sing live!

Ah, but I forgot... We all need to identify with her because we all know a manager of a record company, and our fathers all have piles of money to invest in our careers and bore the world stiff!
A brief description of her music: pining for boys, walking in the rain, kissing in the rain, crying tears on her guitar, driving in trucks with cool boys, desiring boys she can't have, more rain, more letter-writing, more stalking, more broken hearts, breathing problems as a side effect of broken hearts, fairytale princess references, white horse references, more pining at the window, more pseudo-stalking, more incomplete hearts yearning for your touch, and one song that misinterprets Shakespeare and The Scarlet Letter so criminally that I'm certain she's never read either.
6
Kanye West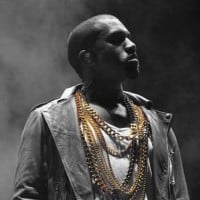 Ye (born Kanye Omari West; June 8, 1977) is an American rapper, songwriter, record producer and fashion designer. He is regarded as one of the most influential, as well as controversial, artists of the 21st century. ...read more.
Where do I even begin? Who says slavery is a choice? I wonder how his ancestors react to it. Who makes awful comments about Hitler? (I meant the way Kanye is worshipping Hitler). Kanye just doesn't know when to stop getting himself into controversy; no one is surprised at all. He's setting a very bad example for his children. I feel very bad for all of his kids for having parents like him and Kim.
He insulted two handicapped people in one of his concerts. The reason? They couldn't stand up when he told everyone to stand up for "Yeezus worship". As though it was their fault! He didn't even apologize! Just imagine being insulted for something that isn't your fault. Why should everyone stand at his concert in the first place?! They actually PAID to sit there. And this fool forces them to stand for the whole concert! There might have been many people who were unable to stand due to injuries, illness, etc. This guy is too big for his boots. One of the most megalomaniacal and least empathetic people. His words and actions are the most annoying EVER.
I've heard lots of people say that he's egotistical, but there's something about him that I really want to share. I think he has made some anti-Semitic remarks, which is a much more serious issue about him than him being egotistical.
Yeah, you should listen to your dad, although it sounds like he's a lot nicer than I am. He's an overinflated, talentless, windbag with no intelligence, no humility, no talent, no discernable personality (because narcissism is a personality DISORDER, not a personality), no talent, a big mouth, bad clothes, no talent...have I mention he has NO TALENT? Please, somebody, drop this loser. Right on national T.V., just walk up, do what he does to everybody, interrupt his stupid ass and just deck him. That would be so great. We'll pay your bail!
7
Nicki Minaj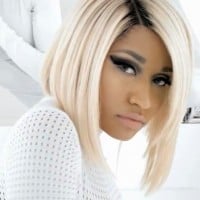 Onika Tanya Maraj, known professionally as Nicki Minaj (born December 8, 1982) is a Trinidadian/American rapper / pop music artist. Minaj is most known for her songs such as "Anaconda", "Super Bass", "Starships" and her feature on "Bang Bang". Despite her controversial songs, Brent Staples from "The New York Times" claimed her to be 'the most influential female rapper of all time', presumably distinctive for her fast flow and her use of alter egos with Cockney accent. She has endorsed Adidas, MAC Cosmetics and Pepsi. Minaj has received ten Grammy-nominations throughout her career, and has won multiple awards including the Billboard's Women in Music 2011 Rising Star award.
I hate her and her music, overrated, started out as a female version of Lil Wayne and now all she does is practically POP music. Anybody can copy her annoying auto-tuned voice, and have a fake body in every terms possible, and smell like a sweaty hobo. She doesn't have one good song since they're all trash, have no meaning and make no sense, they have no flow, the beat's terrible (its basically her making noises in some of her songs, and others its pop while she's trying to rap) at least have the dignity to say that you're not a rapper Nicki, you're just a wannabe with no talent who thinks they're the best at what they do. Do yourself a favour and stop pretending to be a rapper, you overrated snob who also pretends to be a black barbie. Nobody likes you except kids and people that don't even know good music if it hit them in the face, preferring YMCMB over Eminem or Tupac and the rest of those great legendary rappers.
A poor knock-off of lil Kim and Mariah Carey. This woman can't sing nor can she make her own lyrics. Most of the time she sounds like a broken record because she repeats the same lyrics and themes. If anything the repetition express her inner thoughts such that she is the only "stupid hoe" on the planet.
I'm upset that people are always voting Bieber at the top of the list... My gosh, just leave him alone. He may not be the best singer, but people are way too harsh on him!

Anyways, Nicki is absolutely inappropriate. Kids shouldn't listen to her sing, because her words are so verbal and harsh. It just makes her seem incredibly immature, not cool...
DEAR LORD! Not even 10 seconds of her song "Stupid Hoe" will have you hitting your radio with an axe. She sounds like she has something stuck in her throat. She also looks like a rat wearing a load of makeup.
8
Beyonce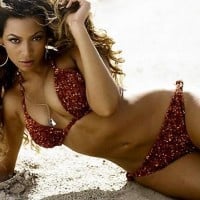 Beyoncé Giselle Knowles-Carter, is an American singer and actress, who started out in the popular pop/r&b girl group Destiny's Child. They had multiple top 5 hits such as "No, No, No", "Say My Name", "Bills, Bills, Bills", "Survivor", "Independent Women", "Bootylicious", and "Jumpin', Jumpin" from 1999 to 2004. After they broke up in 2006, Beyonce pursued her solo career, creating smash hits such as "Crazy In Love", "Single Ladies", "Halo", "Partition", "Irreplaceable", "Drunk In Love", "Baby Boy", "Beautiful Liar", "7/11", and "Run The World (Girls)", and has since become one of the most influential performers and biggest celebrities of the 21st century.
She has copied everything that has already existed. But she is also proof that if you try hard you will get a following because most people are born to be sheep. She is also dead ugly and she managed to persuade people that she is good looking. She also thinks she is some sort of African goddess, she has never even been in Africa I am sure.
She's consistently annoying and so full of herself. There's a difference between confidence and being tacky and arrogant. Maybe her fans like arrogance - when you're the only one who has to lip sync at an inauguration, you are a princess in your own mind, not an unbeatable talent. Sorry, not original in the slightest, but she so wants to be at a Michael Jackson level... Sorry, it ain't gonna happen unless you take the weave off, get real, show us you can sing and be original. Otherwise, you're just a marketing product. That's all.
Should be number 1. She can sing okay, but she doesn't deserve as much money and attention as she has. I cringe when I hear her sing live; it's so over the top. It's like she tries too hard. She's thick, has no class, and has one of the worst pairs of legs ever, especially considering she's supposed to be fit. Her flat face does nothing for me either. I just don't know what all the hype is about.
Get over yourself! You're a good singer, decent dancer, yet ZERO originality & creativity! Plus, you can't talk! Go back to school, carbon copy.
9
Oprah Winfrey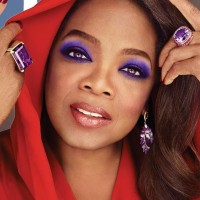 Oprah Gail Winfrey is an American media proprietor, talk show host, actress, producer, and philanthropist.
Worst interviewer ever. She would ask a question and then sit there and answer it, as if anyone cared what she thought. She's spent 30 years telling the world how great she is and what it was like to make The Color Purple and we've turned her into a billionaire. Then, the best part was the never-ending last season of her show, where she had everyone known to mankind come on to tell her how great she was, every day, for like, a month straight. Self-aggrandizing much? And everyone just seems to think she's so great. She's another overinflated ego with a really big mouth who somehow has been made to think she's the only opinion that matters. So over her.
Horrible person. My mother met her at an airport and asked for her autograph, but Oprah just ignored her. TMZ was there and asked why she wouldn't give an autograph to my mom, and she replied, "That mom is irrelevant to me." My mother was crushed; she worshipped Oprah. If I ever run into Oprah and I'm in spitting range, I am gonna spit on her because spitting is the most degrading thing someone can do to another person. Oh, my mom is white, by the way. We've heard Oprah was racist, but didn't believe it until now.
My wife was unfortunate enough to be on an airline flight with this arrogant, loudmouthed, abysmally obnoxious mound of manure a couple years back. Before takeoff, she stood in front of the cabin door and said all the white people on the plane should be moved to the rear and all the black people moved to the front. People were shocked, the black passengers visibly embarrassed, as the attendants persuaded her to just sit down and shut up.

Which is what all of America should do to this blatantly racist, empty-headed, imbecilic, bullying parasite on popular culture.
Fake, Fake, and overrated. Where did the nasal-ly voice come from that she would often use on the show and why would she sometimes extend her bottom lip to show her bottom teeth and gums? Uggh. Thank goodness for her hair and makeup people because that face... Smh. So glad she's not on everyday anymore. I rarely watched anyway. I can't tolerate fakeness. She would kill me when she would call more than one person or thing her "favorite" instead of "one of her favorites". Fake.
10
Rebecca Black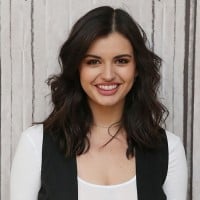 Rebecca Black is a YouTube personality and singer who's infamous for her 2011 single "Friday," which was the most disliked video on YouTube until "Baby" by Justin Bieber became the most disliked video in 2012. She has also released other songs, including "My Moment" and "Saturday".
It's Friday. Really? Is that all she could think of to think about?! Oh, wait, I forgot, Katy Perry sings Last Friday Night... But the difference is that she's not an annoying little brat, and she's got a good voice!
Stupid songs. Her voice is autotuned and it still sounds bad. I heard that the director of her music video made a public apology because he thought it was a joke. Yet, it got how many views on YouTube? Thanks, Rebecca, now we know the days of the week.
Is it really Friday? Oh, I had no idea, but you didn't need to post a song about it. That's such a self-centered thing to do, thinking only, "I'm super hot!" And you get the idea.
She thinks she is really pretty, but she is not. She copies other people's songs and always tries to make sure she is in the center of the camera.
The Contenders
11
Donald Trump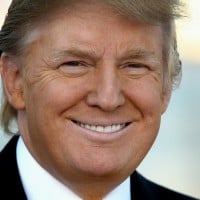 Donald John Trump (born June 14, 1946) is an American businessman, television personality, politician, and the 45th President of the United States. Born and raised in Queens, New York City, Donald J. Trump received an economics degree from the Wharton School of the University of Pennsylvania in 1968. In 1971, Donald Trump took charge of his family's real estate and construction firm, Elizabeth Trump & Son, which was later rebranded as The Trump Organization. During his career as a businessman, Donald Trump has built, renovated, and managed numerous office towers, hotels, casinos, and golf courses. He owned the Miss USA and Miss Universe pageants from 1996 to 2015 and has lent the use of his ...read more.
I think he is the greatest contender yet... Piss off the whole country, Donald. Sorry... Mr. President! He has managed to make a serious impact on everyone in this nation in one way or another. Genius! He sparked Americans to have emotion, a sense of pride in what they believe in. He has truly separated Americans to show their true colors. Stand up, Americans. You have a right to your opinion. Usually, no one wants to hear it, but say it anyway. People remember those who speak volumes... Crank it up, Mr. President... The world will be listening!
The boy needs to sit down. He is a businessman and one who is particularly full of himself. He has no idea how to run a nation. Having gone bankrupt himself four times, he probably won't follow up on his promise to end our debt. In fact, as a businessman, he should know that some debt is good. He is false and vulgar, very racist, and more bigoted than anyone I know.
The most racist, worst person ever. He needs to go back to where he came from and clean it up, racist white America. He separated families on the first day of school, deported the parents and the kids come back to school and find out they have no parents. That is not human. That is some Nazi s***! I don't know what has happened to America. He can't stay for 4 more years- period.

This man makes me cry for the horrible things he has done.
Bro, all he does is sit around all day tweeting stupid stuff and being racist. The freaking forests are catching fire, but does he care?! NOPE! He's over here treating corona like a flu. He's acting like it's not life-threatening, and literally, he compared it to the flu when the flu has a cure and this doesn't, making it even more dangerous.
12
Andy Dick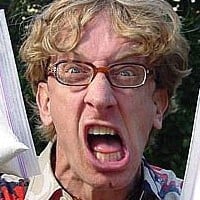 Andrew Roane "Andy" Dick is an American comedian, actor, musician, and television and film producer. Throughout his career, Dick has experienced arrests, legal issues, and controversies. Some of his most offensive moments include indecent exposure, drug intoxication, saying insensitive and racist remarks, and allegations of inappropriate behavior towards other celebrities. His most infamous moment was his feud with Jon Lovitz back in 2007 when Lovitz was angered by the fact that Dick gave Phil Hartman's wife (Brynn Hartman) cocaine back in 1997, which caused Brynn to fall back into drug use and kill Phil Hartman and herself the next year.
There was a practiced called Ostracism practiced by the Athenians that people voted who they thought were a nuisance expelled someone from the city-state for 10 years. We should do that with this guy except send him to the moon for at least 20 years.
He doesn't even attempt to make jokes; he just acts like a crude, selfish jackass. For God's sake, he flashed his audience twice in an attempt to be revolutionary, but instead got arrested for public indecency.
Who on earth is this? That is literally the ugliest thing I've ever seen, no joke. He looks like your average, angry liberal.
Has serious emotional and mental issues, along with alcohol and drug problems that just make it worse. Painful and embarrassing to watch.
13
Rihanna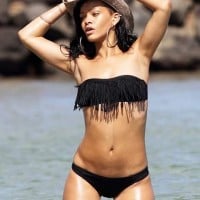 Robyn Rihanna Fenty is a Barbadian-American pop singer. Born in Saint Michael and raised in Bridgetown, she first entered the music industry by recording demo tapes under the direction of record producer Evan Rogers in 2003. She ultimately signed a recording contract with Def Jam Recordings after auditioning for its then-president, hip-hop producer and rapper Jay Z.
Let's be honest, while I'm not agreeing with what Chris Brown did I'm sure we've all thought about murdering Rihanna at some point in our lives.

1) The constant need for attention from complete strangers especially married dudes.
2) supporting the fur industry and showing up places without underwear - why does a fox have to die because you have daddy issues and won't get help for your Borderline Personality Disorder away from the public eye?

3) She thinks the attention she receives is positive attention... somehow.

4) She's an ungrateful bully to the few people who actually listen to her brain dead garbage "music"

5) saying things like "all fur coat no knickers" - thinking this is an attractive look and that somehow people are "jealous" of her life choices.

6) Her videos are the lowest common denominator of attention seeking garbage, there is no content and just cheap tactics designed to shock.

7) She will say and do anything to remain ...more
Rihanna is very rude to fans, lets her fame go to her head, and she's... I don't know... not a nice person at all. She is looked up to as a role model by others.
I hate her attitude. I hate it. I hate it. She likes to style herself as a rockstar but she can't play and instrument-only squeak out horrible repetitive songs.

I totally get the sticking up for yourself but god the I'm so hardcore attitude gets under my skin.

Also she's a hypocrite-I remember reading the newspaper where she said her mother would kill her if she ever posed nude abd that she was raised a certain way. I bet her mother is ashamed of her in private but she shuts her up with buying her property and high end stuff. I remember seeing a pic of her mother and her in a high end store and rihanna was doing something crude-can't remember what it was and her mother looked positively embarrassed.

Fame has gone to her head. She openly says that she doesn't like broke bitches but have you seen where she was born?

I'm happy that she's successful. I'm glad she's made a name for herself but change the attitude.

The rockstar thing annoys me to hell. ...more
I don't get it. Why are they saying that I'm a b*h? Do you think that cursing is cool? You can't sing, and you're thinking that you're beautiful. Oh, and I almost forgot: No, we're NOT jealous. We just don't get how someone like you is in the charts. Please stop reporting on her. By the way, there are really beautiful people with talent out there, but you don't belong to them. Does everyone get a record contract today? And why do they always say that we are jealous? I have favorite singers too. Some of them look good. By the way, again (sorry), it doesn't matter how you look; it's about talent and a little bit of behavior.
14
Selena Gomez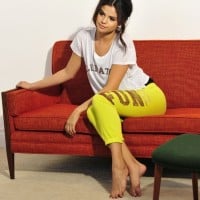 Selena Marie Gomez is an American actress and singer. She is best known for songs like "Come & Get It", "Good For You", "Same Old Love", and "It Ain't Me". Selena Gomez's voice is mezzo-soprano but she usually sings in alto. She is best known for her role as Alex Russo in Wizards of Waverly Place.
Selena never acknowledged her friend after she gave her own kidney. Who treats their friends like that? Seriously?! I feel bad for her friend (the one that gave Selena her kidney to her). I can't believe I used to like Selena Gomez! She's (Selena) so horrible, ungrateful & she acts so nice to people.
The second she speaks, I get annoyed by her voice. I have such disdain for her that it the second I hear her mentioned my eyes roll and my attitude turns negative. And what is with her on and off dating Bieber? If she can't she stop seeing him, then it proves that she is a loser through and through.
Selena Gomez can't sing, yet she receives numerous singing awards. The only reason she has become increasingly famous over the years is because she dated Justin Bieber and because of her attractiveness. She should be the first person on the list.
She dated Justin Bieber just to cover up his homosexuality and in return, she got her fame back which was lost after Disney kicked her out.

Just another Disney girl who can't sing.
15
Caitlyn Jenner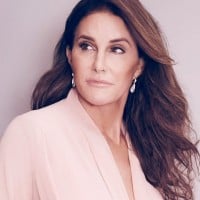 Caitlyn Marie Jenner, formerly known as Bruce Jenner, is an American television personality and retired Olympic gold medal-winning decathlete. She is also transgender, and came out in 2015.
It killed someone texting while driving. How can it live with itself. Should be in jail. Doesn't the lives of others matter.
This person is trans and yet thinks trans people don't deserve any rights, excuse me what?
A disgrace to trans people everywhere. She's one of the reasons why so many cis people think we're crazy.
Well what can I say? It's difficult to understand what this person is thinking?
16
Natalie Portman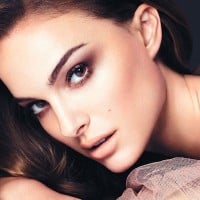 Natalie Portman is an actress, film producer and film director with dual American and Israeli citizenship. Portman is best known for her roles as Padmé Amidala in the Star Wars prequel trilogy and Nina Sayers in Black Swan. She won an Academy Award, a Golden Globe Award, and a Screen Actors Guild Award, among other accolades, for her performance in the latter.
Mother of God can she get any more annoying than she already is? When I look at her, all I see is a silver spoon and an attitude that goes with it. Also she apparently signed a petition to free that Roman Polanski when he was detained and she has an awful fashion sense.
She wants to create an image of being more studied and smarter than everyone just because she graduated, really? She just graduated Harvard due to RP because of her role in Star Wars.

She should stop the "give cake to them" attitude and develop a more down to earth worldview.
A sheltered girl. Every time she opens her mouth shows how spoiled she is besides trying to look down to earth. She is no better than Ivanka Trump who seemed like a nice heiress but showed to be a monster. Also won a very undeserved Oscar.
I don't like her face at all. It's plain boring, nothing special. And then those dumb looks she puts on, trying to look sexy.
17
Khloe Kardashian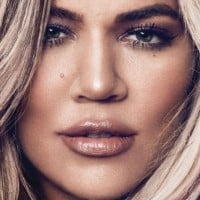 Khloé Alexandra Kardashian is an American media personality, socialite, and model. Since 2007, she has starred with her family in the reality television series Keeping Up with the Kardashians.
The Kardashian family should be deported to Armenia where they belong. The Kardashian and Jenner families are disgusting, irritating and and deplorable.
Khloe is not as annoying as Kim, but yeah she is still very annoying. She has a foul mouth and acts and talks like a complete slut. I always disliked the fact she has very little self respect. Always talking about sex and dick and things like that openly on Keeping Up With The Kardashians and always flirting with different men. Just annoying and disgusting.
UGH, No intellect. What a joke her being a host on American Idol or whatever show it was. I never watched the show again for the entire series.
She doesn't have any talent. Justin Bieber may be annoying but at least he can kind of sing.
18
Tom Cruise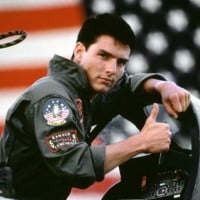 Thomas Cruise Mapother IV is an American actor and producer. He has received various accolades for his work, including three Golden Globe Awards and three nominations for Academy Awards. He is one of the highest-paid actors in the world.
"The Oprah Winfrey Appearance"

This is a transcribed copy of the conversation Cruise and his publicist/sister had backstage right before Tom went on Oprah and acted like a lunatic.

Publicist: "Okay, Tom. Most married men are happy when they get married because they find women attractive. So you need to pretend you're happy because... Tom! Stop looking at that guy and pay attention! Now, you need to act happy because everyone thinks you just got married, okay?"

Tom Cruise: "Ew! But I'm NOT happy! She's icky! Where's my greased-up travel partner, Pablo?!"

P: "Tom! You need to concentrate! Millions of people who watch your movies think you just got married, get it? You need to act happy! We paid Katie a lot of money to act like your wife, and if this doesn't work, people may question your 'friendship' with Pablo, Clay Aiken, and Kevin Federline. And if they do that, then they may not watch your movies, and you won't have ...more
Oh, he's attractive enough, but Sonny, that's where it ends. That guy is a poor actor. Who could ever take this guy seriously with all that Scientology nonsense and jumping around like a chimp on Oprah? Well, it's come back to bite him in the ass now, hasn't it?
I love him, I love his movies and everything, but when he was with Katie Holmes, he became so annoying with this whole couch jumping on Oprah, the whole Scientology thing, and then he made a statement about Brooke Shields' postpartum depression. By the way, Tom, Suri is so beautiful!
An overrated actor who was maybe hot in the 80s (I don't get it, but I understand that people think he was). However, he is long past his prime and is now just some out-of-touch idiot who jumps on couches.
19
Ariana Grande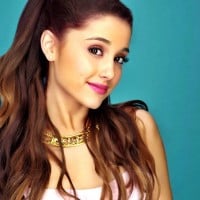 Ariana Grande-Butera (born June 26, 1993) is an American singer, songwriter, and actress. Her four-octave vocal range has received critical acclaim, and her personal life has been the subject of widespread media attention. She has received numerous accolades throughout her career, including two Grammy Awards, one Brit Award, one Bambi Award, two Billboard Music Awards, three American Music Awards, nine MTV Video Music Awards, and 27 Guinness World Records. ...read more.
I'm not surprised that Ariana Grande is on this list. She's so two faced: acts so nice to others but she treats her fans horribly, horrible to her co stars and I never liked her in the first place.
Y'all can say what you want about Justin Bieber. At least he's a Christian at least he doesn't get anyone to hate people to make himself look like the good person.

First of all, let me talk about Victorious. I don't hate Ariana Grande. It's what happened AFTER Victorious ended. Everyone got so mad that Victorious ended and said it was because of that stupid spin off, Sam & Cat that Victorious didn't end the way everyone hoped it would end. In fact, I was so confused too! I wondered why Victori-Yes would end the series just like that! So when everyone blamed it on the show Sam & Cat (which more than deserved to get the blame) Ariana blamed it on Victoria when it wasn't even her fault and called the whole thing bs. For someone who acts so entitled and stuck up just because she's a better singer than Victoria Justice, she has a lot of nerve throwing her under the bus to make herself look like the good person, and calling the whole war against fans bs. Talk. About. Hypocrisy.
She is so ugly and she always tries to be smart but she is very over smart. She always cheat others style. She always wants to look prettiest and cheat others style but she is always looks the worst. Her songs are boring. Not even 1 song of her is good. She just looks so annoying. She is the worst. I hate Ariana. There is nothing that I hate more than Ariana Grande. She is so much annoying. In concert when she sings than it seems like a dog is crying. She overacts a lot. And she has so long nose.
I thought so too until I saw her on SNL and was it Kimmel? She is amazing! Her impressions were spot on. She pulled off Whitney Houston's I Will Always Love You flawlessly. That isn't easy to do. Try and hit those high notes and see for yourself. Beautiful voice. The only thing annoying about this girl is how talented she is.
20
George W. Bush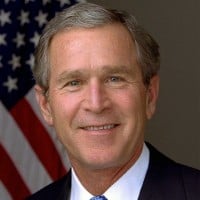 George Walker Bush is an American politician and businessman who was born in July 6, 1946. He served as the 43rd President of the United States from 2001 to 2009 and 46th Governor of Texas from 1995 to 2000. He is the eldest son of Barbara and George H. W.
He and his father should rot in HELL for what they did to Americans in the 9/11 incident and so much more.. They are oil mongrouls.. And they suck.. no easy way to put it when it comes to a traitor, liar and a thief and a treasonous pile of crap that he is and was in office all for money, greed, power and oil, drugs. They staged the lies of 9/11 and I am sure daddy Bush was right behind him the whole time the bushes are horrible people. God rest the many many souls that were sacrificed for there greed and stupidity. The truth prevails always.
In my opinion by far the worst president to ever be elected, and showed how bright we where to vote him in a second time! He's not only a minus to society, but a minus to the human race and all of humanity.
Bush, Obama, Clinton, Trump... wonderful examples of egocentric power brokers who believe in their own importance but in reality are a front for corporate and money interest groups... maybe Bush is more annoying though
Hates black people, hates the environment, loves putting money in rich people pockets, loves seeing middle class people with high taxes, and loves creating wars to give him and his blinderburg friends money.
21
Gwyneth Paltrow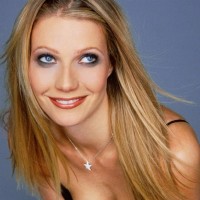 Gwyneth Kate Paltrow is an American actress, model, writer, businesswoman, singer, and author. She has received numerous accolades throughout her career, including an Academy Award, an Emmy Award and a Golden Globe Award.
Goopy. She loves to flaunt how rich she is, snotty horrible human being, backstabber and stole Winona Ryder's role in a movie.
Is there anyone who really likes her? She has had a silver spoon her whole life. She is annoying, spoiled, and thinks she is gorgeous, while she is actually wishy-washy blonde.
So tired of her. Some people should just go away already. I do not know one person that likes her.
How is she not in the top ten on this list?
22
Charlie Sheen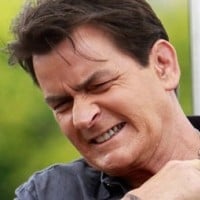 Carlos Irwin Estévez, known professionally as Charlie Sheen, is an American actor. Sheen has appeared in films including Platoon, Wall Street, Young Guns, Eight Men Out, Major League, Hot Shots!, and The Three Musketeers.
I hope Denise takes all the money she wants from him. Why not? At least the money will be spent on the children and their future instead of drugs and prostitutes. He does not deserve any sympathy.
He should had been in top 10, he is simply a horrible person. I know that there's a lot of annoying celebrities but almost no one in this list is as evil as him.
Honestly like what? The world doesn't revolve around you dude.
Big Richard Cranium, out of touch with reality (but made a couple of good movies).
23
Robin Thicke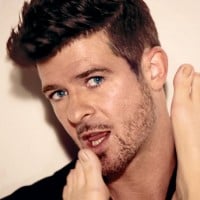 Robin Alan Thicke (born March 10, 1977) is an American singer, songwriter and record producer. Thicke has worked with numerous artists.
His lyrics make absolutely no sense and he still thinks he's the most creative artist. He's barely above copying lyrics and putting it 3 octaves higher.
I have to admit, I do like Blurred Lines. Don't be haters, I can't stand haters. I also think he is kinda hot. Don't hate. I think he is a total douche bag, though.
He thinks that girls are toys to play with. NEWS FLASH: We are NOT toys. If I ever see him, I am gonna stick a shoe down his throat and kill him.
He is married and all he thinks about is other women in extremely objective and perverted ways.
24
Chris Brown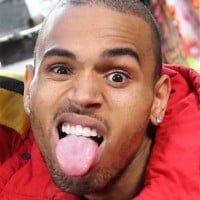 Christopher Maurice "Chris" Brown (born May 5, 1989) is an American singer, songwriter, dancer and actor. Born in Tappahannock, Virginia, he was involved in his church choir and several local talent shows from a young age. He is most well known for his physical assault towards the singer Rihanna in 2009. He is also known for many hit singles, such as "Kiss Kiss", "Run It!", "Forever", "Deuces", "Look At Me Now", "Loyal", "Ayo", and "Back to Sleep".
The only reason why people hate on him is because of the Rihanna incident, all of you know he's very talented, he knows how to dance, sing, write songs, and rap. Or at least one of those things. Besides if you guys are talking about naked photos, Rihanna does enough of that by herself, have you seen her album cover of "Good girl gone bad" or worst of all "Unapologetic"? Or eww her magazine cover of "Lui".. The point is you guys should really stop continuously putting them in the same category over and over again, they both made mistakes but last time I checked they are still friends and not enemies.
I can't believe he is rated so low while Rihanna is in the top ten?! He beat up his girlfriend and published naked picture of her on the internet.
Why do people like Chris Brown for beating up Rihanna? Nat Wolff is probably going to beat up Vanessa Hudgens for no reason.
Ummm, is this a prisoner? It looks like it from his orange shirt and tattoos. I have no idea who he is, but he looks like a disgusting drug dealer.
25
Eminem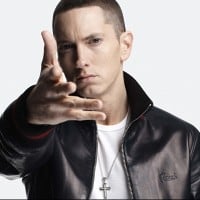 Eminem, born Marshall Bruce Mathers III, is an American rapper, actor and music producer born on October 17, 1972 in St. Joseph, Missouri. Eminem has sold over 300 million records making him the bestselling hip-hop artist of all time. In addition to his solo career, he is a member of D12 and (with Royce da 5'9") half of the hip-hop duo Bad Meets Evil. Rolling Stone ranked him 83rd on its list of 100 Greatest Artists of All Time, calling him the King of Hip Hop. Including his work with D12 and Bad Meets Evil, Eminem has had ten number-one albums on the Billboard 200 and 5 number-one singles on the Billboard Hot 100, and 13 worldwide.
An idiot who thinks he has musical talent, and notable for making phony messages to his fans, which, under the surface, are simply specific only to his egotism. Not to mention how he can use his popularity to promote profane ads for violence, drugs and masturbation. Oh sorry, those are his best qualities. He's a disgrace to the world, not only to music.
Always sounds upset about something, probably why he has not had any hits lately, rolling in money, living in a mansion, be glad if he just disappeared... What's he saying be proud you're trailer trash? Glasses don't make him look or sound anymore intelligent, looks like an Aryan brother not a brother, though he might try to sound like one.
PSearch List