Top 10 Miss Universe Winners of All Time
The Top Ten
1
Pia Wurtzbach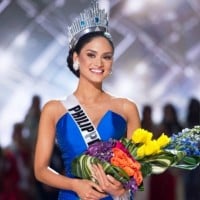 What can I say? I'm Filipino so naturally I am biased. But appraising her overall performance from her radical choice of swimsuit to that devastatingly gorgeous evening gown, and finally her wit and wisdom during the Q&As, was a well deserved win made even more memorable by Steve Harvey's flub.
Her advocacies connect to a wide audience including the influence of the youth for a brighter future. She is not all glamour but transparently defines the Miss Universe organization.
How could you say no to this, Filipino or not. Geez, compared to other winners of the show, well, she'd win against the winners of the show. She's the champion of champions.
She made Miss Universe relevant again through her scandalous coronation night that made her a viral social media celebrity.
2
Sushmita Sen

Sushmita Sen is an Indian film actress, model and the winner of the Miss Universe pageant of 1994. Sen was the first Indian to win the crown.
She is the Best Miss Universe of all Times. Start from Femina India to Miss Universe. She embodies all the qualities that a Miss Universe should have. Beautiful, Unique with her own style, Her confidence, Her smile, The message she conveys and most of all her Kind Heart.

She deserves the first place not second!
Flawless! This should be at number 1 not that fake woman from Philippines...
She had so much depth in her answer while she was only 18. Whatever she spoke during her reign went ahead and lived up to it later. A people's person and inspiration to many. Much love to her.
She is the perfect example of a winner. Her answers were great and witty and astonishing is the fact that she gave those answers at the age of 18!
3
Lara Dutta

Lara Dutta Bhupathi is an Indian actress, model and beauty queen who was crowned Miss Intercontinental 1997 and Miss Universe 2000. She was the second woman from India to be crowned Miss Universe, and has been the only delegate from India to win the crown since.
The most beautiful Miss Universe ever and she is the only woman who has scored 9.99 points on the history of Miss Universe and in the history of international beauty pageants... She is from India... I love her boldness and she is very calm... The most beautiful Miss Universe ever in the history...She is confidentially beautiful and most beautiful Miss Universe than the other 65 miss universe crowned... Love you Lara dutta
She is so intelligent and strong with her lifestyle
Beautiful, classy, the best responses in the interviews
Her voice and grace is incomparable
4
Dayana Mendoza
The most beautiful queen and human being. Wonderful
She is definitely the most beautiful
We love from the Philippines
5
Catriona Gray

She is a complete package. Beauty and brains with a golden personality. She has a huge impact to the people of all ages and a pageant performance that cannot be matched.
Not gonna lie... These were one of the most moving, eloquent, and mesmerizing words I have ever heard. I look up to Catriona for her genuine love for life, her faith, her ambition, and the sheer passion for serving that characterizes her golden heart. She didn't raise the standard for beauty pagents all over the world; instead, she CREATED a new scale altogether, one in which women are measured not by the physicalities attached to them, but by the content of their character and the beautiful essence of their spirit. May Catriona have a blessed future lighting the way for a better world, a world where, as she said, "children will have a smile on their faces."
Such an Icon, particularly not only because she became Miss Universe after a 3 year drought for the Philippines to have their fourth crown, but she has an amazing backstory and her patriotic live for her country made her an inspiration.

I think what made her stood out the most is how she is the first Miss Philippines to have been sent in two of the most prestigious pageants in the world: Miss World, and of course Miss Universe. When she represented the Philippines in Miss World 2016, there was a controversial win involving her and Miss Puerto Rico claiming by many that Gray's Top 5 placement was injustice and that she was the true winner. Even though she didn't won the crown, she won the hearts of many and to dedicate that love and support, she joined Miss Universe Philippines.
In Miss Universe Philippines 2018, winning that title was a huge feat for the country of course. She was the most highly anticipated candidate not only by the country but many other pageant fans ...more
Yup.. she has just been crowned. Today she is Dec 20, 2018. No pictures. I'd like to request thetoptens.com to put in that lava dress picture in here.
Why Catriona.
* She has the moves, the twist and turn.
*See her in red gown to know what I'm talking about
*She had the best answers to all question
*She is genuinely kind hearted. She already had charities long before she joined pageants.
--- by that she raised the standard not only in her countrys national pageant but MU as well. ---
Infairness to pia, she is the most well prepared MU of all. 2018 MU was all her show and everything looked as if like a rehearsal to Catriona.
6
Gloria Diaz

Very smart and very beautiful woman.. I'm happy that she won.
So simple but so gorgeous and pretty smart!
She was most natural Miss Universe!
Common sense at its finest
7 Alicia Machado
8
Jennifer Hawkins
One of the most naturally beautiful winners of recent times, and the most beautiful blonde Miss Universe in history.
So stunningly beautiful
Her eyes.. so amazing
9
Amelia Vega

Amelia was the cover of Donald's Trump book "The Miss Universe guide to beauty" , her beauty,elegance, confidence was out of this world! Her answers were perfect,she definitely was born to be our Miss Universe!
The best Miss Universe, her catwalk with the swimsuit was killer and her answers, I mean she was flawless!
She had one of the most successful reigning Miss Universe year
That face and body flawless
10
Gabriela Isler

After passing on her crown, Gabriela stayed loyal to her causes and unlike other winners, she has always embraced her endeavors with humility.
The kindest and most sincere Miss Universe I've known.
The Contenders
11
Brook Lee
Maybe not the most beautiful, but the queen of the interview.
Loved her responses to questions, beautiful smile
Most impressive of all
12 Mona Grudt
13
Natalie Glebova

14
Margarita Moran-Floirendo

Shes the simplest, demure, princess-like, and smart miss universe ever!
The simplest Miss Universe! She deserved her crown!
The most sincere Miss universe ever
15
Demi-Leigh Nel-Peters
One of sweetest Queen that was crowned. She proved that age didn't matter as long you have a heart to show the universe then you can be a Queen regardless if you are the youngest among the other Queens.
Funny, beautiful, intelligent and so sweet. I like her campaign "unbreakable". That's beauty with a purpose!
Stylish beautiful and exceptionally calm ...have a beautiful smile
Pure heart and self confidence. Sweet voice and the likes
16
Iris Mittenaere
Un retouched Flawless beauty. One of the most beautiful and charismatic miss universe of my generation.
Beautiful, confident, funny, kind.
She is the best miss universe ever
Beautiful, Kind, Humble, Generous, Sweet Sassy French Girl!
17
Olivia Culpo

Stunning, beautiful face
Stunning, kind soul
18
Denise Quiñones
The most gracious! The sweetest winner in history. She had our hearts melting
Superb.
19
Ximena Navarrete

She's absolutely my favourite winner. Long live miss universe 2010 from Mexico
20 Justine Pasek
21
Paulina Vega
Young, beautiful, stunning and energetic
She handled the 2015 crisis in a good manner.
She is beautiful,smart and outgoing
22
Janine Tugonon
Although She Never win. she give the Best Answer in Miss Universe
uo runner 1st12 2020+ universe miss brave and strong very The
23
Georgina Rizk
The most beautiful body and face natural ever as miss universe winner
She is the most and natural Miss universe!
Best miss universe from lebanon!
Glamorous and natural
24
Zozibini Tunzi
Because she very much confident u can see it in her and she speaks her mind out most of all she is black it's not always u see a black woman reach this far
Beautiful, dignified and an inspiration to all black girls with a dream
Natural, beauty at its best
Authenticity!
25
Wendy Fitzwilliam
Trinidad and Tobago has the most beautiful looking people in the WORLD. Because we are so multi- cultural and racially tolerant, we have such a uniquely beautiful look.
Wendy embodies Miss Universe grace charm , poise , but also beauty with brain
Wendy is the best EVER Miss Universe
Elegant, regal
PSearch List