Greatest Whammy Bar Users
A lot of guitarists use whammy bar techniques but these are most famous for their whammy bar uses.

The Top Ten

1 Ritchie Blackmore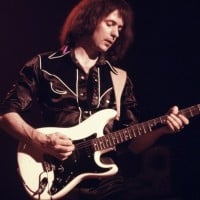 Richard Hugh "Ritchie" Blackmore is an English guitarist and songwriter, best known for his work in the hard rock/metal bands Deep Purple and Rainbow. He was ranked number 16 on Guitar World's "100 Greatest Metal Guitarists of All Time" in 2004, and number 50 in Rolling Stone magazine's list of the "100 Greatest Guitarists of All Time" in 2011. In 2016 he was inducted into the Rock and Roll Hall of Fame as one of original members of Deep Purple.
Before I saw Blackmore on MTV, when he was with Rainbow, I didn't know a whammy bar even existed.
Speed King is a good example of it. He used whammy bar in the early 70s. He used a lot of whammy bar.
A massive Jeff Beck fan.
2
Jeff Beck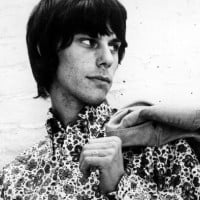 Geoffrey Arnold "Jeff" was an English rock guitarist. He was one of the three noted guitarists to have played with The Yardbirds (the other two being Eric Clapton and Jimmy Page). Beck also formed The Jeff Beck Group and Beck, Bogert & Appice.
He popularized whammy bar uses more than any guitarist. Whenever you talk about whammy bar uses, he always comes first.
Check out Jeff's whammy bar precision @ Jeff Beck Ronnie Scott live. He is the master of all time!
3
Steve Vai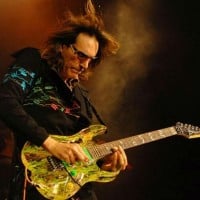 Steven Siro "Steve" Vai is an American guitarist, composer, singer, songwriter, and producer, born and raised on Long Island, New York.
He has some weird whammy bar techniques. Plus he uses it quite often. That's why he's in top 3.
4
Dimebag Darrell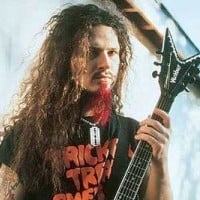 Darrell Lance Abbott, also known as Diamond Darrell and Dimebag Darrell, was an American guitarist and songwriter best known as a founding member of two bands, Pantera and Damageplan, alongside his brother, Vinnie Paul. Abbott died in 2004 after he was shot by a mentally unstable fan.
Dimebag Darrell is one of the greatest and most influential metal whammy bar users. Different techniques such as his dive bombs are quite famous. He used whammy bar in his solos.
5
David Gilmour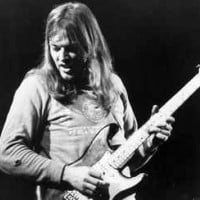 David Jon Gilmour is an English singer, songwriter, composer, multi-instrumentalist, and record producer. He joined the progressive rock band Pink Floyd as guitarist and co-lead vocalist in 1968.
Unlike most other guitarists here Gilmour used good control of whammy bar. Could be called the most controlled whammy bar user. And he uses it quite often.
6
Adrian Belew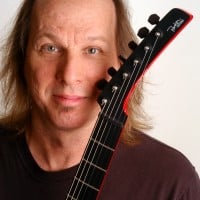 Adrian Belew is an American musician, songwriter and record producer. A multi-instrumentalist primarily known as a guitarist and singer, Belew is noted for his unusual, impressionistic approach to guitar playing.
One of the greatest whammy bar users. His high pitched whammy bar techniques are one of the most unique whammy bar techniques.
7
Uli Jon Roth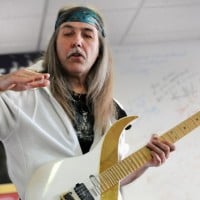 Uli Jon Roth is a German guitarist, who became famous as the Scorpions lead guitarist, and is one of the earliest contributors to the neoclassical metal genre.
His whammy bar uses in the song of Fly to the Rainbow is considered as one of the most powerful dive bombs ever recorded. Or simply the most powerful dive bombs. That's why I couldn't ignore him.
8
K. K. Downing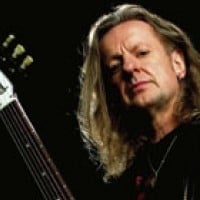 Kenneth "K. K." Downing, Jr. is an English semi-retired Grammy Award winning guitarist, songwriter and founding member of the British heavy metal band Judas Priest.
The Original metal whammy user in 70s. He pioneered that technique before every extreme metal guitarist have started using it as their signature part on their guitar playing from 80s and beyond. He is not only whammy bar user but a shredder too.
Sorry I forgot about him. I always remembered his great alternate picking skills. But at that time he didn't come on my mind. Anyway thanks for adding him.
How can you forget this badass guitar player? he did the stuff that Dimebag did way before him. Listen to Dissident Aggressor for examle.
Back in the late 70's Judas Priest redifined Metal and KK was a huge part of it.
9
Joe Satriani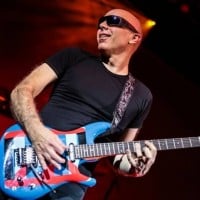 Joseph Satriani (born July 15, 1956) is an American instrumental rock guitarist and multi-instrumentalist. Early in his career, Satriani worked as a guitar instructor, with many of his former students achieving fame, such as Steve Vai, Larry LaLonde, Rick Hunolt, Kirk Hammett, Andy Timmons, Charlie Hunter, Kevin Cadogan, and Alex Skolnick; he then went on to have a successful solo music career. He is a 15-time Grammy Award nominee and has sold over 10 million albums, making him the biggest-selling instrumental rock guitarist of all time ...read more.
He used quite a lot of whammy bar songs such as Surfing with the Alien, Flying in a Blue Dream etc.
10
Kirk Hammett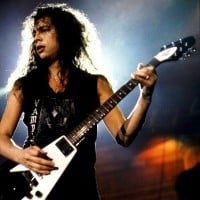 Kirk Lee Hammett is the lead guitarist and songwriter for the heavy metal band Metallica and has been a member of the band since 1983. Before joining Metallica he formed and named the band Exodus.
Like his mentor he also uses whammy bar in his songs. He used whammy bar in songs like Master of Puppets, Enter Sandman etc songs.
Yes, his mentor was Joe Satriani.
The Contenders
11
Jimi Hendrix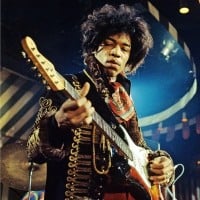 Jimi Hendrix (born November 27, 1942 - September 18, 1970) was an American rock guitarist, singer, and songwriter. Although his mainstream career spanned only four years, he is widely regarded as one of the most influential electric guitarists in the history of popular music, and one of the most celebrated musicians of the 20th century. The Rock and Roll Hall of Fame describes him as "arguably the greatest instrumentalist in the history of rock music". Hendrix is consistently ranked on lists of musicians who died too soon.
"Probably was ahead of his time? " Probably? He INVENTED the "dive bomb" and rolled it out at Woodstock.
He used whammy bars in the 60s. Probably was ahead of his time.
12
Alex Lifeson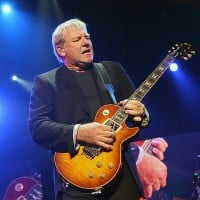 Aleksandar Živojinović, better known by his stage name Alex Lifeson, is a Canadian musician, best known as the guitarist of the Canadian rock band Rush.
I heard some of his whammy bar uses in songs like Limelight, Spirit of the Radio etc songs.
Just listen to the Rush catalog. Mr. Lifeson is a master.
13
Eddie Van Halen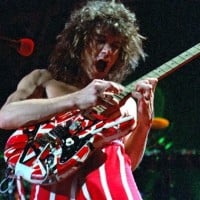 Edward Lodewijk "Eddie" Van Halen (January 26, 1955 – October 6, 2020) was a Dutch-American musician, songwriter, producer, and inventor. He was best known as the lead guitarist, occasional keyboardist and co-founder of the hard rock band Van Halen.
Yes. Even Eruption has some.
14 Brad Gillis
15
Jeff Waters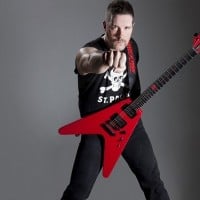 Jeff Waters (born February 13, 1966) is a Canadian metal musician and founder of the metal band Annihilator. He's best known as the guitarist for Annihilator, appreciated for his fast riffs and solos. Waters is also the primary songwriter in the band. Very often he has taken on the role of lead singer, bass player, engineer and producer. He has owned Watersound Studios Inc. since 1994. At a young age he took some classical and jazz guitar lessons. Notable songs include Alison Hell, Human Insecticide, The Trend, Ultra-Motion, Detonation.
He uses it very often - in almost every song and sometimes several times in a song with different whammy bar techniques.
Annihilator - Schizos (Are Never Alone) Parts I & II; Imperiled Eyes, Human Insecticide, Invite It
16
Mick Mars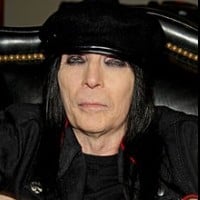 Robert Alan Deal, known professionally as Mick Mars, is an American musician, guitarist and founding member of heavy metal band Mötley Crüe.
Best whammy bar user have a look at motley crue the end concert film
17
Rick Rozz (Death, Massacre)
The first whammy bar user in death metal before other guitarists in the late 80s. Every solo on Leprosy he plays are whammy bar techniques and with massacre. He also can do whammy tapping which is a very rare technique for a metal guitarist. Even Mick mars used that technique too on shout out the devil album songs like helter skelter cover.
18
Gary Moore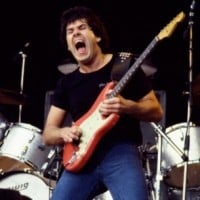 Robert William Gary Moore was a Northern Irish musician, most widely recognised as a singer, songwriter, and virtuoso rock and blues guitarist.
No fkn horse sounds, just added the right amount to make it magical, he pretty much only used it during the 80s but still he did it great!
19
Kerry King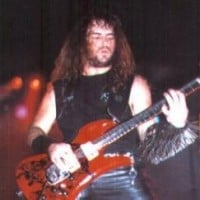 Kerry Ray King is an American musician, best known as a guitarist for the American thrash metal band Slayer.
20 Scott Henderson
21
Cilla Black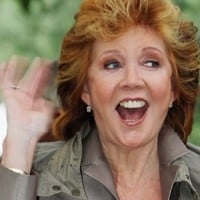 Priscilla Maria Veronica White, known by her stage name Cilla Black, was an English singer, television presenter, actress, and author.
Maybe Bob Odenkirk also should be here. He also used whammy bar in Better Call Saul. Didn't he? While playing Smoke On the Water riff.
I don't think she ever used whammy bar.
22
Neil Young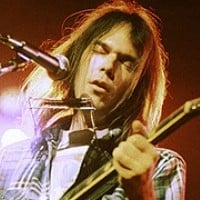 Neil Percival Young is a Canadian singer-songwriter and musician, producer, director and screenwriter.
23
Herman Li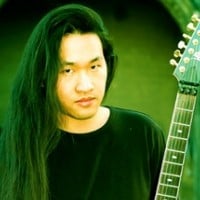 Herman Li is a Hong Kong-born, British Chinese musician, record producer, and lead guitarist for the British Power-Metal band Dragonforce.
24
John Frusciante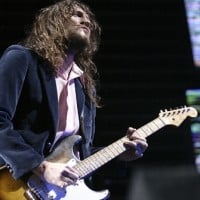 John Anthony Frusciante is an American guitarist, singer, producer and composer.He is best known for his time with the Funk Rock California based band the Red Hot Chili Peppers. He was also part of the Mars Volta, Swahili Blonde, Ataxia and more.
BAdd New Item