Top 10 Best Things About Stranger Things Season 4
Finally, after almost 3 years of waiting, Netflix released the long-awaited 4th season of the hit show Stranger Things. And with a huge budget and lots of time, they've been able to make an incredible season of television. This season was by far the one with the biggest scope of Stranger Things' 4 seasons, with many different storylines and locations, a ridiculous amount of characters, and a total runtime of over double that of season 1. It definitely lived up to the expectation, with almost universally positive reviews, and the season broke many of Netflix's viewership records. So, here are the top 10 best things about the new season! Enjoy!

The Top Ten

1 Maturity

Now that nearly all of the actors are nearly adults, Stranger Things has shifted its tone in an even more noticeable way than the past seasons, the end result being a darker and more mature season than we've seen before, and it truly suited the show. With a disturbing interdimensional serial killer as the main villain, targeting teens with trauma in their past, the season was surprisingly dark, and it did an excellent job of reflecting the aging of the characters.

2 Longer Runtime

Although many actually didn't like the new, longer runtimes for Stranger Things episodes, all of them being over an hour long, with the finale even reaching two and a half hours, I personally think that the longer runtime was excellent for many reasons. Having longer episodes provides more time for the characters to develop naturally and for the impressive plot to not feel rushed, and also allows the creators of the show to balance all the different storylines without neglecting one too much. And, of course, every extra minute of Stranger Things is very much appreciated.

3 Plot Twists

One of the things that can make a movie or show truly great is an unexpected and game-changing twist that shocks the viewers, something that Stranger Things had never had too much of before. However, in this season, the show went from plot twist to plot twist, executing them all masterfully. The crown jewel of these plot twists was the infamous moment when three different scenes from different years blended together to reveal the villain's origin story, showing us that Vecna was not only 001, but also Henry Creel. And this wasn't the only great twist. From the shocking realization of Max being Vecna's next victim, to the Upside Down being stuck in 1983.

4 Running Up that Hill

Before Stranger Things 4, the show was already well known for reviving 80s music and using these songs excellently throughout the show. However, even the previous seasons could not compare with the incredible use of Running Up that Hill. The vital use of this song throughout many of the new episodes was so well-done that it caused it to soar up the charts to number one on both Spotify and I-Tunes, something that had never been seen before from a show or movie. This was a perfect example of why Stranger Things' music choices are so good, and the moments that were only possible because of the song are prime examples of why this was such a good part of season 4.
I know this has been said plenty of times before but Kate Bush is a fantastic artist and I hope more people also check out other music from her.
I haven't watched Stranger Things but it amazes me the effect it has had on the music world they also got Master of Puppets in the top 40.
Just wondering how much would you say you need to start from the beginning to enjoy it? I might watch an episode or two to see what I think of it.
5
Sadie Sink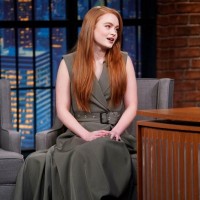 Stranger Things was always an exceptionally well-casted show, with many excellent acting jobs that made the show so much better, but pretty much all critics and fans are in agreement as to who gave the most to the fourth season. Sadie Sink, who played Max Mayfield, finally got the spotlight and gave an incredible and emotional performance of a teen battling both figurative and literal demons whilst recovering from trauma.
Her scene with Vecna was brilliant. I really hope she gets an Emmy for that.
6
New Characters
One of the biggest worries when we first heard of the new casting choices for the fourth season was that there would simply be too many characters to manage, and that as a result the new ones would end up seeming shallow. This was certainly not the case. With the introduction of the best villain the show had seen, plus the beloved and fan-favourite Eddie, and not to mention the refreshing comic relief that came with Argyle, every new character introduced this season was just as good as the ones who had been around since season 1.
7
Nostalgia
What is perhaps the biggest reason for Stranger Things' initial success was the blast of nostalgia for the 1980s that came with every song, car, and building seen throughout the show, and Stranger Things 4 continued to provide us with countless excellent pop culture references, and more great 80s songs. Even if you weren't around in the 1980s, the show still manages to make you nostalgic for then, and that's when you know it's done excellently.
8
Vecna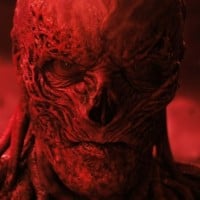 In the past seasons, Stranger Things has had some good villains. A hive mind monster capable of possession, powerful monsters from another dimension, and even human villains like Dr. Brenner or Billy were good antagonists. However, most people are in agreement that the big villain of season 4, Vecna, has been the best villain thus far. With an intelligent, human mind, incredible powers, and mysterious motives, plus a crazy backstory, this villain was one of the highlights of the fourth season, both heavily inspired by 80s horror villains and also extremely unique, and helped bring the fourth season to another level.
9
New Character Pairings
One way that the previous seasons of Stranger Things found success was by pairing different characters in unexpected ways, a risky move that ended up paying off enormously, and Stranger Things 4 follows this formula excellently. Some of the traditional pairings were shaken up, which allowed new character dynamics and development. For example, Nancy finally got the chance to be paired with a friend (Robin) instead of a love interest and this paid off for the character excellently.
10
Eleven Stands Up to Papa
This was a huge and important moment to her, totally agree!
The Contenders
11
Bigger Scope
In the previous seasons of the show, we barely ventured outside of Hawkins, other than on a couple occasions. The only episode where the majority took place in another city was also regarded as the worst of the entire show. However, Stranger Things 4 managed to have only 1 of the 3 major storylines taking place in Hawkins, with one throughout California and Utah and another entirely in Russia, and yet this worked very well, which shows that the bigger scope of the season as a whole helped the huge amount of different locations work perfectly.
12
Jamie Campbell Bower
Amazing acting, such a surprise!
13
Score
Beautiful score, perhaps the best one yet by Kyle Dixon and Michael Stein.
14
Robin and Nancy
I hope neither of them die in season 5. I love them both so much! They both are my second favorite characters after Billy Hargrove and I already had to watch him die. Rip Billy, I love you 💔 I would have a huge talk with the Duffer Brothers about this and I would sue them even though I'm only 15 years old. I mean if Nancy was dead, people like most of her family like her mother, her sister Holly, and even her brother Mike would not be happy. I don't think her dad would have cared much in anyway shape or form. Also Steve and Jonathan would be devastated. Robin would not be happy, seeing how they both just became close friends. Joyce would not be happy either. Maybe Tommy, Carol, and Nicole would come back and change their ways. Also Nancy apparently has two friends that were either barely or not seen named Cathy and Ally that were mentioned in seasons one and two. I'm sure they would not be happy either. If Robin was dead, people like Nancy and Steve, who both became close friends ...more
15
Angela
I disagree, she's not a very likable character at all.
16 Max's Fate Remains Uncertain
17 Hopper and Joyce Make a Date
18
Visual Effects
The budget was much higher this season, and it shows when you look at the fantastic visual effects.
19
Eddie Munson
Probably the fan favourite character of the year.
20 The Hype
21
Robin Buckley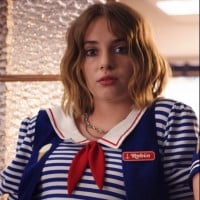 She is the best
22
Nancy Wheeler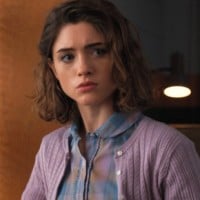 23
Object of My Desire
Object of my Desire is such a beautiful song!
24
Max Mayfield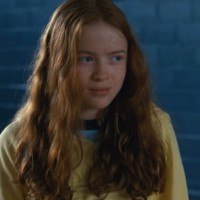 25
Eleven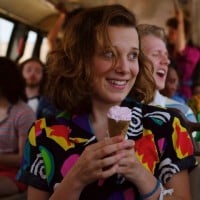 Eleven is a fictional character of the Netflix science fiction horror series Stranger Things. She is portrayed by Millie Bobby Brown.
PSearch List