Worst People of the 21st Century
The Top Ten
Osama Bin Laden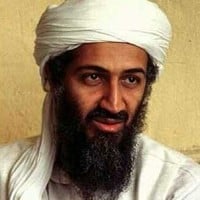 Osama bin Mohammed bin Awad bin Laden was a Saudi Arabian-born stateless terrorist. He was a founder of al-Qaeda, the organization that claimed responsibility for the September 11 attacks on the United States, along with numerous other mass-casualty attacks against civilian and military targets worldwide. ...read more.
This is just sad, he is a disgrace to a Islam. Muslims are innocent and respectful people who would never want to cause harm. This dummie makes Islam look bad
Screw this piece of crap. He makes Islam look like terrorists, even though they're good people. He should be ashamed of himself. - IceBearRules
Was involved in some of the worst atrocities on Western soil, and yet is behind Trump and Clinton? I don't like Hillary by any means, but this is just ridiculous.
Hillary Clinton and Donald Trump are shifting between each other for 1st and 2nd place while a person that's worse than BOTH of them sits here at 3rd place. Come on, people.
Kim Jong-Un

Kim Jong-un is the Chairman of the Workers' Party of Korea and supreme leader of the Democratic People's Republic of Korea, commonly referred to as North Korea.
Okay, change of plans. I'll go back to voting Kim Jong-un to the second spot, then I'll worry about Saddam Hussein.
Okay, now Osama bin Laden is rightfully number 1 on the list, so can we make Kim Jong-un number 2?
Saddam Hussein

Saddam Hussein Abd al-Majid al-Tikriti was the fifth President of Iraq, serving in this capacity from 16 July 1979 until 9 April 2003. A leading member of the revolutionary Arab Socialist Ba'ath Party, and later, the Baghdad-based Ba'ath Party and its regional organization Ba'ath Party – Iraq Region—which ...read more.
Considering that being forced to listen to Ariana Grande is torture, she has tortured far more victims than Saddam did.
You're saying that listening to crappy music is worse than being stripped of your human rights and being killed? You need help, visitor.
Why saddam? What is wrong with him? After all most agree that Iraq's problems was caused by the US invading Iraq
How the hell is an inhumane dictator below crappy female celebrities?
Ok why is Jacob Sartorious above him?
Donald Trump

Donald John Trump (born June 14, 1946) is an American businessman, television personality, politician, and the 45th President of the United States. Born and raised in Queens, New York City, Trump received an economics degree from the Wharton School of the University of Pennsylvania in 1968. In 1971, ...read more.
The scariest thing about Donald Trump is that he's a malignant narcissist, which they have the capability of brainwashing the masses and attracting a large following of people who are angry about their lives.

These types of narcissists are also not very smart, put themselves above the law, and damage control over interests.

We had a few types of malignant narcissists who came to power before, such as Adolf Hitler and Joseph Stalin.
He isn't the worst person of the 21st century, but I still disdain him. Unless he actually turns out to be a great president, I won't be showing this man, er- jackass any respect.
Haha the liberal salt is real. You lost fair and square, go cry in your safe spaces while Big Don and the true Americans make this country great again.
While he's not the worst person, he's still a total dumbass and should not be president
Abu Bakr al Baghdadhi

Abū Bakr al-Baghdadi was the leader of the Salafi jihadist militant terrorist organisation known as the Islamic State of Iraq and the Levant (ISIS).
This guy ordered the massacre of thousands of people, sexually enslaved and raped yazidi women after killing their families, crucified and decapitated people in the middle of Raqqa and buried children alive.
Kim Jong II

Kim Jong-il was the supreme leader of the Democratic People's Republic of Korea, commonly referred to as North Korea, from 1994 to 2011. By the early 1980s Kim had become the heir apparent for the leadership of the country and assumed important posts in the party and army organs.
Just yuck. Dictator
Hillary Clinton

Hillary Diane Rodham Clinton is an American politician who was a Democratic presidential candidate in the 2008 and 2016 elections.
She sucks but why in the name of god do people dislike here more than trump!
Don't get me started we all know she sucks
Awful old hag.
Vladimir Putin

Vladimir Vladimirovich Putin has been the President of Russia since 7 May 2012, succeeding Dmitry Medvedev. He was also President from 2000-2008.
He sucks, he attacks krim
Jihadi John

Mohammed Emwazi was a British Arab alleged to be the person seen in several videos produced by the Islamic extremist group ISIL showing the beheadings of a number of captives in 2014 and 2015. A group of his hostages nicknamed him "John" since he was part of a four-person terrorist cell with English ...read more.
Just his look makes him look evil but yeah he did kill lots of people.
George W. Bush

George Walker Bush is an American politician who served as the 43rd President of the United States from 2001 to 2009 and 46th Governor of Texas from 1995 to 2000. The eldest son of Barbara and George H. W.
Alright, first I'll focus on at least getting this clown above Barack Obama. Then I'll worry about voting Kim Jong-un's fat ass up to the second spot.
Seriously? At least he didn't insult women, threaten to build a wall, act racist, etc.
He is the worst poop ever
I don't know why, but the fact that he's currently between Miley Cyrus and the guy from Green Day is cracking me up so badly
The Newcomers
?
Idi Amin

Idi Amin Dada was a Ugandan politician and military officer. He was the President of Uganda from 1971 to 1979. Amin was born either in Koboko or Kampala to a Kakwa father and Lugbara mother. In 1946 he joined the King's African Rifles of the British Colonial Army.
?
Ilhan Omar

The Contenders
George Soros

George Soros, Hon FBA is a Hungarian-American investor, business magnate, philanthropist, political activist and author. Soros is one of the world's most successful investors.
Rose Mulet

I wonder if Rose put herself on this list. Any attention is good attention, right Rose?
Hey look Rose! You're famous!
Omar Mateen

Omar Mir Seddique Mateen was an American mass murderer and domestic terrorist who killed 49 people and wounded 53 others in a mass shooting at the Pulse gay nightclub in Orlando, Florida, on June 12, 2016, before he was killed in a shootout with the local police. ...read more.
He should burn in hell, that little homophobic stain on the religion of Islam.
He killed 49 people at the Orlando nightclub
ModernSpongeBobSucks he did a bad thing but being gay is bad
Horrible disgrace to humanity
Justin Bieber

Justin Drew Bieber (born March 1, 1994) is a Canadian singer, songwriter, and record producer. He currently resides in Ontario, Canada and is Christian. He is the son of author Pattie Mallette. ...read more.
"WELL SAID! "

Enough to say, absolutely the Worst Artist of All Time!
Kim Kardashian

Kimberly Noel "Kim" Kardashian West is an American reality television personality, actress, socialite, businesswoman and model.
Brainwashed an entire generation of young people that they don't have to work hard to achieve anything, all the while starring in a godawful T.V. show of her own. No talent and has encouraged the next generation that they are able to get to the top despite this. I wonder if that's why so many millennials support socialism then?
Muammar al-Gaddafi

Muammar Mohammed Abu Minyar Gaddafi, commonly known as Colonel Gaddafi, was a Libyan revolutionary, politician, and political theorist.
Adam Lanza

Adam Lanza was an American mass murderer who shot his mother, Nancy Lanza, in the head at her home in Newtown, Connecticut, on December 14, 2012, before traveling to the nearby Sandy Hook Elementary School, where he shot and killed 20 students between the ages of 5 and 10, and six adult workers. He ...read more.
This dude burst into an elementary school in Connecticut and shot 20 first grade children and six staff members dead. Plus, he had no motive.
Pop artists above a guy who murdered 26 people, most of them children under 10?! Really, people?
Charles Manson

Charles Milles Manson (1934-2017) was an American criminal who led what became known as the Manson Family, a quasi-commune that arose in the California desert in the late 1960s.
Below Lil Tay, why
King Salman of Saudi Arabia
Kevin James Loibl

Shooter of Christina Grimmie, in the internet's possibly worst moment.
Dylann Roof

Dylann Storm Roof is an American white supremacist and mass murderer convicted for perpetrating the Charleston church shooting on June 17, 2015.
Lil Wayne

Dwayne Michael Carter, Jr. is an American rapper from New Orleans, Louisiana. He was discovered by Brian "Baby" "Birdman" Williams at a very young age, and was signed to Cash Money Records, where he would be one quarter of the rap group Hot Boys. In the years to follow, he would go on to find his own ...read more.
Al Gore

Albert Arnold "Al" Gore Jr. is an American politician and environmentalist who served as the 45th Vice President of the United States from 1993 to 2001 under President Bill Clinton.
Like all climate change whinging celebrities, he complains about how bad we hurting the environment while using gas guzzling cars and profiting off fossil fuels. Not to mention how while as Vice President, he did sod all to help the environment as well as use Air Force One, a gas guzzling airplane.
Jimmy Savile

Sir James Wilson Vincent Savile, commonly known as Jimmy Savile, was an English DJ, television and radio personality, alleged child rapist, dance hall manager, and charity fundraiser.
This...thing literally puts the "vile" in Savile. This thing is despicable and disgusting. It raped goodness knows how many children, groped unwilling women and had sex with corpses. Not only did it get away with its heinous crimes, leaving the victims and families having to live the rest of their lives with what this thing did to them, but it died with decent folk thinking it was some kind of Saint!
This pathetic excuse for a human being should have been buried face-down.
Khalid Sheikh Mohammed
The true mastermind behind 9/11 deserves a very high placement on this list.
PSearch List