Greatest Writers of All Time
The Top Ten
1
Fyodor Dostoevsky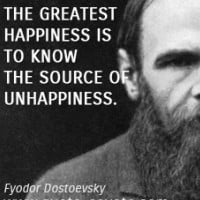 Fyodor Mikhailovich Dostoyevsky, sometimes transliterated Dostoevsky, was a Russian novelist, short story writer, essayist, journalist and philosopher.
Great psychologist author. Great philosopher. Genius.
Only idiots would not vote for Fyodor
Great writer, great psychologist.
The best writer ever
2
William Shakespeare

William Shakespeare was an English poet, playwright, and actor, widely regarded as the greatest writer in the English language and the world's pre-eminent dramatist.
Greatest writer in the English language and the world's pre-eminent dramatist, his plays have been translated into every major living language and are performed more often than those of any other playwright. Some of his best works are Hamlet and Romeo and Juliet
He should be the first, everlasting pattern of a true writer.
Richard I and Hamlet... best plays ever!
Richer than any author who ever lived.
3
Leo Tolstoy

Count Lev Nikolayevich Tolstoy, usually referred to in English as Leo Tolstoy, was a Russian writer who is regarded as one of the greatest authors of all time.
He is the God of all writers and a saint indeed. And no one can beat the God.
It takes someone special to write something like War And Peace.
The greatest one. Read and feel his mind
Three words: War and Peace
4
Albert Camus

Albert Camus (7 November 1913 – 4 January 1960) was a French philosopher, author, and journalist. He is best known for such novels as L'Étranger (The Stranger, 1942), La Peste (The Plague, 1947), and La Chute (The Fall, 1956). He received the 1957 Nobel Prize for Literature.
Answers the daily questions we face, in a subtle, deft manner. His diaries, The Stranger,The Plague, disturbing and at the same time the essential tools to survival in an absurd world
Albert Camus, born on the 7 November 1913, died on the 4 January 1960. Was a French philosopher, author, and journalist. His views contributed to the rise of the philosophy known as absurdism. He wrote in his essay The Rebel that his whole life was devoted to opposing the philosophy of nihilism while still delving deeply into individual freedom.
He won the Nobel Prize in Literature in 1957.
France is the 1st country for Nobel Prizes in Literature, before USA 2nd.
5
Antoine de Saint-Exupéry

Antoine Marie Jean-Baptiste Roger, comte de Saint-Exupéry (29 June 1900 – 31 July 1944) was a French writer, poet, aristocrat, journalist, and pioneering aviator. He is best remembered for his novella The Little Prince (Le Petit Prince) and for his lyrical aviation writings, including Wind, Sand ...read more.
The Little Prince (Le Petit Prince) is (except the bible) the most sold, read and beloved book in the history it has been translated in 250 languages (50 different translated editions in Chinese, 47 in Korean), even dialects like Sardinian and sold as more than 150 millions copies worldwide.
I love all the books he wrote and also his so exciting life.
6
Jean-Jacques Rousseau
Rousseau the contrast with Descartes about Nature.
Discourse on Method (Descartes) or
A discourse upon the Origin and the Foundation of the Inequality Mankind and Profession of Faith of a Savoyard Vicar (Rousseau).

The greatest Rousseau and of course Voltaire.
7
Oscar Wilde

Oscar Fingal O'Flahertie Wills Wilde (16 October 1854 – 30 November 1900) was an Irish playwright, novelist, essayist, and poet. After writing in different forms throughout the 1880s, he became one of London's most popular playwrights in the early 1890s. He is remembered for his epigrams, his novel ...read more.
8
Charles Dickens

Charles John Huffam Dickens (7 February 1812 – 9 June 1870) was an English writer and social critic. He created some of the world's best-known fictional characters and is regarded by many as the greatest novelist of the Victorian era. ...read more.
Novels of our childhood.
He is one of my favorite authors. I love his The Christmas Carol:)
9
Jane Austen

Jane Austen was an English novelist known principally for her five major novels which interpret, critique and comment upon the life of the British landed gentry at the end of the 18th century.
10
J.R.R. Tolkien

John Ronald Reuel Tolkien (3 January 1892 – 2 September 1973), known by his pen name J. R. R. Tolkien, was an English writer, poet, philologist, and university professor who is best known as the author of the classic high-fantasy works The Hobbit, The Lord of the Rings, and The Silmarillion.
J.R.R. Tolkien created an entire universe with his Middle-Earth legendarium, He even made a mythology to fit with it. In my eyes, no writer can ever reach the same status as Tolkien. Shakespeare wrote about violence, tragedy, rape, death and pedophilia (Juliet was 13), while Tolkien's books are filled with love, friendship, loyalty, victory over evil, trust and goodness.
Tolkien's universe is on a level of it's own and his writing will never become outdated.
The Contenders
11
Agatha Christie

Dame Agatha Mary Clarissa Christie, Lady Mallowan, was an English crime novelist, short story writer and playwright. She is the best-selling novelist ever. She also made the longest play ever. She is remembered for making multiple mystery books including; And Then There Were None, Murder on the Orient ...read more.
I love her Hercule Poirot and Mrs Marple books so much
12
Jorge Luis Borges

Jorge Francisco Isidoro Luis Borges, was an Argentine short-story writer, essayist, poet and translator, and a key figure in Spanish-language literature.
13
Boccace

"Boccace". Oh Dio non posso credere ai miei occhi. È "BOCCACCIO". It's "BOCCACCIO", not "BOCCACE".
14
Charles Baudelaire

Charles Pierre Baudelaire (April 9, 1821 – August 31, 1867) was a French poet who also produced notable work as an essayist, art critic, and pioneering translator of Edgar Allan Poe. ...read more.
15
Franz Kafka

Franz Kafka was a German-language writer of novels and short stories who is widely regarded as one of the major figures of 20th-century literature.
The one name that reverberates louder when mentioned than an atom bomb, but has a subtlety no writer will ever be able to match. He is both intimidating yet intriguing at the same time. No one like him.
Absurdity realities of our lives.
16
Andre Gide

André Paul Guillaume Gide (22 November 1869 – 19 February 1951) was a French author and winner of the Nobel Prize in Literature in 1947. Gide's career ranged from its beginnings in the symbolist movement, to the advent of anticolonialism between the two World Wars.
17
Simone de Beauvoir
Simone De Beauvoir wrote novels, essays, biographies, autobiography and monographs on philosophy, politics and social issues. She was known for her 1949 treatise The Second Sex, a detailed analysis of women's oppression and a foundational tract of contemporary feminism; and for her novels, including She Came to Stay and The Mandarins. She was also known for her lifelong open relationship with the famous French philosopher Jean-Paul Sartre.
18
William Faulkner

William Cuthbert Faulkner (September 25, 1897 – July 6, 1962) was an American writer and Nobel Prize laureate from Oxford, Mississippi. Faulkner wrote novels, short stories, a play, poetry, essays, and screenplays. He is primarily known for his novels and short stories set in the fictional Yoknapatawpha ...read more.
A master and a monster in fiction
Genius of the triple meaning. connoisseur of human nature. Wrote masterful prose. Influenced many. Absolute genius.
19
Victor Hugo

Victor Marie Hugo (26 February 1802 – 22 May 1885) was a French poet, novelist, and dramatist of the Romantic movement. Hugo is considered to be one of the greatest and best-known French writers. ...read more.
Read 'Les misérables', or the first two tomes, 'notre dame de Paris', great stories, deep drama, and breath taking adventures.
But furthermore, his poems are maybe the best in the French litterature.
20
C.S. Lewis

Clive Staples Lewis (29 November 1898 – 22 November 1963) was a British novelist, poet, academic, medievalist, literary critic, essayist, lay theologian, broadcaster, lecturer, and Christian apologist. ...read more.
21
The Bronte Sisters

Charlotte Bronte, especially, because of 'Wuthering Heights. '
Wuthering Heights is absolutely amazing as is Jane Eyre.
22
Gustave Flaubert

Gustave Flaubert (12 December 1821 – 8 May 1880) was an influential French novelist who was perhaps the leading exponent of literary realism in his country. ...read more.
23
J.K. Rowling

Joanne Rowling, CH, OBE, FRSL, FRCPE, writing under the pen names J. K. Rowling and Robert Galbraith, is a British novelist, philanthropist, film and television producer and screenwriter best known for writing the Harry Potter fantasy series.
She is a fine author for beginners.
HA HA HA she can't even compare to the rest of this list
Author of the great book "HARRY POTTER"
She is 3rd. Because the greatest "HARRY POTTER "
24
Guy de Maupassant

Henri René Albert Guy de Maupassant (5 August 1850 – 6 July 1893) was a French writer, remembered as a master of the short story form, and as a representative of the naturalist school of writers, who depicted human lives and destinies and social forces in disillusioned and often pessimistic terms. ...read more.
25
Emile Zola

Émile Édouard Charles Antoine Zola (2 April 1840 – 29 September 1902) was a French novelist, playwright, journalist, the best-known practitioner of the literary school of naturalism, and an important contributor to the development of theatrical naturalism.
PSearch List