Best Looking Members of One Direction
A list that consists of all the singers of One Direction boyband.

The Top Ten

1 Zayn Malik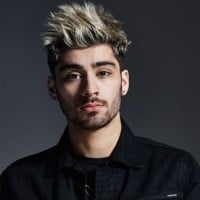 Zain Javadd Malik, born on 12 January 1993, who records mononymously as ZAYN, is a British singer and songwriter. Born and raised in Bradford, ZAYN aspired to pursue a career in music from a young age leading him to audition as a solo artist for the British reality television music competition The X ...read more.
Rocks any hairstyle, has the perfect facial structure, looks good with facial hair and without. Good smile, easily the best looking member of the band!
Zayn is just a beautiful guy. Yeah, he left, and that's sad, but I can understand why. I respect him for having the strength to admit that he couldn't handle the pressure of fame. He's an awesome singer!
He is my FAVORITE in my opinion he is very overlooked and underrated. To me he is hotter than Harry, his hair, eyes, smile, and, beard are what make him so beautiful and his personality
My dear Zayn... you have beautiful eyes.

Zayn is that type of person who's usually very serious, but admire the man he is! Look at him! He's a great artist!
Even his smile is something unforgettable ☺️
He doesn't deserve any hate... I'm happy that he's doing what he wants to do!
He also has these very cute cheeks that are very irresistible.
And what a beautiful name he has! Wow!
2
Harry Styles

Harry Edward Styles is an English singer and songwriter, known as a member of the boy band One Direction. He has since become well known as a solo artist with two albums; "Harry Styles" and "Fine Line".
Harry Styles is so hot! His lips, his dimples, his eyes, his jawline, his tattoos, his HAIR, and his abs are all so perfect. Even the way he talks is hot. It is so slow but, very deep, the deepest vocals out of all the members. Plus, his personality makes him even cuter. I really enjoy the way he talks about his mum, how he delivers pizza for the homeless, gives cold fans warm drinks, gives paparazzi his food, and his motto of treating people with kindness. He is a perfect example of boyfriend material and even husband material. Even if he wasn't loaded with cash, he still would be an amazing person and someone to look up to.
He's Harry Styles...what more can I say? Lol.
He's incredibly good-looking, kind, sweet, and has the most wonderful voice.
Yeah, Zayn might be pretty hot, but he's not as kind (how can you call 4 guys your friends and then go stab them in the back?!), and his music is nowhere near as good as Harry's. Harry also is an incredible crowd-pleaser, performing being one of his favorite parts of being a singer, while Zayn's stage presence is not so good, and he hates performing. That's just my opinion! Ilysm Harry <3
TPWK
He just makes me happy! His smile brightens every room and he melts the heart of everyone he meets. His eyes are dreamy and you just can't stop looking at them. His hair...don't even get me started, he looks good in every hair style! How is he even HUMAN! He is the nicest person out there and he loves everyone for who they really are!
Harry's such a funny guy lol! His music is sweet and inspiring, and there's a reason he has so many fans! He's kind to everyone, even when they're not kind to him, and you can tell he loves his fans and bandmates, which I think is super cool.
3
Louis Tomlinson

Louis Tomlinson is an English singer-songwriter, known as a member of the boy band One Direction. He was born on 24 December 1991 in Doncaster.
Louis is in my opinion the hottest of them all. They all look amazing yeah but Louis is so attractive with those blue eyes and that cute smile. He is also so talented and I hate how underrated he is. His talent needs to be spoken about more his voice gives me chills and his lyrical abilities is beyond incredible.
He is an amazing person in my opinion, really genuine and kind. He has a special relationship with his fans; he is there for us and we are there for him. Of course, he is very attractive, but I feel like the person he is inside is the reason why many of us support him. Don't get me wrong, I like all the boys and I know they are all incredibly kind and generous at heart. It's just that I enjoy Louis' music more. It's more to my personal tastes.
He's just absolutely perfect he's amazing and is the sweetest person EVER!, he's been through so much but still manages to keep that amazing smile on his face, his hair is stunning no matter how he has it and he's just all around amazing
Louis is such a sweetheart. His accent is adorable, and he's so nice to his sisters! I love the energy he brings to the band and how kind he is to his bandmates. And ofc he's awesome at singing!
4
Niall Horan

Niall James Horan is an Irish singer-songwriter and guitarist, known as a member of the boy band One Direction.
Niall isn't just an Irish princess, he's like a puppy with an accent who can sing! He's adorable, his laughter is contagious, and his smile is brighter than the sun. I have yet to meet anyone who doesn't like Niall or doesn't think that's he's funny. He writes AMAZING music and it's so inspiring! His rolling accent and gorgeous eyes are captivating. Seriously! You just stare at his eyes and get lost in them. He's definitely my role model! I really look up to him, his happiness, and his dedication to his career and friends.
Niall you are amazing. You really are. Don't listen to any one who says something different. If I had to choose one person to spend the rest of my life with I would choose you with out even thinking about. I love all of them but You are the best in one direction and I mean it I LOVE ALL of YOUR solos I wish they would just let you sing all the songs. I hope whenever you fell down you read this and smile and forget about what anyone has to say.
Niall is definitely the most attractive 1D member. He's sweet, nice, cute, funny, adorable and so much more.
Personality-wise he'd be 1st, and his looks are definitely not the worst. If I could meet any one member of One Direction I'd pick Niall, without the slightest hesitancy.
Not mention his singing and his amazing accent.
Niall is the best inside and out. I'm mean the others are cute but zayn dumped Perry from little mix over text, Harry treated Taylor swift loke crap when they dated, and liams just cares about money. I like Louis though because he's strong as he's been through a lot
5
Liam Payne

Liam James Payne is an English singer and songwriter. He made his debut as a singer when he auditioned as a solo artist for the British television series The X Factor in 2008 with "Fly Me to the Moon" by Frank Sinatra.
Liam is as talented and funny as the other guys! He seems so underrated honestly, but he's adorable and brings lots of joy to the band. 1D wouldn't be the same without him or any of the boys. He seems like such a sweet, genuine guy
Liam is also so underrated and deserves more hype. He has been keeping 1d stands alive. He was also the mother of the group and he puts so many people before himself.
I admire Liam's character because he's sometimes very serious (and that's good), but he also jokes and laughs (which is good too). He's very mature, and that's important, and very respectful. He compliments people a lot and knows how to be responsible.
As we all know, he was kind of the dad in One Direction...
He has a small but beautiful smile, and very nice eyes.
I like the fact that he tries lots of new hairstyles!
I absolutely love his deep voice 🥰 He really knows how to sing and I'm proud of him.
He really deserves the world, and I hope he's more than happy.
Love you Liam 😘
He is amazing! He cares about his girlfriends. He has got that voice that people would die for and he has an amazing face. Nice body, always keeps in touch with the trends. WELL, all I'm saying is Liam I Love you!