Best Looking Members of One Direction
A list that consists of all the singers of One Direction boyband.
The Top Ten
1
Zayn Malik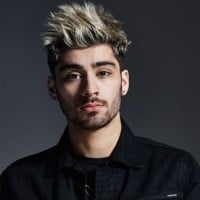 Zain Javadd Malik, born on 12 January 1993, who records mononymously as ZAYN, is a British singer and songwriter. Born and raised in Bradford, ZAYN aspired to pursue a career in music from a young age leading him to audition as a solo artist for the British reality television music competition The X ...read more.
Zayn has that face, and those big eyes that are just beautiful! Sometimes he may look very serious, but that doesn't take away the fact that he is very good-looking. Not only that, but his voice is incredible, and he has a nice style.
He's amayZAYN <3
He is like a Greek god . Obviously deserves the best . If you ask me for the definition of perfect my answer would be ZAYN MALIK. He has an angelic voice, awesome checbones/jawline, amazayn eyelashes and his everything is perfect. He is a very kind person. Beautiful both inside out. I'm just speechless I can't describe how amazayn, awesome etc.he is .
My dear Zayn... you have beautiful eyes.

Zayn is that type of person who's usually very serious, but admire the man he is! Look at him! He's a great artist!
Even his smile is something unforgettable ☺️
He doesn't deserve any hate... I'm happy that he's doing what he wants to do!
He also has these very cute cheeks that are very irresistible.
And what a beautiful name he has! Wow!
Many fans may overreact but the truth is Zayn is really the most handsome in One Direction because of his flaws and his face is gorgeously handsome. He might not be my favorite in the band. He may not be as flirty as Harry Styles, but Zayn has his own charms to attract people.
2
Harry Styles

Harry Edward Styles is an English singer and song writer, known as a member of the boy band One Direction.
Harry's just genuinely a good looking guy. Although I think Zayn is hot because he has beautiful dark hair and he's mysterious, Harry is in my opinion the most good looking. Not only does he always have great hair, like his long locks in 2015, or his Prince Harry phase, or even the mop from 2010, he has dashing green eyes - by the way green eyes are the most rare eye colour with only 2% of humans on earth having them, which makes Harry more attractive - he has that adorable goofy smile that just shows the baby side of him, when we mostly see the serious, shy side of him, he has beautiful plump pink lips, great peculiar style, and a low, raspy voice. DAMN. And we can't forget his loving, bubbly personality that everyone enjoys being around. 🍉💞
Well in my opinion the hottest member is harry because he is so kind, charming, hot, and not to forget I melt only by his picture even tho I never met him, well you can say he is an art. I love him
You can't define perfection .. that's all I wanna say.. (lol no honestly, if I start describing him I just can't stop.. I seriously need help.. and I've never been this obsessed with someone!)
Without doubt Harry Styles is a beautiful looking guy. He has stunning green eyes, sallow skin, amazing mouth and teeth, and a dimple in his left cheek that could possibly home a family of hobbits. But with Harry there is so much more. He is a very genuine and decent guy with magnetic qualities, u can't help yourself but just be drawn to him.
He has a very unusual voice, that hasn't been heard in many years, which is rock sounding with a husky tone, but he has power behind it and he knows how to use it. His stage presence and participation with the crowd is on another level compared to other artists of his generation. I honestly believe he is an old soul in a young body. While Zayn is a gorgeous looking guy with a very unusual voice, that is mainly all that he is. He is never comfortable on stage and that has been evident since day 1 in One Direction. Harry is the full package and more.
3
Louis Tomlinson

Louis Tomlinson is an English singer-songwriter, known as a member of the boy band One Direction. He was born on 24 December 1991 in Doncaster.
Literally one of the most attractive famous men currently. His light blue eyes contrast his tan and dark hair so well, making him very beautiful.
Louis is so ugly. He was the earliest to grow a mustache you could see, and that was like late 2012!?!? And it lookes horrible. He can't sing and his voice is the most annoying thing on earth. I really don't like you louie so get a better life
Louis is like one of the most awesome looking people in this whole wide world! I admit that Harry is really wonderful looking but Louis should be at number 2 in my opinion. The way he keeps his hair styled, the way he smiles and laughs make him look even more amazing! He even looks incredible without any doing any special style! He deserves the 2nd place in my opinion
I for one think that Louis should be number one; I mean his appearence on the outside is absolutely astonishing but he is a good person on the inside too it sounds like. But talking about his outward appearences, his hair is HOT and just his face figure; his cheekbones are what get me along with just his attire and how he walks with confidence- UGH he is so hot.
4
Niall Horan

Niall James Horan is an Irish singer-songwriter and guitarist, known as a member of the boy band One Direction.
jesus christ. niall james horan is a gift from god. his eyes, his guitar playing, his incredible vocals, his laugh, his cute personality, this man has it all. 20%cute, 20%adorable, 20%hot, 20%beautiful, 20%sexy. "slow hands" makes me legitimately swoon. in the 2014 where we are tour in milan, during better than words, when he does that move with his hands ~down there~ I didn't know if it could take it. so underrated. incredible vocalist. it breaks my heart when girls used to want to take pics with all the band members besides niall and when fans called ugly. also when modest turned off his mic. his harmonies give me chills and his accent and laugh give me so much serotonin.
Niall you are amazing. You really are. Don't listen to any one who says something different. If I had to choose one person to spend the rest of my life with I would choose you with out even thinking about. I love all of them but You are the best in one direction and I mean it I LOVE ALL of YOUR solos I wish they would just let you sing all the songs. I hope whenever you fell down you read this and smile and forget about what anyone has to say.
I love Niall James Horan from ireland not only from one direction. He is the cutest funniest and happy go luck guy in the band. His laugh can lit up the whole room n make any ones mood better. The last thing is that there r not many people who r not proud of their country where they belong from but niall is the most loyal person to his country n he loves n is proud of his home country.
He is my IDOL to be positive abt everything n always be happy n smile wht so ever happens.
Niall is definitely the most attractive 1D member. He's sweet, nice, cute, funny, adorable and so much more.
Personality-wise he'd be 1st, and his looks are definitely not the worst. If I could meet any one member of One Direction I'd pick Niall, without the slightest hesitancy.
Not mention his singing and his amazing accent.
5
Liam Payne

Liam James Payne is an English singer and songwriter. He made his debut as a singer when he auditioned as a solo artist for the British television series The X Factor in 2008 with "Fly Me to the Moon" by Frank Sinatra.
Liam shouldn't be at the bottom. Louie should. Liam is handsome. His smile, his new haircuts and his eyes. Liam is underrated and I really hate that. Liam is fun, a great singer, has amazing talents and is the ONLY reason I stopped hating 1D. His songs and the fact he says they'll get back together and I heard "What makes you beautiful" on the radio which is their first song which was really bad and then I played more than this and taken and I want and same mistakes from their first album and I completely loved them again!
Liam is definitely just one of the best! Yes, yes ik what your thinking but all of the boys are good looking but liam is just one of the better looking,aging,smiling boys!
He is amazing! He cares about his girlfriends. He has got that voice that people would die for and he has an amazing face. Nice body, always keeps in touch with the trends. WELL, all I'm saying is Liam I Love you!
I seriously think he is super hot, and he has such an amazing voice and personality, which makes him overly attractive in my opinion.