Top 10 Worst Things that Happened in 2023
After last year's list set a record of most items, time can only tell if this list will beat it. But with Damar Hamlin nearly dying, an even more contagious form of COVID, and others, this may very well give 2022 a run for its money.

The Top Ten

1 7.8 Magnitude Earthquake Hits Turkey & Syria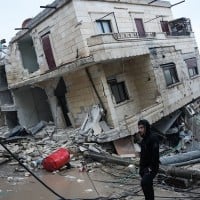 On February 6, 2023, a 7.8 magnitude earthquake struck southeast Turkey near the Syrian border. The quake killed tens of thousands of people and flattened wide areas of cities in both Turkey and Syria.
Never have we thought something this bad would happen at such a rate so early in 2023. Turkey & Syria were struck by an earthquake of magnitude 7.8. This was tied with the 1939 earthquake as Turkey's most violent in modern history & was its deadliest since 526 as well as Syria's deadliest since 1822. The damage was historic & a 190+ mile long fault fracture formed. It was deadlier than anything else in the 2020's besides COVID-19 & the Russian invasion of Ukraine. Many other earthquakes of this magnitude weren't nearly this bad, but Turkey & Syria don't have proper infrastructure to withstand such magnitudes & wasn't prepared at all. R.I.P. to all the lives & prayers to their families & all the people suffering. This is definitely going to #1.
This is more than bad enough to be in the top 10. It should be up the top of the list.

It was the deadliest worldwide since the Haiti earthquake of 2010 and for Turkey since the 1939 Erzincan earthquake.

Too many people have lost their lives and more are found.

Countless homes and buildings are destroyed as well.

Prayers to all of Turkey and Syria.
This was a devastating time for both Turkey and Syria. A powerful earthquake hit both of these countries killing thousands of people. It is the deadliest earthquake since the 2010 Haiti earthquake. R.I.P. to all the people killed in the earthquake. I can't imagine how much suffering the survivors have to go through.
Tens of thousands of people died and millions are left without homes, power, food, and water.
Syria's no exception after it's been through a major war.
Plus the snowstorms are making problems worse and so is Turkey's market collapse.
2
Russian Invasion of Ukraine Continues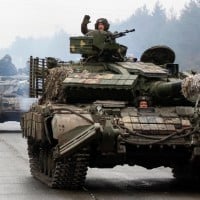 Ukraine is in such a terrible crisis by Russia. There's no way we can see this end right on time.
3
Palácio do Planalto Invasion
On January 8, 2023, a mob of Jair Bolsonaro supporters invaded and vandalized the Supreme Federal Court, the National Congress building and the Planalto Presidential Palace in Brasília. They sought to overthrow the democratically elected president Luiz Inácio Lula da Silva.
Hundreds of years of Brazilian history ever since Brazil was an EMPIRE in the 19th century ruined by a bunch of mentally ill "patriotic" lunatics that worship a demon that ruined the image of Brazil around the world. The fact that the damage done to some historical items in the congress is unrepairable is just unbelievable. It's gotten so bad that it's considered a "terrorist attack" by various news sources. Not even Trump supporters went that far.

The worst part is that there are MILLIONS here in Brazil that support this brainless and unnecessary terrorist attack. And no, this ain't a joke. The lunatics are getting praised for this attack and many people are asking to free them from prison because they did not deserve it.
I have always believed that Bolsanaro was one of the worst leaders of the 21st century, and his allowing of this to happen while he retreated to Florida solidifies his reputation as such. Please, Lula, fix things around there.
4
Damar Hamlin Goes Into Cardiac Arrest During a Game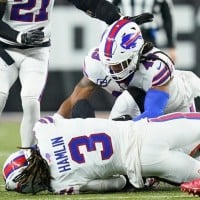 Buffalo Bills player Damar Hamlin suffered a cardiac arrest during a game. He likely experienced a rare complication called commotio cordis where a blow to the chest disrupts the heart's rhythm.
It was a very scary situation for the entire NFL. This situation was completely unprecedented. The entire football world just stopped when this happened. The game itself was postponed then cancelled. Thankfully he is recovering well and a silver lining for this moment is that his charity GoFundMe raised over 8 Million dollars
5
Submarine Man Releases Palace of Feet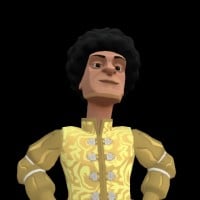 Hate to vote for this, but how hard is it to ignore some obscure rapper? He is not even mainstream or remotely popular, just bugger off and stop voting for some trivial item. I know I helped voting it up right now, but I feel this still needed to be said.
How is a troll album being released one of the worst things to happen this year?
6
Allen, Texas Mall Shooting
A Neo-Nazi shot and killed 9 people, including a 5 year old. How much more carnage has to be spilled before the government wakes up and starts cracking down on gun nuts?
7
Drone Strike on the Kremlin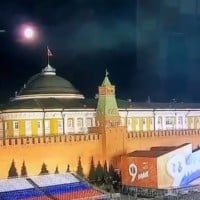 The US is also being blamed by Russia for this. If you didn't think we were this close to a WWIII moment, this has to be the closest considering this was a failed attack on Putin, and with Russia eyeing both Ukraine and US for this, who's to say they won't retaliate?
First of all Russian-Ukraine war, then Chinese spy balloons over the US and Now US suspected of Drone Strike over Kremlin. Is it just me that is seeing the signs or is WW3 just around the corner
This is just unbelievably crazy. Yet the U.S. is being blamed by Russia which means WWIII is apparently closer than ever. Ukraine deserves justice & peace.
8
Joe Biden Launches His 2024 Re-Election Campaign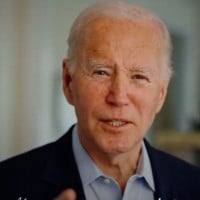 70% of people in a recent NBC poll say they do not want Joe Biden, though if you were to poll a good chunk of the nation, even some of his former voters, they don't want him either. We don't really need a geriatric in the White House anymore, many people are believing that he has no idea what he's doing or going to do, and many also want fresh, new, young blood in the White House.

If this is really the best Democrats have to offer then it shows they are outdated or they genuinely want a man who has a high chance of collapsing to actually collapse the nation intentionally. Do better, Democrats.
Well, good luck Joe! This guy can't even walk for president. If it's a Trump vs Biden rematch and we get the ballot harvesting down pat or God forbid the Democrats don't cheat, Donald Trump will beat Joe Biden into the ground like when Ronald Reagan destroyed Jimmy Carter.
This could be a very good thing (unlikely) or it could be a very bad thing. We are at the point when it's not too far fetched to say a vote for Joe Biden is a vote for Kamala Harris.
Lukewarm take: No one over the age of 65 should be in a position of governmental power. We're long overdue for a Gen X or millennial president.
9
Rise of the BQ.1.1 Covid Variant
BQ.1 and its descendant BQ.1.1 are new COVID variants that make up more than 10% of new infections across the country. They have outpaced many rival strains in European nations.
I have to admit I've long lost track of the many Covid variants. Fortunately although mostly they become even more contagious and hard to defend against the newer variants at least mostly aren't more severe when you get them in fact some of them are less likely to cause serious harm. Not trying to dismiss the threat by the way I still think we need to remain careful.
Too bad China's isolation didn't help resolve this, but make it spread more. Viruses must have something or somebody to approach. Yet it's said to be the most transmissible & immune-evading variant yet. Sounds scary right?
Is this the Kraken variant?
10
California Floods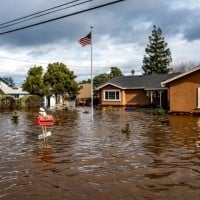 Heavy rainfall caused by multiple atmospheric rivers in California between December 31, 2022 and January 25, 2023 resulted in floods. A levee failure on the Pajaro River in Monterey County triggered massive flooding and prompted hundreds of evacuations and water rescues.
This has been happening since late 2022. Storms are hitting California & flooding its cities. Prayers to all the people & their families.
The Newcomers
?
Hurricane Lee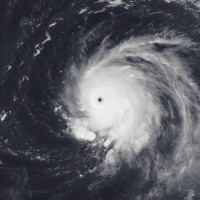 This hurricane was a dangerous Category 5 storm, but it later hit New England and eastern Canada and caused several power outages and killed one person.
?
Magnitude 6.8 Earthquake Hits Marrakesh-Safi in Morocco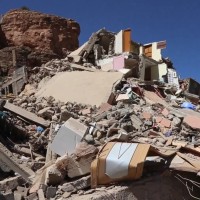 Another deadly Earthquake hit a popular town. Marrakesh-Safi in Morocco was hit by a magnitude 6.8, damaging many buildings & killing 2,946 people. It's the largest earthquake for Morocco after February 28th 1969 & it's deadliest since February 29th 1960 as well as the world's deadliest earthquake after Turkey's & Syria's 7 months beforehand. Prayers to all the families & friends & R.I.P. to those victims.
Just like the earthquake in Turkey and Syria, this is absolutely devastating. Can you imagine if an earthquake occurs out of nowhere and you are a victim of it? Earthquakes are just horrible. In the meantime, can't people remove Submarine Man from this list already? This site is definitely invaded by immature and ignorant people who only vote for trivial things. Grow up or leave. ht's retirement definitely killed this site for good. ~ TheSinisterAura
The Contenders
11
Brovary Helicopter Crash
On January 18, 2023, a helicopter crashed into a kindergarten in Brovary, Ukraine. The crash killed at least 14 people and injured 25 others. Among the passengers were Ukrainian Minister of Internal Affairs Denys Monastyrsky and other top officials.
2 people were hurt in this crash. At least nobody was killed unlike the helicopter crash of 2020 (which killed Kobe Bryant & his daughter Gianna). Prayers for them.
12
3 Teenage Girls Tortured and Stabbed a 13 Year Old Girl in Noosa, Australia
How sick of these people. They had problems & didn't get the help they need. Violence is wrong & bullying only makes problems worse.
13
Nashville Elementary School Shooting
Babies should live and grow old and have more babies. Jesus is crying over this hateful crime perpetrated by a sick hateful person who had no grasp on who they were or who God intended for them to be.
At what point are more people going to see the unbelievable amount of mass shootings in America and think "Hmm, maybe we should have better gun restrictions"?
Why the hell are these school shootings still happening in the USA? They should have stricter gun laws in the future, I can't believe these are still happening in nowhere but the US. R.I.P. to the victims killed in the shooting.
Another school shooting to end March with. A total of 6 are dead, 3 students & 3 adults. It's just awful that schools & stuff have to keep dealing with all this. R.I.P. to the students & teachers & families.
14
Plane Crash in Nepal Kills 68 People
A Yeti Airlines plane crashed near Pokhara International Airport while trying to land. It was carrying 68 passengers and 4 crew members. At least 68 people were killed in the crash.
Prayers to the families of all the people involved.
15
93% of Baltimore Third-Through Eighth-Graders Revealed to Have Tested Below Their Grade Level in Math
Crime against parents and tax payers and the they really failed all in the name of DEI. Love is not complicated.
Sadly people aren't learning well enough. Work harder people.
16
Donald Trump is Indicted by Manhattan Grand Jury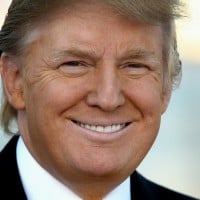 Is justice in the United States of America blind, deaf, stupid, biased, corrupt or all of the above? All of the above obviously. If Donald Trump sneezes he gets investigated but the news is sitting on Joe Biden's classified document scandal like a toilet
17
Lithuania-Latvia Pipe Explosion
On January 13, 2023, a gas pipeline connecting Lithuania and Latvia exploded in northern Lithuania. There was no evidence of an attack. The supply of gas was cut off but was later restored using an unaffected parallel pipeline.
A pipe at the Lithuania-Latvia factory exploded. Thankfully no fatalities known. A truly scary day for the countries.
18
Michigan State University Shooting
Now Michigan State University becomes victim of these senseless shootings. Yet this all happened before Valentine's Day. Prayers to the families of the 3 students who lost their lives. R.I.P. to them.
19
Southeast Australian Heat Waves Kills Millions of Fish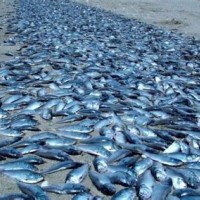 This is a very bad thing happening to us down here right now. Luckely no one hasn't died from the heat waves just yet, just fish.
20
Suspected Chinese Spy Balloon Flies Over U.S.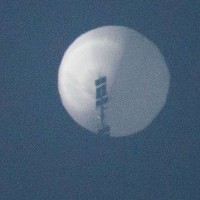 Everyone agreed this was a national security risk. The US military could've shot it down sooner but Biden gave the order on Wednesday and they didn't do it until days later. Well, China's got some info on us all now, thanks military.
21
Lima, Peru Declares State of Emergency Due to Protests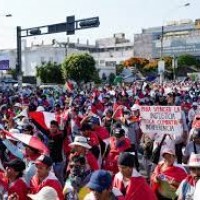 On January 15, 2023, Peru's government declared a state of emergency in Lima and three other regions due to protests against President Dina Boluarte. The measure authorizes the army to intervene to maintain order and suspends several constitutional rights.
Protests gone wrong especially. We've already been through enough since the George Floyd riots.
22
Toxic Chemical Explosion in East Palestine, Ohio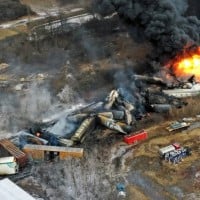 On February 3, 2023, a train carrying hazardous chemicals derailed in East Palestine, Ohio. The chemicals that spilled and were later burned include vinyl chloride, butyl acrylate and isobutylene. The burning of some chemicals was done to avoid an explosion. Residents have been told it's safe to return home, but there are concerns about lingering exposure in the air, water and soil.
A train derailment released over a million pounds of deadly carcinogens into Ohio's atmosphere. Police decided a controlled burn would fix it, only to release even more toxic chemicals into the air. People and animals are dying, food and water is being contaminated, and journalists reporting on the emergency are being arrested.
This should be on the headlines of every major news network.
The sad thing is that this event happened at around the same time as the Super Bowl and the sightings of unidentified objects that the federal government is shooting down.

However, this should DEFINITELY not have been buried by those events and also be on every major news network and it's ridiculous it's not as it's an environmental disaster that some are apparently comparing to a movie, or even to Chernobyl. People had to evacuate, and deaths are already arising for wildlife. So why are journalists getting arrested for trying to cover it and even worse, why are some media outlets somehow claiming THAT THE AIR IS FINE? It's not. Another thing to worry about is that this stuff is going into the water, and there are tributaries. Some people won't be able to get clean water. I'd honestly put this at #1 at the moment.

And now there's two more train derailments so soon. One in Texas, the other in South Carolina, with the former also having hazardous chemicals.
I'm sorry to say but in 10-15 years from now there's going to be a rise in cancer diagnoses from people who are living/lived in this area.
This was a crime not because of the lack of safety on the RR, but a real crime in how pour government treated the victims because they were not mostly Biden supporters.
23
Gary Glitter Released from Prison
He should've stayed in prison.
24
Death of Lisa Marie Presley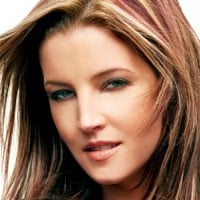 This was such an absolutely devastating loss for rock 'n' roll as well as country & the music industry as a whole. The only child of Elvis Presley had cardiac arrest & passed away 4 days after what would've been her father's 88th birthday. She was just 3 weeks shy of her birthday. She would've turned 55 on February 1st (which's too young anyway). She was being treated, but it didn't work. She will be remembered as the princess of rock 'n' roll. R.I.P. (1968-2023).
25
Bill Gates Warns Everyone About a New Pandemic
Last month! Bill Gates warns all governments that a new man made virus that's worse than Covid-19 will take over the world in around 20 years! The chances of this happening is around 50%
This man is making people turn into either conspiracy theorists or conspiracy debunkers. Absolute madman.
Bill Gates invented the Blue Screen of Death. Keep that in mind.
PSearch List