Best Male Singers
The Top Ten
1
Freddie Mercury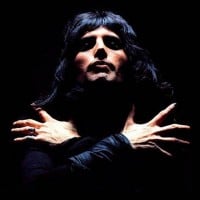 Freddie Mercury (born Farrokh Bulsara, 5th September 1946 - 24th November 1991) was a Zanzibari-born British singer of Indian descent, songwriter and record producer, known as the lead vocalist and songwriter of the British rock band Queen. He also became known for his flamboyant stage persona and four-octave ...read more.
By far, the BEST male singer in the world! The emotion he would convey with each performance is what makes him so great. His performance ability was just as amazing. To witness his interaction with the audience leaves me in awe and so jealous I wasn't able to witness Freddie's craft live. Thank goodness the band were genius enough to capture most of their performances on video so that the rest of us can enjoy their music for years and years to come.
Freddie Mercury (it is NOT spelled Freddy) is the best singer from the best band. He wrote so many amazing songs and sang even more amazing songs. He has such a great voice and can sing absolutely anything, which is proved in his most popular song Bohemian Rhapsody. When you first hear it and it first starts you think it's going to be a calm song, and then later on it has opera, then a heavy rock section and finishing off the calm bit. All of these are done amazingly. I don't know anyone else who can do that. He did it again in Queen last album with Freddie Innuendo. The song had the same name. Another song he wrote iss Don't Stop me Now, which is my all time favourite song and he songs in it amazingly. It is said that it is about him being bisexual, which relates to me a lot.. buthe I'm not going to comment too much about that because nobody knows weather Freddie was gay or bisexual, and we should respect whatever sexualit he actually was. Let's now talk about Live aid. It was an ...more
Listen to Freddie play the piano
Watch how he expresses himself with his hands
A voice like no other
Freddie you are a LEGEND.
FREDDIE MERCURY is the greatest singer... Ever! He's got the most beautiful voice on the planet! Nobody even comes close to his genius / talent / or magic.
It's heartbreaking to see someone like M.J. with his little girl's voice ahead of Freddie, the most powerful, most amazing, and most awesome voice ever! Let's get real and quit with the sympathy votes! Yes, he might've been entertaining, but, as a singer, Not a Chance!
FREDDIE MERCURY deserves this more than anyone! He had perfect pitch, perfect tone, and, at a 4 octave range, untouchable! Freddie is an absolute phenomenon, putting his heart and soul into every lyric, imbuing every word with such passion and vigor. He is dynamic, electric, mesmerizing, just the BEST ever!
2
Michael Jackson

Michael Joseph Jackson was an American singer, dancer, and songwriter born on August 29, 1958 in Gary, Indiana and passed away on June 25, 2009. He donated (at least) a remarkable 500,000,000 dollars to charity. Michael is also known as The King of Pop (a title given to him by Elizabeth Taylor) or under ...read more.
Michael Jackson's history proves that he should be listed as number 1. Mike has sold more albums than Kim, Mike has a larger fan-base than Kim. Mike is more known world-wide than Kim. Mike is a much better stage performer than Kim. Mike is far more creative than Kim. Mike's vocal range is far more versatile than Kim. Mike has easily achieved iconic status at a very young age. Mike is the only POP MEGASTAR that has ever received the title. Mike is the King of Pop. Mike is legend and he will be remembered for centuries to come. Kim will never pack Stadiums filled with 60 to a hazardous 70,000 screaming fans. I can almost guarantee you that more people in China knows who Michael Jackson is than Kim.
Best singer, best dancer, best person best best best! I can talk for hours about him...he is and he will be one of my idols but sure the top of singers! Lots of people said and still say things about him, very bad things about him. They judge him like he is a criminal or I don't know what, like he is the worst person you can imazine. They also say very bad things about and to his family, things that hart them. I must say that I have really cried about these things and almost belived them, I have also be angry with him and sometimes scared of him but the other day that was just a nightmare. I don't know how he did it but I just can't stop loving him! Vote him he worth it!
Having a 4 octave range is incredible in itself, but having the ability to be as versatile as Michael Jackson was is just extraordinary. Michael could sing beautiful melodic ballads, fast, complicated rhythms, rough, edgy staccatos, and so much more. He put so much emotion and feeling into his work, and if you ever watched him live or his performance videos, then you'd realize that he really created a visual for the beat. He was music in a physical form, and though his work will live on, there will never be another person like him. RIP Moonwalker
Michael jackson is the greatest male artist of all time. He revolutionized music with his 3 songs beat it, billie jean, and thriller and has the number album worldwide, thriller with 65-110 million sales. The man has 3 albums in the top 25 of sales. He's the most awarded artist with 40 bill board awards, 13 Grammies, won 8 in one night, 24 American music awards, and presidential awards for his worldwide charities! He's regogxized as the greatest entertainer ever. He is in the top 2 of singers if all time with freddie mercury, but his voice and fashion was different than any other, so is say yes he's tge better singer. 15 gold, 13 platinum, 9 multi platinum, and 2 diamond records. It's really disrespectful to compare any one with the King of Pop (in some king of music) a Michael Jackson!
3
Elvis Presley

Elvis Presley was an American musician and actor. Known as "The King" He was mostly known for his number 1 singles including "Heartbreak Hotel" "Hound Dog" "Jailhouse Rock" "Love me Tender" Elvis debuted in the movie "Love me Tender" and focused less on his music and continued that way. ...read more.
Elvis was a phenomenon! His vocal range was extraordinary. His timbre was very unique and extremely pleasing to the ear. He would sound great singing a recipe.
In my opinion Elvis Presley had the most versatile and powerful voice in the history of popular music. If you need convincing, just listen to a few of his songs such as Jailhouse Rock, Are you Lonesome Tonight, In the Ghetto, If I can dream, Suspicious Minds, Heartbreak Hotel, Burning Love, Kentucky Rain just to mention a few and then try to come up with another singer who could perform all of those songs anywhere near as well as he did. Music has obviously changed quite a bit throughout the years and there have been plenty of great singers who could sing in one particular style very well but none in my opinion in his prime none of them could match the overall singing voice of Elvis.
Elvis should be at the top of this list, without a doubt.. Elvis Presley has the most powerful singing voice of yesterday, today and tomorrow. Greatest showmanship, voice, charisma, the whole package. Just listen to his music, it tells the whole story. Elvis still has fans from all over the world that loves him and all his beautiful music he left us. Go to graceland and see his trophy room of Gold and Platinum Gold records and awards and it is without a doubt the greatest and the most beautiful room you could ever imagine and the most remarkable display of accomplishments in the history of music and of entertainment. When I saw the room my heart sunk, 132 gold, 70 platunum, and 33 mulitplatinum certificates etc. It's so amazing what Elvis accomplished in the short time he was with us, he gave so much of himself. The greatest entertainer that has or will ever walk the face of this earth. Thank you Mr. Presley, you're on the top of my list.
They don't make them like him any longer. Today's people just don't know how good they used to be. Elvis is unmatched as a white singer (even the Rolling Stone Magazine says so, which usually prefers John Lennon or Bob Dylan and the like as musicians); only some black guys topped Elvis in a way (but not Michael Jackson, only as a dancer, of course. )
(I'm a white female. )
Still, nobody had that stylistic range. Elvis could almost sing everything - and did.
No one has this indescribable warm and sexy feel to his style. Not up to date.
4
John Lennon

John Winston Ono Lennon, MBE was an English singer and songwriter who rose to worldwide fame as a co-founder of the Beatles, the most commercially successful band in the history of popular music. He was assassinated by Mark David Chapman on December 8, 1980 at age 40.
Come on dear friends, John Lennon taught the world how to sing and gave birth to almost all the good music we are listening to right now, who else has contributed like this and given birth to such a vast musical universe followed by millions around the world for more than 60 years and counting? So shouldn't Dad be The Number One?. Of course! : His singing style characterized itself for mastering several styles, every single musical style or sound feature John Lennon took in his hands he demonstrated to master it and even perfect it, taking it beyond any limits in terms of artistic expressionism and full enrichment, but even better than these facts is the one that he created a style of his own, yes, that is, I mean such IS the height of the transcendence of his Multipowerful Legacy, you just need to listen to a couple of his songs and will get what I and many many more are saying, and he achieved all this by only being true to himself! By setting his heart free! Yes indeed, honesty was ...more
John Lennon is the best singer I have ever heard, and better yet, the best singer of all time. Better than Elvis, and better than everyone else for the matter. His voice is raw, real, seductive, and perfect for rock n' roll all at the same time. Goes to show just how his voice can sound in many different tones, not a lot of singers can sound like he could.
Personally I think he is one of the best singers. Far better then some of the singers that broke the top ten. He came before a time of digitally remastering sound tracks to take imperfections out of your voice. I think those were true musicians. Nothing against any of todays singer because there are some very talented ones but nothing compares to real old school vocal training.
Not only a great singer but a north Brit bloke who worked his way up by pure sweat and steady gigs to learn his craft, develop into a deep thinker and even a philosopher of sorts. His poetry and harmony while being such a prominent member of the Beatles ushered in a new era of music in our country. How fortunate we were to have had the British Invasion as part of our musical history.
5
Frank Sinatra

Francis Albert "Frank" Sinatra was an American singer, actor, and producer who was one of the most popular and influential musical artists of the 20th century. He is one of the best-selling music artists of all time, having sold more than 150 million records worldwide.
Francis Albert Sinatra is the obvious choice and is the right choice. Not only because of his seminal influence (longitudinal) in shaping modern interpretive singing, and not only because he was widely regarded by his peer musicians as the best of the best (within genre but also contemporary classical and jazz musicians, but also because his influence was and is pervasive throughout our culture; in other words, his musical idiom (e.G. , his 'devil may care' approach to swing) profoundly influenced other art forms as well as mainstream behavioral norms.
Frank sinatra is by far the greatest singer I have ever heard. I wish that he was still alive so I could see him live. Sinatra's music is not just musing to a beat to make one feel good. Each song tells some kind of story, whether it's love, despair, or a mix of emotions, the way he sings them makes the story that much more touching.
Some songs that are well known are my way, that's life,the way you look tonight and many more, but his less known songs are some of the greatest that will take you on a journey and as the song comes to an end you feel as if you lived through the song and end up being satisfied.
If your someone who thinks he's just an old singer of a dying breed, I pray to you to listen to his music and give it a chance. Truly listen to the words and you will most likely relate it to your life in some way to make it that much more meaningful.
Ever wonder why so many stations have Sinatra hours or full shows The Voice had so many lives.. The bobbysox crooner developing his pure Dorsey horn tones. The swinging star.. Who fell out of favor.. Then an academy award and many acting roles reminded us Sinatra always said you have to sing the WORDS. His secret to becoming such a great actor singer.. rat pack leader? I saw him late on at R.C. music Hall ny
Looking around that huge venue I saw a United Nations of people, costumes and ages, the younger even leaning forward more in their seats than the rest.
I agree Freddie Mercury is of equal vocal talent, but Sinatra is timeless and should be #1 due to his unique delivery. In his prime he was the ultimate performer. John Lennon was lucky to be paired with McCartney otherwise we would have never of heard him. I have seen most of these performers, not including Sinatra. Freddie was the best I have ever seen. Sinatra is the best I have ever heard. He pre dated rock so I guess people are just not aware.
6
Steve Perry

Stephen Ray "Steve" Perry is an American singer, songwriter, and record producer. He is known as the lead singer of the rock band Journey during their most commercially successful periods from 1977 to 1987 and again from 1995 to 1998.
For many years, this amazing singer has been followed by fans who want him to make a comeback. He's known as "The Voice, " a title given to him by his friend Jon Bon Jovi, for a very good reason. His voice, which has such a broad range, is distinctly his. Thanks to his awesome voice, energy, showmanship, and charisma, as well as his excellent songwriting ability, he put the rock group Journey on the map. Even though the band has had three frontmen since Steve Perry has recorded and performed with them, his voice is still THE voice of Journey. That will never change, thank God! It's so exciting that new generations are hearing his voice and becoming die-hard Steve Perry/Journey fans like the rest of us. Steve Perry is the consummate performer!
There are no words to accurately describe just how much I adore this man's voice. He can put so much emotion and beauty into songs like Open Arms, or sing soaring rock songs like Mother, Father. His range and ability are impressive, as well as his aptitude for different styles. His technique is also flawless, and this is particularly apparent in concert. He is a master at improvisation, interacting with his audience, whilst never going out of key. He has performed many incredible feats on stage, giving the crowd all he can, hitting those high notes and singing the ballads to melt your heart. Even today, with a somewhat limited range, he still has his finely refined skill, and can still put just as much emotion into everything he sings. His ear for music and finding melodies, and ability to create it have only improved. Steve Perry will forever be my golden standard.
Steve Perry is the best singer in the world! He's nick named "The Voice" for crying out loud! He's amazingly talented. He is truly blessed to have such a beautiful voice! He has the voice of an angel. He is a legend! He's only number nine on Best Singer Of All Time, so go vote for him! He's also only like thirty something in Most Unique Singer, so vote for him! Make him number one! He deserves it! And also, I just wanna say that Geddy Lee would have been my second choice for best singer, unique voice, and best male singer, but Steve is too talented to even think twice about voting for him! I will always be a fan of Steve Perry!
The Best male vocalist with the widest range, emotion, and sexy soulfulness, that can belt out a Rock love ballad to a true rock classic and hit high notes most only dream about! He is "Journey"! They weren't on the map without him and haven't had a hit (Top 40 or otherwise) without him since he left the band! Mr. Perry, (the "VOICE") is a true gentleman with the way he has been treated and rumored about in the press and by fellow band members. Schon did a huge dis-service to "true" Journey fans by cheapening the memory of Journey by stooping to You Tube for Steve's "replacement" (a very poor one at that! ). Mr. Perry a voice like yours cannot be replaced it is a gift. I hope to hear more of your wonderful melodies, harmonies and ballads soon! Love a forever "Faithful" fan!
7
Paul McCartney

Sir James Paul McCartney is an English singer-songwriter, multi-instrumentalist, and composer . With John Lennon, George Harrison, and Ringo Starr, he gained worldwide fame with the rock band the Beatles, one of the most popular and influential groups in the history of pop and rock music .
I don't really listen to the Beatles apart from the odd song but I gotta say paul is an amazing singer (yes I know he isn't the only singer in the beatles). The Beatles is my mums favourite band so I reckon she's going to try to get me into it sometime soon - if I don't do it myself! I also really like pauls solo work and the stuff he has done with wings.
Another special result of the British Invasion that brought us such tender harmonious melodies. Like his fellows, Paul was a Newcastle bloke who had genius and the perseverance to develop it into beautiful new exciting sounds and perceptive language that puts some of our current output to shame. And best of all Beatles music was, is, not only a superior work of art but it is rousing unencumbered fun. But it took a while. I recall asking the NYC Rainbow Room conductor to play us some Beatles music to dance to. His huffy answer.. We
Don't play THAT here. Can you imagine?
Okay well Freddie is my favorite, but he already has enough votes, so I'm voting for Paul. Paul's voice is incredibly versatile. He can go from soft and sweet to full on rocker in a matter of seconds! Listen to songs like Oh Darling and Maybe I'm Amazed, they show off his range perfectly. And he, along with the rest of the Beatles, wrote some of the best songs of all time.
Paul is one of the finest singers in rock. On songs like Till There was You and Blackbird he had a gentle voice on songs like Sergeant Pepper and Drive my Car he had his raw 'Little Richard vocal'. On Let it Be and Long and Winding Road he was sounding like a gospel singer. Bigger vocal range and better vocal technique than Mercury or Presley.
8
Robert Plant

Robert Anthony Plant (born 20 August 1948) is an English musician, singer, and songwriter best known as the lead singer and lyricist of the rock band Led Zeppelin.
One thing that should be mentioned when you bring up Plant is not only his Led Zeppelin and solo work, but he and Alison Krauss won six Grammies eight years ago for an incredible recording, "Raising Sand". An unlikely pairing, but one that really clicked, thanks to the genius of T-Bone Burnett. I sometimes feel Raising Sand gets overlooked when it comes to Plant's accomplishments, and it certainly shouldn't.
This list was created by heathens. Why is Robert Plant not in the top ten? His voice is fantastically versatile, compare something like 'In The Evening' to 'Tangerine', for example - it sounds completely different. Plus he's still an incredible singer at the age of, what, 60 now? The album he released recently with Alison Krauss, 'Raising Sand' is bloody brilliant.
Robert Plant was the Golden God of rock and a mesmerizing front man in Led Zeppelin. As a solo artist he continues to reinvent himself. His voice is one of a kind and ranges from primal howls to seductive to folksy. His lyrics are beautiful poetry that can transport you to another time and place. There is simply no one like him.
Led Zeppelin FOREVER! I can't believe people like bruno mars and adam lambert are in the top ten but robert plant is only at number 18. He should be at least number 3, behind mj and freddie mercury. He has an excellent rock voice and he's what makes Led Zeppelin so awesome. Led Zeppelin IS THE GREATEST BAND EVER! Stairway to heaven... Enough said
9
Stevie Wonder

Stevland Hardaway Morris, known by his stage name Stevie Wonder, is an American musician, singer, songwriter, record producer, and multi-instrumentalist.
Stevie Wonder has shown everyone a variety of various songs that he has created. Many include, 'Sir Duke', 'Part Time Lover', 'I Just Called To Say I Love You', 'Isn't She Lovely' and 'Superstition'. Stevie Wonder is one of the greatest male singers of all tome and should definitely be in the Top 5. Along with Stevie Wonder, other recording artists such as Michael Jackson, Freddie Mercury, Roy Orbison, Elvis Presley, Gary Puckett and more belong in the Top 20. Many other singers and musicians around the world are amazing and have different voices. Such as the well known Rock bands, Journey, Triumph and Rush. Three excellent bands with three excellent voice ranges. This conludes my opinion.
Stevie Wonder is a special part of our musical tradition and a beautiful man without self pity but with the soul to have listened to the Muse in his heart and let us share his happiness and his love of beautiful words and music.
Musical Genius all the way. The voice, the talent and the incredible gift of transmission that he received from the creator put him in one of the higher spots when it comes to great singers.
This man can do literally everything: he can play any instrument, is a god on the harmonica, can sing super well and writes his own music. There's a reason why he's been singing since he was 12.
10
Adam Lambert

Adam Mitchel Lambert is an American singer, songwriter and stage actor. Since 2009, he has sold over 2.5 million albums and 5 million singles worldwide.
Adam Lambert is the Best male singer today. Adam has a beautiful, powerful and consistent voice.
Adam Lambert has expert control over his instrument, producing notes that are well supported, and achieved via great technique. He is a master in using Belting!  Adam is capable of singing complex melisma and is able to hold notes for periods of time without wavering in pitch or tone, seemingly effortlessly.
Adam is also a brilliant showman and is able to sing in any musical style.
Adam Lambert is the Best male singer today. No doubt. Adam is awesome. Regardless of the high notes that Adam achieves, it is important to realize the quality of his voice in the high notes.
He has a lot of technique and natural talent. Adam uses a lot of mixed voice, he has a strong, explosive and penetrating voice. Besides, Adam has an excellent dynamics and control. Oh, and without forgetting that Belting is a technical marvel of Adam!
Adam Lambert is best. He has a strong and intense voice. He can sing any musical style he wants and do it very well, unlike many out there. In addition, Adam has an extraordinary stage presence.
Have almost run out of words to describe Adam Lambert. He is awesome. Having seen him on tour I have to say that you can actually FEEL his voice in your body. His resonance is so strong that it is rather like feeling the drums at a rock concert... It envelopes you.. He is the best and can't wait for his next album out soon.
The Newcomers
?
Brendan Murray

?
Alessandro Safina

The Contenders
11
Steven Tyler

Steven Tyler is an American singer-songwriter, multi-instrumentalist, and former television music competition judge, best known as the lead singer of the Boston-based rock band Aerosmith, in which he also plays the harmonica, and occasional piano and percussion.
Steven is not only one of the best live singers of all time, but simply one of the best singers, period. His vocal range is legendary, from deep and low to awesome scheeching. Not to mention his brilliant vocal control and power. And has everyone forgot who sung I Don't Want To Miss A Thing? (One of the best songs of all time) Just awesome!
About time he's seen on here! He's got such a unique, powerful, special and outright amazing voice! I doubt there's anyone on this planet that can do what he does, for as long as he has!
Come on people! Steven's voice is so ' awesome. There is only one better then Mr. Tyler and that's Freddie Mercury from QUEEN.
When it comes to high pitch vocals, there is a close tie between Steven Tyler and Axle Rose.
12
Bruno Mars

Peter Gene Hernandez, professionally known by his stage name Bruno Mars, is an American singer, songwriter, multi-instrumentalist, record producer, and choreographer. ...read more.
I love Bruno mars because he is prefect he has beautiful and amazing voice and also he is adorable and hot... I love all his songs I am one of his biggest fans... All his fans out there should vote for this amazing guy.. I'm telling you his really good I mean come on he won thousands of time in the grammy awards isn't it obvious that he is the best.. He wrote good songs and when he sings its like in paradise.. He do good and great performance definitely not boring I mean like his hold band his moving and dancing along in joy.. And Bruno mars also performed in the super bowl and he was really good.. you wouldn't regert if you chose Bruno mars to win.. He is a hard worker.. Girls are all crazy about him! I love you Bruno mars!
At first I hated his guts where he released these terrible songs, especially Grenade. But somehow impersonating and copying artists made his songs really good, which he released Treasure, Locked Out Of Heaven, and featured in Uptown Funk, both one of the greatest songs of their years. Then he stopped making throwback hits and started doing R&B hits, where he also released That's What I Like and 24K Magic. They're both great songs, but not as good as his throwback hits. Then he released Versace on the Floor, which is better than the two R&B songs he made (tl;dr: I used to hate him and now I love him).
Bruno Mars should be at first top list.. Okay I guess not first but at least at the top. Bruno Mars has sold 45 million single worldwide and 13 grammys from now. Not only young childrend are fans but also teenages and adult loves to listen to his amazing songs and wonderful voice. I mean he can be the next pop/r&b/blues singer... He can dance, he can sing, he can write songs, he can play instrument... What else is it missing? He got what a true star can be. His glowing like a golden star.
You have not truly experienced Bruno Mars until you see him live. He has a rare stage presence that I could only compare to Hugh Panaro's as the Phantom from Phantom of the Opera, and that's coming from a Broadway fanatic. In addition, he is one of the few male true virtuosos out there today and that gets noticeable inspiration from many different elements, past and current.
13
Chester Bennington

Chester Charles Bennington (March 20th, 1976 - July 20th, 2017) was an American musician, singer, songwriter and actor, best known for being the lead singer of Linkin Park. He also participated in side projects like Julien K and Dead By Sunrise and was briefly the lead vocalist of Stone Temple Pilots ...read more.
Chester Bennington deserves to be in the first position of this list...
No doubt, he is the best singer in this entire universe... He sings like an angel and screams like a devil... He is blesses with a magical and heavenly voice... He is glorified for his screaming powers... He marks the birth of the best band this world has ever seen, Linkin Park... He is a crazy guy... He is sexy... He has created many immortal pieces in music... He is the best singer this world has ever seen... Love you Chaz... CHESTER RULES
Chester is THE best ever vocalist. Just think about it, the raw emotion and how he laid his soul completely bare with all of us will never be lost on me... I've never felt anything like I feel when I hear him and Linkin Park... They move me in a way that nothing else ever has and there will never ever be another like him. He is unique in every way... I just listen to him night and day and hope he has found some happiness now and is in a better place now because if anyone deserves it, he does. RIP Chester
He should be at the top of every this type of list. He can scream like a beast and can also sing you to sleep like an angel. He had both the heaviest and the softest voices. He started his career with metal songs carried on with rock and ended with pop. How can you compare anyone with him? How? He has also left behind his beautiful lyrical legacy. But no one cared of such a talented vocalist. And thus he had to end his life. Please vote him as a tribute. Please. He really deserves this.
Hands down Top 5 no way around it but he and Linkin Park have gotten me through rough times and through singing along I was able to power through struggles. He was soft and could at the flick of a switch turn in to a legendary "scringer" Everything about Chester was top notch and world class. Absolutely legendary I'm sad to see him go RIP nothing but love.
14
Prince

Prince Rogers Nelson (June 7, 1958 - April 21st, 2016) was an American musician, best known for being one of the most popular and influential artists from the 80s, with songs such as "Purple Rain", "Little Red Corvette", "1999", and "When Doves Cry" .
I love this guy. I remember being 8 years old and seeing him in a magazine for the first time and I was just mesmerized by his looks, his sex appeal. He has SO MANY songs and wide range of genres and tempos and vocal range. He can play so many instruments and he performs better than anyone else I've seen so far (I'm 17). This man just never fails to amaze me. I hate that barely anyone seems to know who he is because he has more talent in his pinky than all the artists that are taking Grammy awards home today. I wish I could've been alive in the 80's to have seen him live because I'm pretty sure it would be one of the greatest experiences ever. "If I Was your Girlfriend" is my favorite song (from him and generally speaking) so far but even today I'm still discovering new Prince songs so hopefully I will gain more favorites. This man should be the #1 greatest artist of all time.
He deserves to be in the top ten or even top five! He is music royalty and even though he is deceased he is still committed to his music as he still has hundreds of songs, yet, to be released he's the only singer I know of that is still alive but is dead. Without him the music world wouldn't be the same, we wouldn't have many unique songs he had written for others. He is a GREAT role model and shouldn't be at 15 he deserves top 5 for everything he has done for the music world. He has made music history and, in my opinion, is the greatest singer to have ever lived. It is an understatement to say he is a good singer/songwriter. He is the definition of Unique and Legend.

He is forever in my family's heart and we are thankful for growing up with his music, it is a shame such a beautiful person had to go so early.
RIP PRINCE
Let's see produce, compose, perform all of his music etc. The genius could play over 20 instruments. With a voice, that could go soprano too bass. The only artist that could compare would be Stevie Wonder with writing all of their own music and others. He could make a guitar and piano etc cry a magical tune. This list is a real joke :( I can't think of one artist that could play over 20 instruments. There will never be another performer like Prince Roger Nelson in our life time. Shame on this silly list :(
You're Joking right this man has an amazing voice and yet he's not even in the top 100 does anyone here remember Let's go crazy, Purple Rain, la la la means I love you, I wanna be your lover? Prince could sing at Michael Jackson's level in a split second.

This man had and still does today, incredible vocal range that can hit high pitch to low pitch without even the slightest bit error well maintaining a level of lust, soul and Rb with some rich and fulfilling pop music which you simply can't get today.

Prince was a legend and still is along with many more talented singers from the past who aren't receiving the credit they deserve and it's disgusting on how the new generation thinks what they got is real music.

Here's a little question you can ask yourself. who do you think influenced today's singers?
15
Kim Jaejoong

Kim Jae-joong, also known mononymously as Jaejoong, is a South Korean singer, songwriter, actor, director and designer. He is best known as a member of the Korean pop group JYJ, and was one of the original members of boy band TVXQ.
Kim Jaejoong is a great singer, his singing is probably not the best but he must be the most effort, he dance may not be the best but he is certainly the most desperately. Debut for so many years, he was very humble, he is the best in my heart
Kim Jaejoong is one of the best singer in Asia, his magnetic voice attracts millions girls from all over the world. Besides, he is also the real artist, as he composed many famous songs for his group. In addition, he is also a new star as a actor. Kim Jaejoong is my life!
Jaejoong is a great singer and composer. He has very beautiful and healing voice. Jaejoong is a real artist! He is amazing!
Be as crazy or people, who is considered not to pursue the person, or is everyone looked at me and shook his head off and never mind, my youth at least because Kim Jaejoong and full of bright light, good move, a lifetime worth treasuring memories of time. Maybe when I grow up slowly know that adapt to the social apathy strong, will slowly fade out crazy tough walls, no longer the world and Kim Jaejoong alone; perhaps many years later I had to go to survive through groundless talk, will gradually become cold and indifferent, never looked at the Red Sea choke with sobs. Even though, I have returned to their original didn't meet his orbit; even though, my life no longer blindly around him. Only, who is at the people have asked me ' you like most people ' time without thinking answers -- Kim Jaejoong; but, in all the moving has been unable to shake my time will still be utterly routed because one of his eyes.
16
Usher

Usher Terry Raymond IV is an American singer, songwriter, dancer, and actor. Born in Dallas, but raised in Chattanooga, Tennessee was where he lived until moving to Atlanta, Georgia at the age of 12 where his mother put him in local singing competitions all over the city.
Usher have a most sexy voice! His falsetto is all nasally and irritating made me wet anytime!

Usher is one of the best live performers out there, true performers, real singing, real dancing!

With MJ gone RIP. Now Usher is a leader of dance and sing at the same time, but ushers dance moves never disappoints, very smooth!

Justin timberlake is good but he can't dance like usher, his voice and swag carry him through any and every performance.

MJ actually used to lip sync a lot and Justin never danced as much as Usher while dancing. Chris brown good dance but he can't sing like usher.

So Beyonce and Usher are actually the best right now when it comes to live singing and dancing simultaneously.
Usher should be second he is awesome I have been wanting to sing with him forever usher I love you and please watch my YouTube video little miss usher I will be posting soon! U have absolutely amazing talent you are an amazing dancer and it would be such an honor to be on stage with you again you are AMAZING! and you should at least get second I don't know why your at the bottom cause you have so much talent! I <3 you usher!
If you haven't heard confessions part two, the album. You don't realize how hood this man really is. He's not just the pop star on the radio. He has a TON of emotion and can hit such high notes.
He is an amazing singer I love his songs dj got got us fallin in love again and yeah! He is awesome everyone should think he is awesome everyone should vote for him
17
Jon Bon Jovi

John Francis Bongiovi, Jr., known as Jon Bon Jovi, is an American singer-songwriter, record producer, philanthropist, and actor, best known as the founder and frontman of rock band Bon Jovi, which was formed in 1983. He is famous for his band's hit song "Livin' On A Prayer" released in 1986. He ...read more.
In my humble opinion He should be right up there with Freddie Mercury in the top five of all time. Jon has been an amazing singer for decades now, and still sells out arenas and stadiums. He has a huge catalog of songs to choose from, sings each one as if it's his favorite, and can perform for hours to the delight of each and every person in the audience.
One of my favorites. Glad he made top 15 at least for now and yes he definitely beats a lot below him like Timberlake, but not Prince, Elton John, or Ray Charles. But Still I'm glad because his range is so wide and something about his voice that can touch my heart like a bird singing in the sunset and a beautiful man.
My gosh!?.. What happened to you people?.. Jon Bon Jovi should at a place higher than this!.. He should be among the top ten!.. His staying power in the music industry was proof enough to consider that he's one of the best!

BON JOVI FOR LIFE
He in no means should be number one, that belongs to MJ or Freddie, but come on World! Justin Bieber is higher than him? Bieber is a gimmick, he cannot sing for his life. Jon is one of the most talented frontman the world has ever seen. Mick Jagger has said it himself, he is top ten no questions asked
18
Marvin Gaye

Marvin Gaye was an American singer, songwriter, and musician, and is regarded as one of the greatest singers of all time.
Marvin Gaye's voice was trained to sing gospel in his fathers church. That fact alone makes him a great singer as most gospel singers some how reach the top faster than any other type of singer. Just to give you an example, Sam Cooke, Aretha Franklin, Jackie Wilson, David Ruffin and Mavis Staples just to name a few, grew up singing in church. Marvin Gaye had a 5 to 6 octave voice. David Ruffin had a 4 to 5 octave voice. That means that they could hit notes that the average singer couldn't hit if they tried. That is only part of what a great singer is. They can also make you feel the music that they sing in your heart and soul. So all of those are great singers, I just happen to believe Marvin Gaye is the Best.
Eminem? Higher than Marvin? Whatever kind of joke it is, placing the worst musician ever who isn't even a singer and is a rapper above Marvin Gaye. Whoever voted for Eminem, leave TheTopTens.
This guy is amazing. Why is their such tasteless rubbish above him. Eminem isn't even a SINGER. He's a rapper!
Ah, yes. The music 99% of our generation was conceived to. You have to give him some credit for that.
19
Ray Charles

Ray Charles Robinson, professionally known as Ray Charles, was an American singer, songwriter, musician, and composer.
A beautiful American, great guy and a very special singer. Another example of someone who couldn't see the world around him but was not blind to his love for music and his need to share his talents and his inner sight with us all. When I hear his deeply soulful voice begin "Oh beautiful for spacious skies. for amber waves of grain" I'm so grateful and proud that Ray Charles and I both share that same country.
Come on, Bruno Mars and Justin Timberlake are above Ray Charles?!
I don't have anything against Bruno Mars or Timberlake, but Ray Charles was a genius! Great singer and awesome pianist! He was blind yet he was a better musician than Mars or Timberlake could ever dream of!
Eminem? No, somebody wake me up from this awful nightmare. Eminem is sexist and homophobic, has an awful voice, and is not even a singer, he is a rapper and the worst musician ever. If you voted for Eminem instead of Ray, go to another site, we don't need you.
Probably young people here voting have not experienced the genius of Ray. Go out an listen to a greatest hits and more. He is so soulful and can rock with the best. ONE NOTE and you know who it is, pure class voice and performer
20
Josh Groban

Joshua Winslow "Josh" Groban is an American singer, songwriter, actor, and record producer. His first four solo albums have been certified multi-platinum, and he was charted in 2007 as the number-one best selling artist in the United States, with over 22.3 million records.
Josh Groban is by far the best male singer out there at the moment, he's not in league with anyone else. His music is genre-less, it can't be easily categorized. He is admired and respected by those in the music industry who have made it to the top - which is where Josh belongs. He'll be around for a long time to come! His voice is both soothing and upbeat to listen to, he sings from the heart and the lyrics of his songs have real meaning and are beautiful to hear. I like the fact that this young man doesn't try to emulate anyone else, he's "Just Josh" who has real talent as well as being a kind and giving person.
What can I say? He plays well to the very young to the very old. I think that he is someone that the teenager and an octogenarian can listen to in the same room and at the same time with equal enjoyment! I guess you could say that he in his own way bridges the generation gap. This could only be done with a tremendous amount of talent.
Josh Groban is a wonderful singer. I love his music and his voice. I only wish he is a bit more open on other genres. There are times I don't feel motivated finding his music... But still he is one of the best out there. He is also one of the celebrities I really wish to meet and wish that he sings to me personally. Love ya Josh!
Josh Groban is very talented. His voice is beautiful and well trained. He puts a lot of himself into each song he sings and brings out the meaning that touches the heart. I introduced Josh to a 15 year old that I mentor and now she is as crazy about him as I am at 57. He crosses ages and genres.
21
Elton John

Sir Elton Hercules John CBE is an English singer, pianist, and composer. He has worked with lyricist Bernie Taupin as his songwriting partner since 1967; they have collaborated on more than 30 albums to date.
I love Elton John. Rocket man is one of my favourite songs, and since I was very little I have loved Your Song. I was really happy yesterday when my mum was listening to music and she was listen to elton John. Please vote for him!
Tiny Dancer, Goodbye Yellow Brick Road, Levon, Someone Saved My Life Tonight, Can You Feel The Love Tonight, Candle in the Wind, Bennie and the Jets, and Don't Let The Sun Go Down On Me. He's both an amazing pianist and singer who has inspired many artists to be creative.
Do you people even know this guy?!?! He is a legend. As of now, he is the most successful solo male singer alive, behind only Michael Jackson, the Beatles, Elvis Presley, and Madonna when it comes to record sales.
Listen to his vocal range in the 1970s; it's amazing. Then, there is the variety of music he sang (and still sings). Everything from pop to rock to ballads to country and even soul.
22
Billy Joel

William Martin Joel is an American singer-songwriter, composer and pianist. Commonly nicknamed the "Piano Man", he has been making music since the 1960s, releasing popular albums throughout the '70s, '80s and '90s.
One of the best singer-songwriters of all time. He is simply and utterly one of the most talented musicians in modern history. Everyone at least loves a handful of his songs, and shows his surprising and incredible vocal range. Some songs don't even sound like him, but it's his voice, just being incredibly versatile with it.
He is simply the greatest singer of all time! If you don't believe me just scroll through a list of the top Billy Joel songs and listen to them!
NUMBER 59!? This guy is a superb pianist and a songwriter, his showmanship shows no bounds, and his voice. It supports EVERYTHING I just said.
BJ.. So cool.. Such a great talent if composing or performing.. With all his gifts to us, it's hard to pick one. If you never heard him or perhaps merely forgot, give a listen.
23
Ronnie James Dio

Ronnie James Dio (born Ronald James Padavona; July 10, 1942 – May 16, 2010) was an American heavy metal singer, songwriter and musician. He fronted and/or founded numerous groups including Elf, Rainbow, Black Sabbath, Dio and Heaven & Hell. He is credited with popularizing the "metal horns" hand gesture ...read more.
Greatest singer who ever lived in my opinion. Ronnie James Dio is my hero he could sing any genre he wanted. His voice always astounded me, not only the power but how his voice could also be so soft. I love that he sung about dragons, rainbows and deamons His lyrics were full of wonder. I can't believe he is so far down this list.
His vocal range was truly amazing. No one can sing like Dio. Many singers have talent that appears once in a generation. There will never be another Ronnie James Dio no matter how long humans exist.
I can't believe he is this far down. Listen to holy diver or rainbow in the dark. Justin beiber is higher than him, who's voting on this website? Idiots obviously.
DIO means GOD for a reason! There is none better than Him, as far as I am concerned. I've been a fan of His from the very first time I heard Him sing.
24
Kurt Cobain

Kurt Cobain was born February 20, 1967, in Aberdeen, Washington. In 1987, he started the grunge band Nirvana, which became one of the most successful bands ever. He was a talented yet troubled grunge performer. Kurt Cobain became a rock legend in the 1990s with his band. He committed suicide at his ...read more.
While Kurt, iconic frontman of nirvana, may not possess the control and range of some other singers, he poured his heart inton his words like no other. He was also a real singer and artist, unlike about 95 percent of the singers ranked higher than. Some of my favorite songs which exhibit his voice, School, Lounge Act, Big Long Now, Frances Farmer will have her revenge on Seattle, Heart-Shaped Box, All Apologies, Where did you sleep last night?...
One of the best singers out there! Why is he at #55? My music teacher was the one who influenced me to listen to Nirvana and I'm thankful for that. I'm 14 and even I appreciate a great voice. Most of the singers on this list are whiny and they put no emotion and meaning behind their voice, unlike Kurt. I love Smells like a teen spirit, lithium and in bloom. THEY ARE THE KINGS AND GODS OF GRUNGE!
Kurt Cobain's voice is beautiful and I'm surprised he's not up farther. His voice is so incredibly unique. I love the raspy sound to it. Kurt Cobain deserves to be way farther up this list (or at least passed Justin Bieber). Nirvana forever. RIP Kurt Cobain - my inspiration and role model. A true legend.
Kurt Cobain has a very unique voice. It is composed of a Raspy sound and mostly yelling out of anger. He also has a very good soft voice, this is in songs like Something In The Way, Silver, Dumb, R#pe me, etc. I believe he should be in the top 5.
25
R. Kelly

Robert Sylvester Kelly, known professionally as R. Kelly, is an American recording artist, songwriter, record producer, and former professional basketball player.
Truly at least he is open with liking young girl there are lot you men out there that are more scrum bags than R. Kelly who are molesting their own blood behind closed door. I do not condone R. Kelly behavior but if these girl were example they would not have allowed him to be intimate with them in the first place. However I believe R. Kelly should have ranked higher as he one of the best R&B Singer, He is talented, gifted and blessed and has always produce #1 singles. It not be recently. That is my opinion and I am entitled to it!
It seems the mainstream will never recognize his true potential if he keeps doing hip hop, but his balladry is untouchable. A phenomenal range, can do every technique in singing... Easily the best male R&B singer of our generation
He's good, but not better than Luther, Joe, Brian McKnight or Johnny Gill. Joe is the true king of r&b.
He wrote my favorite song ''I Look to You'' and it was sang by my favorite artist Whitney Houston
PSearch List