Top 10 Greatest Deceased Guitarists
The Top Ten
1
Jimi Hendrix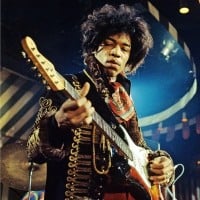 Jimi Hendrix (born November 27, 1942 - September 18, 1970) was an American rock guitarist, singer, and songwriter. Although his mainstream career spanned only four years, he is widely regarded as one of the most influential electric guitarists in the history of popular music, and one of the most celebrated musicians of the 20th century. The Rock and Roll Hall of Fame describes him as "arguably the greatest instrumentalist in the history of rock music". Hendrix is consistently ranked on lists of musicians who died too soon.
Jimi. Charisma abound. He could drawn you into his playing like no other. Probability the most influential guitarist of all time.
Always voted top by all his peers. Innovative. Inspired generations of guitarists since. Number 1 by a country mile.
He is the greatest of them all. Yes, it is ridiculous that he isn't first.
HE is the greatest of all time. It is ridiculous that he isn't first.
2
Dimebag Darrell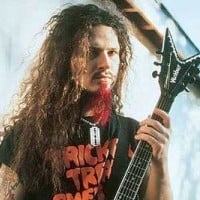 Darrell Lance Abbott, also known as Diamond Darrell and Dimebag Darrell, was an American guitarist and songwriter best known as a founding member of two bands, Pantera and Damageplan, alongside his brother, Vinnie Paul. Abbott died in 2004 after he was shot by a mentally unstable fan.
What a great talent has been taken away from us! Truly shaped metal with his approach to playing!
Among the best! Wicked solos and tricks for sure. A good guy and awesome stage presence.
A True savant on guitar, style and speed. Nicest person you could ever meet.
I miss him, and miss pantera, I don't play guitar, but I have bought his model from Dean to honor him, such a good musician
3
Randy Rhoads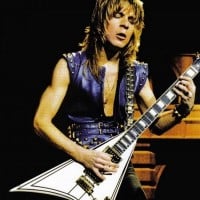 Randall William "Randy" Rhoads was an American heavy metal guitarist who played with Ozzy Osbourne and Quiet Riot. He was killed in a plane crash.
Randy is a GOD... 25 is no age to die, (Hendrix and Cobain were 27! Probably only more acknowledged for being part of the club) especially not the way he died... what he accomplished in his small career however was far greater than 99% musicians out there today. Most versatile and not only changed guitar but also music, completely broadened it with concepts of writing in different keys etc. flying high again is more impressive to me than any of hendrix's music and his live recordings were unbelievable. He was also extremely humble and respectable plus had no influence of drugs on his music, not many people can say that.
He changed rock at his time. Revolutionized his sound and helped ozzy a lot. It's a shame he died so young. Had so much potential. Definitely could've had his name more so recognized had he stayed around. Much greater of a player than zakk wylde. Truly underrated due to misfortune of early death. His crazy train was derailed before it left station
I remember listening to Blizzard of Ozz and Diary of a Madman in the car with my Dad when I had only played guitar for about 3 months. After Mr. Crowley I thought to myself, "I want to be like this guy! " Randy Rhoads will forever be my favorite guitar player. He has completely influenced my style of playing and the musician I am today.
Hendrix has my vote for most innovative and influential to musicians, but the loss of Randy Rhoads' brilliance, and others like Malcolm Young of AC/DC, Gaines/Collins of Lynyrd Skynyrd, for some reason have cut much deeper into my heart and hurt more. May they all RIP, they're not forgotten and sorely effing missed.
4
Stevie Ray Vaughan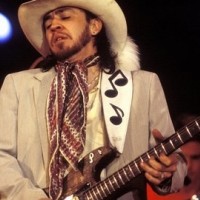 Stephen "Stevie" Ray Vaughan (October 3, 1954 – August 27, 1990) was an American musician, singer, songwriter, and record producer. In spite of a short-lived mainstream career spanning seven years, he is widely considered one of the most influential electric guitarists in the history of music, and one of the most important figures in the revival of blues in the 1980s.
This list is the "top ten most popular" among the contemporary idiots that think they know talent, not the top ten best. George Harrison and Prince belong in the top five, most definitely. John Lennon? You gotta be kidding. Stevie Ray and Jimi should share number one, because they just didn't typically play the same genre. Where's BB King?
Stevie Ray could make the guitar sing, cry and dance to every note. Not many guitarists can give the guitar feeling, but Stevie did just that. He could play a solo flawlessly. If I would recommend listening to newer guitarists, SRV would be at the top of the list.
Awesome blues guitarist that started a new generation of blues . Saw Stevie about a month before his death. Great voice for singing the blues & his guitar never stop playing.
The greatest guitarist in opinion. I haven't viewed any of his videos that have left me feeling blah. His energy just pulls me in.
5
Chuck Schuldiner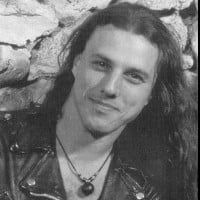 Charles Michael "Chuck" Schuldiner (1967-2001) was an American singer, songwriter, and guitarist, best known as the founder and vocalist, guitarist and bassist of the American heavy metal band Death. He is considered the most influential figure in Death Metal, with some publications referring to Chuck as the "Godfather of Death Metal". Schuldiner died in December 13, 2001 of brain cancer, his death subsequently leading to the disbandment of Death, but has remained influential among many aspiring metal artists. He was also known for his polite and life loving attitude and openly condemned stereotypes of metal musicians being harmful and evil.
Chuck is so underrated. You are a legend, mate.
6
Jeff Hanneman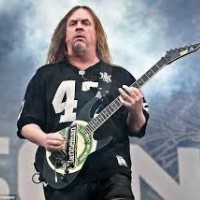 Jeffrey John "Jeff" Hanneman was an American musician, best known as a founding member of the American thrash metal band Slayer.
7
John Lennon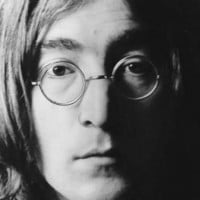 John Winston Ono Lennon, MBE (9 October 1940 - 8 December 1980) was an English singer and songwriter who rose to worldwide fame as a co-founder of the Beatles, the most commercially successful band in the history of popular music. He was assassinated by Mark David Chapman on December 8, 1980 at age 40. Lennon was characterised by the rebellious nature and acerbic wit in his music, writing and drawings, on film, and in interviews. His songwriting partnership with Paul McCartney remains the most successful in history.
Master of his arts.
He's the real mvp
8
George Harrison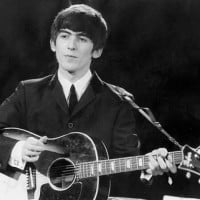 George Harrison (1943 - 2001) was an English guitarist, singer, songwriter, and music and film producer who achieved international fame as the lead guitarist of the Beatles.
The Beatles guitarist. They wouldn't have been them without him. Over shadowed by John & Paul, George came into his own right with his playing & ever growing song writing. God Bless him.
A very classy gentleman, played amazing guitar and wrote some incredible songs. Most certainly he will be sadly missed and never forgotten.

RIP George
Influenced more people to take up the guitar than any other human. Vastly underrated because of the bands he was in.
My favorite person in the whole wide world... George will be missed by Millions
9
Duane Allman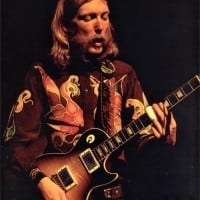 Howard Duane Allman was an American guitarist, session musician, and co-founder and leader of the Allman Brothers Band until his death in a motorcycle crash in 1971, when he was 24 years old.
I believe Duane, had he lived, had the ability to surpass Clapton. When he died in '71, he already established his ability and "a" sound, but according to little brother Gregg, "he was nowhere near his peak and practiced constantly to reach it. Sure he wanted to start a band and making money made life easier, but it didn't stop there. Duane had a real passion and you could hear it in his music.
Simply the best of all time in my humble opinion. Made history in putting southern rock on the map, besides his legendary playing alongside Dickey Betts, Eric Clapton... Best slide player of all time, period! R.I.P. Huge fan from Brazil.
Duane once said his fingers were like wired to his brain. Love the his brain worked. From his studio work to the Allman Bro's., he was no less than awesome.
Simply the best of all time. The slide supremo. Huge brazilian fan! Long live the Allman Brothers Band!
10
Allen Collins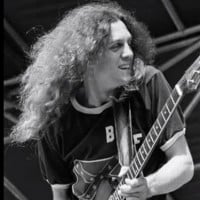 Larkin Allen Collins Jr. was one of the founding members and guitarists of Southern rock band Lynyrd Skynyrd, and co-wrote many of the band's songs with late frontman Ronnie Van Zant. He was born in Jacksonville, Florida.
That boy could shred a fretboard & is one of the greatest soloist's EVER!
All 6"5 of that boy rocked a stage presence & wrecking a ThunderBird, Explorer or Strat!
This generation doesn't have a clue what true musicians are!
Allen will always be known for his Freebies solo, but he was an amazing rythym player. His soloing skills were excellent and he knew his way a round the fretboard
The Contenders
11
Kurt Cobain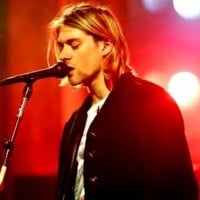 Kurt Cobain was born February 20, 1967, in Aberdeen, Washington. In 1987, he started the grunge band Nirvana, which became one of the most successful bands ever. He was a talented yet troubled grunge performer. Kurt Cobain became a rock legend in the 1990s with his band. He committed suicide at his Seattle home in 1994.
Truly an amazing guitarist, and to sing at the same time; truly a legend who left too soon.
He was an inspiration to me and I will never forget his music. He was truly amazing.
12
Prince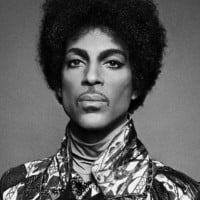 Prince Rogers Nelson (June 7, 1958 - April 21st, 2016) was an American musician, best known for being one of the most popular and influential artists from the 80s, with songs such as "Purple Rain", "Little Red Corvette", "1999", and "When Doves Cry" .
All these guys are incredible, but if we are talking pure technical skill Prince blows most of them out of the water. Top 5 without a doubt, along with Vaughan, Hendrix, Gallagher, and Rhoads.
13
Rory Gallagher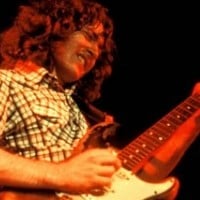 William Rory Gallagher was an Irish blues and rock multi-instrumentalist, songwriter, and bandleader.
Rory Gallagher was the People's Guitarist. Unassuming but tenacious, the Irish blues man devoted his life to touring and playing his beloved Fender Strat...
Jimi hit the nail on the head. They are in my top five. Rory and Jimi are in my top five. Johnney Winter is there, too. The other two don't qualify yet-They're still alive.
From Taste to 'Evidence, mr Dedication & Consistency; hard to look past his efforts.
Amazing Guitarist. Some of the greats will tell you the same thing!
14
Gary Moore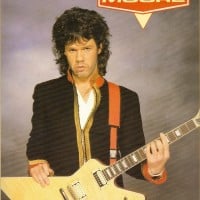 Robert William Gary Moore was a Northern Irish musician, most widely recognised as a singer, songwriter, and virtuoso rock and blues guitarist.
Gary could shred a guitar faster than your mind could keep up with. Just listen to Hiroshima. His Parisian Ways puts a tear in my eye every time .
Give a listen to "Still Got the Blues" and the live version of "Cold-Hearted". Gary Moore belongs in the top three, easy.
Definitely one of the greatest of all time, I would say number 3 between Clapton and Jeff Beck!
He should be on the 1st place
I've saw him live...
was the best concert I've ever been
the best sound
but was a audience of 4.000 people
only smart people can understand that kind of music
R I P Sir Gary Moore
15
Jerry Garcia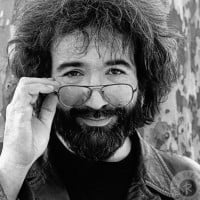 Jerome John "Jerry" Garcia was an American musician best known for his lead guitar work, singing and songwriting with the band the Grateful Dead, which came to prominence during the counterculture era in the 1960s.
Jerry Garcia is one of the best guitarists and as much as I like Kurt Cobain how is Kurt ahead of him.
What a talent hughley underrated a good place to start is Europe 72 stelar tracks include China cat sunflower /I know yoi rider, trucking, morning dew this poll is total garbage how on earth a limited player is rated higher than jerry garcia is beyond me still that rock and roll
Miss him so! Bad. Oh bobby pappy is too much. Old dead head 200 shows, 58 yrs old. Thanks.
Played with his heart, more than his fingers.
16
Frank Zappa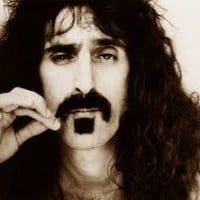 Frank Vincent Zappa was an American musician, songwriter, composer, record producer, actor and filmmaker.
Making over 80 albums and everyone sounding unique. He was a genius in his writing and he heard music in everything. Belongs higher on the list. Kurt cobain was the best at being the worst guitar player. Anyone that has ever studied the guitar can contest to the fact that many of these lists are so far off
Hands down the best modern day musical genius of all time!
The best musician of all time.. Well for me at least.
Shut up and play your guitar.
17
Steve Clark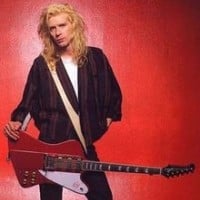 Stephen Maynard Clark was an English musician. He was the lead guitarist and principal songwriter for the British hard rock band, Def Leppard, until 1991, when he died from alcohol poisoning.
One of a kind. Talented, original, dedicated and pure white lightening. Always my favorite. I am fortunate to have Sen him play live...I miss him.
One of the best and most influential rock guitarists that has ever lived. Should be #1 in my opinion. Who doesn't love Def Leppard? Everybody knows Pour Some Sugar On Me and Photograph. Come on guys, start voting.
He's the reason why I picked up a guitar and he'll live in my heart till the day that I die
18
Eddie Van Halen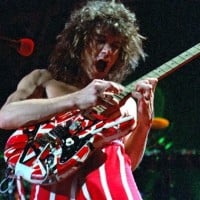 Edward Lodewijk "Eddie" Van Halen (January 26, 1955 – October 6, 2020) was a Dutch-American musician, songwriter, producer, and inventor. He was best known as the lead guitarist, occasional keyboardist and co-founder of the hard rock band Van Halen.
one of the best guitarists in history. I still remember waking up that morning and my father was standing at my door and said Eddie Van Halen died.
He changed the world of guitar forever. He will always be remembered as one of the best and one of the pioneers of guitar.
EVH is the true guitar hero.
"Rock stars come and go. Musicians play until they die.." -EVH
19
B. B. King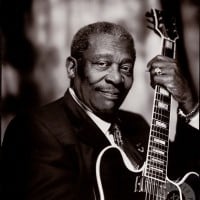 Riley B. "B.B." King was an American blues singer, electric guitarist, songwriter, and record producer.
BB king was one of the greatest Blues guitar players of all time. his personal best songs are "blues boys tune" and "sweet sixten" his lives are amazing. back in the days BB king belonged to the three Kings of blues. Albert king, Freddie King, BB king.
BB king played with the greatest guitar folk,blues and rock players. He even recorded a full album with Eric Clapton not too long ago.
He had his own club in chicago where he was playing with his band
BB king was without a doubt one of the greatest blues Guitar Musicians of all time
What can you said that hasn't been said. The man made Lucille talk and tell the story of the blues ever time he picked her up.
20
Roy Buchanan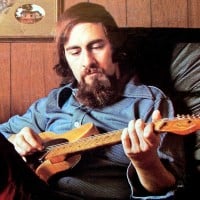 Saw Roy play in Tucson at a bar called Dooley's in the early 80's. Was 10 feet from him. He played pure music...Didn't need all the pedals and gizmos some of the other top guitarists use. My opinion top 5. Listen to Down By The River on the Sweet Dreams Anthology and tell me what you think!
Never saw Roy, but from the 1st LP I heard made me a fan. The way he played 'Hey Joe' made the other versions seem a bit weak.
Worthy of the top ten list in my opinion!
He was absolutely amazing!
21
Terry Kath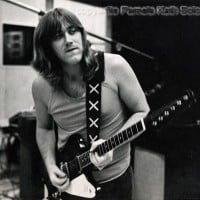 Terry Alan Kath was an American musician and songwriter, best known as the original guitarist, one of the lead singers and founding members of the rock band Chicago.
I'm A Man, 25 or 6 to 4, Song of the Evergreens, the list goes on. Put TK in a regular rock band and this argument goes another direction. Was one of Hendrix' favorite guitarists.
A true blues guitarist
22
Tommy Bolin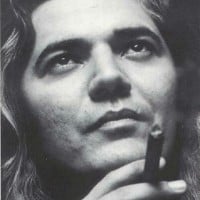 Thomas Richard "Tommy" Bolin was an American-born guitarist who played with Zephyr, The James Gang, and Deep Purple; in addition to maintaining a notable solo career.
He could write, sing and play. Check out his tone on Alphonse Mouzon's Golden Rainbows, Speed and innovation on Cobham's Quadrant 4, funk on Deep Purples Getting Tighter, writing, singing, playing on James Gang's Alexis and Rock/Jazz work out while 6 months away from his heroin fueled death on Post Toastee. But hey, he was no Cobain lol.
Bolin had many styles and tones in his repertoire. It is criminal how low he is ranked here
Easily top ten candidate!
23
Shawn Lane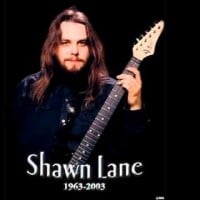 Shawn Lane was an American musician who released two studio albums and collaborated with a variety of musicians including Ringo Starr, Kris Kristofferson, Johnny Cash, Willie Nelson, Waylon Jennings, Reggie Young, Joe Walsh, Jonas Hellborg and many others.
This guy should have been there then you guys would know what he was...listen 2 his music then you'll know what I mean
24
Michael Hedges
Not sure how you pick the best of this list, but Hedges is easily top 5 if it comes to technical virtuosity.
Seemed like he was playing multiple instruments at one time. Very courageous player.
Made the most beautiful and complex songs I've ever heard.
Not so much rock, but a virtuso of style and broad range of musical genre.
25
Alvin Lee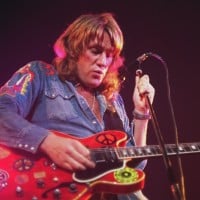 Alvin Lee was an English singer and guitarist, best known as the lead vocalist and lead guitarist of the blues rock band Ten Years After.
All ways loved Lee's playing. Watching him in the Woodstock movie made your face pucker out & your head bop back & worth taking us all home to see out babe.
PSearch List