Top 10 Best Things About Obscura's Diluvium
Diluvium is Obscura's 5th album, released in July, 2018. Diluvium, the album title, means a great oceanic flood.
Obscura are a German progressive and technical death metal band with a stellar discography. This album is no exception.

The band members are very gifted but they are also highly educated, which helped them develop what they already had in the DNA:
1) Steffen Kummerer, rhythm guitar - Master degree in Media Technology Engineering; he started playing keyboards at 9 and later learned to play guitar, bass and drums
2) Linus Klausenitzer, bass - 2 music degrees: Hamburg Music and Art University; Regensburg Music College
3) Rafael Trujillo, lead guitar - 2 music degrees: Munich Guitar Institute; Amsterdam Conservatorium
4) Sebastian Lanser, drums - Anton Bruckner University (Austria), where he studied percussion and piano

The Top Ten

1 Incredible technicality yet technicality wasn't there for the sake of being technical

The genre name is technical death metal, so it must be technical by default. I have no problem even with the bands that were accused of "technicality for the sake of being technical". Some of these accusations came from people who like metal but don't like anything technical or progressive, and even from metal hates, so they aren't very credible.
Being technical doesn't mean only fast, as many believe. You can play fast but if you play simple stuff (extreme punk) this isn't "technical". More often "technical" means playing things that are hard to play and need virtuoso players. Plus fast, plus precise and clean. "Technical" also means attention to detail. It can be demonstrated in the songwriting where every note is carefully connected to the other notes played at the same time by the other instruments. This is considered good songwriting in metal. But a pop fan wouldn't say these songs are well written because they aren't catchy and barely have choruses to sing along to. My point ...more

2 Every instrument is given a chance to shine

The songs are well balanced in terms of contribution of each instrument and is made room for every instrument to shine at the right moment. This was available in their previous albums but in 2018 it was more evident.
Age of the members at the time of recording - recorded in October and November 2017:
Steffen Kummerer - 32 (vocals, rhythm guitar, lyrics, songwriting)
Linus Klausenitzer - 32 (bass, songwriting)
Rafael Trujillo - 23 (lead guitar, songwriting)
Sebastian Lanser - 34 (drums, songwriting)

3 Production and Mixing - the album sounds very clean and clear so you can actually hear what they play instead of guessing

Obscura play extremely technical stuff and it's really important to be able to hear clearly what they play and how they play it. Technicality is the point of this subgenre and a muddy sound just wouldn't work. If you miss the technicality due to wrong production and mixing, you miss the point.
Producer, Engineering, Mixing, Mastering - V. Santura from Triptykon (real name: Victor Bullok). He runs Woodshed Studio in Germany where the album was recorded, mixed and mastered (as well as all previous Obscura albums).
Obviously Obscura have been happy with this guy. And why not?

4 All members took part in songwriting that resulted in  more varied songs within the same subgenre

Their previous albums were also varied to begin with. Variety here doesn't mean to include rap songs, or even power metal songs. I'm talking about diversity a band can achieve within one subgenre while staying true to their style, genre and sound.
In this album Obscura masterfully went beyond what they had already done before. All members wrote a song or parts of songs.
Even the drummer Sebastian Lanser co-wrote songs. Actually he's more than a drummer - he can play piano and keyboards (he studied percussion with a minor in piano).

5 Balance between complex and straightforward songwriting

Experimentation and complexity keep the listener interested while standard elements prevent the listener from feeling lost which happens when it's hard to understand what's going on. Progressive and technical death metal are complex enough by default so the bands should be careful. Which Obscura did.
They kept the song structures relatively simple but they put complex things into these structures.

6 Top-notch skillful playing where all members are on top form

Band leader Steffen Kummerer said that one thing never happened in this band: band members were never told "can you play a different solo / riff / beat / bassline". Meaning, the band members don't get criticized for what they offer. Kummerer explained that all band members try to give the maximum because they know the expectations are very high.

7 Obscura demonstrated more of what I would call "Obscura's signature sound"

Obscura had several lineup changes and every change resulted in different influences heard in their previous albums - Necrophagist, Death, Morbid Angel, etc. Two Necrophagist members were also Obscura members so Obscura couldn't avoid some similarities. But Diluvium has little influences by other bands.

Their previous album, Akroasis, 2016, started changes with 3 new members that weren't on earlier albums. Two years later, the album Diluvium proved the new lineup clicked. Diluvium shows a sound of a rejuvenated band with new elements in their music, most notably - tastefully incorporated jazz influences in the lead guitar, bass and drumming. I only hope they will not include more jazz in the future. The dose in Diluvium is perfect - not too much but enough to make their songs interesting. I hope they will not forget they are a metal band. I said this because many metal bands in the prog metal subgenre often forget that and they don't sound convincing when add too much jazz.

8 Bass isn't underrated and the bass track is audible all the time

In their songs bass isn't underrated (contrary to what sometimes happens in metal songs). Bass plays an important role in Obscura music and the bassist is great - Linus Klausenitzer is a technical beast (surrounded by the other technical beasts in this band).

Linus Klausenitzer isn't a bassist who just repeats the guitar riffs. He is more creative and often plays

lines that are different than the riffs - he slides between the guitar riffs making the song sound fuller, richer and more interesting.

There are even bass solos (Clandestine Stars is my favorite) and an instrumental piece written by the bassist (A Last Farewell, a bonus track many believe should have been the last track on the album).

9 Obscura succeeded again to write songs that are highly technical yet melodic

Obscura are one of the best songwriters in extreme prog metal and they successfully avoid cliche in the subgenre.

10 Steffen Kummerer used different vocal styles more often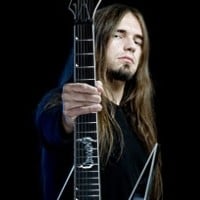 Steffen Kummerer (born June 1, 1985) is a German guitarist, multi-instrumentalist, and producer. He is the leader, main songwriter, vocalist, and guitarist for the progressive technical death metal band Obscura as well as the blackened melodic death metal band Thulcandra.
In technical death metal vocals are perhaps the least important thing -

vocals are the side dish and not the main course. If you focus on vocals you are missing the show.

However, Steffen Kummerer does his best to sound different in different sections of a song - he used different vocal styles before and he never delivered the vocals (growls) only with low, guttural or "screechy" intonation all the time. I'm not talking about the cleans that appear from time to time. I am talking about the variety he achieves in the performance of harsh vocals/growls.

Maybe vocal style variety was one of his goals on this album. Or it just happened.
BAdd New Item