Two and a Half Men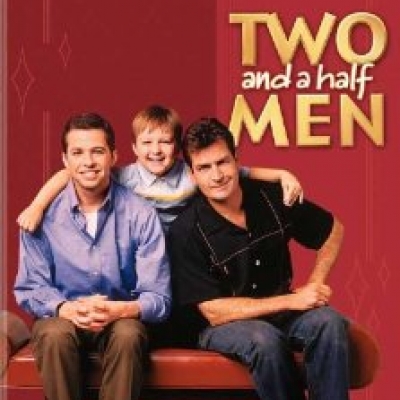 Uploaded by antonsaikia
Info
Two and a Half Men is an American television sitcom that began broadcast on CBS on September 22, 2003, and ended on February 19, 2015 after twelve seasons.
Comments
Top
Popular
Newest
HOW is this so far down the list? It's the funniest sitcom I have ever watched (when Charlie Sheen starred). The humour is very smart and very dark at times, which really makes it. The acting is top notch and the chemistry between the characters is great. Charlie Sheen made this show, it should've ended when he left.
My greatest sitcom ever. A very funny show with charlie sheen but the show was finished when he got fired. I recommend series 1 to 8 comedy gold the rest was unwatchable drivel when ashton started. For me there is only 8 seasons of two and a half men and it finished after that I will not watch the ones with ashton. But I will continue to enjoy my season 1-8 two and a half men boxset great comedy
A sitcom Starring Charlie Sheen Jon cryer and Angus T Jones. Outstanding cast performances and hilarious dialogue especially Alan's Bad luck with women and charlie Teasing him him most of the time. A funny show and good family show
The best show of the world which give long lasting entertainment in a short period of time. I like love among two brothers but most enjoyable funniest screen play of Charlie sheen.
Best show ever! But it went downhill after Sheen was fired.But still there are only a handful of sitcoms that can challenge the first 8 seasons of this show.Seriously! This rocks!
WINNING! Charlie sheen destroys every other sitcom to exist. Though I don't think he liked trains as much as sheldon cooper.
Hilarious with sheen acting as parody of his real self. Great straight men for him with 1 1/2 others on the team. Sad Sheen could not have stayed as no one can fill his shoes ever.
There were 8 amazing seasons of Two and a Half Men that made it stand out as the best. The ones that followed with Ashton "The Buffoon" Kutcher aren't even worth discussing.
Greatest SITCOM ever... Better than FRIENDS. No one appreciates the character of Alan Harper enough... As important is the character of Charlie Harper, Alan is equally important and funny too
The best show ever made bad thing its ended because without charlie sheen this show is nothing and Ashton Kutcher is not a comedian.

This is the funniest show on the planet, right there with big bang theory and friends. I don't get it how stupid shows are there in the top 10!
Everything else is a waste of time compared to this. King of all shows, worst mistake ever letting Charlie Sheen go. End of a golden era.
Just discovered this show thanks to my son, thanks mate...
Without doubt one of the funniest shows ever...
Love it, love it, love it...

Love that show I have watched most of the episode twice still love watching each time love Charlie and his cheap ass brother laugh out loud
"What could be better then this..."...but with out charlie its like.." BATMAN without BATMAN "
Why is it not up there? Come on this is so good.. Charlie Sheen is great and Alan is unbelievably neurotic and stingy.. What's not to love?
Perfect formula for a perfect show: Two brothers, opposite personalities, one the dead end hedonist, and the other, well, the control obsesive who doesn't gets laid.. Have fun. I can't think of a more solid and genuinely funny series than two and a half men. Simply the greatest. Period.
After watching many sitcoms at least twice I still think Two and a Half Men is the funniest but there are few seasons which may not be as good as Friends.
Best comedy show ever... Want charlie back.. Humor is dirty but depicts the situation of real life that is kind of dirty and cruel.
This should by far be on top, not on 1st place, it's actually above all of these, nothing comes close.
Thank god this went off the air (ended) at Season 12! I can't see any of the characters going anywhere, and to be honest, it was getting worst and worst!
I just can't get enough of it I've watched every episodes at least 4 times it's the best ever and should be number 1
I cannot deny the fact that Charlie sheen has given all of us so much laugh & we want those good old days back!
This is the sitcom of my life, never had as much fun as I had from this 1. so I think it should be in the top..
Great show! It has some fantastic writing. The best episode has to be the "Squab" episode. - axelsonfire