Stephen King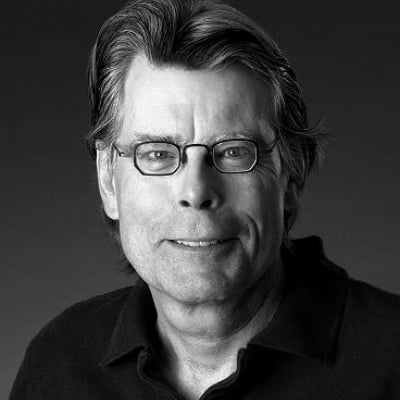 Found on chrisjonesblog.com
Info
Stephen Edwin King is an American author of contemporary horror, supernatural fiction, suspense, science fiction, and fantasy. Many of his most well-known novels include Carrie, It, The Shinning, The Stand, Misery, The Dark Tower series, and Rita Hayworth and the Shawshank Redemption, which was later ...
read more
.
Comments
Top
Popular
Newest
It is really laughable to hail J.K. rowling as the best writer when all she has done a series for children and nothing else. Ten years later her name will be lost in the mists of time unless she manages to follow her current success. On the other hand Stephen King has been in the game for 4 DECADES and he is still going strong -check out his last book 11.22.63, one of his best and hailed by Newyork Times as one of the best ten books of 2011. He is not only master of horror but one of the masters of contemporary American fiction. From horror classics (the shining, the stand, IT, salem's lot) to excellent short story collections (night shift, just after sunset) to novellas (Different seasons, Full Dark No Stars) to epics (the Stand, It, Under the Dome) he produced so many great things that it is astonishing and is horrifying in itself as if King is not a human but an outworldly creature. His awards are numerous.
Yes it is laughable to hail Rowling the best author ever. It is equally laughable to hail King the best author ever. - Joba76
Stephen King is the best but I still sorta... loathe this comment - PeeledBanana
Yes, Rick Riordan's books are good. Yes, J.K. Rowling's books are good. There are many authors out there that have published marvelous books, such as Harry Potter, Percy Jackson, Lord of the Rings, Hobbit; I'm sure you all know. But those terrific books have only appeared once. However, Stephen King can produce so many books that are simply masterpieces. He never runs out of good ideas; I am dying to know what even gets his inspiration and creativity to such a superb amount. The most complex and long thing can be written flawlessly by him; for example, the Stand. This book is so incredibly long; in fact, it would've been longer, however the printers couldn't handle it and the publishers told him to cut off a large chunk of the book. But even as he did do that, it was still perfect. Beautiful. Amazing. It will stick with me forever.
A master of Horror and understanding of how the human psyche works when he is trying to create a work of pure terror. His Ideas are somewhat too terrifying in some of his works, but he makes up for that in the Dark Tower series which are just riveting and a masterpiece among Fantasy writers. Cheers to the master of horror!
I started reading my first Stephen King novel, Misery, a couple of weeks ago. Previously I had read the likes of JK Rowling and Roald Dahl, and while they are good authors, they do not compare to Stephen King. The amount of detail, tension and suspense in his books are extraordinary, and I have spent hour upon hour reading Misery. Exciting, pulse-raising and very difficult to put down, Stephen King is like a God amongst men, and I have no doubt that I'll be reading the rest of his books in the future.
Stephen King's books are smart and descriptive. They can be a bit messed up at times but they are great nonetheless. My favorite books of his are The Stand, IT, and The Shining. The each use similar writing styles that are great. His characters are real. The villains are always my favorite because their so evil, but real. Which is why he is one of my favorites.
I started reading his books when I was quite young but I still really enjoyed them despite the language. He has some great talent, I haven't read very many books where the authors express stuff so well and I think King is probably my favorite author and that his books are really entertaining. Wherever you are King keep up the good work. - hihihihihihihihi
IT, carrie, the shining, christine, the last stand, shawshank redemption, pet semetary and the list goes on..
Wow. I thought Stephen King was going to be like, Number 5 or 6, but I'm really impressed. Stephen King is my favorite author of all time. I admire him. I'm only 49 pages away from finishing his newest book "Revival", which I must mention, I bought the day it was released. Stephen King will always be the best author of all time. Sure, I love authors like, J.K. Rowling, and Charles Dickens, but Stephen King, is and will always be, the King of writing. - GaretTheCarrot
He's one of the most prolific writers of all time. His books are consistently quality reads. Unlike someone like Rowling, he has more to his name then one series (and he has a 8 book series that is better then Potter in my opinion, and I like Potter).
Stephen King is the king, and that's that. He is creative and even though he does mostly horror, he does other genres too. And he's my personal favorite. He is, was, and always will be #1! Stephen King forever!
If you're only counting authors from the past 40 years who have had their works turned into movies, then yes, Stephen King would probably be the best.

By any other metric, no. - marmalade_skies
I absolutely love him. He is actually the one who got me into reading, to the point where I read a lot everyday. If he didn't exist, I probably would not have any interest in reading anything at all.
Stephen King is KING. It should be a fact that Stephen King is the best author ever. The man started off in horror and people think that's all he does but Stephen has done Crime, Mystery, Suspense, Sci-fi,and one of the best fantasy series ever. The Dark Tower, and it sounds kinda lame but it is awesome. The Gunslinger and the Man in black.
Stephen King isn't called the Master of Horror for nothing. And he's pretty creative in his novels. He IS the best author in the world and my personal favorite. You rock, Stephen King!
I believe that Stephen Kings name as an incredible author will live on for centuries, and everyone knows that there is only more books to come from this illustrious author.
I believe he is far better than any other author. Most of the people I know who think he is overrated have not even read any of his books. I believe his book The Stand is one of the best ever published
My personal favorite author. Read quite a few books of his he has never once let me down. Big horror fan right here and he brings great pride to the horror genre.
I agree, though I never read his books I bet it would be cool! I mean, Stephen King writes stories I want to write. (Well, you know the horror part) Excellent author!
I am by no means a reader, I never was and I probably never will be. You don't have to be a reader to know King is the best. I watch a lot of movies, and some movies that are based on Stephen King books are It, Shawshank redemption, Carrie, the shining, children of the corn, the stand, pet semetary. Crazy how good he is - ryanrimmel
It, Carrie, Shining, Misery and so on, the best author to ever walk the face of the earth, its as clear that Stephen King is the best author as the skies are blue
Most of his stories bore me. I can't say that he's a bad writer. He's a descent writer but very overrated. Surprised the Koontz isn't in the top 25 at least.
He wrote the scariest book I ever read, It. This guy is the best writer. He finally wrote a book that made me scared, and has many other great books. - doodie
My favorite author he inspires me to read so much he is literally reason I learned to really love reading and his books are so awesome.
Yes! I truly love reading King. He has such a great imagination. He's always fun to read, and gets you hooked into the story very quickly. - sharzi
Pet sematary was a brilliant novel, simply carried the mind to a unknown world that no one knew existed within one's conscience...
Related Lists
Best Stephen King Movies
Top Ten Stephen King Books

Best Characters from Stephen King's It
Top Ten Best Performances In Stephen King Movies