Top Ten Metal Bands In India
Here's a list of all the famous metal bands and bands which are becoming famous, most of them have played in gigs with bands like lamb of god, Bangalore metal open air, Metallica etc..
The Top Ten
Bhayanak Maut (Mumbai)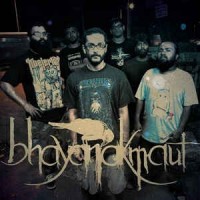 They can be aggressive an melodious at the same time. They have 2 vocalists, both of which are full of energy and can do almost all styles of screaming and growling. Awesome band.
They really deserve to b no. 1.. No1 can beat the aggression with which they perform. Their concerts are just out of this world
Best band in this country. They're brutal as hell, their story lines are haunting and they're basically pure madness on a record or at a gig. Gotta love BM.
Best riffs, best stage act, most brutal lyricists and by far the most professional Indian metal band.
Demonic Resurrection (Mumbai)
They are like the Black Sabbath in terms of starting off the metal scene in India, and have not given up in the face of any sort of hurdle, while the rest of the bands have had a lot of breaks or are on haitus or have been there for the fun of it and have moved on.
DR needs to be on the 1st spot. The spearhead of Indian Metal Scene is obviously this band. Sahil aka Demonstealer is one helluva frontman... Must Listen tracks : Apocalyptic Dawn, A tragedy befallen and many more although these two are my favorite tracks... Spot 2 must belong to Bhayanak maut. Boiled Unwound Filatured is a signature BM song... Ritik.
Demonic resurrection is the pioneer of metal in India.. It has to be at least in the top 5 spot.. Come on man
A great band from mumbai... Salutation to their efforts... I have almost listen all the songs all I can say is m/
Undying Inc. (Delhi)

Uncompromising in their style of playing a mix of brutal, technical and odd-meter extreme metal for almost a decade, Undying Inc have progressively carved out a niche of their own. Despite the pit-falls of line-up changes and an underground ethic, their rabid following of die-hard fans bears testimony to the attitude with which Undying Inc approach their metal.

Undying Inc is an explosive live act that has supported and played with some of the biggest names in metal across major rock festivals in India; Meshuggah, Tesseract, Textures, Megadeth, Amon Amarth, Satyricon, Benea Reach, Sahg, Cypher 16. The band has also toured Norway in the winter of 2011 with post-hardcore band Torch and returned to play at the Inferno Metal Festival in 2012.
Awesome Band... This band made our event a special one and really we miss you all
Auxesis 1.0(Technical Fest of DUIET, Dibrugarh University) was a super success for this band.
The very metal band with real voice. this is the only band that beat my heart fast and thumping.
Moloch is always for these guys.
Demonic resurrection is overrated.
Scribe (Mumbai)
One of the most interesting bands I've heard in a while. I bought the Hail Mogambo album immediately after listening to Cops Cops. They should be higher on this list.
Scribe... Om 15th spot... Are you crazy... They deserve to be in top 3... Best metal band of India..
One of the better bands... globally. Definitely one of the best in India.
Better then most of the band that Europe has to offer!
Kryptos (Bangalore)
The level of their music is international. The riffs are sure to pump the brains out of a metalhead. Nolan Lewis' vocals are to the point. Not just in India but they'll give the top bands of the world a run for their money. AVE
Overrated, run-of-the-mill metal.

Notorious among musicians for leading a hate campaign against bands who do not conform to their meaning of "metal. "
Best Classic thrash metal band.. Coils of Apolloyon album was easily among the best thrash album of the decade. I can't understand how is it at the 6th position? Crazy, man
This band never pushed to anyone to buy their records...DR and Kryptos for life...and Bhayanak maut is good but I don't see their any contribution to be so much admired..
Skyharbour (Delhi)

This is second only to demonic resurrection. In fact I think it is at the same level. Amazing work on the drums by anup sastry. And we all know that Daniel Tompkins is one of the best prog vocalists. My list is:
1. Demonic resurrection & skyharbor
3. Bhayanak maut
4. Scribe
5. Reptilian death
The best band here even though not totally India... their music is way better than any of the others
Not totally metal, but with a vocals that amazing and a brilliant line had to be in the top 10
Deserve to be on the top 3! International quality of music and sound...
Inner Sanctum (Bangalore)
Performed with Metallica
One of the best thrash bands in india
Have the best lead in India.
They have supported bands like Metallica, guillotine, biffy claro, Amon Amarth, cradle of filth, enslaves and textures
Their biggest influence Are gojira, blood bath etc.
This band sounds so mature... It also has a trash feeling to it. Big Ups!
I'm so downloading their songs now.
The beat band in Asia
Mrityu Dand (Jammu)
MD a newly formed band, these guys have earned respect and status in a short time and proved themselves that they r d best, I just love their songs 'game over' n 'shreds of sanity', go on and on guys, m/D forever...
Firstly saw their page on facebook, and than I see their live performance, man these guys r just out of this world, heavy riffs, heavy growl, the best death metal band... M/D
Man they are insane, if you're looking for the brutal death metal, they are the best, mrityu dand is the best death metal band in the whole J&K...
This is the worst band I have ever listened to, check out their songs, you will die laughing
Limit Zero (Bangalore)
The Band Is structured in a very organised yet authentic music, especially the bassie of the band, shiva takes the band to a higher level
Yonsample (Kolkata)

Amazing band, has nice compositions and complex level unexpected elements...
Deserves being in this list along with Bhayanak Maut and Demonic Resurrection...
Good Band, Superb Band, and I love this because its from our Kolkata,!
And my Self Akash Saha, The band name is awesome... Who is the co-founder of this band,? Wish
They are one of the best prog metal bands.. Hats off to the vocalist
The giants of metal from kolkata... Just listen them in reverbnation...
The Contenders
Zygnema (Mumbai)
Zygnema at 65 what? One of the most jappening acts in the country mate! Way better than theorised
This band deserves to be on top five at least
Zygnema deserves much more... Top 10
They need to be in top 5!
Slain (Bangalore)
A band that deserves to on the first! They are aggressive Yet melodious! No band in India has ever reached their maturity in bringing in classic rock and power metal to this combination and making it powerful for the metal lovers and yet melodious for the rest! STAGE ACT - PRO!
Lovely band... Vocalist rocks.
Lead guitars too is awesome..
Good melodies, strong vocal lines, catchy songs
One of the worst band I have ever heard..
.
The Down Troddence (Kerala)
A unique blend of conventional Thrash and Groove Metal with a large dose of traditional Kerala folk music elements, art forms such as Theyyam in particular. The band also incorporates a lot of traditional folk sounds and instruments in the form of ambient layers in their music. Rhythm structures used in their songs too are primarily inspired by folk music.Lyrically the band has a strong philosophy of talking about inequalities and injustices which are ever present in India's social and political systems
They should be in the top three. They are brilliant, authentic and concerned about their political stand that goes with the band name... !
The Down Troddence has plunged into the part of metal that needs more exposure. I mean our mythology is nothing but metal. Shiva Tandava Stotra deserved a metal version... Respectm/
The Down Troddence should be in at least top 5... Come on...

It's a band with pure metal based on folk root
Chronic Xorn (Kolkata)

The first time I heard From Mercy, I was blown away...it is a phenomenal album. Every metal lover should give it a listen, you won't regret it, more power to Chronic Xorn.
Brutal riffs, amazing breakdowns, gut wrenching vocals and slick drumming. The best Indian metal band for sure.
Stellar songwriting, melodic solos and one of the tightest live metal acts I've heard in the country.
"From Mercy" has one of the best guitar solos amongst all modern metal songs in the last decade m/
Scarface (Kolkata)
Some of the greatest riffs you will ever hear. Enough said.
Awesome true metalcore plus groovy music.
Man they r 4m Kolkata, A new but really good metal core band
Good band! No more words
Guardians of Darkness (Kolkata)
They deserve to win, because of their uniqueness and the wide spectrum of their approach, absolute PURE BLISS!, do give these chaps a listen and ul be blown away!
This band has a lot of talent and potential. Really impressed by the music. Keep it up guys hope you guys reach the top.
This band has a unique and creative musicality. Love the guitar riffs and composition. They dig hard!
Great awesome band great guitar riffs and solos. Unique vocal style. Loved it. Do listen to their song 'Nightmares' on reverbnation, youtube, soundcloud m/
Devoid (Mumbai)
Seriously, the best thrash metal band India has ever seen. An eclectic blend of the old and neo-thrash styles. Known for their powerful and tight live performances. These guys are so bad ass, they're humble musicians. Beats all the other so-called "old-school" trash. And you know what I mean.

These guys will melt your face off. Run for their next show if your life depended on it. Just go.
They truly are the best trash metal acts in India..
Just listen to devoid of emotions
Check out A God's lie, Beersong, Possession, The Invasion, The Grand Design.
Thrash Forever!
I am adding Sceptre.
Xontrax (Guwahati)
Seeing this band from our town climbing its way into top 20 made me happy. Way to go!
Ashish, a young prodigy, and a group with a tendency to tear down the limits of metal... go XontraX! M/
They are really good... They deserve to be in top ten... Good luck guys
They deserve the top position.
Restless Desire (Meghalaya)
The rising metal band from meghalaya. Their songs are simply great.
Restless desire deserve your desired
Deathknell (Shimla)
Amazing band love ya deserve to be at number 1 topmost band go ahead and rock the world
Really man!
They will be at a height some day
The best metal band in shimla and with their work soon they will the best in India and so on.. god bless you guys.. Keep going. Purvaj, Manish kashyap, Manish.. my good wishes are always with you guys
Very nice band love to see you at the top
Plague Throat (Shillong)
Undoubtedly the best Death Metal act I have seen live! Extremely hard working and persistent. More power to them.
Undoubtedly the best, need to be higher in the list..
They are the best, should be higher in top 10 list.
29? They deserved to be in the top 10.. Amazing band
Third Eye Destruction (New Delhi)
This is not fair..
This band is so under-rated.
This band deserves to be in top 10.
Listen to their songs everyone!
An "experimental metal" band formed in jan 2013.
3ED's music is different.
The band name is changed it's The chronic legion now...
Amazing riffs and solo's by the way
m/
Under-rated band. They deserve more...
Extinct Reflections (Bangalore)
The band formed in 2003 have performed with lamb of god and randy blythe himself praised the band.
Toxoid (New Delhi)
Black metal band from delhi...Toxoid is ever hungry and its monstrous apatite for extreme music is clearly show cased in its music...! This is one extreme band to look out
Toxoid. The Indian version of dark funeral
The Indian version of a global Metal Band
Awesome Band, superb Indian touch...
NerveRek (Chennai)
A progressive metal band formed in Chennai but now based in Mumbai, the band became the first South Indian band to win at Campus Rock Idols in 2007. In 2008 they opened for Iron Maiden during their India tour in Mumbai and have also opened for Scorpions in Bangalore.
Just awesome for sure! Expecting 1 position..
I love this band <3 They are the best
PSearch List