Top 10 Best Metal Guitarists
In the world of metal, guitarists are the sorcerers weaving spells with six strings, and they're some of the most insanely skilled and groundbreaking musicians you'll ever encounter.

So, what separates the legends from the mere mortals in the realm of metal guitar? It's not just about finger-blistering speed or brutal down-tuning. The titans of metal guitar are masters of the dark arts, conjuring haunting atmospheres and spine-tingling tension with their axes. They deploy a lethal arsenal of techniques - palm muting, alternate picking, sweep picking - you name it, to forge their sonic masterpieces.

The Top Ten

1 Dave Mustaine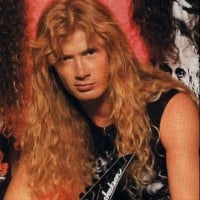 David Scott "Dave" Mustaine (born September 13, 1961) is an American musician, singer, songwriter, actor and author. Mustaine is best known as a pioneer in Thrash Metal, being the former lead guitarist of Metallica before his dismissal in 1983, leading to finding and becoming the front man of his own band Megadeth shortly after.
It makes sense that Dave Mustaine would be number one. This dude was pretty much one of the first original guitarists in Metallica and then created Megadeth. He is an absolutely iconic and talented guitarist.
It was a really close call between Dave and Dimebag. They're both extraordinary guitarists. My vote goes to Dave for two reasons. First, he's been through copious amounts of adversity. Second, people are incomprehensibly crude towards him. Although Dave and Dimebag have unmatched skill and similar unique qualities, Dave has had the sustained ability to perform and shred wicked solos for decades. Unfortunately, Dimebag's career was cut short. If that hadn't happened, I'd most likely be swayed to choose Dime, depending on if he could maintain his legendary skill. All in all, I believe Dave and Dime are equally talented, and their legacy is passed on to and through our generation.
2
Dimebag Darrell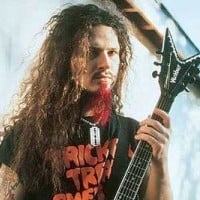 Darrell Lance Abbott, also known as Diamond Darrell and Dimebag Darrell, was an American guitarist and songwriter best known as a founding member of two bands, Pantera and Damageplan, alongside his brother, Vinnie Paul. Abbott died in 2004 after he was shot by a mentally unstable fan.
Let me put this together for you. By the '90s, two of the Big Four thrash metal bands (Metallica and Megadeth) had shifted to a more traditional heavy metal and hard rock sound. Other thrash metal bands did the same, and grunge rose to the mainstream. Pantera filled that gap for metal in the '90s. Hell, bassist Rex Brown has said that Metallica's change in sound was what inspired them to transition from glam to heavy. They created the metal genre of Groove Metal. Dime was one of those main driving forces. He was an insanely great guitarist with so many riffs and solos. He inspired me as a guitarist so much.

Dime, I miss ya man, love ya.
DIMEBAG FOR LIFE!
Not one Metallica, DragonForce, Megadeth, A7X, etc., song could match the heaviness of "Mouth for War," "Primal Concrete Sledge," or "5 Minutes Alone." Some bands have made better epics, but few have topped "This Love," "Cemetery Gates," and "Floods." Since he played with his brother, he had a groove connection, like he did in songs such as "Shattered," "Primal Concrete Sledge," and "Use My Third Arm."

As far as live performances go, nobody could play live like Dimebag. He rarely played parts that weren't on the record, but when he did, it was a better part that he replaced it with. Also, no one moved as much on stage like he did. As for cover tunes, "Cat Scratch Fever" was good but nothing special. And the legacy he left behind is rivaled by none. No one else can play a Dean or Washburn without the first thought being "Dimebag."
3
Tony Iommi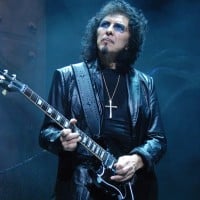 Anthony Frank "Tony" Iommi is an English guitarist, songwriter and producer. Best known as lead guitarist and founding member of the pioneering heavy metal band Black Sabbath, he has been the band's sole continual member and primary composer. At age 17, he accidentally lost the fingertips of his middle and ring fingers on his right hand, and considered giving up music. His boss encouraged him to continue... read more
Acts such as Cream, King Crimson, and Blue Cheer helped reshape rock music. However, it was not until Black Sabbath's arrival onto the budding heavy rock scene that the face of music would be changed forever. Tony Iommi took the blueprint set by other musicians and added heavier distortion, lightning-fast solos, and killer riffs. Mixed with the gloomy and depressive lyrics of Geezer Butler (Geezer also deserves credit for being one of the most creative bass players in heavy metal history), the wailing vocals of Ozzy Osbourne, and the pummeling drumming of Bill Ward, the result was an unorthodox rock machine that favored dark topics over the optimism of the hippie era. The driving force behind the band's songs was Iommi's riffs.

Songs featuring notable riffs by Iommi include: Black Sabbath, N.I.B., War Pigs, Paranoid, Iron Man, Electric Funeral, Sweet Leaf, Children of the Grave, Lord of this World, Into the Void, Wheels of Confusion, Supernaut, Snowblind, Under the Sun, Sabbath Bloody Sabbath, A National Acrobat, Hole in the Sky, Symptom of the Universe, Megalomania, and so on.
4
Randy Rhoads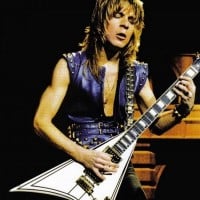 Randall William "Randy" Rhoads was an American heavy metal guitarist who played with Ozzy Osbourne and Quiet Riot. He was killed in a plane crash.
This just demonstrates the folly of democracy. Either those who have voted for other guitarists have not listened to Randy Rhoads, or they're in denial that any guitarist outside their obscure (probably destructive) taste could be any good. Randy Rhoads is the best metal guitarist because he doesn't play metal for the sake of metal. He plays music for the sake of music and, luckily for metalheads, he just happens to play metal. Maybe other guitarists are better at playing pretentiously technical arrangements in a metal format, but none are better at playing music in a metal format than the legendary Randy Rhoads.
Randy is a metal guitar god! I have true respect for everyone on this list, but Randy was exotic, had a small time footprint in history, and yet in that short time, he left metal forever changed. He was a perfectionist with a classical music background that meshed flawlessly with Ozzy's gothic style. On every level, including laying down studio tracks, he was meticulous about the sound. He even wanted to listen to his creations from far away, in another room or floor, just to make sure every note hit home. Mr. Crowley and Crazy Train are some of the best metal songs in existence.
5
Kirk Hammett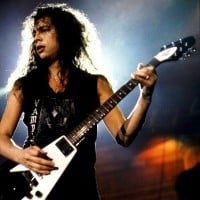 Kirk Lee Hammett is the lead guitarist and songwriter for the heavy metal band Metallica and has been a member of the band since 1983. Before joining Metallica he formed and named the band Exodus.
Dave is more focused on rhythm. He has solos in some of his songs, though, and they are good solos. However, they often sound the same. It should be Marty Friedman. Many Megadeth fans overlook him. Although Mustaine has his amazing spider chords, Kirk takes the cake because he has created some of my favorite solos. His solos are more varied, and he has a range in his solos, whereas Mustaine often focuses on shredding solos, which can get repetitive. But I love Friedman, Mustaine, Hammett, and Hetfield, as well as both bands in general.
He rocks when he plays the guitar. His playing exceeds our expectations, making us proud to be his fans. Whether he taps or trills in songs like Fade to Black and Nothing Else Matters, I love his style. Fade to Black is one of my favorite leads that he has played. His ESP guitar is also very rocking. I even like his hairstyle. No one can stand in front of him when he performs.
6
John Petrucci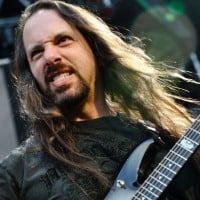 John Peter Petrucci is an American guitarist, composer and producer. He is best known as a founding member of the progressive metal band Dream Theater. Compared to his level of skill, John Petrucci is relatively unknown in the modern music industry.
In terms of sheer technique, Petrucci wins hands down. He is the most consistent of everybody on the list, especially when watching live performances. Most of these guitarists can only play their own parts so-so in live shows, but Petrucci always delivers. Even in videos where he is covering other bands, he plays the guitar parts better than the original guitarist (even when I don't want it to be so) and even mimics their style of playing. I really like most of the other guitarists on this list, but in a completely objective comparison of "who is the best guitarist," Petrucci is by far at the top.
As I listen to Fall Into The Light from D/T (2019 release), having listened to Dream Theater since I was in high school when Images and Words was released, and having heard plenty from other talented guitarists on this list (including multiple live performances from many of them), it is my opinion that John Petrucci may be the best living guitarist on the planet today.

I love jazz, classical, world music, rock, country, and nearly every genre. I have a plethora of favorite guitarists. There is no doubt that, from a technical, songwriting, and heart-to-hands perspective, nobody comes close to JP. Some may play with more soul, but they lack everything else in comparison. Nobody can touch Petrucci's genius level of imagination combined with wizard-like technique. Nobody.
7
Chuck Schuldiner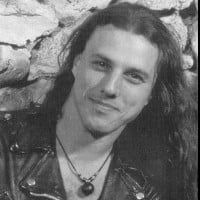 Charles Michael "Chuck" Schuldiner (1967-2001) was an American singer, songwriter, and guitarist, best known as the founder and vocalist, guitarist and bassist of the American heavy metal band Death. He is considered the most influential figure in Death Metal, with some publications referring to Chuck as the "Godfather of Death Metal". Schuldiner died in December 13, 2001 of brain cancer, his death... read more
If Schuldiner had done a collaboration with Marty Friedman, then that would be the most melodic thing the world had ever heard. Chuck had a sense of melody that very few others have (Friedman is the only one that comes to mind), and the fact that he could change keys easily only goes to show that he was on par, if not above, most of the guitarists in the top ten. Also, my favorite quality of his was that he could make his own sound out of sweep picking, instead of just, in Friedman's words, blBLOOP bloop, blBLOOP bloop. If there are any guitarists to compete with Schuldiner, then Friedman is the only one. Both were badass enough not to care about what key they play in when they're in a jam session. Long live Death!
I think it's wrong how people say this guy isn't as much of a shredder as the others. I've been trying to learn how to play Flesh and the Power it Holds, and I'm not lying, but this guy can reach Joe Satriani levels of speed. Not only that, but his vocals are still quite decent, even though he's yelling in all of his songs and his voice is death metal. Also, this guy pretty much controlled an entire band for 14 years until his death, which is quite the coincidence. His ability to be both an insane rhythm and lead guitar player is unmatched on this list. If you still think Synyster Gates is #1, get over yourself.
8
Marty Friedman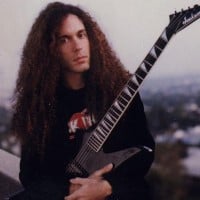 Martin Adam "Marty" Friedman is an American guitarist, known for his tenure as the lead guitarist for heavy metal band Megadeth which spanned nearly the full decade of the 1990s, as well as Cacophony alongside Jason Becker until 1989. Friedman has resided in Tokyo, Japan since 2003, where he has hosted Japanese television programs such as Rock Fujiyama and Jukebox English.
It's really funny that some people say Kirk is better than Marty, claiming he is more melodic. These people have no understanding of music whatsoever. The only thing they can decipher is pentatonic scales, Wah, and triplets. Marty is a very tasty player who never gets boring. Kirk just happened to be lucky to be in a band with James and Cliff. James is a much better soloist than him. At least he constructs better solos. Kirk has had a few great solos like One and Fade to Black, but Marty's whole career is filled with awesomeness. Marty has put so much time into his bends that comparing Kirk's vibrato to Marty's is like comparing trash to gold.

Also, where the hell is Chris Poland? He can make a guitar sing and has such a fluid legato. Vote for Marty, people!
Marty Friedman is one of those guitarists who have their own distinctive style of playing, no matter how obscure. His knowledge of music theory is absolutely masterful, and his solos never fail to blow me away. His material is really difficult to emulate as well. He's a musical genius in his own right, and he still doesn't get the amount of credit he deserves. His work with Megadeth displays just a portion of his skill and work. Listen to Cacophony and his solo albums, such as Dragon's Kiss. To further prove how incredible he is, his solo in Tornado of Souls was one of the three improvised takes he did, and Dave decided that the one we hear is the best one.
9
Adrian Smith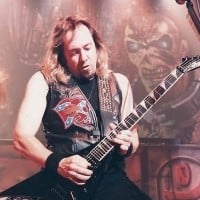 Adrian Frederick "H" Smith is an English guitarist, best known as a member of Iron Maiden, for whom he writes songs and performs live backing vocals on some tracks.
"Powerslave" is THE definitive metal album in my book. It's only one of seven masterpieces in a row that Iron Maiden put out. Adrian not only writes great riffs and plays great solos but also fleshes out the songs with his overall guitar playing. Listen to Maiden in the '90s, and a whole dimension is missing.

When Adrian rejoined the band (and when he joined Bruce's solo band), the quality went up a notch. He's not only a great guitarist. He makes the whole band better. That sets him above most others. Adrian Smith fans note that his pre-Maiden band Urchin has finally seen a CD release. It's not really metal, but nice '70s guitar rock.
When Adrian Smith joined Iron Maiden, he formed a partnership with Dave Murray that became one of the most impressive yet underrated partnerships in metal history. The styles of the two guitarists formed the riffs and solos of some of the most influential and groundbreaking songs in metal history - like Hallowed Be Thy Name, The Trooper, and Aces High, to name a few.
10
James Hetfield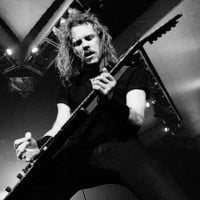 James Alan Hetfield was born on August 3, 1963. He is an American musician, singer and songwriter known for being the co-founder, lead vocalist, rhythm guitarist and main songwriter for the American heavy metal band Metallica.
It's actually sad that people think Kirk is better than James. Have you seen Kirk's solos lately? They're pretty bad. There's a reason why James always plays the riffs first by himself and not Kirk, like in Blackened, Battery, and Creeping Death. He wrote almost all of their riffs from Kill 'Em All to ...And Justice for All, and then some. Enter Sandman is an iconic metal riff written by Kirk Hammett, but Master of Puppets, Creeping Death, Battery, Harvester of Sorrow, One, and Ride the Lightning all have riffs that are masterpieces. The stuff James plays and sings at the same time is incredible. Not much else needs to be said about that. James has also had his share of solos, from Nothing Else Matters to Master of Puppets to The Outlaw Torn, etc. He puts more emotion into his solos. The only emotional solo from Kirk was the Unforgiven solo. But of course, when it comes to solos, Kirk is the better guitarist because Creeping Death, One, and Blackened all have amazing thrash solos.
The Contenders
11
Alexi Laiho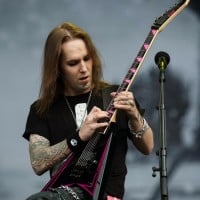 Alexi "Wildchild" Laiho (April 8th 1979 - December 29th 2020) was a Finnish guitarist, composer, and vocalist. He is best known as the lead guitarist, lead vocalist, and founding member of the melodic death metal band Children of Bodom. He was also the guitarist for Sinergy, The Local Band, and Kylähullut.
One of the most phenomenal talents in the metal world of all time. He composed, played lead guitar while doing vocals, and had that old school rock 'n' roll attitude till the very end. That attitude had its cost at some of the live events during his career, but he made it fit his style.

So, maybe he was not the most consistent player and performer, but most definitely, in my opinion, he was the rawest talent and most skillful musician of the metal world. He should be in the top 10 of the best guitar players and top 1 of the best metal musicians in the world.
This position is an outstanding one, though he is really talented and should be first. Being a lead vocalist and guitarist is really hard and requires immense concentration. Alexi excels in this state. He enjoys it and is clearly a crowd favorite. I also have to mention that some of his verses do not match his vocals, which shows great talent. Not only can he focus on his vocals, but also on his melodic guitar tunes. Thanks for reading this comment. I hope to encourage other 14-year-old children like myself to explore pure music.
12
Dave Murray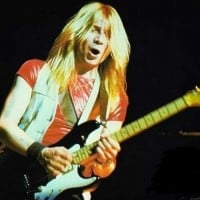 David Michael Murray is an English guitarist and songwriter best known as one of the earliest members of the British heavy metal band Iron Maiden.
This list is beyond ridiculous. Dave Mustaine is good, but to say he's the best guitarist in metal is ridiculous. Marty Friedman was in the same band and is way more technical than Mustaine. Tony Iommi? Jesus, he just downtunes his guitar and tries to sound evil 100% of the time. Nothing that special. Dave Murray is the lead guitarist for Iron Maiden, the greatest, most emotionally compelling metal band of all time.

Why don't you actually listen to some of Dave Murray's solos on songs like Powerslave, Hallowed Be Thy Name, The Trooper, Number of the Beast, Fear of the Dark, Run to the Hills, and anything off the NOTB album, really? Dave Murray's guitar solo on Hallowed Be Thy Name gives me goosebumps and chills, and it makes me feel emotional every single time. This is something that can only be said for very few other songs. This guy may not be the fastest or heaviest, but he definitely has the most soul in his playing.
13
Yngwie Malmsteen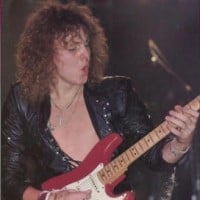 Yngwie Johan Malmsteen is a Swedish guitarist, songwriter and bandleader who was born on June 30th, 1963, in Stockholm, Sweden. He was known for his neoclassical metal playing style back in the 1980s.
Yngwie's shredding is just amazing. I like what he does with his brand of metal. It wouldn't hurt to say that he's probably inspired a lot of bands within power metal, symphonic, and of course, neoclassical.
While ironically beaten at his own invention by Glenn, this man is still the next best sweep picker. His shred arpeggios are hard to beat, but he doesn't experiment much, so I ranked him down a bit. After Randy and Ritchie invented Neo-classical metal, Yngwie invented sweep picking and developed the genre's true stylistic sound.
Yngwie is the King! A big plus, besides his musical genius and technical skills, is that he is mostly inspired by the greatest and most influential composer of all time, Johann Sebastian Bach.
14
Synyster Gates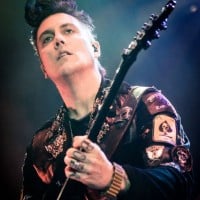 Brian Elwin Haner, Jr., better known by his stage name Synyster Gates or simply Syn, is an American musician, best known for being the lead guitarist and backing vocalist of the band Avenged Sevenfold.
He not only has speed and technicality, but he is also incredibly versatile and emotive. He is one of the very few who can strike a balance between technical prowess and tasteful phrasing. He has his own distinctive sound and creative use of conventional techniques. His solos always complement the music, style, and underlying harmony, and are always memorable. Over five albums (six including DITR), he has never written a bad solo. In short, he is the complete package and an inspirational figure that represents all that a modern guitar player should be.
Move this guy up the list, my buddies. Dave Mustaine, Kirk, and others may be legends but are confined to their age. Don't just consider the fact that they started doing something in metal. Think about how Syn started creating his own style of music, shredding like anything! My God, look at his control when he shreds. Though his solos may sound devilish, who can create those kinds of scales? If you are serious about technique, who can play all of Kirk's and Dave's solos with a single hand without tapping? My boys, it's Synyster Gates!
15
Glenn Tipton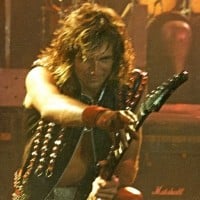 Glenn Raymond Tipton is an English Grammy Award-winning guitar player and songwriter. He is most commonly known as the lead guitarist for English heavy metal band Judas Priest.
This is number one for me. Glenn Tipton is living proof that class and style beat technique any day of the week. Not that his work isn't technical or difficult - it is, but several on this list take it much further in that aspect. However, he's a somewhat sloppy player, especially live. That doesn't prevent at least half of his solos from being beautiful, memorable tunes and mini-stories that fit perfectly within the song. That percentage is easily five times as high as any other guitarist on this list, in my very humble opinion. Many guitar solos are either boring or just don't add much to what is already in the song, regardless of how difficult, unusual, or well-played they are.
Are you kidding? Criminally underrated, Tipton easily must be in the top 3. Priest pioneered twin lead guitar in early heavy metal in the mid-'70s (Thin Lizzy isn't metal, but it's rock). He's the most evolved guitarist ever. You can compare his playing style in the '70s to the '90s, and it's insane.

He's mastered all metal guitar techniques and can play like modern shredder guitarists. His solos are memorable, complex, precise, and feature good and unique note selections. He varies his patterns in every solo (anti-boring), can shred fast, and is a melodic, soulful player. It's very rare that an older guitarist can evolve and then compete with millennium shredders. I listen to many modern metal bands, but when looking back at old-school metal, Glenn Tipton has the technique to compete with today's metal guitarists.
16
Alex Skolnick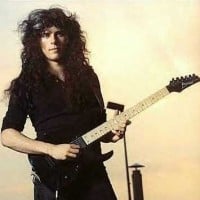 Alexander Nathan Skolnick is an American metal and jazz guitarist who is the lead guitarist of the Bay Area thrash metal band Testament, and heads the jazz band Alex Skolnick Trio.
He should be in the top tens easily. He's way better than Kirk. Think about it: who has better guitar solos? Alex does. Kirk's best solo is One, but Alex's solos are so good I can't even choose a favorite. Switch Alex with Kirk, and with a few other minor changes, this list is perfect.
Why is Alex at 64? He is definitely one of the most diverse guitarists out there. This is evident from his work in soft metal, to death metal, to his current jazz trio, not to mention being one of the lead guitarists for the philharmonic orchestra. Testament!
This man is everything a metal guitarist should be: heavy, melodic, fast, precise, technically sound, innovative, and a great songwriter. He's way more enjoyable to listen to than many on this list, in my opinion.
17
Jeff Loomis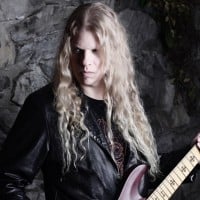 Jeff Loomis is an American musician, best known for his role as lead guitarist in the progressive metal band Nevermore and death metal band Arch Enemy.
I know that by best metal guitarist, we are talking about the most influential, skillful, and unique players. And while I understand Dave Mustaine's influence on metal (I have all Megadeth albums from before 2000) and agree that he is probably the most influential guitarist in metal, I would like to see him cover Miles of Machines.

Jeff Loomis takes inspiration from the likes of Marty Friedman, Jason Becker, and in my opinion, is one of the best metal players to emerge in the 21st century. I don't believe he is the best player in metal, but I don't think he should be as low as 34 on the list.
Probably one of the most under-appreciated guitarists ever. There is no excuse not to have him in the top 10. He can sweep better than almost anyone (Devil Theory, This Godless Endeavor), has written some of the best riffs I've ever heard, and most of all, isn't just a mindless shredder like so many.
Amazing guitarist. One of the few who can shred and convey emotion simultaneously. Most shred guitarists sound amazing by virtue of their technical skill, but the emotion seems missing from much of their work. Loomis manages to do both brilliantly. He should definitely be in the top ten.
18
K.K. Downing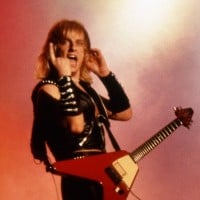 Continually creates solos that work to connect with the melody of the song. Together with KK Downing, no other band can match Judas Priest's mastery of solos with such dedication to detail.
What's KK doing down here at #30? I'm pretty sure less than half of these guitarists would even be guitarists if he had never picked one up. The same thing goes for Glenn. They should be #1 and #2. Best twin guitar attack ever.
He was shredding in the '70s, while no one knew how to play metal! (I mean the solo of Victim of Changes).
19
Jeff Hanneman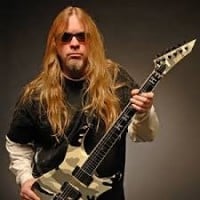 Jeffrey John "Jeff" Hanneman was an American musician, best known as a founding member of the American thrash metal band Slayer.
Slayer is a band - one of the mightiest - but they had a FU attitude toward pompousness and don't care what anyone thinks about them. They are a punk band in a thrash outfit. So, Lombardo aside, don't leave them open for judgment on a best guitarist list. They, like Metallica, are a united front.
How is Jeff not in the top 10? Some of the guys before him on the list are good guitar players, but is the music they play metal? The list should read as follows: Chuck Schuldiner, Dave Mustaine, Jeff Hanneman, Gary Holt, Kirk Hammett, Alex Skolnick, James Hetfield, Kerry King.
I feel Jeff should be at least in the top 15. He was certainly the best guitarist compared to Kerry. Also, when he plays riffs, you can easily hear how challenging or easy one is, which is pretty unique.
20
Eddie Van Halen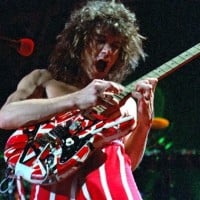 Edward Lodewijk "Eddie" Van Halen (January 26, 1955 – October 6, 2020) was a Dutch-American musician, songwriter, producer, and inventor. He was best known as the lead guitarist, occasional keyboardist and co-founder of the hard rock band Van Halen.
The problem with this list is the fact that some people do not consider Eddie Van Halen or Jimmy Page as metal players, so they get fewer votes. If this were a best guitar player list and not a best metal list, these two would easily be in the top three. In my opinion, they are better than Hendrix, so they would be in the top two. They, along with Iommi, are the biggest inspirations to metal guitar players. Zeppelin was the heaviest band at the time, other than Sabbath. Eddie Van Halen essentially invented the metal guitar solo, complete with pinch harmonics and whammy dives, but also with a lot of feeling. His rhythm playing is untouchable, and I wish he got more recognition for it.
I've heard guys imitate Hendrix, Rhoads, Satriani, etc. I've never heard anybody play Van Halen even close. You can play the notes, but not the personality. Eddie is the best.
Eruption is an epic song. End of story. Why is Eddie at 25th? I respect Kirk and Slash and all the others, but Eddie Van Halen is the real deal, the original.
21
Ritchie Blackmore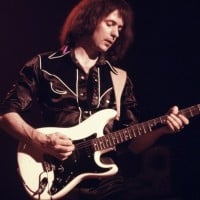 Richard Hugh "Ritchie" Blackmore is an English guitarist and songwriter, best known for his work in the hard rock/metal bands Deep Purple and Rainbow. He was ranked number 16 on Guitar World's "100 Greatest Metal Guitarists of All Time" in 2004, and number 50 in Rolling Stone magazine's list of the "100 Greatest Guitarists of All Time" in 2011. In 2016 he was inducted into the Rock and Roll Hall of... read more
The most versatile technical guitarist on this list. He has had a long career writing many classic riffs, songs, and solos. Ritchie is terribly undervalued. He started modern metal with Deep Purple in Rock in 1970 and expanded on that with Made in Japan in 1973. Rainbow Rising is another high point, of which there are many. A true musician's musician and genius, he is the one and only Man in Black.
Richie Blackmore is openly recognized as one of the greatest guitarists of all time. Nobody in their right mind would deny this. However, he was a divisive figure and marched to the beat of his own drum, much like the great Dave Mustaine. Both are genius personified and both have been very successful.
Was sweep-picking back in the 1960s, way before Yngwie. A true innovator. He's slowed down now but used all four fingers and his thumb in his solos and was among the fastest for two decades.
22
Zakk Wylde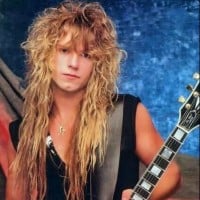 Zakk Wylde is an American musician, singer, songwriter, multi-instrumentalist and occasional actor who is best known as the former guitarist for Ozzy Osbourne, and founder of the heavy metal band Black Label Society.
Few guitarists can take the pentatonic scale as far as Zakk. Epics like No More Tears and Mama, I'm Coming Home have just perfect solos. One thing he lacks is grooving with a drummer. He seems to work more off a bass player. In other words, the riffs aren't fun to listen to. Zakk has started slacking in the last few years, but we all get old. However, his stage presence is unmatched by anyone. Rockstars are typically short, so seeing a large, muscular Viking is epic all by itself.
Zakk Wylde should be #1 on this list, or in the top 3 at the very least. For one thing, many guitarists mentioned don't play metal. The poll clearly says metal. If you're talking about the greatest guitarists of all time, he's still in the top 10. In my opinion, in a guitar duel, Wylde can stand with anyone who's ever held a guitar.
News flash: Zakk, though good, is way overrated and should never be compared to Randy Rhoads! No More Tears and Mama, I'm Coming Home do not even rate as true metal songs. They're ballads of a sort. Listen to the song SATO; the whole song is a guitar masterpiece. Mr. Crowley, Over the Mountain - enough said!
23
Buckethead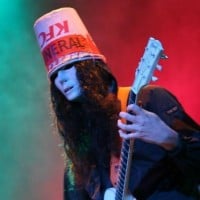 Brian Patrick Carroll, known professionally as Buckethead, is an American guitarist and multi-instrumentalist who has worked within many genres of music.
"Underrated" is his nickname, I guess. I found this guitar legend, and I can say he plays amazingly. I'm a huge Metallica fan and have listened to thousands of bands, but Buckethead is very different. Everyone should listen and give him a chance. Nobody can say, "Buckethead sucks." He is great at his job.
Buckethead is hands down the greatest guitarist ever. Give Soothsayer a listen, and you'll see why. His songs have strong, clean sections that really draw emotion, as well as mind-numbing speed in the solos. He should be number one for sure.
Way too much for the average non-guitar player to process. I don't advise listening to this if you like "popular music". It's way too advanced. Stick to the Rolling Stones' list of mainly overrated guitarists.
24
Andy LaRocque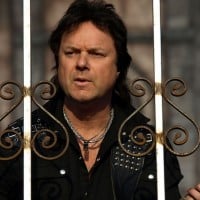 Yes, in both King Diamond and Death, he was a virtuoso. Most people inside the metal scene know of his flamboyance and skill, though he is not publicly well-known.
Underrated. When metalheads finally discover him, he becomes a favorite every time.
Andy needs to be higher. Any King Diamond song is better than any A7X song.
25
Jeff Waters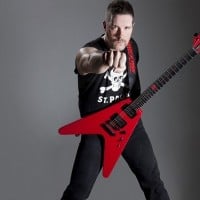 Jeff Waters (born February 13, 1966) is a Canadian metal musician and founder of the metal band Annihilator. He's best known as the guitarist for Annihilator, appreciated for his fast riffs and solos. Waters is also the primary songwriter in the band. Very often he has taken on the role of lead singer, bass player, engineer and producer.

He has owned Watersound Studios Inc. since 1994... read more
Jeff Waters of Annihilator is top-3 material. In my opinion, Dave Mustaine and Jeff Waters are best tied, although I think Jeff plays more demanding material. People are just not familiar with Jeff's work. After the first Annihilator album in 1989, Mustaine wanted Jeff to join Megadeth. However, Jeff wanted to do his own work, and he was right to do so. Jeff is not only a great riff master and soloist but also a mind-blowing songwriter. By the way, he's a very good lead singer too. He's one of the multi-talented metal musicians.

Jeff Waters is amazing live. He's as good in concert as he is in the studio, even when playing songs written 20-25 years ago.
Personally, I think Mustaine is the best, but I voted for Waters because he is so underrated. Just listen to W.T.Y.D. and pretty much all of the Alice in Hell album, and you'll be convinced he should be in the top 10.
He is the best guitarist on Earth. So inspirational. Every song he plays is just brilliant. He has so many riffs and great solos. Moreover, he is to Annihilator what Dave is to Megadeth.
PSearch List