Top 10 Best Thomas & Friends Movies
Thomas & Friends has been around for quite some time, charming the socks off kids and adults alike. Thomas the Tank Engine, his buddies Percy, James, and Gordon, along with Sir Topham Hatt, have taken us on a whirlwind of adventures that are often more than just smoke and steam. From films celebrating milestone anniversaries to those that introduce fresh faces (or should we say, fresh engines?), there's a lot to love.

The Top Ten

1 The Great Discovery
This movie is more magical than TATMR. From the music to the character choices, I could go on all day about how this masterpiece is the third-best TTTE movie. But it's not perfect. Stanley is meh, and the middle parts of the film drag on and on. But this is more good than bad.
Before I got it on DVD, I wanted it so bad, so Mom ordered it online. I remember seeing it once before that when I was like 4, but I think it's the 2nd best Thomas film, behind King of the Railway.
Thomas, You're the Leader is literally the greatest song of all time.
2
Sodor's Legend of the Lost Treasure
This film is amazing, not as good as Tale of the Brave or The Adventure Begins, but it's still amazing. It's the 3rd best Thomas film of all time, 10/10.
This is one of the movies of Thomas and Friends.
The best movie out of all the movies.
3
Tale of the Brave
Not so popular opinion, but I think this is the fourth-best TTTE movie. My nan thinks it's the best of the best, which it's not. There are flaws. Gator is meh. I like Percy growing from his fears in this. Gator is better in this movie's follow-up episode in Series 18. This 2014 movie, when we knew nothing about it, felt like The Adventures of Thomas to me, but it didn't cancel.
This special was very different from other specials. The main character was not Thomas. It was Percy. How cool is that? This special stands out over others. Percy, you're living my dream. This has to be the best Thomas special ever.
Percy should really get a special all to himself. I just hope they don't shoehorn Thomas into it. I hope Journey Beyond Sodor (the 2017 special coming soon) will be even better than the awesome special, Tale of the Brave.
4
Hero of the Rails
5
King of the Railway
This is my 3rd favorite special, behind number 2, Journey Beyond Sodor, and number 1, Tale of the Brave.
Easily the best Thomas film, 10/10. I used to watch this a lot.
This movie is just there.
6
The Adventure Begins
Undoubtedly one of the best Thomas movies, especially since this was the 70th-anniversary special.
Love how they made a movie of the first seven Thomas episodes. Also, the chase is epic! I just love it.
Without question, the best Thomas special, although others like SLOTLT, Tale of the Brave, and King of the Railway are still good.
7
Journey Beyond Sodor
Journey Beyond Sodor is by far a highly enjoyable film, not to mention one I am willing to watch over and over again. The new engines Frankie, Hurricane, Merlin, Lexi, and Theo are some of the best characters in the entire series and, in my opinion, are very special engines indeed. This film is quite a lovely work of animation.
I can't wait for this special to come out. It might not be as good as Tale of the Brave, but it will be awesome.
I really enjoyed this one. Despite the bouncing, it was by far my favorite one.
8
Blue Mountain Mystery
My son's favorite by far. Lots of action. My son quotes this all the time (he's 3 1/2). He loved the book before we saw the movie.
Though I do think Luke and the Blue Mountain Quarry were pointless, this special was okay.
This was good. Actually, I'd watch it again.
9
Misty Island Rescue
I thought this was the worst Thomas film ever! Go to the Awful Movies Wiki to find out.
Very good. Stop hating it just because of the rhyming and plot. Doesn't mean it's bad.
Despite the rhyming, it was alright.
10
Calling All Engines
Model work alone makes up for the learning segments.
I have a lot of memories watching this as a kid.
I find it to be underrated.
The Contenders
11
Thomas & the Magic Railroad
The very original, the only one made by Britt herself. Yes, this movie's plot makes no freaking sense most of the time, but I can't help but adore Magic Railroad. I'm not the biggest fan of Boomer, but the Thomas scenes are perfect. They're just perfect.
This special is also a movie, and the only movie, and you lot can keep your opinions, but mine is that this is my number 1.
Anyone remember when Mr. Conductor tried to reach a pair of scissors with his middle finger?
12
Day of the Diesels
Very unpopular opinion, but this is my sixth-best movie out of the bunch.
Super underrated. I mean, we get Percy as the main character.
I think it's good, but not great.
13
Big World! Big Adventures!
I have seen the movie. It was pretty good. Ace & Nia were really good characters. There is one problem, though: Thomas thinks he can do everything by himself (spoiler alert: he can't). I like how Sir Topham Hatt went after Thomas to find him. I am interested in what they will do in Season 22 with the international engines. Two of them (Carlos & Yong Bao) were in this movie. Also, I didn't really notice the bouncing, only in songs where it feels like they are kind of dancing. Overall rating: 7.5/10
Interestingly, I, for one, am looking forward to seeing this, only because the international engines will be returning. I consider them more special than the Sodor engines.
I think we already know how this will affect the show.
14
The Great Race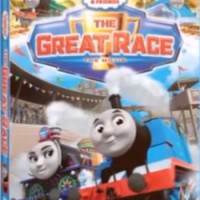 I know it hasn't come out yet, but I think it'll be awesome because:

1. This special will introduce the most new characters to date, at a total of twelve.
2. This special marks the first of a few things.
3. The first full appearance of Flying Scotsman in the television series, and his first appearance since the third season.
4. The first appearance of Vicarstown station in the television series.
I thought this special was okay. I don't think it's as good as other 2016 animated movies like The Secret Life of Pets or The Angry Birds Movie, but it's not a huge disaster like Sing or Norm of the North.
Why do you guys hate this special so much? Why is it at the bottom of the list?
15 Digs and Discoveries
16
Race for the Sodor Cup
17
The Mystery of Lookout Mountain
BAdd New Item