Top 10 Best Avicii Songs
The Top Ten
1
Levels
Best club song for sure! So catchy!
The first time I heard it I didn't stop playing it for 2 weeks!
It's got that special thing like no other song!
Best ever composition, could play it a any party!
The first time I heard this song couldn't help myself but listen to it over and over again!
This song changed the world, it was something extraordinary at the time of its release, and to this day still is. One of the greatest produced and iconic songs of all time and even 10 years on its still unfathomably good.
This song is what made Avicii global. Even those who don't even know what EDM music is have at least heard Levels in 2012. Still one of the greatest summer songs ever.
2
Wake Me Up
It's a unique approach from Avicii, a new style from him that I believe is very effective and shows a completely new perspective on this style of music. The featuring artist, Aloe Blacc is a highly talented vocalist which is just one other addition to make this song as awesome as it is.
An odd combination of soul (which sounds more like country to me, quite honestly) and house makes this track so very different from Avicii's other tracks. At first I wasn't too sure if I wanted to try it but I've been hooked ever since I did! Absolutely love this one!
A unique song that blends a fantastic guitar beat with a spectacular drop. The lyrics are superb, and the voice is the best voice that this song could have. When you hear it you really want to start dancing wherever you are. Probably my favourite song ever.
This was the first ever song I heard by Avicii when I was in sixth grade. It played during fitness club that year. This song is so amazing and fun I downloaded it to iTunes in eighth grade then I got into all of Avicii's music. I saved some songs to Spotify.
3
The Nights

Epic Song! evergreen and anyone can relate to it. The Feeling of being stranded and wanting to be free and do whatever you like. The songs nails it. Also, the reference to father makes it even more touchy. Listening to it on repeat since many days.
Amazing, and by far my favorite on this list. The message is amazing "He said one day, you'll leave this world behind. So live a life, you will, remember! ". The catchiness is infectious, and it is generally awesome!
My whole family breaks out into that song as soon as one starts humming it on, or as a word from the lyrics is said or the melody is played a bit. I will never get tired of it.
One of Avicii's best tracks after Levels and Wake Me Up!
The lyrics are very well written and the music is energetic as hell!
Avicii proves with this track that he's still the king of EDM.
4
Hey Brother
It talks about love between siblings in a honest, loving and real way. It shows what it's like to grow up in a functional, happy family and it makes me so happy and makes me feel so blessed with my wonderful siblings...
The best lyrics that I have ever read..
This song is for me..
My father left us a months ago and left the responsibility of my younger brother (18) and sister (8)...
When I hear this song I just lost myself.. this song is so mean to me..
This has to be the best song, it mixes two genres seamlessly, not only that the song you can tell has a deep meaning behind it. Something that many songs today are missing.
I love this song and wake me up but I like this one the best. I don't really get the video for this song, but I think it's got something to do with the older brother dieing.
5
I Could Be the One
Best Avicii song yet! Been raping that replay button all day and plan to party to it all night! Hashtag such a tune
This should be the top one.. Amazing club song which makes me hear everyday..
Amazing music! Can't have negative feelings when you listen to it!
Best song I have ever heard created by avicii... Avicii rocks!
6
Silhouettes

Though it came out under the shadow of its viral brother "levels", this song initially took off and eventually became tucked away after formulaic releases by EDM artists. I think this is Avicii's finest work with coherent lyrics and comes off as passionate which is usually rare and devoid in EDM. It did make it to the charts but I think it is still painfully underrated. It remains in my opinion one of the most defining songs in the EDM genre.
I CANNOT emphasise on how beautiful this song is. You know how people say for some songs, "I can listen to it on repeat forever" but eventually the vibe dies down? THIS song proves otherwise. I can ACTUALLY listen to it forever. No, really. How many songs do you know can do that? This deserves to be #1! It gives me life! It fits well with any emotion in my opinion.
I personally think Levels and Fade Into Darkness are both great songs but Silhouettes is simply AMAZING. I mean, the vocals and the oh so great build up into a perfect melody of joy.
This is the best Avicii's song no doubt. The melody is perfect and this song consists so many feelings I can not even imagine. I never get tired of this song even though I have played this more than any of you can think of.
7
You Make Me
This song should be at least number 2, you may be looking at this comment and be like noo way (your song) is the best! Just take time to listen to it you WILL NOT regret it.
This is the best remix I have ever heard! Just amazing beat, even better than the original!
Ya this one is a great piece of excellence. I love it. Vote 4 it and make it to the top...
What!.. Come on it's the best songs of his career and its at no. "11" this is not fare man
8
Waiting for Love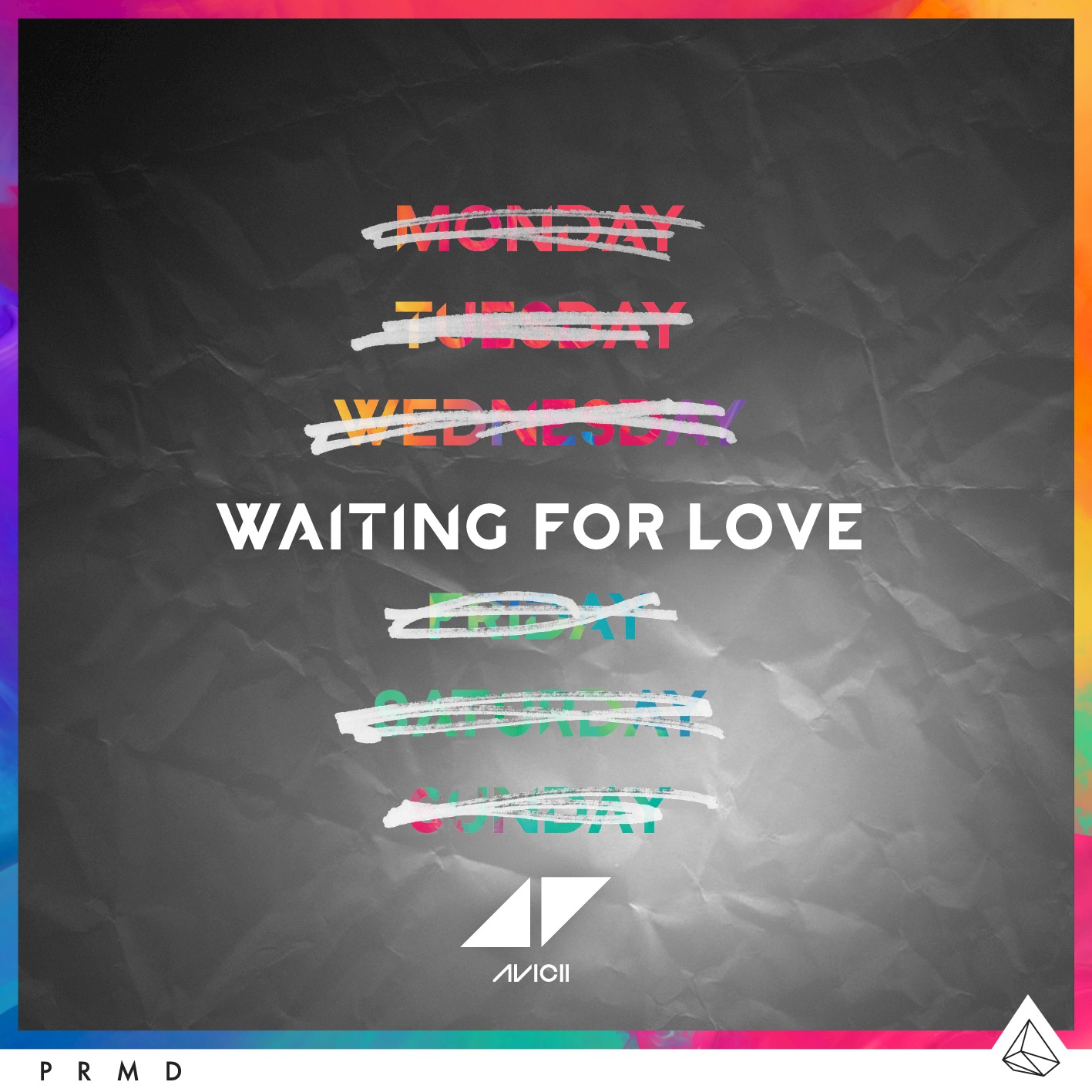 Really this is new that is why it's so down in the list. But eventually it will be among the top ten or maybe even top five. The lyric video of this song is what makes it even more lovable. The love of the dog for his master is just inspiring and we should learn to never give up no matter how difficult the situation.
The new song. The first and the best I have heard. You have not heard it so you don't know it. And the lyric video is more than awesome. I cried the first time I watched it and still get goosebumps when I watch it.
My favourite song ever, purely because of the music and the lyrics and everything. I can really relate to the lyrics because my two best friends died: my dog and my hamster. It never gets old.
Cool description of all the days of the week. I personally tried to understand this in a metaphorical way, using it in comparison with my week. It is truly amazing!
9
X You
I found this song when I first started listening to EDM. It's not as well known as tracks such as hey brother and levels, but so much better. This track has an amazing buildup that no other Avicii song has. It has a tune that instantly makes you happy, and doesn't get monotonous or annoyingly repetitive like levels and hey brother. I listen to it whenever I'm down, and it never gets old. The fact that it doesn't make the top ten over hey brother and levels is disappointing because of the uniqueness of the song, how it was made, and just how truly great it is. Hopefully it moves up soon.
I think why this song is in such a poor place on this list is because not many people know of it. Many have heard it but don't know who made it or the songs name. This song is amazing! As of being a total Avicii fan and a fan of EDM in general, I'd say this is Avicii's best song with Fade Into Darkness as second and then Levels as a close third.
This song sounds great, but I really like it because of the idea: Fans submit melodies, loops, and samples, and Avicii combines the best ones into a song. I wish he would do another one of these, as I would love to participate.
The first time I watch & listen the video, I immediately want to download this song. This is the best song of Avicii. Why just 0.9%? TT cool remixes! Well done Avicii, very well done!
10
The Days

I love all of Avicii. I even own every Avicii vinyl. I'm not a guy who listened to this song and was like " this is best avicii song." After listening to every song on every CD many, many times, I am still in love with this song more than any other. My second favourite is Waiting for Love.
I listen to this song all the time and it makes me remember all the good times I have had.
Come on this lyrics are so meaningful and I bet this deserves a top-20.
I love the lyrics to this song - one of his best yet.
The Contenders
11
Addicted to You
I'm addicted to this song. The lyrics are so beautiful, usually after listening to a song nonstop for a week I get burned out and stop listening to it for months. But this one, I've been listening to for a whole month now.
I'd conquer the world with my lesbian girlfriend and this song would be playing as we do it!
God god I can't even explain its just amazing the tune the lyrics everything...
As a real life lesbian, I love this song so much! I am addicted to my girlfriend!
12
Seek Bromance

This is the best progressive house song ever. The beat is amazing - it just makes you dance. The vocals are amazing. It's way better than his new music. Totally deserves the number 1 spot.
I am in love with this song! Been spamming the replay button for this one! The vocals are incredible and the beat just makes you want to move. #avicii forever!
I think it was this track that made me fall in love with aviciis music. He is awesome and I whish I could work with him, even though I am 16 years old.
Great vocals, awesome beat and the way this song moves is amazing. This DESERVES the number 1 spot!
13
Fade Into Darkness

2 Swedish artists... One who is good at Producing and the other with a god gifted vocal chord... The BEST I could get from any EDM artist.. Just waiting for Avicii to make such awesome tracks now and then
Not only my favorite Avicii songs, but one of my all-time favorite songs. Unsurpassed vocals and excellent production on Avicii's part.
I whish avicii himself stared in the video for this track, instead of that singer. He would have looked so cute with that girl.
Definitely one of my favorites. Play it more than once a day. Kinda in love with this song!
14
A Sky Full of Stars
I believe it's the best of avicii and I I'm surprised to see that I see this song on 39th!
Best one in my opinion... The voice of Coldplay and the music created by Avicii! Totally worth listening to *.*
The song that brings my favourite two artists together.
Avicii's masterpiece, a work of art like no other.
15
Superlove

This is so underrated here... Deserve top 5... Levels isn't supposed to crown..
The flow of the tune, the sweet bass, the melodious vocals of Lenny Kravitz...
Thid song proves that an edm song is not all about loudness and 'hands up in air' feeling!
Yes, its definitely one of his best tracks...
An awesome mix I just loved it!
16
Lay Me Down

Song brought to life with the help of a legendary Nile Rogers and some impeccable vocals from Adam Lambert. The best song on TRUE!
His best song! Love it. It may be a remix, the rhythm reminds me something but whatever, the song is excellent!
Avicii's masterpiece with one of the best singers of this century is here this much low? Oh come on... should be in thetopten..
This is really an amazing song withe the beats and the lyrics. I think it deserves to be in the top 5.
17
Lonely Together
Top 3 avicii songs
Rita rocks this one big time...why so low here?
One of the best Avicii's new songs... Play your music in the Heaven, RIP
I love this song
18
Three Million
Avicii shows different forms of music and this is it...
Nice song. But the thing that makes it different is its singing. Negin is a very good singer
19
Dear Boy
So underrated. The chorus gives off so many good vibes. Play this in your car, loud as you can in the summer. It is AMAZING. One of Avicii's best and should be in the top 10 at least.
This deserves to be in the top 10! The song has one of the most catchiest melodies I've heard in House music for years, and the vocals and beat fit so well together I just want to cry. MØ (Karen Marie Ørsted) & Avicii just has to do another collaboration soon. I can't get enough of her voice.
This is my favorite song in the world! But honastly, it makes me angry they used the worst part of the song for a sample!
It's actually an unreal song. Fires me up so much and deserves to be way higher on the charts.
20
Last Dance

Obviously not his best creation, but still it deserves to be in this place because it is good. !
That the best EDM songs he ever made in my opinion. Pure good Electro House music when he was at his best!
I listened to a sample, and I searched the song, it was AWESOME!
21
Nicktim
Best one from avicii!
22
Can't Catch Me
23
Broken Arrows
This song is so amazing! I just love the lyrics and everything. Its not one of the most popular songs, but in my opinion its his best song.
This is simply amazing and was shocked to hear that nick grimshaw on bbc radio 1 said avicii had broken his compiuter!
Top 10 PEOPLE!
A song full of meaning
24
Sunshine

The drops in this song are so fantastic, it just makes you want to jump and scream. I think the breaks in this song makes the audience anxiuos to hear what going to happen next. Then its just blows your mind, this is a really good song, it should be under levels.
!
Love it so much. when I first heard it, it was the only song I had listened to for two weeks straight.
Nice Avicii :X the best dj of de music house!
THe best MUSIC... made by the kings of the business - AviCii and David Guetta... Nothing to say.. should be at the TOP
25
Divine Sorrow
Many people don't know about this sing, but it is amazing, wyclef's voice & avicii's music, just a great collaboration
PSearch List