Top Ten Best Brazilian Singers
Top Ten list of the best Brazilian singers of all time.

The Top Ten

1 Caetano Veloso

Caetano was very important to compile the African and indigenous heritage of the Brazilian music, and he was also important for the fight for democracy during the Brazilian dictatorship.

He combines everything: Great (eccentric) voice and out of the ordinary songs!
And then he is by now the Brazilian éminence grise, one couldn't get around this guy.

I am from central america and like Caetano like no other Brazilian singer, he put his emotions to song, great composer and magnificient singer

2 Roberto Carlos

I guess who ever wrote this does not know anything about Brazilian music. if you place Roberto Carlos in the number 12 slot. Please correct your self just consider how many records he has sold, how many songs he has written and last all his concerts are sold out wherever he goes. This year (2014) alone he sold out all his concerts in the US and Mexico including Las Vegas MGM Grand. In Brazil he holds the record also of filling up the largest stadium for a concert. On top of all this he has sold more records than the Beatles or Elvis in Latin America. How dare you place him in the 12 position. He is by far the number one singer in Brazil since the sixties, with a hit records in every decade since then.

Roberto Carlos is still my favorite. He captures such emotion and I love the fact that his songs honor family, long lasting love, and tells fun little stories.

His voice is amazing! He and Julio Inglesias are my favourite singers of all time! All of his songs are really beautiful!

The best! Reaches your soul with his silky smooth voice. So romantic!

3 Gilberto Gil

4 Djavan

Simply marvelous vocalist, lyricist and guitar player. Cigano, Fluer di lis, and Nuvem Negra are among my favorites. I saw him once in New York and fell in love with his music. He was my inspiration for studying Portuguese; to understand what the words he sings. Great personality. LOVE, Love, him.

Awesome singer and songwriter. Beautiful tone and guitar playing abilities. I've seen him live and he is t h en truth!

5 Armandinho

King of reggae in Brazil! Very nice voice.

6 Tom Jobim

Tom Jobim was a master. I was a great composer, arranger, conductor, comparable Mozart. How come somebody can list together Jobim and Michael Telo. For the Lord sake...

I am splitting hairs. Tom Jobim or Chico Buarque? One or the other, hard to make a decision. Both of them define many traits of contemporary Brazilian music.

Just incomparable. His songs have nice sophisticated chords. He knew what he was doing. After all he is a conductor.

He was the most influential composer, arranger, conductor, producer, but not necessarily the best singer.

7 Marisa Monte

Marisa monte is a huge star in Brazil known as a very sophisticated singer and song writer. Her voice, songs and stage presence is something beyond the ordinary... She is amazing brilliant! She was elected by the French Newspaper Le Monde as top 10 best singer in the world.

Marisa Monte is considered best singer in Brazil!

Marisa always inspires me! She is a great woman and artist. Her voice is extremely beautiful, it touches our souls and her songs are always very well chosen.

She definitively represents a great Brazilian music... How could someone in good mental shape compare Marisa Monte with Michael Telo?

Sitting on our porch here in the north Georgia mountains on a spring evening with our dear friends, sipping a red Burgundy and spreading a bit of pâté on a baguette – as glorious smells are wafting onto the porch from the kitchen... there is no better voice (in the world) to hear at a time like this.

She is rhythm, she is sensuality, she is the Earth in all its glory!

8 Elis Regina

One of the strongest vocalists in history. Her range, both vocally and stylistically, positively consumes what most vocalists possess. While she had the skill of a veteran though, even as a young adult, she approached her work as a prodigy (which she was) does naturally. While her reputation tells varied tales of what she was like to work with, the product itself shows us a singer who is frequently playful on tracks, often to the point of outright laughter, and who tried not to take herself too seriously.

Her talent commanded the respect of the best composers of her era, and so she has not only recorded some of the most creative and memorable versions of classics that came before her, but has also left a trail of classic recordings behind her that artists today still tribute. Her record speaks for itself.

Elis is the greatest.

Roberto Carlos is the most famous Brazilian singer of all time, period. He has sold more records than any other Brazilian artist and his shows around the globe sell out all the time, he has more hit songs than anyone. These people that make up these stupid lists don't know a damn thing and many folks are jealous of Roberto's success. He is and will be Brazil's most famous artist for many, many years if not forever!

She had a powerful and sweet voice at the same time. With a strong personality and incredible talent, she is still remembered after 30 years of her dying.

Her voice has great range of colours, emotions, unique capacity of raise and release tension...

9 Renato Russo

Renato Russo is the king of rock in Brazil! He is the best composer that Brazil already had their music portrayed the sufferings and joys of all teenagers of Brazil.
Summarizing the great poet of Brazilian music
He died over his cry is still alive! He will always be in our hearts! Hear the maximum volume

This amazing singer could reach more than 3 octaves of vocal extension. He could sing softly or powerfully, according to the song. Besides that he was a poet. He wrtoe beautiful songs. The best of all!

He was and even having him left us alone, he still the best singer in Brazil, way far from the others... We all missed of that rich time, plenty of good taste on music...

I only recently discovered Renato Russo's music and his beautiful poetry. I think he was one of the most amazing musicians in the entire world. It is a pity that his music is not better known outside of Brazil. Eu so Americana. So agora aprendo Portugues, mas musica dele e facil compreender - e PERFEICAO!

10 Michel Telo

His the best singer I have every heard... I love the song he sing the one ai se eu te pego. I play that song over and over and never get bored. I the way he dance to when he is also single I love all the song he sing because I can feel them in my heart when I heard him sing them. Telo you're the best

I love Michael Telo! I kept on playing his music over and over and aver again! From the Philippines... Mabuhay! Mahal kita Michael Telo!

I think he's a great singer, he got a nice voice and I love that song Ai se EU Te pego, congratulations man.

I love him and he is very good.
The Newcomers
?
Marília Mendonça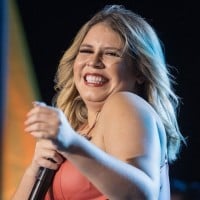 The Contenders
11
Ivete Sangalo
Awesome singer, the true Brasil icon, you know what it feels like a sold out Madison Square Garden... So unforgettable 2011 turner! Love you Ivete.
She's one of Brazil's most popular female singers!
The best one! Queen of Brazil!
12
Andre Matos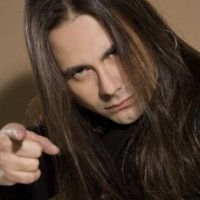 André Coelho Matos is a Brazilian vocalist, pianist and composer. He was involved in the heavy metal bands Viper, Angra and Shaaman.
If you don't know Andre Mattos' power, listen to Shaman - Fairy Tale, or then Angra - Carry On, and many others. And Andre Mattos was supposed to be Iron Maiden's vocalist, but Bruce had got it through one position better. Andre Matos rocks!
He is the best in the world! We did everything possible and impossible for the Brazilian Heavy Metal!
Used to sing for Angra, great range, great power, deserves to be here.
13
Chico Buarque
Takes me where no other music can...
Chico Buarque is the best..!
14
Tim Maia
The question is "the best brazilian singer" not "musician" or "songwriter". Those ones are surelly Tom Jobim and Chico Buarque. But the best singer, without any doubt, is Tim. No one ever matched his voice, he could sing it all: soul, funk, jazz, MPB, Bossa Nova, dance. Miss ya Tim.
A great Brazilian singer, who is considered one of the best singers for being himself. He used and abused the talent.
Tim is just epic. Greatest Brazilian voice of all time. And a rebel soul.
Are you kidding me? Nobody can sing like Tim Maia
15
Joao Gilberto
Classic Brazilian bossa nova!
16
Paula Fernandes
No she she don't
She is so nice!
17 Cazuza
18
Simone
As a woman, I see her as beautiful in her being.
19 Cássia Eller
20
Maria Bethânia
Very powerful voice.
she is more than a singer, seems like the lyrics and the instruments sincronize with Her soul. She captured the attention from the beginning to the end.
This woman is the best of all Brazilian female singers by far!
She so talented and she has a unique voice.
21
Zizi Possi
I love the sound of her voice, it's unique, and she sings perfectly in tune, she is lyrical, and she is a superb interpreter, with an original interpretation of each song she records. Simply the best!
Her voice is calming and sweet I wish I could see her in a live concert
22 Astrud Gilberto
23
Gal Costa
Gal Costa should be in the top ten. Tom Jobim wrote THE classic bossa nova songs, but please number 7 on the list of best singers in Brazil?!
Gal Costa is a most versatile Singer with an incredible passionate interpretation of many Styles. Her Tone is Impeccable!
A great tone and always in tune, a great singer!
24
Bebel Gilberto
She has a smooth and Sexy voice, much like her Mother only more Confidant and full of energy.
Very smooth voice
25
Raul Seixas
Raul Seixas should be recognized. He is a genius! Not to be forgotten!
PSearch List