Top 10 Best Selena Gomez Songs
The Top Ten
1
Come & Get It

Well, I used to like selena an then her music just didn't interest me at all. But then I heard come and get it...
This is one of her best songs, kudos to the producer! It was a good mature song for her and a nice comeback song for me. I think she has blossomed beautifully from disney. I mean the indian music is amazing I love it.
This song is amazing. Independent. It says, your not the boss of me, and if you can't handle me and the way I act, than we can't be in a relationship. If you want me, come and get me, but you must prove that you can handle me.
Her first platinum song. Wow can't say that this song doesn't deserve the number 1 spot. This sing brings the little dancing man out to show off what he's got. From shaking your botty to moving those arms. It's a song to dance to. It got to number 6 on the Billboard Hot 100. Over here it got to 15. So goes to show we love it. This song needs to be at number 1! Please vote
This song is simply Heart-Touching... The Indian Touch to it added a little more spice to this song... No doubt Selena is a versatile singer... I mean the best song by Selena so far..!
2
A Year Without Rain
Its really nice this is the best song I ever hear in my life selena gomez looks very beautiful... I hear this song hundred times in day:-)
Her voice is so magical in this song and it gives me goosebumps! It is my favorite Selena Gomez song. She did a great job and her voice is very special.
I love this song! It's amazing it has so much feeling into it. I love Selena Gomez she is amazing. Nice beautiful
Caring proud and just puts good music everywhere
I hear this song everyday. Actually my mom didn't agree about my relation because she thinks I'm Way too young to have a boyfriend. But He waits in front of my class everyday, I see him when I enter. It's the best moment of my life. And If I don't go to school, I can't see him that day, And that's the day when I feel like It's A year without rain...
3
Love You Like a Love Song

I love this song! it rock! Selena Gomez is sensational I recommend listening to this because it is awesome! the beats are awesome and the way the music video is placed in the karaoke scene is awesome! she is absolutely sensational! listen to it! now! 1 GO SELENA!
I am actually very surprised this song isn't in the top 10. I mean It should be before Shake it Up. I am not too fond of that song. I'd have to say this is the best one right up there with A Year Without Rain
This song must be at top 10.. this is a love song... whatever I love this song so much
Me and my cousin hate her as a person. My cousin loves the music, but hates this song and thinks it's annoying, I love Come And Get It and think the other music is okay. But I hate this song and I Want You To Know. Yes me and my cousin are both haters.
4
Who Says

I am deeply love with this song. And Selena is my soul. The best reason why I love this song is one day I went to school without writting the homework. Then my teacher shouted to me and she said me to get out from the class. I did. At that time there was an announcement about the assembly all the students from other class went out. I was shamed and I don't know what to do. My teacher came and shouted all other was looking at me in a bad way. All went and I didn't I thought I should suicide at that time itself. But when I looked to my book I saw Selena because I used to stick her photo in all my books. I thought about the song who says and I got an energy. I did my work and I gave my book to teacher to correction. At that time she said you are awesome my dear child. It was the best I ever heard in my life. Thanks Selena. Don't think that it is not true. Love Selena. Keep rocking.
.. This is a song by a female artist, Selena Gomez which is the best song that I had ever heard in my life. It is full of emotion and anyone can relate to this song, because I'm 20 years old, born in the year 1992 and lives in Philippines. I can say to Selena Gomez "WHO SAYS" that this is really an inspirational tracks to every single people, that no matter who you are in this world, you have the rights to live your life on your own and to the fullest! I hope Selena Gomez will right a songs in her future career that will inspire many people. Thank you Selena for writing this song. Love you!
I think this song is the best song I've heard in years! I can't live without this song. Its truly amazing! Selena is beautiful, and a fantastic song writer! I can't believe how many times I listen to this song EVERY SINGLE DAY!
Love this song. I don't listen to Selena that much but I hear this song 5 times each day. I mean, look at the lyrics, "Who says, who says you're not perfect, who says you're not worth it who says you're the only one that's hurting, trust me, that's the price of beauty, who says you're not pretty, who says you're not beautiful, who says? " I mean, aren't these lines good enough to make the song number one?
5
Naturally
This song is very special to me. In Elementary I entered the school's talent show, and I was the only one in the Second round singing solo. I was going to sing this song! This song brings incredible memories to me because I won 2nd place beating the High and Middle Schoolers! Love this song!
All of the other songs sound pretty crappy. But this one, is good. Selena is a better actress than she is singer, and she really needs to choose one or the other, and focus on it.
I honestly think this song, was and still is one of the best song made by Selena Gomez; I am a huge fan of her and this song is the song that can make me stand up and dance to it!
And it takes my breath away.. Really this song does! I probably listen to it a hundred times a day and then keep on humming it for hours.. GO GOMEZ!
6
Hit the Lights

How can you NOT like this? Love the beat, tune... Everything rocks! It fits her voice perfectly: doesn't push too far... It's the type of song that you have to like!
Hit The Lights is not just a love song! Trust me! It's about power and about the truth about boy in front of your eyes. All of you must have this song on you music player...
The best song I've ever hear! I really love it! Selena is so awesome and beautiful, she is my idol, and when I am sad I start to listen her songs and she always cheer me up! She sends me a different message no matter how many times I listen her songs (SHE IS THE BEST! )
This the best song for me but... Who they choose ' a year without rain ' as the most voted?! It's so terrible! She sings so beautifully in 'Hit the lights ' loving it! Can't stop playing that song and sing it out loud!
7
Slow Down
I love slow down and I just love Selena Gomez. Slow down is the best song ever and I think that it should be at the top of this list. The beginning part is catchy and the rest of the song is so awesome. Selena Gomez is my 2nd favorite singer. I like Ariana Grande the most but Selena is more unique. Thank you Selena for the awesome songs! Selena is just so beautiful and she has different hairstyles everyday. I love Selena's movies: Monte Carlo, Ramona and Beezus, Behaving Badly, and Another Cinderella Story. I'm sure there are more movies but that's all I watched!
I knew that 'Stars Dance' is going to be Selena's best album and 'Slow Down' is the proof. Please listen to it and vote for it. You will love it! I love this song very much and love Selena Gomez. Thanks Selena for such a lovely song. Nabeel
This song deserves number one... I hear this Song everyday and I love it. Selena is too good in this song. Please guys listen this song and vote for it... I am sure you would love it... I LOVE SELENA!
I love that song! I think it should be voted as number 1. Selena is awesome! Please guys vote for this song because it's just so excellently great!
8
Ghost of You
Ghost Of You should definitely make the top ten, Selena's voice is very nice and appealing in this song. It is one of her best songs as it is very emotional and the words mean a lot. It gets stick in your head very easily and it has a haunting feeling to it. It's a song that you will remember. It should have been released as a single, it would show the world that Selena is definitely much more than a Disney star.
It has a nice, memorable haunting feel to it. It's about getting over a boyfriend or someone that you love. "Breathing in, breathing out, ain't that what it's all about? I'm living life crazy loud, like I have the right to. No more words in my mouth, nothing left to figure out, but that don't mean I'll ever break through the ghost of you. " I'm not a huge fan of Selena but this song is absolutely a chart topper, even though I doubt it's ever been on the radio.
Why this song wasn't in the top ten? I think this song must be 3rd after A Year Without Rain and Love You Like Love A Song, in this song I feel selena seems looks for what happen there musics are scary, selena really confuses and he would finds a way to get out of his fear.. It so scary!
Love this song. I can just breathe in her spirit when I sing it. I hope she stays a good person and follows the one true God. Things look ify now, and I'm worried, but proud. Thank you for my life, Selena!
9
The Heart Wants What It Wants
This song should be at least in top 3! It's so heart-touching! You can feel her pain through this song! It can make anyone's heart cry! Just look at the lyrics and listen to the way she sings! Full of emotions! This is not just one of the best songs of Sel, but also ACTUALLY one of the best songs of this generation!
This song should be in the Top 10 of this list. Is Selena's second Top 10 single on the US, after C&GI. And it have been doing better worlwide than C&GI did. It is Selena's first song to receive 'critical acclaim' from critics, and for the first time critics praised her vocals, and also its dark sound- And her performance at the AMA's has been praised by critics, fans, and other celebrities that were moved by her performance. I believe this is one of her best songs she has ever made, she even wrote the song (with some help, but still, she did).
This is an amazing song... Her voice brings out all the emotions! And her voice throws out everything you need to hear like a projection of the everything and you don't even need to see the music video! And the lyrics are even more perfect. I love this so much!
! Why is this on #37? It's one of her best songs and should TOTALLY BE #1! This song is so touching! Her voice in the beginning of the music video really brings out emotion. Surprised and disappointed this song was ranked so low.
10
Tell Me Something I Don't Know

I think it's an unusual songs... And by that I mean totally amazing and eminent! I love the song and the video that goes with it. I used to watch the video over and over again! So I hope she's famous 4 life! Go Selena Go!
This song deserves to be at least in the top five. This was the first song I ever heard by Selena, and I instantly fell in love with anything that she wrote I love her, but not her boyfriends at least as a person he has SOME good songs
I hear her songs everyday and night specially "the way I loved u" really emotional song and nice1, "tell me, stop and erase, live like there's and round and round" stupendios songs I ever heard of her!, and am big fan of selena! love you sele, all the best!
This song is like almost her best song. how can this not be one of the first?
The song is so catchy and I love how she is the maid that brings up the beat and makes everyone dance. That should be the world right now.
The Contenders
11
Same Old Love
This could be considered Selena's best song. I just wonder how could this be number 59. Maybe that's because it is quite new and not many people have heard it and voted for it.
TOTALLY should be in the top five, I love the instruments and the tune and everything is just so amazing! Keep up the good work. Selena!
Selena has sung this very well and her voice is just wonderful, the sound the music it's one of her best. This should be in the top tens. I love Selena
It kinda has a sort of an old time vibe and this is one of her many great works of art. Selena gomez is the best!
12
Falling Down
Falling down is just a great song. The way she sings it her voice really suits the song. She has a great voice and it's good for her to do a variety of song. I literally love this song it has a great edge to it.
It's the one song I don't want out of my head, it has a great rhythm and an awesome beat! Intact
I think she should have won the Kid's Choice Award for 2011! I like all of Selena's songs but Falling Down is the best
This song is one of my heart touching song. Its lyrics was just good. It means when you falling down it is nothing and just climb up and keep on moving.
I love this song I can see me doing that I love the beat it's so catchy and I love to congratulate her on this song. I would love to have this song play over
13
Round & Round
I love your songs a lot!... very much to say!... but Selena I would like to comment that all your videos are awesome and inspiring!... I think this should be at number 1! Not only because they were recenty made but because of its value!... in more appropriate words... what it means to us!... some fans!... I love the way you sing Selena!... keep it up!... good luck in your career!... don't let anyone bring you down!... remember their will always be haterz around!... I would like to meet you some day!... I am 14 years old!...
Great song. Its her one of best songs. I love the way she sings her voice is sweet
Who won't like this song? The tune is so head-rocking! Round and Round and Round Whoo-hoo! I love her actions to it and the raps! They make sense and make you clap with the beat! She is really pretty in it too! I love the video!
I love this song. Selena is one and favorite idol. She inspires me so much. The song always warms me when I hear it on the radio. Selena keep on doing the things people love.
14
Like a Champion
I was just impressed listening her free vocal delivery here. This song is really very fantastic. I hope Selena keeps on singing like she is a champion. Nabeel
This song should be at number 1! Really amazing song. I listen to this song 100 times a day but never gets bored!
This song is amazing and the chorus is catchy
It should definitely be in the top 10.
A truely mind blowing piece... Absolutely awesome... Thanks a lot for this... Ms gomez..
15
Love Will Remember
It's an amazing song. I will remember "Love Will Remember" forever. It's one of the best songs ever made. Please listen to it and I'm sure you will love it. Thanks Selena for such a wonderful song. Love you. Nabeel
Selena is anti Taylor swift with this song. It has meaningful lyrics and relates to moi. Love it
I love every song from stars dance album but did one is my favorite... Its has Wonderful Lyrics
Best song of selena. So emotional and heart touching. Just love this song
16
Undercover
I can't keep it undercover that I love this song!
This song completely rocks. Most underrated song on "Stars Dance."
We can keep it undercover!
Addicting and amazing
17
Kill Em With Kindness
This is such a cool song, should be number one! I love the message this song gives, no violence, the one thing that annoys bullies is to forgive them and be kind to them. Get better with your sickness Selena! You are such a good actor and you have a beautiful voice! Go kill those buliies with KINDNESS everyone!
This really reminds me about the world and war right now. If the whole world listened to this song, (not nessisarily to like it but just to understand) the world should be able to understand what's happening. Who wants war?
Glad this is higher than Same Old Love even though SOL is great too.
Don't fight fire with fire, fight it with kindness!
18
I Want You to Know
5/5
Perfect vocally, melodically, and lyrically.
The drop could have been better, but still puts an energy
The buildup was great, and the opening production is the best part of the song!
I believe thid song will become a smash hit. With the song's beat and Selena's great vocals it will. I mean it peaked at #1 (iTunes) in 23 countries and #3 US and Worldwide.
After a day it was already on top of my iPod's top 20 most played list.. Definitely should be in the top 10
19
Birthday
This song is totally unique. Never heard anything like this before. I fell in love with the song the first time I heard it. It shows that Selena enjoys her birthdays a lot and every night is her birthday! It is the weirdest thing she has done other than B.E.A.T.. I love this song and I love Selena... Nabeel
This was the first song I heard on this album and I fell in love with it! On my birthday I played it on repeat!
I like Selena she inspired me to sing know, the principal at my school lets me sing at asemblies and all my friends are mad at me cause I get all the spot light but it's not about spot light it's about being unique and sing your lungs and heart out. And that's the real Selena she sings her heart out and look how she came out like. A Fame SINGEr!
Love this song. It has a very good beat. Keep it up.
20
Spotlight
I LOVE Selena Gomez! She is awesome and this is my favorite song of all the ones she made (although I didn't hear all of them yet). She is awesome! One day I want to be like her. She should make MUCH more songs like this. You go girl!
This is one of the best songs of selena. Of course it was auto-tuned. But it is great. This should be on at least top 6. All her songs are great.
MAGIC shouldn't be in 11 th position. I love you so much selena despite the fact that you're dating JB, my heartthrob.
Why the hell is this on 19! It should definitely make it to the top.. This song has all that pop and music one needs when he's feeling low! "ooo throw that mirror away".. Just amazing guys.. Vote for this awesome song!
Best song ever! I think Spotlight should make it in the top 10. Switch this with tell me something I don't know because that song is kind of boring.
21
Bang Bang Bang

Best Song ever! I love Selena! She's the best singer ever. Plus she has the hottest boyfriend ever.
This is one of her best songs. I love it. Great song and great album.
Awesome voice! So good. Like how cool it is.
Stupid song by a stupid singer.
22
Stars Dance
I see a lot of people mentioning the autotune... Yes there's a lot of autotune in this song, but she can sing without it, and also it was needed for the perfectness and sound of the vocals in this particular song. I used to be addicted to this song, the lyrics are like...dreamy and like...starry...like amazing...and like sultry almost...Then the production is really cool with especially the orchestra and then those background noises and the moaning at the end, then the dubstep grinds and synths and arpeggio blips and it's just literally an amazing song lol :D

Good job to: Rock Mafia, Dubkiller, and Steve Hammond, and Adam Schmalholz, for composing this amazing song...

And thanks Selena for singing it
I was shocked to fond out this wasn't going to be a Single on the album entitled the same. The lusty-dreamy sounds with edgy riffs it makes it so unique and the lyrics are amazing. To me this even outshines come and get it. Selena truely channels her inner goddess here.
Yeah! Selena you make the stars really dance. In this song she brings the ethereal beauty around and in herself
Really cool! Love her voice it sounds like an angel in this song!
23
My Dilemma

Selena Gomez sounds so amazing singing this song. This song really tells a story of how you love someone, but your just not sure. This song is also a mix of feelings and emotions all coming from the heart. In my opinion, this is my favorite song by Selena.
It's really my favorite song, this song has something that I can't explain. I never bored to this song, and I like its lyrics, because absolutely it ever happened to everybody who love someone but they still confuse of their choice
Why is it Not at the top? This is the best song Selena has ever made in her whole music career! I hear it like 20 times a day and never get bored.. My Dilemma Rocks! Love you Selena..
This song gives me goosebumps every time I hear it. It reminds me of a guy in my class who used to like me but was unfaithful at the same time. I too liked him but his face always was a dilemma. MY DILEMMA!
24
Good for You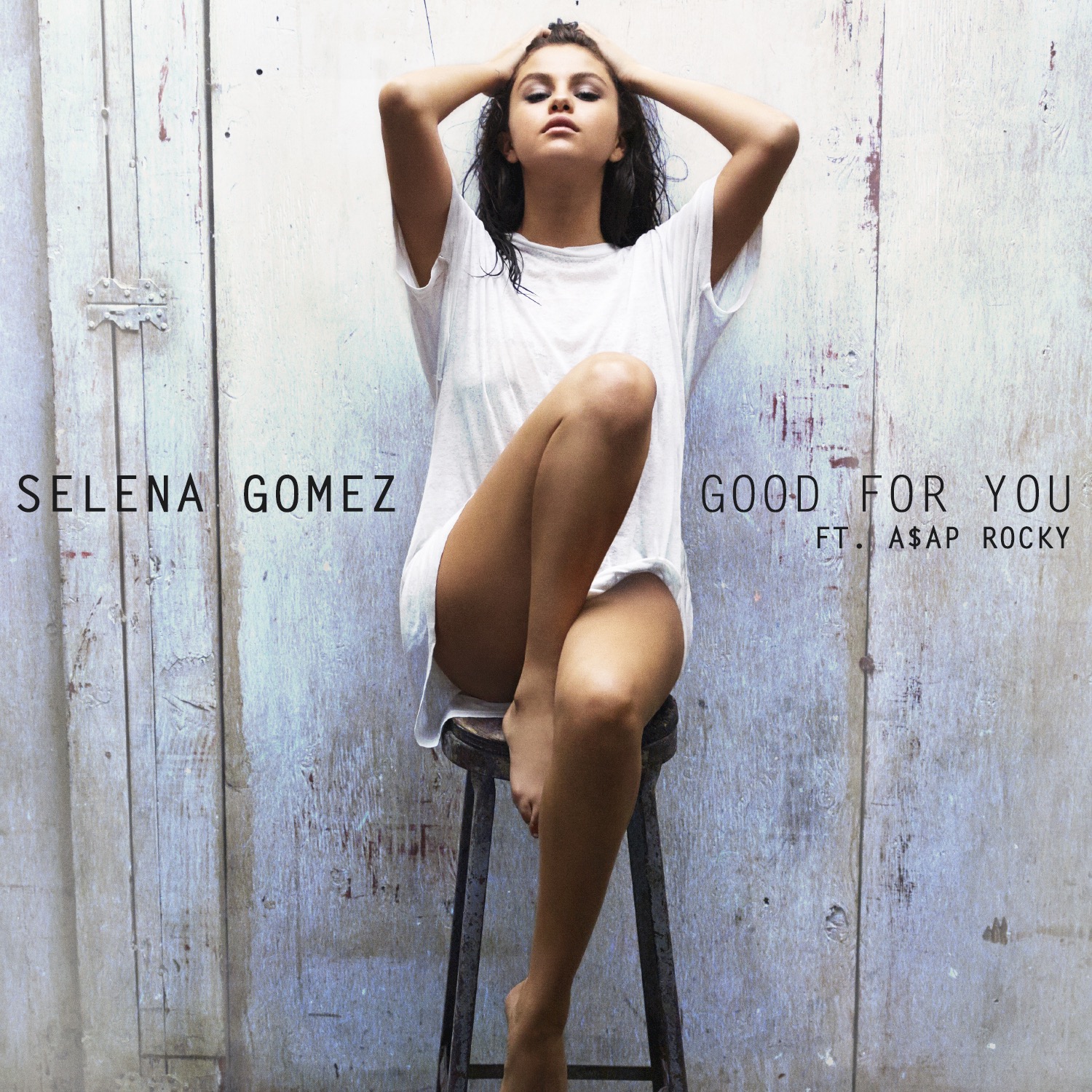 Good For You shows that Selena Gomez's voice has grown a lot matured. This is her single to chart in the top ten of Billboard Hot 100 which is amazing! The song is really good and I'm really liking her new style... Love you Selena... Nabeel
51! This is tied with heart wants what it wants for her highest charting single peaking at 6 and it's her highest debut for a single ever on the top 100 debuting at 9 and this is 51! Vote for this now!
This song shows a really different, mature and attractive vocals of her. The confident this song brings is a very powerful weapon that makes it one of her biggest ones!
Why is this song so low? Make it #1 friends. It's the best seductive song I've ever heard. It takes my breathe away...
25
Sober
This song is not only lyrically brilliant yet tragic, it showcases some of Selena's best vocal delivery to date and details the story of a lover who can't seem to love her unless he's under the influence of alcohol and/or drugs. A great beat and should've been the 4th single instead of Kill Em With Kindness.
Best song she has ever released. She is more mature, and this song shows that and is still incredible.
Guess what? I am a hater or used to be hater but this song made me love her.
This is my favourite song from Revival!
PSearch List