Top 10 Facts You Probably Did Not Know About Kurt Cobain
Here are some interesting facts about the late singer-songwriter and Nirvana frontman Kurt Cobain (1967-1994).

The Top Ten

1 He hated "Smells Like Teen Spirit"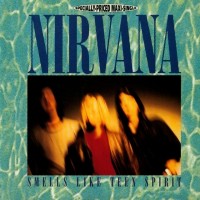 Kurt Cobain said that the song was meant to be a joke and to rip off the Pixies, but when it became a huge hit, Cobain got sick of it, and refused to play it in his concerts. He did play the song occasionally, but was often butchered, especially from BBC's Top of the Pops performance.
Funny this is first because quite a few people seem to know this. It's just ironic because SLTS is their most popular song, but I can understand Kurt, the lyrics for this song are gibberish and nonsensical and solo is very simplistic
Weird, because Smells Like Teen Spirit is by far their most popular song.
2
He had a tattoo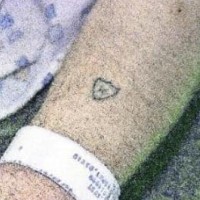 This is mostly known by huge Nirvana fans, because Cobain's image usually consisted of jeans, plaids, and cardigans. Well, he did have one small tattoo on his forearm, which is a small "K", the logo for the indie record label K Records.
3
He had a homosexual friend back in high school
So, Cobain was not gay, or even close to bisexuality, but had a gay friend back in his high school days. He was bullied for being "gay", and according to Blank on Blank, his mother did not want him to be friends with the homosexual person because she was a homophobic.
4
His family has a history of mental illness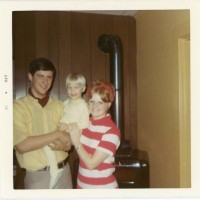 According to Cobain in an interview, his two uncles committed suicide. He is very open about his own mood swings, stress with fame, drug addiction, and depression. It is suspected that bipolar disorder may have led to Cobain's suicide.
5
He attempted suicide several times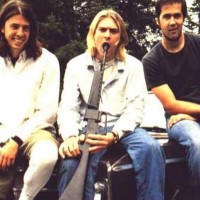 According to his then wife Courtney Love, Cobain attempted suicide three times. In March 1994, he locked himself in a closet full of guns and medication. Love called the police and removed the items immediately. Cobain successfully committed suicide the following month. What would have saved him is that he would need help right away, or let a baby come out from a time machine at his home and give him ice cream (can you find that reference?)
6
He was fascinated with fetuses and vaginas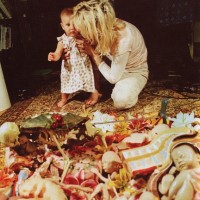 This has to be the strangest fact about Cobain, which he uses in his music and art, because he was also fascinated with anatomy. To those who don't know what fetuses are, they are unborn babies. And no, Cobain did not own any real ones like he's an Ed Gein-psychopath, but was reported that he have purchased models of them.
7
He quoted Neil Young in his suicide note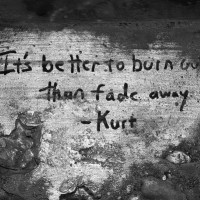 "It's better to burn out than to fade away," a lyric from Neil Young's "My My Hey Hey (Into The Black)", which is one of the final lines of Cobain's suicide note.
I don't really know the music of Neil Young but I have heard he was a big influence on grunge music in general.
8
He hated Pearl Jam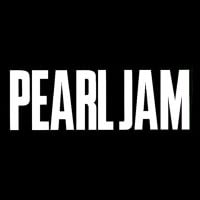 Pearl Jam is a grunge/alternative rock Band formed in Seattle, Washington in 1990. The band had comprised of Eddie Vedder, Mike McCready, Stone Gossard and Jeff Ament. ...read more.
Although Kurt Cobain had a friendly relationship with Eddie Vetter, he always hated his band's music.
9
He hated Axl Rose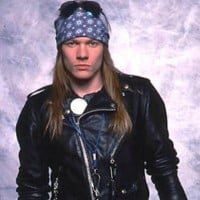 William Bruce Rose Jr., better known as 'Axl Rose', is an American singer born on February 6, 1962, in Lafayette, Indiana. He Is the founder and lead singer of the hard rock band Guns N' Roses. He is a celebrated but controversial figure in the world of rock.
Kurt Cobain was very open about his feelings for Guns N' Roses frontman Axl Rose, who became rivals from the 1992 MTV VMAs to Cobain's suicide.
10 When Nirvana was on the rise they got a fax from Metallica that read, "We really dig Nirvana. Nevermind is the best album of the year. Let's get together."
The Contenders
11
He wanted to name Nirvana's final album "I Hate Myself and Want to Die"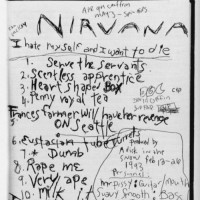 When asked how he was doing, Kurt often joked "I Hate Myself and Want to Die" with a sarcastic sense of humor. He originally named Nirvana's 3rd album that, but bassist Krist Novoselic said it was a bad idea, so they named it "In Utero".
12 He was a substance user at a very young age
BAdd New Item