Top 10 Greatest Guitarists of the 21st Century
The Top Ten
1
Matthew Bellamy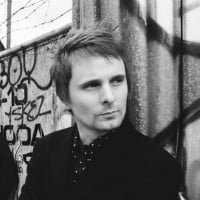 Matthew James "Matt" Bellamy is an English musician, singer, songwriter, multi-instrumentalist, and composer. He is most famous for being the main vocalist in alternative rock band "Muse".
Bellamy was ranked #19 on Gigwise's list of The 50 Greatest Guitarists Ever
. Total Guitar readers voted Bellamy #29 on a list of the Top 100 Guitarists of All Time. Bellamy's riff from "Plug In Baby" was #13 in Total Guitar's poll of the Top 100 Riffs of All Time

Bellamy named "Guitarist of the Decade" and proclaimed to be "the Hendrix of his generation"
Hey... I came from outer space and from the year 3013 and we are still listening to muse.. About lead guitarist and singer matt?... Man... He is way better than many successful guitarist.. Even rolling stone magazine honored him with the title of best guitarist of 21st century... And the way and variety of guitars matt uses... Hez the guitarist of your futute guys! :D
Muse have all the skill and flare of any 20th century band. While they're not my favourite band of all time, Muse are definitely the only actual BAND worth listening too from 2000 on.
Watch him live. He puts on a show like no-one else, strutting around the stage, owning every member of the audience. There's a reason Muse are the best live band of today.
2
John Mayer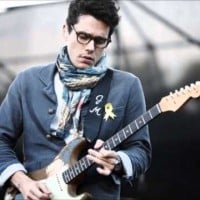 John Clayton Mayer is an American singer-songwriter, guitarist, and record producer. Born in Bridgeport, Connecticut, Mayer attended Berklee College of Music in Boston, but disenrolled and moved to Atlanta in 1997 with Clay Cook. Together, they formed a short-lived two-man band called Lo-Fi Masters.
John kills everyone else on this list. No other guitarist who came up in the century has the dexterity, speed, skill, and artfullness of John Mayer. Not to mention his 7 Grammy's and playing with and being praised by guitar greats such as BB King and Eric Clapton. He is the next Hendrix and will absolutely achieve legend status.
Its not just what he plays, but it's the way that he plays it. His style is one-of-a-kind and his solos, especially live, make him the best in the business. This guy is the new Hendrix, and in 20 years or so, he'll too have legendary status.
His guitar playing is mind blowingly good! Could listen to him just playing guitar for hours it would never get old! Can't wait for his new album this year!
Pretty good pop writer, player and singer. Plays some mean blues as well. Seems to dabble in everything with his axe.
3
Synyster Gates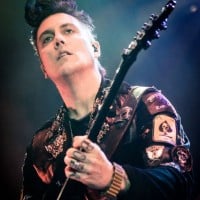 Brian Elwin Haner, Jr., better known by his stage name Synyster Gates or simply Syn, is an American musician, best known for being the lead guitarist and backing vocalist of the band Avenged Sevenfold.
Synyster has supplied Avenged Sevenfold with countless unforgettable riffs and blazing-fast solos. His precision is off the charts, he plays so fast yet never seems to have a sloppy note. Not only has he already put his mark on history, but he still has decades of great work left, seeing that he is only in his mid-30's.
His string work is phenomenal, his solos are gripping, he shreds like no other and no Avenged song would be nearly as phenomenal without him.
Synyster Gates is one of the most talented musical geniuses of the last 30 years.
This is the best guitar player I have ever seen. I am now doing him on my guitar class project. Awesome!
Best just best!
4
John Frusciante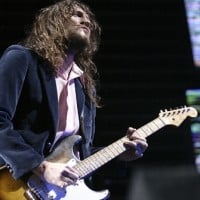 John Anthony Frusciante is an American guitarist, singer, producer and composer.He is best known for his time with the Funk Rock California based band the Red Hot Chili Peppers. He was also part of the Mars Volta, Swahili Blonde, Ataxia and more.
John Frusciante is an absolute musical genius. His work with the Red Hot Chili Peppers is fantastic, but I think his solo stuff is the decisive factor, that he's the best guitarist of 21st century.
I don't know which song is the best of him, because all of them are great, but if you want to hear real guitar songs listen to "Before The Beginning", "Murderes", "Central" or "Another" from his band project Ataxia with Josh Klinghoffer. Listen to "Niandra LaDes And Usually Just A T-Shirt"... Fantastic.
The 21st century Hendrix.
5
Jack White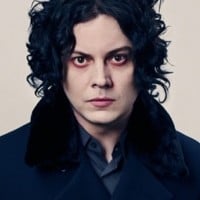 John Anthony "Jack" White is an American singer and songwriter. He is best known as the lead singer and guitarist of the duo The White Stripes, but has also had success in other bands and as a solo artist.
Jack White is, by far, the most talented guitarist of the 21st century. Not only was his solo career actually successful (unlike every other entry on this list) he started 5 other projects, and the successful of them were very successful. The Raconteurs, The Dead Weather, The White Stripes (my favorite), The Go, and Two Star Tabernacle. He is amazing, and might even be better than Prince.
Better than Auerbach, Billie Joe, Frusciante, and on par with Bellamy. Jack White is what you get when you combine Robert Plant and Jimmy Page and dye his hair black. He is the new riff king and deserves to be in the top 3 at least.
My top 5 would be:
Jack white,
Brad delson,
Synster gates,
Matthew Bellamy,
John frusciante...

But Jack white wins by a great margin with all others... He's the one who defined some greatest guitar riffs and solos...
Seven nation army. Do I really need to say anything else. Well since I'm here I might as well. The white stripes literally changed music forever. A band with 2 people yeah okay there
6
Richard Z. Kruspe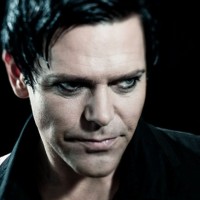 Richard Zven Kruspe is a German musician and guitarist of the German band Rammstein, as well as the frontman of the band Emigrate.
Richard Z Kruspe, you can't dislike his guitar skills, I just don't see anyone that could do that.
One badass guitar player who proves you don't have to be fast to be the best.
I can't stop listening to him play. He's absolutely amazing.
7
Matthew Tuck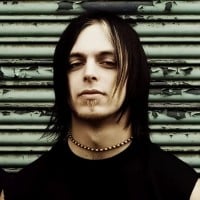 Matthew "Matt" Tuck is a Welsh musician. He is the lead vocalist and rhythm guitarist in the Welsh emo/metalcore band Bullet for My Valentine.
Bullet For My Valentine one of the best bands... Matt's voice is great,playing guitar so amazing...he's My favorite guitarist with Richard Z. Kruspe
8
St. Vincent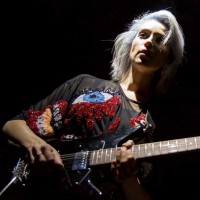 Anne Erin "Annie" Clark, better known by her stage name St. Vincent, is an American musician, singer-songwriter, and multi-instrumentalist.
She's an underrated guitarist, her skills on guitar are amazing, she's dynamic and she's got a Jimi Hendrix thing when she's playing it. She's so young and has so much potential, search the guitar solo of Rattlesnake or Your lips are red.
Singer/songwriter/guitar-shredder Annie Clark deserves to be at the top of the list for making all different kinds of guitar riffs and sounds. She is as innovative as they get, and she can play the guitar like a pro. We need more guitar goddesses out there. Fantastically she manages to play the guitar bluesy at times, metal at times and distorted at times. Should be higher on this list.
Amazing guitarist, really innovative. Also her signature guitar is amazing!
9
Frank Iero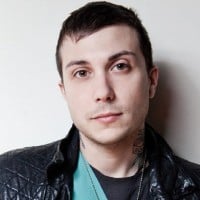 Frank Anthony Iero, Jr. is a musician who was the rhythm guitarist and backup vocalist of the alternative rock band My Chemical Romance as well as the vocalist of the post-hardcore band Leathermouth and electronic-hardcore act Death Spells.
Amazing when he plays, especially live stuff.
Proves that short people rock the hardest!
10 Michael Joseph Keneally
The Contenders
11
Alexi Laiho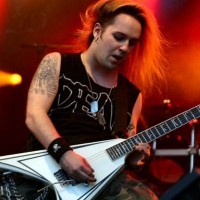 Alexi "Wildchild" Laiho (April 8th 1979 - December 29th 2020) was a Finnish guitarist, composer, and vocalist. He is best known as the lead guitarist, lead vocalist, and founding member of the melodic death metal band Children of Bodom. He was also the guitarist for Sinergy, The Local Band, and Kylähullut.
Children of bodom is one of my favourite bands now. Listen to "Was it worth it" or "Needled 24/7" and you will definitely agree!
The most amazing guitar work out of any band I've ever heard has come from Children of Bodom. I just can't get enough!
Alexi laiho is the best... No one can be compared to him... He is god... He is king!
12
Mark Tremonti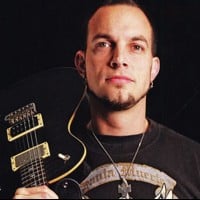 Mark Thomas Tremonti is an American musician, singer and songwriter, best known as the lead guitarist of the rock bands Creed and Alter Bridge.
Creed restricted Tremonti's guitar ability with their use of only one guitar tune and their lack of solos, but on just about any Alter Bridge song, Mark and Myles Kennedy five headlong into a unique, beautiful, befitting solo and catchy riffs that almost speak as much as Myles' lyrics. Also, Mark's solo band, Tremonti, uses some great solos. I would recommend people listen to "Blackbird" by Alter Bridge and "You Waste Your Time" by Tremonti to familiarize themselves with Mark Tremonti's talent.
What is wrong with everybody?! Perhaps they are unfamiliar with Mark's guitaring but he shreds the axe better than anyone else this century except, perhaps, Synyster Gates. Mark is a great guitarist and his solo on "Blackbird" by Alter Bridge may be the best solo of the 21st century.
13
Josh Homme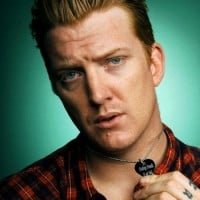 Joshua Michael Homme (born May 17, 1973) is an American singer, songwriter, musician, record producer, and actor. He is the founder and only continuous member of the rock band Queens of the Stone Age, in which he sings, plays guitar, as well as occasionally playing piano, drums, and bass. He also serves as the band's primary songwriter. ...read more.
Josh has great versatility playing on drums in EODM and keyboard and singing in QOTSA but its his guitar skills that really demonstrate the musician he is!
14
Brad Delson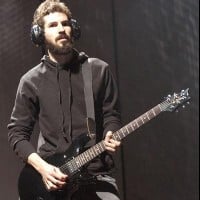 Bradford Phillip Delsonis an American musician, best known as the lead guitarist and one of the founding members of the Grammy Award winning rock band Linkin Park.
Ho Come on... Don't kid me... Although he isn't mainly a solo driven guitarist bit still you should listen to Minutes to Midnight, A Thousand Suns and mainly Tge Hunting Party... Then you will never keep him below top 10...
He's great at improvising, but apart from that he's an absolutely crap guitarist who doesn't play well and doesn't even like playing.
He should be in top ten because he plays electric guitar so well. Peer Kaiser
15
Jonny Greenwood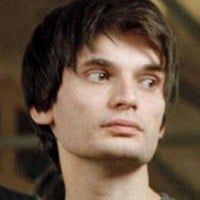 Jonathan Richard Guy, professionally known as Johnny Greenwood, is an English musician and composer mostly known for his role as the one of the lead guitarists and the main keyboardist of the English alternative rock band Radiohead.
This guy can play the guitar like nobody else! His aggressive play style is woven into Radiohead's songs seamlessly. Every solo and every riff is a defining part of the song, and he can really improve the sound of music. He even plays the guitar with a viola bow.
Incredible guitar player. I have never seen anything like him. ever!
The best guitarist on the best band of the last 15-20 years should be higher than 14
16 Terry Roadcase
17
Brian Welch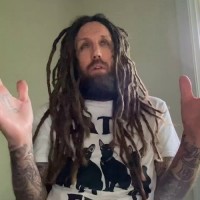 18 Steve Brown
19 Christopher Bradley
20
John Gallagher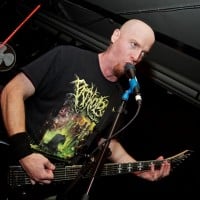 John Gallagher is an American singer and musician mostly known as the the lead guitarist and vocalist of the band Dying Fetus.
21
Jonny Buckland
From Coldplay, hands down a great guitarist with thrilling solos
22 Jamie Cook
23
Jake Pitts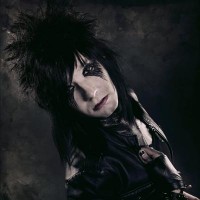 Jacob Mark "Jake" Pitts is an American musician and record producer best known as the lead guitarist of the rock band Black Veil Brides.
He can play solos and chords he hopefully will one day be listened to not just by 12 year old girls
24
Slash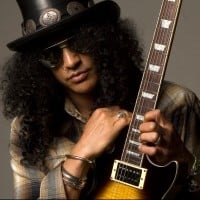 Saul Hudson, known professionally as Slash, is a British-American musician and songwriter. He is best known as the lead guitarist of the American hard rock band Guns N' Roses, with whom he achieved worldwide success in the late 1980s and early 1990s.
He's one of the best guitarists of XX and XXI century. Congratulations!
He is such an amazing guitarist he should be a lot higher on the list
25
Billie Joe Armstrong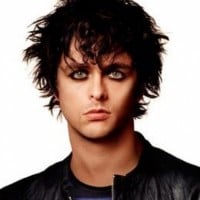 Billie Joe Armstrong is an American musician, singer, songwriter, and actor who is best known as the lead vocalist, primary songwriter, and guitarist of the punk rock band Green Day, which he co-founded with Mike Dirnt. He's also in side-project groups such as The Network, Foxboro HotTubs, Pinhead Gunpowder, ...read more.
PSearch List