Most Talented Italian Artists That Became Popular Thanks to a Talent Show
The Top Ten
1
Valerio Scanu
Valerio has a wonderful voice, always live even in hosted including television. His live shows are unique, the lower and whispered the words with a clarity that is not easy to find and... Is very intense in these deep tones. Her gentle voice gritty thousand shades, it is also clear crystal as powerful as you pierce your heart sometimes you scratch your soul, I believe that this is due to too much emotion and intensity that puts us when he sings so by giving almost overpowering his audience to the heart. During live shows as well as delight with its unique voice is addictive creates a friendly atmosphere, talking, joking, interacting and amuses the audience, always true, unique, happy to meet his fans for this encounter more and more sympathies among who does not know but he had the good fortune to meet him in the proper way to get to know an artist... Live
Mila
Incredible voice... Amazing talent!
2
Marco Mengoni
In the today's Italian music scene, Marco Mengoni is without a doubt the best Italian singer! Artists of the fame of Mina and Lucio Dalla wove praises to him! Marco is a truly genuine talented Italian singer! His voice is like a brush filled with coloured notes! He has an amazing vocal extension, a rousing capacity to interpret and his mastery on stage is absolutely unique and worthy of the greatest veteran artists! His great talent doesn't stop at music, he also had a huge success as a voice actor in the cartoon "The Lorax", for which he won a much coveted award.
And last, but not least, he is also a very humble human being!
Marco Mengoni is a genius! The best singer ever! Italz loves him so much! He is not only a product of a talent show, he has all the quality for becoming an international popstar. It is a pity that some people consider him as a singer used only for making money, he is a REAL artist, plays good music and he doesn't only sing. During his concerts he also dances, plays piano, drums and he has proved also his qualities as actor giving voice to Onceler in the cartoon Lorax. A very good performance. People should know better his music!
3
Alessandra Amoroso
The artist's most famous, that in just a few years has reached dizzying sales, certifying all its multi-platinum album, she is the queen of Talent and rankings
4
Annalisa
I like the song Alice e il blu. I like the jazz sound.
5
Noemi
I love her! She reminds me of Amy wine house and Florence welch. Great singer and music!
6
Emma
She is always a really good person and she makes me happy every day with hers songs... I love she forever
She is the best...
7
Marco Carta
Best artist! Distinctive voice and unique.
A wonderful black voice.
A very wonderful voice
8
Francesca Michielin
This girl is the best. She has an amazing voice and really good songs with a nice tune to them and really inspiring lyrics. She also has a great personality, she's really sweet and funny and truly believes in the good of humanity.
9 Giusy Ferreri
10
Antonino
Best performer we've ever had on a talent T.V. show... Amazing voice... Incredibly "down to earth artist"!
The Contenders
11
Virginio Simonelli
A true Artist. He writes music like no one else and is obviously also a great singer. I would recommend him to anyone who loves italian music with a certain quality. His latest album called "Ovunque" is a beautiful mix of italian writing tradition and international sounds. He's also collaborated with other great italian writers and Gary Barlow on the song "Tu Mi Senti". A famous italian producer said that he's been influenced by Coldplay, which is not strange considering that they are one of his favorite bands. Listen to him, you will not regret it!
Singer-songwriter for himself and for others, a very talented and humble person... He is pure emotion
12 Loredana Errore
13
Andrea Faustini
The most amazing voice on the planet right now, with a voice that shines at its best live because he can. He's voice is always technically of very high quality and pitch perfect, but what makes him stand out from the others is that he is a formidable story teller, with the ability of communicating lyrics with such an emotional and passionate delivery that makes clear the huge difference between who just sing even masterfully and a real artist. Andrea Faustini is one in a million.
I have to add that none of the people here on this list, would have been able to conquer the heart of a nation like UK (the center of the world musically) and convince them to vote for him, week after week up to the third place. Also when Andrea sings in English is pretty good, contrary to the people on this list that are utterly embarrassing.
A unique mixture of powerful vocals, soul, techinique with the ability of making every performance "original" and truly emotional! Such an experience is listening to him live! Highly recommended!
14
Il Volo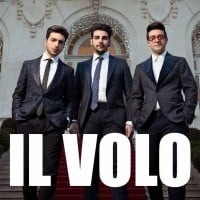 Il Volo is an Italian pop trio, consisting of singers: the baritone Gianluca Ginoble, and two tenors, Piero Barone and Ignazio Boschetto.They describe their music as "popera".
Fate brought 3 singers together and the insight of record company to sign them to spread their beautiful music ;
Keep them in good care---they have a bright future ahead of them.
Angelic voices, musically gifted, amazing entertainers, humble & gorgeous; and they are only 18, 19 and 20 years old!
All 3 members of this group were discovered on Italian version like american idol. Piero Barone, Ignazio Boschetto, and Gianluca Ginoble who happened to have won.
15
Pierdavide Carone
Great and profound lyrics accompanied by a soft and warm voice which leaves you impressed! Not only a good singer but also a fantastic song writer! I believe that in the near future he will be one of the few artists from a talent show who will still be remembered and most of all still present :)
Pierdavide is the best write-singer of talents... His songs is poem!
16 Fanno Tutti Cagare
17 Pasqualino Maione (Paky)
18 Roberta Bonanno
19 Gianluca Ginoble
20 luciana
21 Luca Napolitano
22 Carlo Alberto
23 Carlo Alberto Di Micco
24 Antonio Maggio
25 Piero Barone
PSearch List