Top 10 Most Shocking Deaths of 2021
2021 was pretty shocking for deaths to even begin with.

The Top Ten

1 Larry King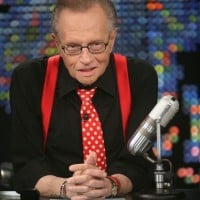 Larry King (1933 - 2021) was an American television and radio host, whose work has been recognized with awards including two Peabodys and 10 Cable ACE Awards.
The longtime man who interviewed the world for over 60 years from radio to news prints, internet, pop culture & even 25 years on CNN's The Larry King Live Show (which made it the longest-running talk show with a single host at the same time), passed away at 87. He was truly the greatest interviewer & talk show host that ever lived. He will never be replaced. His name was King for a reason. R.I.P.
2
Christopher Plummer

Fun Fact; Christopher Plummer's biggest regret was turning down the role of Gandalf in Peter Jackson's Lord of the Rings Franchise.
He died today! RIP Christopher Plummer (1929-2021)
3
Hank Aaron

Henry Louis Aaron, nicknamed "Hammer" or "Hammerin' Hank", was a retired American Major League Baseball right fielder who serves as the senior vice president of the Atlanta Braves.
Among the greatest baseball players of the generation. He was 87. R.I.P.
4
Mark Elliott

"The Cherished voice of the most beloved animated classics of all time" one of the biggest legends in the voice acting world passed away at age 81. He shaped my and everyone elses childhood. His voice will be a voice you'll never forget

Mark Elliott (1939-2021)
This man was the voice of my childhood. I grew up watching Disney movies on VHS and DVD, and this guy's golden voice was all over the trailers and the bumpers of those releases. RIP Mark. Say hi to Don LaFontaine
5
Dustin Diamond

Dustin Neil Diamond (January 7, 1977 – February 1, 2021) was an American actor, director, stand-up comedian, musician, and occasional professional wrestler, best known for his role as Samuel "Screech" Powers throughout the Saved by the Bell franchise.
This was such a shocking death of an actor, known for playing Sam "Screech" Powers from Saved by the Bell & every spin off. He lost his battle to Stage IV lung cancer at 44. He was the G.O.A.T. of actors in the series & franchise. R.I.P.
6
Cloris Leachman

Cloris Leachman was an American actress and comedian. In a career spanning over seven decades she has won eight Primetime Emmy Awards, a Daytime Emmy Award, and an Academy Award for her role in The Last Picture Show.
All these people died in 2021?
1 of the GOAT comedians. She was 94. R.I.P.
7
Brad Venable

8
DMX

Earl Simmons, known professionally as DMX and Dark Man X, was an American rapper and actor. He was born on December 18, 1970. He passed away on April 9th, 2021 after suffering a heart attack.
Not much into hip hop but dang this is a pretty heavy loss...Only 50...
Can't believe he overdosed on drugs. He had a heart attack following it. He was 50. R.I.P.
9
Sophie

This death hit us harder than any other from a musician since artists like Aaliyah, Michael Jackson & Whitney Houston. She mixed techno, trance & other forms of EDM with pop to create the microgenre hyperpop. It paved the way for songs by artists such as A.G. Cook, Charli XCX, Slayyyter, Kim Petras, Rita Ora, Sam Smith, Ava Max, Zara Larson, Anne-Marie & Billie Eilish along with groups such as Little Mix, Die Antwoord, Twice, Blackpink & BTS. She fell off her roof while trying to get a better view of the Moon from up there. She was the partner for Charli XCX & worked with her on her songs. Now Charli has no one big & important to work with so she practically lost all hope. What further makes this shocking was that this started the Twitter hashtag trend #HereForCharli which TikTok Queen Charli D'Amelio mistook for herself & got backlash over, prompting Trisha Paytas to call her out in a way that would involve ending her TikTok era. The music & general world lost a literal legend ...more
Such a shocking death. The world lost a literal legend and heaven gained an angel. The trans queen of pop. R.I.P. Sophie 1986-2021.
Well, this person wasn't the best of us, but her death was shocking and sad nonetheless
I'm kind of sorry I had not heard of Sophie before you made this list. RIP though.
10
Tanya Roberts

Known for That 70's Show, Charlie's Angels & James Bond: A View to Kill as well as participating in Miss Universe, she collapsed on Christmas Eve 2020 & was diagnosed with cardiac arrest 11 days before her death. She was 65. R.I.P.
The Newcomers
?
Adam Perkins
The creator of the Welcome to Chili's meme suddenly passed away on April 10th. He was a huge legend on Vine & the media in general. A huge loss for Vine, the media & especially his brother. He was 24. R.I.P. Adam Perkins (1997-2021).
?
Nikki Grahame

Actress & model Nikki Grahame passed away on April 9th from anorexia the same day Prince Philip (the Duke of Edinburg) & DMX passed away. She was only 38. The modeling industry lost an important member (yet among the shortest - at only ~5'1"). This shows us anorexia should be taken seriously & should stop being promoted for any reason. April 2021 has really been turning out devastating & it's not even over at the time of writing this. R.I.P. Nikki 1982-2021.
The Contenders
11
Siegfried Fischbacher

12
Yaphet Kotto

13
George Segal

14
Butch Reed

15
Rush Limbaugh

Rush Hudson Limbaugh III (January 12, 1951 – February 17, 2021) was an American radio personality, conservative political commentator, author, and television show host. He was best known as the host of his radio show The Rush Limbaugh Show, which was nationally syndicated on AM and FM radio stations. ...read more.
The man who helped in politics in bringing Donald Trump into the political world & showed love toward the American constitution & raised money for leukemia research just lost his battle to lung cancer at 70. He was the greatest American political radio show host of all time. Just like how Larry King was the greatest interviewer of all time. Both changed the world in revolutionary ways you couldn't imagine. Yet both sadly had a history of smoking. R.I.P.
Just found out this morning. Fly high Rush!
16
Sabine Schmitz

The Queen of the Nurburgring and a former Top Gear host.
17
Marc Wilmore

1 of the writers of the Simpsons lost his battle to COVID-19 at 57. R.I.P.
18
Carlos do Carmo

He was a Portuguese fado singer. The son of Lucília do Carmo, a well-known fadista, do Carmo began his career in fado following his father's death in 1962, when he returned back from a period in Switzerland to help his mother run the family's fado house. He began singing himself shortly afterwards & in 1963, he began his career as a recording artist. He continued working at the fado house for a number of years, while also expanding his recording career. He achieved national and international success in the 1970s, including performances at the Royal Opera House in London and the Paris Olympia. He represented Portugal at the 1976 Eurovision Song Contest with his song "Uma flor de verde pinho", finishing in 12th place. He passed away on New Year's Day at 81. R.I.P.
19
Mary Jane
Miley Cyrus's pit bull & best friend Mary Jane (who protected her at all costs & was loved so much by her & the world) lost her battle to cancer at 10. R.I.P.
20
Mike Reese

The Pennsylvania State Representative leader Mike Reese passed away on the 2nd day January from brain cancer at 42. R.I.P.
21
Vincent Jackson

Vincent Terrell Jackson (January 14, 1983 - February 15, 2021) was an American football wide receiver who played in the National Football League. He played for the San Diego Chargers from 2005 to 2011 and for the Tampa Bay Buccaneers from 2012 to 2016.
22
Polly Lou Livingston

Known for playing in Adventure Time & the inventor of polyamorous cartoon characters, she was 91 though. R.I.P. to a pioneer in animation.
23
Prince Philip, Duke of Edinburgh
The spouse of Queen Elizabeth II and British royal family member Prince Philip, Duke of Edinburgh died on April 9 at the age of 99. He was just two months away from being 100 years old. R.I.P. Prince Philip 1921-2021.
I didn't find this shocking (ok, that's a lie) but he was so old, he was a walking corpse. I honestly thought he might live forever. But, he died. RIP
He could've turned 100 this year but he was just 2 months away. Turns out he wasn't lucky in that matter after all. He was 99 years 10 months old. R.I.P. Prince Philip (1921-2021).
24
Liam Reilly

The lead member of the Irish group Bagatelle, which formed in 1978 by drummer Walter McConville along with bass player Ken Doyle & guitarist John O'Brien, passed away at 65. A horrible start to January 2021. R.I.P.
25
Jamie Tarses
Where do I start? She was the 1st woman to run an entertainment division on TV that would create & produce shows such as Cheers, Friends, Fasier, etc. She passed away at 56. She had a heart condition. She was perhaps the greatest TV executive that ever lived, though Fred Silverman (who passed away in 2020 at 82) could've touched her score. R.I.P.
PSearch List