Top 10 Singers with a Vocal Range Between 4 and 5 Octaves
This includes vocal ranges within the interval from 4 octaves, 1/2 note to 4 octaves, 7-1/2 notes.

This list was inspired by the TopTens user zxm and his lists "Best Singers with a 4 Octave Vocal Range" and "Best Singers with a Five Octave Vocal Range".

This list covers singers with vocal ranges that are between 4 and 5 octaves - more than 4 octaves but less than 5. I needed to make this list because many great singers fall into this category.

Even though range isn't everything, a wide range is always welcome, especially when the singer also has some great vocal skills.

The Top Ten

1 Rob Halford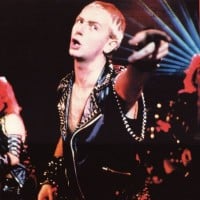 Robert John Arthur "Rob" Halford is an English singer and songwriter, who is best known as the lead vocalist for the Grammy Award-winning heavy metal band Judas Priest and famed for his powerful wide ranging operatic voice.
@zxm - the only singer with proven and recorded 6 octave range is Mike Patton (he actually has 6+). The guys with 5 and 5+ octaves I am sure about are: Axl Rose, Corey Taylor, David Lee Roth and Ville Valo. Maybe there are more but I haven't heard of them.

And yes, I understand you - high pitched singers and tenors usually make an impression of a bigger range because they hit higher notes. If you ask people who has a wider range, Rob Halford or Axl Rose, most of the people would answer Rob Halford. But the range of Axl Rose is wider. People just don't pay attention to the lowest notes a singer can hit. Range is something you can measure and is objective.
Have seen and heard Rob Halford and Judas Priest in three different decades, 1980's, 2000's, and 2010's. Greatest long term range of all time. First time 1983. Last time 2019. Sounds just as good now, range wise, as he did then. #1 ranking is justified.
It's close between Rob Halford at his peak and Geoff Tate of Queensryche at his, who's not even been shortlisted here. For sheer POWER I'd go with Geoff Tate, his control is phenomenal. Rob Halford is awesome too and possibly more consistent live.
The way he sings I though he had 6 octaves or at least 5.but couldn't find his real octave range until now
2
Mariah Carey

Mariah Carey, born March 27, 1970, is an American singer, songwriter and actress. She is one of the biggest best-selling women in the music industry, with 18 number 1 records to her name. She is regarded as a sex symbol through her songs and music videos, and she is "well known" for her over-the-top ...read more.
No female in recording has a greater octave range and more vocal muscle than Mariah Carey. There have been lots of great female voices over the decades, but nobody can match Mariah. It's just the way it is.
Best voice of all times. Voice of Angel Mariah is the best
The Greatest Singer EVER!
Can sing but beautiful
3
Elvis Presley

Elvis Presley was an American musician and actor. Known as "The King" He was mostly known for his number 1 singles including "Heartbreak Hotel" "Hound Dog" "Jailhouse Rock" "Love me Tender" Elvis debuted in the movie "Love me Tender" and focused less on his music and continued that way. ...read more.
He has LEAST a 5 range...just go and listen to very early SUN records days, then the lows on many 70's recordings like, "For The Heart" and many, many others...ELVIS is just incredible!
His voice had meaning. He didn't just sing, he told a story.
He is the only singer who could sing other peoples songs better than the originals
There is no other artist more versatile across the music spectrum than Elvis Presley.
A Legend. Elvis gave his heart to his fans when he performed.
4
King Diamond

Kim Bendix Petersen, better known by his stage name King Diamond, is a Danish heavy metal musician. He is known for his extensive vocal range, usually sung in falsetto. King Diamond was originally known as the vocalist for Mercyful Fate, but has become notorious for his horror themed Concept albums ...read more.
I put the King right behind Halford for metal singers
Best voice. Highest range
One of the greatest d'ingresso of all time
NOBODY can hit the notes that Kim Bendix Petersen can!
5
Christina Aguilera

Christina María Aguilera is an American singer, songwriter, and record producer, best known for songs such as "Beautiful", "Genie In A Bottle", "Fighter", "Hurt", "Dirrty", "Your Body", "Lady Marmalade", "Reflection", "I Turn To You", "Come On Over Baby (All I Want Is You)" "What A Girl Wants" and ...read more.
She's got 4 octaves, 1/2 note.
UNIQUE VOICE QUALITY and the best SOUND.
6
Brendon Urie

Brendon Boyd Urie, more commonly known as Brendon Urie, was born April 12, 1987, in St. George, Utah. He is an American singer, songwriter, musician and multi-instrumentalist. He is best own as the lead singer of the American pop-rock band Panic! At The Disco. He is the only original remaining member. ...read more.
Brendon Urie has a vocal range of 4 octaves and 7 notes as of 2016. He's obviously grown since then. He has a higher vocal range than both Cristina Aguilera and Elvis Presley. He is one of most underrated singers of all time. Not only does he have an amazing voice but he also is self-taught and knows how to control his voice. He has been in a band since 2005, straight out of high school, originally as the guitarist. Brendon has natural talent and doesn't need some mouth deformation to have a wider range.
Three octaves in This Is Gospel alone...and it expands from there. His range is incredible (sometimes I'll think that his voice is actually a guitar because of how high the note is), and he manages to make his high notes sound really good. He deserves so much more credit than he receives.
Brendon Urie is probably the best vocalist of our time. I've seen him live in concert many times and have kept up with the band for years. He is in my opinion also one of the most underrated artist in the United States. I hope people will soon see the true talent he is.
Okay but Brendon actually does have a pretty large range, even if he does use a 'fake voice' as he himself puts it. He's an incredible vocalist and deserves more recognition for it
7
Freddie Mercury

Freddie Mercury (born Farrokh Bulsara, 5th September 1946 - 24th November 1991) was a Zanzibari-born British singer of Indian descent, songwriter and record producer, known as the lead vocalist and songwriter of the British rock band Queen. He also became known for his flamboyant stage persona and four-octave ...read more.
I didn't know vocal range mattered in rock music. However I vote for the one and only Freddie Mercury. The most creative song writer and absolutely unparrelled showman to ever exist.
Better than any other singer. Absolutely the most talented! His almost 5 octave voice sounds like an angel and he's hot as hell!
The Best for ever, unique voice, amazing talant - unforgetable singer, composer and artist. Freddie is original! Freddie is genius! Freddie is the God of Rock! Freddie is love!
Freddie Mercury manged to sing powerful vocals with a throat infection and he sang powerful vocals on his death bed when he wasn't able to walk
8
Phil Anselmo

Philip Hansen "Phil" Anselmo is an American musician who is best known as the former lead vocalist of the heavy metal band Pantera. He currently is the vocalist of heavy metal bands Down and Superjoint Ritual.
In his own he created a style of vocals that opened up a generation of metal singers that have taken his style for their own Phil Anselmo should go down as one of the best.
He hits an A5 (! ) In the high screaming part @ the end of Cemetery Gates and also an F#1 a few times on Floods. That makes him a baritone with 4 octave range and a few notes
Phil is the man but Mike Patton had the best range of all time.
Cemetery Gates!
9
Paul McCartney

Sir James Paul McCartney is an English singer-songwriter, multi-instrumentalist, and composer . With John Lennon, George Harrison, and Ringo Starr, he gained worldwide fame with the rock band the Beatles, one of the most popular and influential groups in the history of pop and rock music .
Best singer in the Beatles and one of the best singers in rock period. Despite him being a tenor he had a usable 5 octaves (from A1 to A6). Also probably the only person on this list (besides elvis and some others) who can truest use his full range in a musical setting.
He is the best amazing range and he could sing anything at his prime
He was the swinging 60' for me
The absolute best!
10
Jon Bon Jovi

John Francis Bongiovi, Jr., known as Jon Bon Jovi, is an American singer-songwriter, record producer, philanthropist, and actor, best known as the founder and frontman of rock band Bon Jovi, which was formed in 1983. He is famous for his band's hit song "Livin' On A Prayer" released in 1986. He ...read more.
My mom LOVES Bon Jovi, and I love a majority of his songs too
That vocal range and so well managed...
A singer with 4 octaves, 2-1/2 notes (E2 to G#6).
Simply the best
The Contenders
11
Prince

Prince Rogers Nelson (June 7, 1958 - April 21st, 2016) was an American musician, best known for being one of the most popular and influential artists from the 80s, with songs such as "Purple Rain", "Little Red Corvette", "1999", and "When Doves Cry" .
Best technique and innovation. A Uber talented genius.
Nothing compares to him. Low range magnificant. High notes are ridiculous.
Hey could also scream like no one else!
Mozart of the modern times
12
David Draiman

David Michael Draiman is an American songwriter and the vocalist for the band Disturbed as well as for the band Device.
David has incredibly powerful vocals and is, in my opinion, one of the best metal singers of all time. His voice grants anyone who is listening a feeling of being indestructible. Additionally, his vocal cover of The Sound of Silence is undeniably one of his most moving performances.
I could listen to this man sing and talk for hours. His voice has such a range from evil to angelic. Extreamly talented man, as are the other members of the band. Love Disturbed.
His singing in Songs if Silence was the most beautiful and moving performance sine Geoff Tate's in Silent Lucidity.
His voice is easy to listen to. His range was a very pleasant surprise and he has great control.
13
Steven Tyler

Steven Tyler is an American singer-songwriter, multi-instrumentalist, and former television music competition judge, best known as the lead singer of the Boston-based rock band Aerosmith, in which he also plays the harmonica, and occasional piano and percussion.
His vocal delivery, bluesy voice and stage presence are one of a kind...one of the few singers of classic rock whose vocal cords have held up through the years...pulling off otherwordly falsettos and hitting both high and low notes that most singers could only dream of...he's definitely in the top 5 of the greatest voices in Rock Music...Right there with plant, mercury, dickinson and haltford
His vocal delivery and stage presence are one of a kind one of the few hard rock singers whose vocal cords have held up through the years...pulling off incredible falsettos that most singers could only dream of..he's definitely in the top 5 of the greatest voices in Rock Right there with plant, mercury, dickinson and haltford
Out of all octaves...
He's has a very unique and strong voice and huge range
14
Myles Kennedy

Myles Richard Kennedy is an American musician, singer and songwriter best known as the lead vocalist and rhythm guitarist of the rock band Alter Bridge, and as the lead vocalist in Slash's current band: Slash featuring Myles Kennedy and The Conspirators.
Definitely the the man with the golden voice. For my money at this point in time, I believe he is currently the best male vocalist in Rock.

I saw G'n'R last year and SMKC this year and Myles is at the top of his game.

I love Axl's voice, however it hasn't been well looked after.

Myles nails any G'n'R song he performs.

#RnFnRFan
Any list about "greatest vocalists", "best vocal ranges" etc should include him and recognize his amazing range. I am sure he beats many of others known as some of the best. Such a shame!
Go listen to summer girl, words darker than their wings and watch mudbone live for the high notes (and 20+ seconds of holding a note in summer girl) and show me a sign for the low note, great vocalist, and if slash has had him sing as front man for two albums, sing on another album and is in production of another album with him...says slot.
Myles is only here because he isn't so famous like the others. He can even sing to the 6 octaves! He is an absolute god! Unfortunately only underestimated...
15
Roger Waters

George Roger Waters is an English singer, songwriter, multi-instrumentalist, and composer. He is mostly known for being the secondary lead vocalist and bassist of Pink Floyd.
Roger Waters: Remarkable 4 octaves, 6-1/2 notes (almost 5 octaves, from B1 to Bb6).
Does inhale-pterodactyl-screaming count as vocal range?
One of the most distinctive voices in rock.
Great voice, love him!
16
Axl Rose

William Bruce Rose Jr., better known as 'Axl Rose', is an American singer born on February 6, 1962, in Lafayette, Indiana. He Is the founder and lead singer of the hard rock band Guns N' Roses. He is a celebrated but controversial figure in the world of rock.
A musical genius, Bill Bailey was/is one of the all-time greats. So much passion and intensity. A perfectionist with one of the greatest voices in rock history. A true lead man.
Honestly, hands down one of if not the greatest singer/song writers to ever live. He can be an ass I know and I think that obviously hurts him in the realm of public opinion, but.. The dude can flat out flippin sing... Top 5 easily, vastly underrated in this public opinion poll...
@visitor RE "He has the largest measured vocal range among any human".
The largest measured vocal range belongs to Mike Patton (6+ octaves) but Axl range is incredibly wide, too (5+ octaves).
5+ octaves is really rare and impressive but Axl doesn't belong in this list which is about singers with 4 to 5 octaves.
He's got an impressive vocal range, but his vocals aren't that good to be honest.
17
Chris Cornell

Christopher John "Chris" Cornell was an American rock musician and singer-songwriter, best known as the lead vocalist, primary songwriter and rhythm guitarist for Seattle rock band Soundgarden and as former lead vocalist and songwriter for the supergroup Audioslave. His vocal range was C2 to A5, while ...read more.
His range is 3 octaves, 4 notes. He was a great singer (R.I.P.) but he doesn't belong in this list.
Just listen to his voice. It speaks for itself as the best male vocalist of all time.
Best singer on this whole list, followed closely by Mike Patton
Chris is so underrated. This man is a legend.
18
Peter Steele

Petrus Thomas Ratajczyk, better known by his stage name Peter Steele, was the lead singer, bassist and composer for the gothic metal band Type O Negative.
If you're one of those who only know Plant, Tyler, Bon Jovi, Waters, and the other popular singers on this list, you owe it to yourself to not miss out in Peter Steele's amazing vocal range. I'd suggest taking in Type O Negative albums in this order: October Rust, World Coming Down, Bloody Kisses. If you only have time for one song, check out either the cover of the song "Cinnamon Girl".
He was the primary songwriter in the group, and it's obvious from the sound and structure that he was highly influenced by the Beatles, Pink Floyd, and Black Sabbath. My assumption is that he has the deepest voice on this list.
Peter Steele possessed an absolutely incredible vocal range. Peter infused very real and genuine passion into his lyrics, and into every note he played on his bass guitar that reflected his personal experiences with loss and heartbreak. It breaks my heart that Peter is no longer with us. A voice as powerful as Peter's will never be forgotten and will always inspire.
Resonant and powerful low notes, his whole vocal range has big projection.
4 octaves, 2 notes (Eb1 to F#5)
19
Michael Jackson

Michael Joseph Jackson was an American singer, dancer, and songwriter born on August 29, 1958 in Gary, Indiana and passed away on June 25, 2009. He donated (at least) a remarkable 500,000,000 dollars to charity. Michael is also known as The King of Pop (a title given to him by Elizabeth Taylor) or under ...read more.
4 1/2 octave-range according to vocal coach Seth Riggs - from Basso Low C (comfortable from Eb) up to G above High C. Riggs worked with Stevie Wonder, Nina Simone, Natalie Cole, Ray Charles, Madonna, and Barbra Streisand: he knows his stuff. Says elsewhere (Bad25) that MJ could have sung bass, baritone and tenor, but preferred to stay up in a high tenor range because he liked how it made him sound ageless.
Actually, Michael was more than 4 octave, which is very impressive and RARE for a male singer.
NO, his vocal range is under 4 octaves and shouldn't be on this list.
Top ten singed of all time
20
Ivan Moody

Ivan L. Moody, known by the pseudonym Ghost during his time with Motograter, is the lead vocalist for American heavy metal band Five Finger Death Punch from Las Vegas, Nevada.
His range is smooth and melodic all the way into terrifying screams and a deep roar. Honestly one of the best if our time!
He has amazing range. Beautifully smooth melodic to perfectly in range controlled death scream. Amazing!
Look, he does't even have 4 octaves and shouldn't be on this list.
Incredible voice. from smooth melodic to extreme scream. he has it all. should be #1
21
Mike Patton

Michael Allan "Mike" Patton is an American singer-songwriter, multi-instrumentalist, film composer, producer, and actor, best known as the lead singer of the alternative metal band Faith No More.
Versatile voice that has barely changed despite being in his 50s. Not to mention his looks! Should be higher, very impressive person
A true master of versatility. Completely Underappreciated. A true musical genius
Hands down the most impressive range on the list, amazed he is not #1, as he truly is
Mike Patton should be higher on the list, along with Chris Cornell.
22
Serj Tankian

Serj Tankian is a Lebanese-born Armenian-American singer-songwriter, composer, multi-instrumentalist, record producer, poet, and political activist. He's best known for being the lead singer of the Armenian/American rock band System of a Down. After System of a Down's hiatus in 2006 he began to release ...read more.
He deserves to be higher on this list
Serj's voice is taste of heaven
Very pleasant voice
He has a5 voice
23
Miljenko Matijevic

Miljenko Matijevic is a Croatian-American singer and songwriter. He is best known as the lead vocalist and songwriter of rock band Steelheart. He has a big following in South Korea and has worked on several South Korean TV series.
His range is 3 octaves, 4-1/2 notes but this list starts from 4 octaves, 1/2 note. He is very good but doesn't belong in this list.
His range is higher than 3 octaves and he should be number 1 on the list his voice is clean and beautiful!
3 Octaves my ass! He should be number 1! Most definitely should be ahead of Axl!
No way he's only 3 octaves! Have you heard him sing?
24
Chino Moreno

Chino Moreno is an American musician. He is best known as the lead vocalist and contributing guitarist of Deftones.
Top 3 greatest! Nobody have gone beyond "classical style" singing like Moreno.
Those shrill high pitched screams and wails that shatters roof tops.
Yes, 4 octaves, 2-1/2 notes
25
David Bowie

David Robert Jones, known professionally as David Bowie (January 8, 1947 - January 10, 2016) was an English singer born in London, the son of a fundraiser and a waitress. He is credited for his experimental and creative musical discography which has won praise and accolades for many critics and fans. ...read more.
He was a hero, but not just for one day
4 octaves, 1/2 note
the best
Legend
PSearch List