Top 10 Best Philippine Drama TV Series
This is to know the top drama shows in the Philippines history!

The Top Ten

1 Pangako Sa'Yo

Nothing can beat this best ever drama of Phil.T.V. The incomparable acting of Mr. Jericho Rosales and the effortless beauty of Ms. Kristine Hermosa was phenomenal. The Dallas- Ewing of Phil. drama. Unforgettable! No wonder all Asian countries were captivated with the drama and the leading cast.

Best filipino drama. There is a remake currently airing and its good, but the 2 lead characters fail to fill in their predecessors performances. Only Ian Veneracion, Jodi Sta Maria and Angelica Panganiban have carried this show - very well.

The entire casting is exquisite. The story itself is so captivating! Love, family, values and the like mirrors the true attributes and culture of Filipinos which are indeed very evident in the story.

I love this show. I started watching it on T.V. here in Samoa, but won't be able to finish it before I to return to the U.S. Is there any way of watching the rest of the episodes online?

2 Mara Clara

Nothing could beat this epic series of Philippine television. Aired for 5 years and both main characters are already big.

The remake got a remarkable high ratings beating the other shows from the rival network.

Well the series was epic as well I enjoyed every scene. I think Kathryn Benardo is picking up fast in the industry.

I love mara clara...Kathryn and julia are really really good actress in our generation...

3 Tayong Dalawa

Tayong Dalawa is the Most Proudable Philippine T.V. series for me because the plot is unpredictable, exciting, intriguing and intelligent. The actors and actresses are effective in their portrayed roles. It is certified international and loveable by all people in the world...

It's a hit! I loved the story. From all the shows I'd watch, this is the best. The plot was amazing yet with brilliant acting. This is one of the best drama series I'll never forget.

It's the best filipino T.V. series I have ever seen most especially Ramon..I love this drama it is the best for me

Really emotional, inspiring, revealing and exciting. Its simply great. You'll like it

4 Sana Maulit Muli

SANA MAULIT MULI is the best Drama I'd watched in The Philippines, it is a good story about love and mystery. I could never forget this teleserye, it will always remain in my heart and mind. >>>KIMERALD<<<

There's something in this that gives you that goose bumps every time your watching it.

5 Mula Sa Puso

An unforgetable series... Who can forget the great Via and Selina?

I love this drama so much!

6 Be Careful With My Heart

I'm currently rewatching this because when I first watch this I'm just a kid of course as a kid I don't understand what's the story is but now I do, I understand why do other people love this TV series because the series have a very good storyline and the soundtrack is good too. The reason why I also love this there's no third parties, no conflicts, no violence invloved like what other said just a pure positive thinking and faith in God, family, trust, sincerity, honesty, love and one self's and this kind of TV series is hard to find that's why I'm so lucky I found this. If you are planning to watch this I highly recommend this TV seriees this series is super nakakakilig and inspiring hindi mo pagsisihan. I don't really watch TV series because I really don't like to watch a series because I'm lazy I only love reading a book but this tvs is so different that's why I watch this and I'm also in to this I mean this kind of plot twist and relationship. The I love the two lead characters's ...more

Never grew tired of watching this show even in its rerun on Jeepney T.V., even in my dvds. No serious conflicts, no third parties, no violence, just feel good-positive thinking and faith in God, family, love and one's self, which I think should be the thrust of every teleserye during these troubled times. The JoChard chemistry is simply amazing with so much warmth and sincerity.

Really inspired by the good values of this show. Whatever scenario in life, always count on each other and be positive the life will give the best for you... To the show and management, many thanks for the inspirations that you have gave all of us..

I really love the story. It's so beautiful. Full of good values and positive vibes. Especially Jodi & Richard who have a beautiful chemistry. Still hopping there is another season of it. BCWMH forever...

7 Encantadia

The best fantaserye of all time. Drama, action, romance, and comedy in one great show. Deserves the number 1 spot.

This is just wow. Takes you back to hoping to believe in magic...Pinoy style.

The most expensive in its time and still reigning the ratings by storm..

I like this because the Effects and the drama of the artist is really really impresive!

8 Hanggang Sa Dulo Ng Walang Hanggan

It's nice love story although I haven't watch it full but it is a great great movie to watch

9 Bituing Walang Ningning

Love this drama, absolutely entertaining specially with the best selected casting of Jericho Rosales, Sarah G. and Angelika De la Cruz

10 Maging Sino Ka Man

The Best filipino series

Making sino ka man

Plot is unique!

The Contenders

11 Ina, Kapatid, Anak

The best TV show ever honestly. plot, cast, everything was amazing. looking for somewhere to watch it online with subs but honestly PERFECT

Plot twist I predicted from the very first episode. Quite interesting nonetheless.

Hai... Iam Malaysian who watching this drama at our Astro T.V. channel. Impressed with story line especially by Theresa wonderful acting. Selamat..

Am a Nigerian I just finish watching this drama kudos to all cast and characters especially the two families and the 4 friends Kim, Maja, Xian and Enchong, also to all others that I can't remember their names Nice movie

12 The Legal Wife

Legal wife starring my best Filipino actress Angel locsin not leaving aside Maja and Jericho I love how the series moved goosebumps out of my body. If I'm to rank I place it 1st.

Love the cast of this movie especially the four main. Angel Jericho Maja and JC De Vera

I love Angel Locsin and the theme of the show is very timely.

Angel locsin is the best

13 On the Wings of Love

The story line was addictive and the chemistry between Miss Nadine Lustre at si James Reid was INCREDIBLE, it's no wonder they slowly fell in love in real life as the show progressed. Undoubtedly one of the most iconic teleseryes of this generation!

Love it so much

Hmm it was good

It is the best

14 Got to Believe

The cutest, innocent yet romantic show ever! For all ages, my best couple choice, Daniel Padilla and Kathryn bernado! A must must watch, all the characters are lovable, the show isn't like the repetitive teleserye plot, it changes and develops so much. Try it!

Probably the most colorful, magical and cutest ending ever. Sometimes we should believe in magic.

One of the best T.V. series in the Philippines.

How can I watch it

15 Forevermore

The best teleserye I've ever watched. With the performances of the casts in which they portrayed their roles naturally as if they are not infront of the cameras especially the lead stars Enrique Gil and Liza Soberano. The bonding of the casts on and offcam is genuine that it showed on the serye and that for me made Forevermore legendary capturing the heart of the millions viewers.

The best wholesome romantic teleserye and the best love team Enrique and Liza brings out the best of each other.

These lovebird, young and fresh as they are, bring good vibes. The always manage to make my day bright. Love LizQuen, forevermore

The best teleserye ever and one of the best looking loveteam I've seen. Both very talented. Lisa a potential beauty queen.

16 Ikaw Lamang

Starring Coco Martin and Kim chui I just love them so much, I love the epic, love and diversity. If I'm allowed to rank it will 3

The drama's so amazing

My favourite movie

17 Walang Hanggan

The best teleserye of all time! It has everything from romance to action and a lot of plot twists! I did think that the story dragged on a bit but it's definitely worth watching and buying on DVD to collect. I also like CharDawn and CocoJul's pair up. Definitely a series to watch.

Walang Hanggan is the best teleserye I've ever watched! Sometimes, I don't realize that I am crying while watching the show and jumping because of the "kiligness" brought by CocoJul or Danrina and CharDawn or also known as EmilArco. I just can't really stop crying in the finale because Daniel and Katerina were killed Miguel. But, I am looking forward to have Walang Hanggan part 2 but I hope that CharDawn and CocoJul will be still there.

This is my BEST movie! I just can't believe it its in the 14th rank! I just LOVE coco martin

I love it with all my heart.

18 Esperanza

It's a story of hope... That's why I really love this drama... This was one of the best series judy ann santos made... Because of this series she was touted as the philippine young superstar

19 Pure Love

Yen Santos is outstanding!

I love it very much

20 Marimar

Won't get tired watching the entire series. I had watch this in the T.V. and still bought a complete set of DVD for me and my sister. This is the best of all the teleserye I had ever seen, the actors, story and sceneries... I really love this.

My Gosh this drama is the best of all. This is just incomparable. Aired in 20 countries.

It is the best T.V. series of all time...

I really like it. It was super star

21 Kay Tagal Kang Hinintay

Love this drama series

Best show ever

22 Bastat Kasama Kita

23 Hiram

This is the most educative social program ever running in television. Thank you people, I love you all.

24 It Might Be You

Oh men I like this drama does somebody know where I can watch it because I have no website to watch Philippine dramas. please

L like it it is good

25 Lobo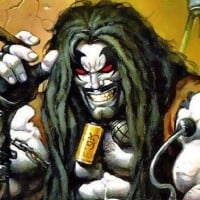 Lobo is a fictional character that appears in comic books published by DC Comics. The Lobo character was created by Roger Slifer and Keith Giffen, and first appeared in Omega Men #3. Lobo is an alien born on the utopian planet of Czarnia, and works as an interstellar mercenary and bounty hunter.
Lobo was one of the best shows of abs-cbn..
Great movie. Has a lot to offer.
Best the is Lobo
This is an extremely super drama containing romance and action a great story too
PSearch List