The Worst & Most Evil Movie Villains of All Time
Those villains who are scariest because there are probably people out there who are just like them...
The Top TenXW
1
The Joker from The Dark Knight
It's really between him and Hannibal, but I thought Heath's performance as the Joker was something out of the world. He's creepy, insane, but at the same time you almost relate with him. You almost want him to succeed, and you hate yourself for it, but his performance is so captivating that you never take your eyes away from the screen during his scenes.
Joker is way better than drath Vader his acting and his ambitious to catch batman for no reason is awesome I like scene when he burn money he don't like money instead he love to know batman he was not powerful but he was best in planning first time in history villain is better than a super hero hats off heath ledger
The joker is a nihilist and anarchist, condemning Life as a harsh, meaningless joke. Living though such a life to him is "crazy", while the insane ones are really the normal people. In batman #663, the joker says "the real joke is your stubborn, Bone deep conviction that somehow, Somewhere, ALL OF THIS Makes SENSE! That's what cracks me up Each time! " And during The killing joke he goes As far to call everyone's Ideals and struggles in life A "monstrous, demented gag".
He's so evil and so awesome you want to cheer him on
V38 Comments
2
Darth Vader in Star Wars
Lord Vader is my all-time favorite character in Star Wars! He was a master of all seven forms of lightsaber combat, and amazing duelist, master of both sides of the Force, a brilliant strategist, a wise, terrifying, evil, cold hearted and feared Sith Lord. And if Lucas's plan was never for Anakin to lose to Obi-wan on Mustafar, he would've killed Obi-wan and Darth Sidious, then he would've took the galaxy for himself, becoming the most powerful and feared Sith Lord in history! But if that happened, Anakin's path to the Dark Side wouldn't have been such a tragedy, and we would've never seen him wear the badass iconic armor suit and helmet that we still love today, and we would've never heard the iconic breathing, that is Vader.
Lord Vader is the ultimate villian of Star Wars to me, and my all-time favorite character! Vader was a master of all seven forms of lightsaber combat, a master Force-wielder, a brilliant strategist, a very wise, terrifying, evil, cold hearted, bone chilling Sith Lord. If Luca's idea was never to make Anakin lose to Obi-wan on Mustafar, he would've become the most powerful and feared Sith Lord in history! Sidious would be nothing to him, and Vader would've killed him and then took the galaxy for himself. But if that happened, Vader's story never would've been such a tragedy, and he wouldn't have worn the iconic badass armor suit and helmet that we love still today, and we would've never heard the iconic bone chilling breathing.
The only way to settle this is with a fight. Joker vs Darth Vader. Joker:"Why so serious? "
Darth Vader:&quotthe ability to destroy a planet is insignificant next to the power of the force&quot
Cue: Death grip on Joker.
Who's evil now Joker?
We are talking about someone so evil and powerful that destroying planets represents nothing for him.
V22 Comments
3
Hannibal Lecter
Dr. Hannibal Lecter is the greatest villain of all time. He should also be at the top of this list, because there are really sociopaths out there who are able to blend in with society by being charming, intelligent, and charismatic... while secretly being sick, sadistic, and serial killers. Because you never know whether somebody might be one of those people... Hannibal is the scariest villain. You just never know if that polite gentleman you met at the store might be a cannibal...
Hannibal the Cannibal is the best movie villain ever! He's good at blending in with his surroundings because he acts so gentlemanly, but on the inside he's a psychotic cannibalistic serial killer. And he's very good at getting into your head and toying with your mind. He IS, without a doubt, the best villain in movie history!
Don't watch the movie or read the books unless you want to be lying awake at night half expecting some polite, chivalrous gentleman to creep up and slit your throat and then eat you nonchalantly.
One creepy part about him is that one scene in the first movie where you see him for the first time. like how he's standing in the middle of his cell like he can smell Clarice coming down the hallway. That's unsettling.
V17 Comments
4
Lord Voldemort from the Harry Potter movies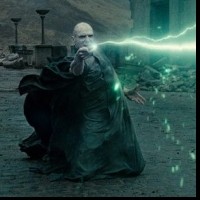 When I think of the Worst & Most Evil Movie Villains, I'd choose between Darth Vader, Sauron, or Voldemort why I didn't choose the Joker? Because it was heath ledger that portrayed a villain, but he was not "evil", he said so "I'm a dog that chases cars, I don't know what to do if I caught one" (or something like that)... He was crazy and a villain but to say evil like pure evil.. Um not in my perception.
Darth Vader was very close and also the Palpatine emperor but Darth Vader turned out to be good in the end, he was forgiven and saved by his son.
Sauron, he fits the evil part easily but he is kind of abstract... Always having other to fight for him...
I forgot... Amon Goeth form Schindler's List was both a Villain and evil plus he was real, but it was the movie that portrayed him like that and when you think this character was real you find incredible that a person could be that evil... It was a close call with Voldemort (curiously portrayed by the same actor... ) but I choose Voldemort because he was evil, he was the villain, he stopped at nothing to gain power and conquer all, and worst of all he couldn't love.
Lord Voldemort is the overall most evil villain ever created. He is a mass murder and a cold relentless psychopath. The thing that makes him so scary is that he looks like a demonic snake and has serious anger management issues. Lord Voldemort only knows one thing, &quotMURDER&quot. He is emotionless and won't hesitate to kill his own followers. Don't get on his bad side. He speaks to snakes, split his soul into seven pieces, killed millions of people, has an army of dark creatures, can read minds and is immortal. He is the definition of evil and the best villain ever created! - DarkLord
In the books, he is a better villan, but Ralph Finnes plays him perfectly. Merciless, pittiless, deadly skillful and slightly insane. Top that with the fact that he's supposed to have red eyes. Thank goodness they didn't do that in the movie, I would have gasped every time I saw him.
I only said this because there isn't an umbridge option, like I may have wanted voldemort locked up in azkaban but I wanted that woman dead.
V19 Comments
5
The Emperor from Star Wars
Emperor Palpatine A.K.A. darth Sidious is the most evil and wicked of all villains in Star Wars. He had the most vicious and evil apprentices, including Lord Maul (ruthless and tactical) and Count Dooku (majestic and corrupt)... He also engineered the execution of the entire Jedi order and anyone who would oppose him in majestic Boss-like fashion in Order 66 he took complete control of the senate and pretty much the entire Galactic Order. He savagely and ruthlessly ruled and conquered the republic and set forth a new Federation led by Grand Moff Tarkin and his forces He was a master of the Dark Side and the most eloquent and ruthless leader of the Sith order he even knew of the Sith legends such as Darth Plagueas... And he was responsible for concocting the brilliant takeover of the universe and forced the only remnants of the Light Side Jedi to go into hiding for approximately 20 years every one of the highest ranking of the Jedi council was literally butchered and slaughtered by his direct orders, including, but not limited to: Mace Windu, Ki-Adi-Mundi, Qui-Gon Jinn, and a slew of others. He managed to defeat Yoda and send him into hiding, which caused him to be defeated in the future... In a majestic twist of fate his own fate sealed as a result of his ruthless actions and desire to live longer and control the entire galaxy with an iron fist. He was also the reason why Anakin became Vader and pretty much set the entire plot in motion he was also the puppeteer who played all the people against each other, laughing with deviously cunning brilliance the entire time in secret, mysterious fashion. If Palpatine is not #1 on the list, then there's something wrong.
Let's see here.

Possesses godlike powers of the dark side.

Murdered his own master.

Engineered a civil war where billions were killed.

Turned a 25,000 year old democratic republic into a brutal fascist dictatorship.

Butchered the entire Jedi order, which was founded to do nothing but preserve peace, including CHILDREN, in cold blood.

Slaughtered entire planets, eradicating cultures, religions and billions of lives.

Killed everyone who even had a second thought about him.

Appointed one man (who buy the way is also a sadistic monster) to govern the entire outer rim.

Betrayed everyone he knew just so he could come to power.

Doesn't give a damn about his citizens and leaves them to wallow in poverty.

Cooperates with criminal organizations such as the Hutts.

He's evil. He's just evil.
When it comes to figuring out which fictional character is the most evil in history, nobody is probably more worthy of that title than Palpatine. As possibly the most powerful of the Sith in history, he's the essence and embodiment of the Dark Side of the Force. His mastery in the force is immense as his signiture power, force lightning, is the least he relies on to dispose of his enemies. His skill with the lightsaber is notable given his previous duels with Master Yoda, Windu, and many other skilled Jedi in Episode I. His plot to destroy the Jedi is doable with the power he's capable of wielding and has wield, his manipulative skills, etc.
He is the most evil man in the galaxy.
V16 Comments
6
Freddy Krueger from Nightmare on Elm Street
Even though Fred Krueger may be regarded as one of the most terrifying characters in cinema history, Robert Englund (the actor who played Freddy) is considered extremely friendly in real life and is very appreciative of his fans, many admitting that his portrayal of Krueger legitimately frightened them as children.
I was scarred to death from this movie! But I know freddy will never get me in real life because the things he does in the movies can never happen.
One, two Freddy is coming for you! - kkkppp
He's actually more scarier than Sweeny Todd because he killed him (Johnny Depp) in such a horrific way! (oh lord, I never ever wanna die that way! )
V10 Comments
7
Hans in Die Hard
Alan Rickman plays the best villian in Die Hard
8
Sauron from The Lord of the Rings
Um did any of these villains trick people to take rings as gifts but then control everyone/ if he didn't fail he would have controlled Middle earth? He was so evil he sealed part of his soul into a ring which if he died he would still live. I mean seriously he had to die twice/ first form Hard to kill / second Insanely Most Extremely hard to kill/ if no hobbits than middle earth would have been screwed. No one simply walks into mordor alone/ not even 10, 000 men could do this all free races combined wouldn't work fat hobbits would just die/ elves would just get shot in the face/ men would get hacked apart/ dwarves would get drop kicked to mount doom and no one would survive/ if you do not think Souron could kick all these villains asses apart than your retarded. And screw the joker YOU GUYS LIKE HIM FOR A DEAD ACTOR, it must be for the characters history, plot, and malice to make a villain Souron is THE BEST AND ONLY VILLAIN EVER
Darth Vader turned good in the end, I don't even know who 6 is, Jigsaw is just deranged and crazy, Hanibal is also just crazy and deranged, and the emperor is pretty evil but nothing compared to saurian who is pretty much the embodiment of evil itself!
Sauron, along with Saruman, are very original evil villains which make more intensity to the movie. They really influence many other characters, and without them the Lord of the Rings trilogy would be nothing.
Naw Sauron is really powerful at certain times though
V11 Comments
9
Anton Chigurh in No Country for Old Men
He's the type of guy you could just bump into on the street and end up totally and utterly dead. That's really pretty scary
I think he should be number 1 because unlike the joker who wants to anarchy and chaos, Anton feels that he has to be anarchy and chaos. Like there's no other choice. He thinks that if he doesn't do bad things the world will never be thrown out of Alignment. Kinda depressing for a character huh?
Without remorse - doesn't bat an eye as he leaves a swathe of bodies in his wake. He left me chilled, more than any slasher killer ever can.
Oh, he is scary!
V9 Comments
10
Jigsaw in Saw
Should be #1 in my humble opinion. His traps were brilliantly thought out, and inflicted the maximum amount of pain on his victims. The most evil thing about him, though, was the way he convinced his victims that he was doing the right thing, and got them to bring in even more victims. This guy might have been a psychopath, but he was good at it!
Honestly, how does Jigsaw not have a higher rank? He masterfully plans out all his traps, and uses amazing strategy to plan out every single death of his victims. He is a psychopath that could double as a psycologist, given his extraordinary mind. He was an evil, villainous mastermind from when he survived a suicide car crash until he died. However, his legacy didn't die there. He pulled in a victim of his traps, and convinced even her to make people "redeem themselves" the same way he made them do it. Brilliant, psycopathic, and truly evil, this villain is definitely the best.
Jigsaw should be higher up the rankings. I mean he is an architect of torture and shows absolutely no emotions, just like hannibal. He is also intelligent and unlike the others his work continued after his death! - Don
Pain, all the limb twisting, face ripping, cutting fat out of your own body pain! It's grotesque!
V9 Comments
The Contenders
11
Scar from The Lion King
I know that a disney character isn't supposed to bring fear, but if this were a person you'd have second thoughts. He wanted power so badly that he killed his brother and blamed his nephew. He had some psycho heyeenas trying to kill some kids and in the end he nearly got victory, only disney wrote this so that couldn't happen. Also wanted to vote for Count Olaf and It. Stephen King, you f'd up guy, you.
He frikin killed his brother and blamed his nephew. PURE EVIL!
12
The Terminator
The first is so the best and I don't get why a guy this cool is all the way down here, he should be number 1 or 2, but not 22, this guy is the best and you all should vote, and if you didn't see the movies, watch them now.
Terminator T-800 is endoskeleton, is hard oil is chip and good form mask is teleport to the hard freeze. Tave.
T-800 is hard model skeleton, blick red eyes. He is body the complete metal and the people tissue. T-800 is big years up. His opponent is model T-1000 and T-X.
The terminator is so awesome he could kill heath ledger joker in a million ways
V5 Comments
13
The Duke from Salo
Even though every other bad guy on this list is way cooler than the Duke, I still think he's the most evil. The Duke is sick in ways I can't begin to describe. The film Salo is number one on allot of disturbing film lists. Arguably the Duke is the most disgusting one in the movie. I'm not saying that the other villains on this list aren't sick, but this guy is just over the top gross.
Okay why isn't this number 1? This guy is crazy! You don't see people like jigsaw and joker do the stuff this guy does. CAN'T EVEN EXPLAIN! Shivers running down my spine and fighting back the vomit.
14
Norman Bates from Psycho
Norman bates is not evil, he is disturbed and psychopathic
He, along with buffalo bill and leatherface, was based off a real serial killer.
Anthony Perkins does a phenomenal job as Norman Bates. he still gives me the creeps.
15
Michael Myers in Halloween
I honestly think that Michael Myers is more scarier than Jason Voorhees and Freddy Krueger. he's more realistic (because when you get down to it, freddy is scary, but as the films went on he just got more annoying and corny and dumb. and jason's just a retarded deformed man with no real motivation except killing campers because he never got to be one. and how can a human being come back alive after being killed so many times? ). Michael myers has a motivation and he's not like some magic fairy who keeps coming back to life after getting killed. this makes him a lot more scarier because the things that happen to freddy and jason can't happen in real life.

But remember this is just my opinion and I'm glad to hear your opinion to.
This is deadly killer mask in face and in hand me big knife. Film Halloween 1 is Michael Myers slowly, and Halloween 2 his Myers started mega killer.
I honestly think that Michael Myers is more scarier than Freddy Krueger and Jason Voorhees because he's more realistic.
Sorry if I misspelled meter.
V8 Comments
16
Amon Goeth from Schindler's List
He is the ultimate evil in persona. This is the guy you want to kill yourself after watching the movie. The other guys on this list are only choir boys compared to Amon Goeth.
The guy is brutal. I knew the character had made an impact on me when I encountered a Holocaust denier and I absolutely went off on the guy!
Amon Goeth is the greatest villain of all time. He is cruel, sadistic, crazy, and was a real person. Every evil deed, every act of pure cruelity he does in the movie, he did in real life. That is what makes him the best villain EVER.
V4 Comments
17
The Devil from The Exorcist
That's right. Reagan was not the evil one, but the demon that possessed her throughout the entire film.
She's as scary as The Gemini Killer from Exorcist 3. speaking of the gemini killer, why isn't he on this list? He should be.
Actually, Reagan was possessed by a Demon named Pazuzu, who, in Babylonian traditions, was the king of the demons of the wind, and the son of the god Hanbi. He also represented the southwestern wind, the bearer of storms and drought.
18Emperor Palpatine from Star Wars
19
John Doe in Se7en
John Doe sets up a true masterpiece in his sermons of each of the seven deadly sins and completing the sequence of his sermons with his own death.
He was a freakin psychotic psychopath who WON. He PWNED brad pitts character in the end.
One of the most collected, chillingly calm serial killers ever.
JOHN DOE HAS THE UPPER HAND...
V4 Comments
20
The Joker from Batman
Actually this is the jack Nicholson joker. Heath joker is at the top - 9361721
Heath Ledger may have been "scarier" to many people, but he didn't capture the true psychosis of the Joker like Nicholson did.
Seriously. Did Ledger ever ask for a guys gun and shoot him with it? No? I didn't think so.
Nicholson all the way.
Nicholson makes the best joker ever, Heath is overrated, Jack stays true to the jokers comical personality.
Tim Burton Batman's are the BEST! Because they are set in the Batman universe! The latest ones are trying to be real
V7 Comments
BAdd New Item
Related Lists
Top Ten Movie Villains of all Time
Worst Movie Directors of All Time
Worst Movie Characters of All Time
Worst Movie Endings of All Time
List StatsUpdated 6 Oct 2015
3,000 votes
260 listings
8 years, 55 days old

Top Remixes (13)
1. Kai San from Ebola Syndrome
2. The Duke from Salo
3. Wong Chi Hang from The Untold Story
arr
1. The Duke from Salo
2. The Emperor from Star Wars
3. Shirō Ishii from Men Behind the Sun
it
1. The Joker from The Dark Knight
2. Hannibal Lecter
3. Darth Vader in Star Wars
Mann0802
View All 13
Posts
Error Reporting
See a factual error in these listings? Report it
here
.