Top 10 Arab Singers
The Top Ten
Amr Diab (El-Hadaba)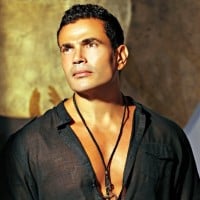 Amr Abd El-Basset Abd El-Azeez Diab is an Egyptian pop singer and songwriter. He is a multi-award-winning pop singer-songwriter, regarded as the best selling Middle Eastern artist of all time. ...read more.
Absolutely the best, no doubt and no copetetion really! the quality of very hand picked lyrics and very unique music and of course performance is amazing. The only singer that for over 30 years has been getting better and better. The only arabic singer that is very well known amongst non arabic communities in the US, Europe and South America. Unique thing about him also is that all his album songs are hits, unlike all arab singers where they "could" have a hit song then the rest of the album is pretty much trash. One too much to add but one last thing he is the richest, most popular, and the most with World Music Awards (he has a Guinness world record in that even) God bless his work, I have been living in the US for over 15 years and even amongst the US singers I never found anyone as brilliant and ever hard working on his career.
Amr Diab is a phenomena. He is a super Magnet. definitely, the leader of music industry in Egypt and the middle east because every new trend in music he sings it first then all other singers will follow. He has the best voice, the best looks, very athletic and top when it comes to fashion and music videos. not only he has the best voice and performance, he is very smart when it comes to selecting his music and words...I love this guy. God bless him. No other singer comes close to him number two is definitely very far down the charts. He is top singer since mid 80's.
Is that even a question Amr diab is the best Arab singer he's like Justin Bieber and drake combined together in one soul his voice gives me life, his words give me feelings and his songs all together give me all the love I need. there is certainly no way that anyone is better than him I love you Amr and I always will you're the best at everything as well as that your daughter is almost as talented as you but shes getting there janaaa I love you and I really mean it you're the best singer of all time and you will asl ways be
The best so far. No one can beat his talent. One day he will be legend in a music industry. The music is amazing and mix with a lot of genre, Refreshing, sometimes energetic, mostly romantic.. You can feel his aura when you hear his song
Mohamed Moneer (El-King)
Moneer is not just a unique singer, he is also a value, if you feel something and you can't express what you feel you will find it in Moneer songs, if you are in love you will enjoy the state of being in love in his songs, if you are suffering from something in your country Moneer will be the first one to sing it.
Moneer is out of competition with full respect for Amr Diab and others Moneer is different, he is a phenomena
Mohamed mounir is definitely the best of the best, singing to him is not a job its a life, no one deserves to be number 1 and the best arab singer ever as he deserves it, he is the only person who can make you love music, and he is the person who desreves respect. Respect the king. GOD bless him
Will he's just the only arabian singer whose songs are really meaningful, he's songs are not just about love, it's about living and how you should act in life. Simply he does not simply sings he delivers a message.
The only singer in the world who sings for every thing for his girl for his daughter for his country... All of his songs don't have any public words I sure his the best in the hole world
Elissa

I am really obsessed with elissa's voice and music. she is the best ever. I love every single song of her. she is really talented. she is very special in which she represents slow romantic classic music that entertain, influence, and profoundly affect the arabic and non arabic listeners. she is very amazing and gifted with angelic voice that just find its way to the heart of the listener. she is very clever in which she chooses very interesting and unique topics to sing.
The queen of sense, Elissa's nickname, is the best Arabic CDs seller since 12 years. Elissa has unique voice and created her unique music that can captured anyone's heart. Her huge success made her the queen of the Arabic pop.
Elissa received multiple international and local music awards. Her high aristocratic figure made here the most female singer who advertised many high quality bands. She has broken many records on YouTube and the music applications and she is the only Arabic singer who has beaten International well-known singers ( Lady Gaga, Celion Dion and others)
Elissa is my favorite Singer, She should be on top of all the lists. She deserves to be on top. Her voice and music has some sort of magic which mesmerizes you. Her voice is beyond words. I'm not a native speaker of Arabic Language but I still love her songs. Every song is better that the other. I think no one can reach her level of singing, Music and her personality. She is one of the best singers in the world.
In my opinion Elissa is the best singer In The whole world and she is the most successful Middle Easteren female singer! Had sold over 10M copies in a short period of time! And her latest album as3ad wa7da was breathetaking! Adored every single track! And I think that's what makes this woman so special!
And she has scored some enormous numbers on YouTube and her official channel now has 500K subscribers (most subscribed Arab artist) and it has over 160M views! And her album is still on the top5 in MENA virgin megastores! After 18-19 months of its release!
Massive respect from KURDISTAN
Tamer Hosni
He is not just talented, he is also very smart. He knew how to reach the top in a very short period of time and did what no other middle eastern singer did and sang with world super stars like Shaggy, Akon, Snoopdog, and Pitbull he is awesome I personly love he is very down to earth and has the sence of humor that every one loves, Tamer is the true definition of a star (THE STAR OF THE GENERATION) He is the best of the best and I love how he sings you can feel the words comming from his heart. He is just amazing I love him. Keep up the good work and I wish best of luck in your career and success
For me Tamer he's the best singer ever in Arab well I'm not Arab and I'm still telling you that! Which Mean's everyone can see it that he is massive stunning even can't tell you how amazing he is to be honest with you I really prefer Egyptian singer's special Temer. Is there anyone who's jealous from Tamer? You just can't be like go kill yourself.
He's talented as hell. He can sing perfectly, write, compose, dance, act & direct music videos. All of his albums, movies & music videos on YouTube just rocked. It's been like 12 years since he showed up and now he's one of the most successful artists in the Middle East. Keep working Tamer (y)
He is just the best in everything All-In-One singing, Acting, composer, producer & director... Plus he always shows a lot of respect to all his fans and care for them to the point where he become ambassador for Egypt
Sherien
I discovered her in 2009 on Rotana Clip. It was love at first sight, both as a singer and as woman. She entered in my heart for ever. I need her songs every day. I would marry her immediately. She has so nice daughters.
I try to go to her concerts everywhere. I feel so much love for her. She ist the one and only, the best. Herbert Schweizer from Lausanne, Switzerland
Sherien is a legend! You may find some voices that are similar to the voices of the great singers but SHERIEN! No one is compared to here voice or her feeling.. Her songs and music are touchy.. She isn't singing with her voice she is singing with her heart.. God bless her
Sherine has a very soothing voice, soulful and you can feel the grace within her husky tone, when she sing, she doesn't simply sing, she serenades. :) a fan from malaysia
Superb singer.. Her voice was so so so magnificence! Mostly of her song was made me cry and even smile.. Salam & warm regard from Malaysia
Mohamed Hamaki

Mohamed Hamaki is an Egyptian singer. In 2010, he won the award "Best Arabia Act" in the MTV Europe Music Awards and music award in 2006 for "Ahla Haga Fiki".
Mohamed Hamaki, he has the most sweetest vocals and sings the most beautiful love song ballads too! I love his music and he is makes me cry with joy at the sound of his beautiful voice! He sings contemporary Arabic songs too, very modern and is pushing pop music ahead with his great image and good looks he is the man who stands out among all singers! Mohamed I salute you, you are adorable and so handsome, the most outstanding artist ever!
you are really the best singer all over the world
hamaki you are the king of singing
you are the best you are the first
and no one deserves that except you
and you are my favorite
hamaki I love you very much
I love Hamaki and all his songs, I wish him the best in his in everything. I'm sure he is a nice person as much as he is a very nice artist. I hope that I can c him face to face one day & take a picture with him :D
HAMAKI KEEP IT UP!
Hamaki is ths sound of the music for the new generation. Best arab singer 2010 from MTV television. Best seller in the Middle East 3 times 2010, 2008, 2006. Most popular festival in Egypt for his album Naweeha 140,000 person
Nancy Ajram

Nancy Ajram is a Lebanese singer, world music awards winner for 3 times in 2008, 2011 and 2014 as best selling middle eastern artist, and multi-platinum recording artist.
Nancy is the best singer in Lebanon and all the world her voice is so Nice so when you hear her you feel that you are funny and listening to a very kind voice and all her way of the popular and famous is because she is successful in all her songs and live we all are Proud of you and your respect and voice and we at KURDISTAN all love you and memorized your beautiful songs
Nancy is for sure the prettiest and the best singer in arab world. She is so successful in all over the world, even here in Brazil, we love her a lot. All her songs are amazing and she is the best in everything she does. She is too cute with her fans and always does original things. There is no way to be better than her. She is world's music queen!
She is a very good singer and she always choose good songs in her album and I think all people in Arabian countries know her young, teenagers, and the couples, because her song every time is very deffrient than before. And she has made a lot of albums for the children. I think she must be in top 1
I didn't watch and listen all over arabic singer... But, when the first time I downloaded nancy ajram's clip ebn el geran... I love her voice.. Then... I download all her clip... Enta eih... So touching... Very sexy!
Mohamed Fouad
He is the best singer since 1985. He represented types of music. In 80s represented the quick Egyption beat. In 90s he made the hard performing arabic songs. He is more than 30 years singing. He is one of the best singers who acted. He made the movie ismailiah rayehgay which changed the path of arabic cinema. He posses a very nice voice with pure feelings
Melodious voice makes you feel sad whenever you want and also makes you feel hope and joy..Can express all your life all over the positions on each of his songs you'll find you doing them no doubt...Mohamed Fouad is the voice of authentic Egyptian and EBN BALAD
The Voice of the old days. When I recall my childhood, it's nothing without him. Really he represents the pure nature of Egypt.
The voice of Egypt.He disappears for long time but when he comes back, he becomes stronger than before no one can do like him.
Fairouz
It will be a century from now before any singer can come close to what Fairuz offered lebanon and the arab world.
She is unique as she offer a song diversity that can follow us form the early morning hours till very late in night.
Her songs are used for celebration, birth, religious, national, traditional, theatric,... Etc

I am not aware of any other singer have that diversity in style and made such a success...
Great voice, traditional and modern songs (for the era in which she sang). Anyone interested in understanding or studying music from the Eastern mediterranean should spend some time listening to Fairouz.
She's one of the best arab singers of all time she has a great voice and she has a great charisma towards sjnging and she make the whole atmosphere of the song from her singing I love her and I want her to be number 1
Fairuz songs is just different.. Unique.. Amazing.. Stories about lebanon his traditions abd its local customs.. None in all the arab world sings as her nor their words can comeptite her.. Her music is deeply eastern sing for every one respectfull that's why every one respect her...
Kadim Al Sahir
In the east in the west Kaiser is the best. He and his voice make me fly anywhere I want to fly his voice gives me a very beautiful sensation that I never can fell it without his voice and his songs. He sings in a different way. No one can sing like him but him. He could and can enter any heart by his voice. He is truly unattainable. He is rightly kaiser because he reigns our hearts god bless him
He is the best singer in the middle east in my opinion, I listen to all kind of English and arabic music, and in my opinion he is the best singer in the whole world, I love his voice, personality and music. I attended his concert at Westminster central hall on the 17th of august, and it was the best night in my whole life, cannot wait till I see him again,
Hope he comes to london more often,
Love you kathem
Kathim alsaher is the best arabic singer. He has been likened to the great singers of the mid-twentieth century for his live performances. He performs with an orchestra of twenty to thirty musicians on Arabic percussion, oud, qanun, nay, and a full complement of strings (violin, cello, and bass). And most importantly of course he has a very great voice. With my respets to you the "Caesar of arabic song".
He is the best of the best.
No one sings with his passion, nor his voice. He composes his own music and has worked hard. I have met him personally 6 times and he is so welcoming and has the most humble personality. He is the Middle Easts top artist - Kadim. Nothing comes close! From London with love. S
The Newcomers
?
Aline Khalaf

The Contenders
Najwa Karam

Najwa Karam is a Lebanese multi-Platinum singer, songwriter, and fashion icon. Najwa, widely known for her vocal powerhouse talents, gained an international audience for her distinct blend of traditional Lebanese music and contemporary sounds, and contributed to the spread of the Lebanese dialect in ...read more.
She is the king of Lebanon song, the sun of arabic song and the most powerful and wonderful voice in the arabic world
The most powerful and moving voice in the arabic industry!

Her lyrics are beautiful and she is one of a kind!
She is the most stylelet singer in the arab world she is the best and the best fashon siger of all and the best in arabs got talent I love her so much no one can say that she is not the best she is king of singer in the word
She 's great I don't think she is great because of her beautifull Georges voice the most reason why I love this singer is because she ia à great person she helps poeple a lot even Though she is catholic
Cairokee
The only one of these who actually sing about something meaningful. Their music is amazing.
the best of contemporary underground of egyptian scene
My favorite band ever
Not goodt at all :(
Abdel Halim Hafez

Abdel Halim Ali Shabana, commonly known as Abdel Halim Hafez, is among the most popular Egyptian and Arab singers.
If Halim is not the best Arab singer of all times then who is?! Surley Amr Diab is the King of this generation but Halim is the undisputed all time best Arab singer of all time and that can never change!
Very simply the best singer. His voice, personality, patriotism. Diab doesn't compare to the nightingale!
The best singer in the whole arab world ever. When arabs were elegant and civilized
He is one of the best singers in the nice time
Umm Kulthum

Umm Kulthum was an internationally famous Egyptian singer, songwriter, and film actress active from the 1920s to the 1970s.
The bench mark of all female arabic singers that none have bested. Although Asmahan (who is amazingly missing from this list) and Fairouz come close.
Without a doubt one of the founders of modern Arabian and Muslim music - even Arabian being. Her voice is in our genes.
Grand lady, amazing Artist, immortal voice. She's by far the greatest Arab singer of all time.
Om kalthum is the best singer ever in the Middle East I love her songs so munch her singing is peacful and relaxing
Wael Jassar
I like weal is good singer
Wael 7bibi the best love you jassar
Big head
Amal Maher
I have never heard her make any mistake when singing. Her voice is mellow, warm, feminine, beautiful and touching. Her songs are deep, colorful, intense, emotional, they'll just make you feel like you're in love. One of the best arab singers I've heard so far. Every song of hers will definitely please your ears. Personally, my number 1.
One of the best singers I've ever heard insha'allah. She definiely has to be at least in Top 10 but she deserves to be in the Top 5!
Absolutley the most powerful, beautiful voice... Can sing unkalthoom songs, which is the hardest songs.
You really Love Mohammed abdu But you are younger and more beautiful why?
Hamza Namira
He's such an inspiring singer. His songs are very inspirational and his voice is strong and great.
He is the most creative singer and he has a variety in his songs not only romantic.
Like his words, voice and his creation... Best singer ever love you namira
I love all of his songs because they are beautiful and high-class
Angham

One of the most wonderful voices..her choices in lyrics are very unique...and very romantic...she is famous by her soothing and angelic voice...she has such rich musical archive..her begining was in 1989..then she released some of tge most famouse songs..and she is regarded one of the most amazing voices in the arabic world..
Simply.. She is The Queen
She is the best singer ever. way better than amr diab. have you listened to her song omry maak, she is very talented
Saber Al Robaie
When we hear your song we believe that your heart is full of goodness and I know 2016 the voice is yours and I will voting for your group and we all at kurdistan love you and exactly at the voice (hala hala ya baba) robaie
Best singer ever in singing high notes.. you'll love it.. he is so sensitive and amazing
Should be on the top of any list
The legend of Arab singers...
Nawal El Kuwaitia

Nawal El Kuwaitia is a well-known female singer and musical icon in the Middle East. Nawal studied at the Music Institute in Kuwait. She is known as Shaikhat Al Tarab (The Queen of Classic Music) and Qaitharat Al Khaleej (Harp of Khaliji Song).
A unique vintage voice that takes you to dreamy places. The best
Assala Nasri

Assala is a Syrian musical artist that is known for her strong vocal abilities and powerhouse performances. Assala was born in Damascus, Syria.
Best arabic female singer. Powerful voice! Assala Mustapha Nasri ❤
best singer in th world
Carole Samaha

That woman have so beautiful sound! I'am Bulgarian and listening arabic music from 10 maybe more years, but Carole is a magnificent singer ever! So strong and so hight voice! In 2012 when I listen to her cappella song Zay El Assal I was prove my suspected she is number one! I fell in love for the first time in her voice from the song Ghali Alay. Except magnificent voice that she have that woman is always irresistible! Kisses from Buglaria!
Even if you can see that Carole samah is not beautiful but still I consider Carole Samah a number 1 singer among all Arab female singer. She has very sort voice which make me feel crazy whenever I listen to her songs like ( ragalak, yamaly ya) So that is why I strongly voted for her
I love you so much your song sahranine
I love her very muchh
Asala
Assala Nasri is the best singer in the Arab world, her powerful voice and strong emotions take us to an entirely different world of her own creation. She's been singing since she was 4 years old, and became a professional 22 years ago, she has more than 20 albums, won a hell lot of awards. She is an idol, an icon, a super star.
Asala's the best ; a great voice and a great personality. She makes my heart beat every time I hear her voice
She is a one of best arabic singer! Her voice is very beautiful.
The best voice ever, the best live performance
Ramy Ayach
I don't understand arabic but I love his song because he has amazing voice
Warda Al-Jazairia
I love her songs
PSearch List