Top Ten Best Arctic and Antarctic Animals
The Top Ten
1
Penguin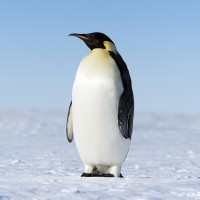 Penguins are a group of aquatic, flightless birds. They live almost exclusively in the Southern Hemisphere, with only one species, the Galapagos penguin, found north of the equator.
2
Elephant Seal

Elephant seals are large, oceangoing earless seals in the genus Mirounga. The two species, the northern elephant seal (M.
3
Walrus

The walrus is a large flippered marine mammal with a discontinuous distribution about the North Pole in the Arctic Ocean and subarctic seas of the Northern Hemisphere.
4
Polar Bear

The polar bear is a carnivorous bear whose native range lies largely within the Arctic Circle, encompassing the Arctic Ocean, its surrounding seas and surrounding land masses.
5
Beluga Whale

The beluga whale or white whale is an Arctic and sub-Arctic cetacean. It is one of two members of the family Monodontidae, along with the narwhal, and the only member of the genus Delphinapterus.
6 Crabeater Seal
7
Arctic Fox

The Arctic fox, also known as the white fox, polar fox, or snow fox, is a small fox native to the Arctic regions of the Northern Hemisphere and common throughout the Arctic tundra biome.
8
Narwhal

9
Leopard Seal

10 Musk Ox
The Contenders
11
Killer Whale

The killer whale or orca is a toothed whale belonging to the oceanic dolphin family, of which it is the largest member.
12 Weddell Seal
13 Arctic Tern
14 Harp Seal
15
Minke Whale

BAdd New Item