Best Actor to Play Christian Grey
New York Times bestseller "Fifty Shades of Grey" is an amazing book. Never have I ever been interested in a story involving S&M, but WOW! Such an amazing story, I finished it in two days, could not put it down. They are not talking about making this book into a movie, I do not know how they will ever pull this off without ruining the book. One way to salvage it would be to have the best actor possible to portray Christian Grey... this actor has to be spot on.
The Top Ten
Matt Bomer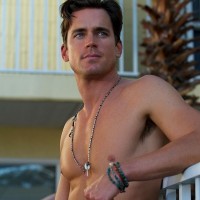 Matthew Staton "Matt" Bomer is an American actor. He made his television debut with Guiding Light in 2001, and gained recognition with his recurring role in the NBC television series Chuck as Bryce Larkin.
Matt Bomer is the perfect one, seriously. He is mouth-watering, just like the description of Christian in the book.. I would do everything to see him play the role. He is just too perfect. All of Christian is much like Matt's. I would really love to see him on the big screen playing Christian. That is mostly everyone's wish. I am praying that he would get the role.
He's the whole package. Every Subscription, he fulfills. He's gorgeous, sexy, has a great torso, great eyes, looks terribly good in a suit and is a loving father/husband. Has a great heart and the way he moves, it's so sexy. The're no words to describe him. Every word, doesn't fill enough
Mary is the full package he has the brilliant talents to pull it off easily! As well as all the physical attributes needed for the role, I hate to say it - sorry all you Ian lovers but Ian is just to skinny to be a fit muscular kickboxing Dom! Gabriel just looks a bit to old to play a swarve 27 year old where as matt looks quite youthful. I would sell a kidney to see matt bomber with many own eyes in the red room!
Matt, Matt, Matt, I love you. Your sexy voice alone does delicious things to me and that is before I even look at your perfect beautiful face and incredible body. Matt just oozes sex appeal and no other actor even comes close. He always has been and always will be Christian Grey in my mind. He was born to play this role, everything about him just screams CG. Those full, perfectly formed luscious lips, his nose, his jawline, his hair, his sexy walk, even his mannerisms and the way he cocks his head to one side and runs his fingers through his hair. Come on, fifty shades team, you must see that Matt is the only real Christian Grey.
Gabriel Macht
I can only picture Gabriel's "Harvey Specter look" while reading the book. Christian Grey's penetrating gaze, tilting his head to one side, smirking, and rolling of eyes is 100% Gabriel! He can be the tough, controlling, and dry-witted billionaire, then immediately turn into the sweet, romantic, and boyish lover.
Although Gabriel is older than Christian Grey, he is perfect to play the role, not only for his smouldering looks, but also for his acting skills and projection (and the voice). He can easily be mercurial- megalomaniac one moment, then vulnerable right after. Hm, and Gabriel in a Tom Ford suit? - NOT bad at all!
Even at 40 Gabriel looks young enough for the part! Not just hot but beautiful and should be number 1. Ian Somehalder is not a good choice I don't know where people are getting this from. Ian is hot but totally not Christain. He is too known for the Vampire Diaries it would be hard to associate him with anything else. They should go with someone brand new or somewhat new and hasn't really got their name out there yet. Gabriel isn't that known. He'd be a perfect cast. Taylor Kitsch could be another good one. His deep sexy voice definitely comes off dominating and he model beauty for sure.
The only guy, even after seeing all these guys, that popped in my head and still pops in my head as I am finishing this book is Gabriel Macht. His voice, his eyes, the way he is in Suits all of that is all I can picture. I think Christian Grey was made from his role so I don't, can't and really do not want to picture anyone else for this role. Christian Grey is Gabriel Macht.
Ian Somerhalder

Ian Joseph Somerhalder is an American actor, model and director. He is known for playing Boone Carlyle in the TV drama Lost and Damon Salvatore in The CW's supernatural drama The Vampire Diaries.
Oh yeah! Even better than Matt Bomer whose eyes are too starey.
Ian Somerhalder is absolutely the one to play Christian Grey... Perfect for the part! He has that smoldering look, dirty sexy... The whole package!
He has the eyes, the smirk... All the facial expressions mentioned quite often in the book. And the body!
I agree to what other says.. He's a whole package.. Ian somerhalder is Christian grey, the difference is their names.. But same whole personality! Perfect for Christian's role.. Has the look, the body and the attitude! I swear I wont watch the movie if it wasn't ian somerhalder!
Alexander Skarsgard
Before I even knew there would be a movie, I imagined Alexander playing Christian Grey in my head the entire time. Couldn't even fathom the role being played by any other actor. PLEASE PLEASE PLEASE cast Alexander Skarsgard! I want to see him in that role more than anything.
You need the best actor for the complicated character of Christian Grey along with the gorgeous profile. THIS ROLE WAS MADE FOR ALEXANDER! He portrays Eric Northman extremely well, I can only imagine how well he would be as Christian.
Most famous for his portrayal of "Eric" on True Blood. BEST MAN FOR THE JOB!
Perfect right height, color of hair. And is able to do the hot and sexy things that will be asked
Cam Gigandet
Perfect choice for Christian Grey. He's tall, has the perfect eyes and body, and he's from the Seattle area where the story takes place.
His eyes say it all. He has those perfect piercing eyes. His previous roles prove that he can take on just about everything that is thrown at him, and his whole appearance is gorgeous. He is Christian Grey.
Absolutely perfect person to play mr grey! Grom the gorgeous body, the eyes, the jaw... He is to a T what Christian grey is in the books
Cam is perfect for the role! I couldn't see anyone else playing it but him. He's got the attitude, the eyes and the body. He looks amazing in a suit and even better out of one!
Henry Cavill

Henry William Dalgliesh Cavill is a British actor. He began his career with roles in the feature adaptations of The Count of Monte Cristo and I Capture the Castle.
I love henry all the way.. Vote for him.. His expression, style, gesture, body and all the things.. Couldn't get any better..! He should deserves good movie because he's such a great actor and good personality.. Can't wait for another perform from him..
This is definitely the one. I have no idea who he is but he is the perfect age and sexy enough to play this role. The book makes Christian sounds smoldering, dark, sexy, mysterious. Henry Cavill seems to be all of those.
The perfect man to play the sexy Christian Grey. Perfect body, hair, jawline and those eyes! Perfect 50!
Henry Cavill is perfect for this role. He can definitely get away with that type of sex life without looking like a creep. All around though, he'll be perfect for the part!
Bradley Cooper

Bradley Charles Cooper is an American actor and producer. He has been nominated for four Academy Awards, three for acting and one for producing, and one Tony Award.
Read all three books with this man in mind... Don't know why, I think he just personifies him entirely. He's one of the only men I can picture who can pull off all of Christian grey's moods and shocking behaviors and still be incredibly sexy.
If they cast Grey as an older guy then Bradley Cooper would be perfect! Ever since I started reading the books, he is the man that I have envisioned Christian Grey would look like. Very sexy!
The whole time I read the books when I pictured Christian I thought of Bradley Cooper. The role was made for him!
I too, envisioned Bradly many times as I was reading the book. However, he seems almost too soft and sweet for some of Christian's "harsher" moments. But he is an amazing actor so I don't put anything past his him and his hotness.
Channing Tatum

Channing Matthew Tatum is an American actor and dancer. Tatum made his film debut in the drama film Coach Carter.
Bradley Cooper was my first pick but feels he may be too old for this part
Perfect in every way.
Right age, perfect body, amazing actor in every movie he's done. PERFECT for the part, actually pictued him the whole time I was reading the books.
Tom Hiddleston

Thomas William Hiddleston is an English actor. He is best known for his role as Loki in the Marvel Cinematic Universe, appearing in Thor, The Avengers, and Thor: The Dark World.
I believe Tom would be perfect for the part cause he has the balance of sweetness and being a complete gentleman but at the same time so very sensual and seductive in his looks and body language.. also he is extremely intelligent and witty which just adds to the whole package... he has this natural dominance about him and somehow can appear to be so innocent and somehow completely guilty at the same time and knows it.. He's devious and sexy and mysterious his whole character and even his looks, Especially in his looks.
When I read the first book Tom was who I picutred... He has the devil may care smile, the eyes, the hair the demeanor.. He's Christian Grey.
Tom would be so perfect for this role. Especially since he appeared on Nerd HQ where a woman from the crowd tells him to kneel and he does, with the most perfect submissive expression on his face and I immediately had flashbacks of when Anastasia thought she had 'broken' Christian and he went all absolute sub on her.
When reading the books tom is the first one that pops in my head
William Levy
I am a Submissive and of all the choices here, I feel William Levy would hit the nail on the head and without effort portray both sides of C. Grey I look back at his Latin Tango on DWTS when Carri Ann stated he looked like the Latin James Bond. I feel William Levy could easily be the Corporate Controlling Young Business man as well as the Vulnerable Tortured C. Grey. William Levy not only is as beautiful as Anatashia views him, but has those piercing eyes that could burn right through you making you tremble in fear or make you orgasm with a glance. I'd be naughty everyday to take a spanking from him. *sly grin* WL has my vote all the way.
Anyone consider William Levy? He is Cuban, but he is absolutely gorgeous. While I am reading the book, I can totally see him as Christian Grey.
Just how I would picture Christian Grey! Smoldering good looks and that BODY! He would be PERFECT! I could see him in the Red Room of Pain!
He is sexy and a great actor. Perfect for a CEO or something else... The sun and the moon, pick your favorite!
The Contenders
Michael Fassbender

Michael Fassbender is a German-Irish actor of stage and screen whose career includes roles in both independent and blockbuster films, most notably; Hunger, Inglourious Basterds, Shame, X-Men: First Class, Prometheus, 12 Years a Slave, Frank, X-Men: Days of Future Past, and Steve Jobs.
He's a little too old to play this part and he hasn't that perfect beauty of Christian Grey but, as seen in 'Shame', he can paly a dark sexual role with no hesitation and, as seen in 'Jane Eyre', he can be lovely in a no-sugary way at the same time. I don't know if the other candidates could walk in Grey's shoes as deeply as him.
Gavin Dunne
Absolutely perfect fit! Looks good in a suit and naked. Unknown enough so you don't have other associations. Must have some mystery to play Grey.
Watch the York Peppermint Patty commercial and tell me this guy is not ideal for this part! He's got the ChristianGrey look in spades!
Matt Barr
He is the best for Christian grey
I too just watched Hatfield and McCoys, and pictured Christian Grey
Just saw Matt in Hatfield & McCoys and was thinking he would be perfect for the Christian Grey role.
Saw him on one tree hill and he was intimidating he has that what are you gonna do to me thing going on for him. I think he could pull this off.
Robert Pattinson

Robert Douglas Thomas Pattinson is an English actor, producer, model, and musician. He started his film career by playing Cedric Diggory in Harry Potter and the Goblet of Fire, a 2005 fantasy film.
Just cause why not
Colin Egglesfield
Nobody else could be more perfect for christian grey than colin egglesfield. He has "it". If Ian is cast as grey the movie will be ruined for me. He seems like a child to me for some reason. Colin please!
Christian Bale

Christian Charles Philip Bale is an English actor. He has starred in both blockbuster films and smaller projects from independent producers and art houses.
Ryan Gosling

Ryan Thomas Gosling is a Canadian actor, musician, and producer. He began his career as a child star on the Disney Channel's Mickey Mouse Club and went on to appear in other family entertainment programs including Are You Afraid of the Dark?
Yes. Ryan Gosling. Just, yes.
Ryan would play Christain best
Chace Crawford
Taylor Kitsch
Jensen Ackles

Jensen Ross Ackles is an American actor and director. He is mostly known for his role as Dean Winchester on the CW fantasy series Supernatural. He is also known for his roles in television as Eric Brady in Days of Our Lives, which earned him several Daytime Emmy Award nominations, as well as Alec/X5-494 ...read more.
I would love to see him to something very different than any of his previous work. I think he would do a great job with the role. However, I'm not sure it is a role he would accept at this time. Hopefully, he will be given the opportunity to show his true talent in a role that will receive a great deal of notice.
I also think Jared Padalecki would make a good Christian Grey
Wentworth Miller

Wentworth Earl Miller III (born June 2, 1972) is a British-American actor, model, and screenwriter. He rose to prominence following his role as Michael Scofield in the Fox series Prison Break, for which he received a Golden Globe Award nomination for best actor in a leading role. ...read more.
Paul Wesley

Just look at his hair! He is the right age too... Not too old to play the part. He has a great physique!
Jessie Pavelka
Chris Evans

Christopher Robert Evans is an American actor. Evans is best known for his superhero roles as the Marvel Comics characters Captain America in the Marvel Cinematic Universe and the Human Torch in Fantastic Four.
Buck toothed ginger haired man from the BBC? Are you insane?
I doubt Chris Evans would have had the time to be Christian greay what with the return o TFI Friday and the fact he's taking over Top Gear from Jeremy Clarkson
It certainally would have been funny to se a 49 year old, high pitched, ginger haired, specky four eyes try to make out with someone half his age.
Samuel L. Jackson

Samuel Leroy Jackson is an American actor and film producer. He achieved prominence and critical acclaim in the early 1990s with films such as Jungle Fever, Patriot Games, Amos & Andrew, True Romance, Jurassic Park and his collaborations with director Quentin Tarantino including Pulp Fiction, Jackie ...read more.
MAKE THAT BRO BLACK!
PSearch List