Best Spy TV Shows
The Top Ten
1
Chuck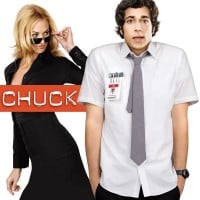 Chuck is an American action-comedy/spy-drama television series created by Josh Schwartz and Chris Fedak.
Some would think it surprising but the story is so great and so is the acting. It's common that in action shows the acting goes down as the explosions and gun fights go up but both of these things hold great rank in Chuck. I love this show and can't get enough of it! And the character development is so great as well, especially when it comes to John Casey who's also my favourite character.
Chuck is juat amazing and pure genius. Best story lines that keep you gripped and perfect moments of comedy that keep you comming back for more, all performed by a perfectly chosen cast all actors work really well as their characters and sell every moment so well that there is no way I can see anyone else playing them quite as well as they do. Best spy show I have seen in ages! just wish it could have gone on a bit longer
It's just addicting. If you start watching it on Netflix, be prepared for a binge to set in. You'll be there for all 90+ episodes, then you'll want to start over again. It's not just a spy show with kick-ass stunts, but it's also a comedy with goofy characters and a wonderful love story. Great show!
Watched the show since the beginning, never stopped loving it. Stopping with season 5 was the worst/best thing they did, because it has the perfect spy ending. A show that makes you think, and teaches you something new every episode. Chuck is my #1 for ever.
2
Homeland

Homeland is an American spy thriller television series developed by Howard Gordon and Alex Gansa based on the Israeli series Prisoners of War, which was created by Gideon Raff.
The best drama I have ever seen especially the role of Brody and Carrie.
Great show, definitely deserves to be in the top 5
This show needs to be in the top 5! One of the best!
This is by far the best T.V. show of all time
3
The Americans
The most realistic spy series I have ever seen. Absolutely brilliant. Thank you for all the people taking part to entertaining us.
It should be a crime that this isn't higher on the list. Incredible realistic spycraft and amazing plot.
I can't believe FX's series "The Americans" is not on this list. It is so good.
One of the best shows in existance in my opinion...
4
24

24 is an American action drama television series produced for the Fox network, created by Joel Surnow and Robert Cochran, and starring Kiefer Sutherland as counter-terrorist agent Jack Bauer.
The Finest & Greatest Spy Show Of All Time. Each Episode Is Completely Gripping And Has A Moral Lesson To Teach The Audience, That Most People "Expect Results But Are To Afraid To Get Their Hands Dirty" And Jack Bauer So Famously Said That "I Suggest You Roll Up Your Sleeves"! Classic Bauer. Sometimes In Life One Needs To Bathe In The Dark To Serve The Light! That Is 24 In A Nutshell And The Acting And The Attention Towards Character Development Has Never Been So Prominent In A T.V. Show!
This is the reference of all Action series from the year B. C A. D 0001.
Has penetrated modern pop culture like no other
#1 on any list, no question about it! BEST show ever!
5
Alias

Alias is an American action television series created by J. J. Abrams, that was broadcast on ABC for five seasons, from September 30, 2001, to May 22, 2006. It stars Jennifer Garner as Sydney Bristow, a double-agent for the Central Intelligence Agency posing as an operative for SD-6, a worldwide criminal ...read more.
Hubby and I binged for the past 4 months on this series. Hands down best spy series ever!
Love it! Two more shows to go then done with all. I will miss it!
Jeniffer Garner is brillian. Victor Garber's poker face is my favorite. An absolute thill. This show is up there with 24
Awesome, would love more episodes
6
Burn Notice
The best spy show ever. Chuck finley is the best. And fiona and jesse and michael. And the mikes mom best cast ever.. And who can forget berry... This show had me locked... aNd kept wanting more the best series ever have to watch it from the beginning. And it always has a plot within a plot. This is what super spies do. Just totally entertaining. I love this show
Loved that one... There is no other spy series that couldn't match this one. It was an incredible T.V. show. The timeline, the burn notice thing instead of being fired.. VERY INTERESTING.. Would recommend this one to a friend who likes spy series.
Wow this show is deffinitely the coolest show I've ever seen in this category. Just loved everything about this show. Every episode left me saying to my self out loud at the end. "this is such a great show" I mean it. I probly said that after every episode laugh out loud
The show was truly amazing and I enjoyed it for a long time. The missions, stories and characters were all intriguing and the story was very action packed. One of the best shows ever, in my book.
7 The Avengers
8 MI-5
9
Get Smart
Far and away the funniest spy ever. I'm going to say this without the cone of silence: Get Smart is the Best!
One of those really great old T.V. shows that got screwed up when they tried to recreate it.
10
La Femme Nikita
Sorry, My previous comments were that La Femme Nikita was a brilliant US adaption of a movie. the series was excellent. the follow up series Nikita with Susie Q was okay in the beginning but became so scripted that you could read them the script. Nikita was a nice try but La Femme Nitkita was just brilliant and finished when it should instead of being dragged out by ratings. Spooks in in the same category - no happy endings, just get on with the job.
Far more than a cult favorite, in fact, Nikita prefigured many elements that would
Dominate post-9/11 programming. Alongside The X-Files, the show relied on ongoing story
Arcs, darker tones, and personal conflicts to emphasize the repercussions of individual
Choices, both moral and professional.
Probably the best US adaption of a movie ever. Loses a bit when they re-casted the show and got rid of the original actors and tried to update it. It kind of lost the plot then but the last series I enjoyed although not as much as the first.
One of the greatest T.V. shows of all time! Definitely the best spy series!
On another note, the picture you have posted is from the original movie, not from the T.V. series.
The Contenders
11 Counterpart
12
Covert Affairs
Best show I've ever watched, it has a bit of everything, drama, romance, mystery! Would recommend it to anyone looking for a interesting T.V. show to get stuck into!
Season 4 was just epic! That season hooked me. Best spy show ever.
Such a shame it got canned, from season two it got SO good!
Love this show very much, next season please...
13
Nikita
Best action series ever on T.V., 24 comes a close second.
Maggie Q was the perfect Nikita and all the supporting cast were also brilliant.
I wish they hadn't rushed the last season and ended it well, otherwise, this show is Dope.
Best ever action spy thriller with human emotions. Love and passion... Number 1
Great acting and fight choreography. In my top 3 favorite T.V. Shows of any genre.
14
Spooks
A superb British spy thriller show also known as MI-5 in the U.S. never being afraid of going dark or killing off popular character, the show was a definite sucess over its 10 year run and certainly deserves a spot on the list!
Top of the line spy series. Follows the exploits of the UK's MI6, the equivalent to the US's CIA.

Don't get used to any of the cast members, they tend to die off without advance notice...
The best spy series ever, blows your mind off..with so many twists and shock to blow it mind off...way way better thand those 1 man superman shows from usa
15
Misson: Impossible
best spy show ever
16
Spy Game
Covert affairs doesn't glorify it but it shows what is! It's a rotten job but someone has to do it.
Brilliant but very very and very short spy series from 1997
17
Intelligence
Please renew this show. Awesome characters and perfect plot.
Its good,worth watching
18
Jake 2.0
Superb spy show that inspired Chuck
Love it I wish there were more.
19 Sleeper Cell
20 Agents of S.H.I.E.L.D.
21
The Night Manager

The Night Manager is a British television serial adapted from John LeCarre's espionage novel of the same name. It premiered on BBC One and was directed by Susanne Bier and starring Tom Hiddleston, Hugh Laurie, Olivia Colman, David Harewood, Tom Hollander, and Elizabeth Debicki.
A mini series, but well developed, perfectly paced, and watching Tom Hiddleston channel his inner Bond is a treat.
Great show can't wait for next series
22
The 4400
Not 100% spy thing but still must be here
23 The Pretender
24
The Invisible Man
An Underrated Sci-Fi/Spy show
25
Jericho

Jericho is an American post-apocalyptic action-drama television series, which centers on the residents of the fictional city of Jericho, Kansas.
PSearch List