Bill Burr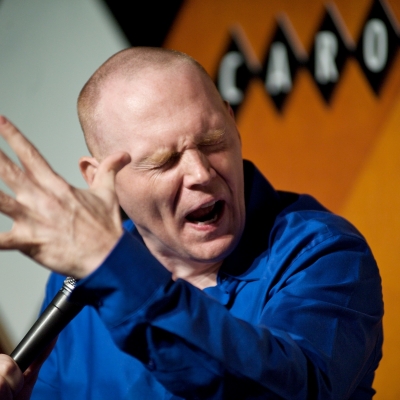 Uploaded by ModernSpongeBobSucks
Info
William Frederic "Bill" Burr is an American comedian, writer, and actor. He is best known for his stand-up comedy specials.
Comments
Top
Popular
Newest
He is one of the funniest comedians to ever take the stage. I can relate to his humour more than that of any other comedian. Look up his joke about psychos vs. Functioning psychos, and if that doesn't make you bust a gut, look up his joke about ordering a sandwich, or punching the muffins on the table. The list goes on and on, all his jokes are at least very funny if not hilarious.
In the words of the late great Patrice Oneal this list STINKS.
Bill Burr is numero-UNO, At the very LEAST top 3, he's greater then the greats, and is only getting better.
Even Patrice isn't top 10?! No comedian could go up against him, even the greats become a bumbling mess, Patrice was the KING
Bill Burr is hilarious. Ordering a sandwich bit was funny as hell. Whether it's the corporations, bankers or societies current pet fads, he says it like it is... And that's real funny. Yep, maybe George Carlin lite, but that still puts him up there with Dave Chappelle and Chris Rock and certainly in the top 5.
I agree with all the other positive comments about Bill Burr. I have always held the late Sam Kinnison as my measuring stick for comedians who make me bust a gut laughing. For the conservatism of the 80's he was edgy and unapologetic for his comedy and definitely not politically correct. To me, Bill Burr is the first comedian since Sam Kinnison that has made me laugh that hard and consistent. Out of the 4 one-hour specials that I have seen of his, there may be only 1 or 2 moments where there are dead spots in his routine. That's pretty remarkable for four hours of comedy! For my money, he's the best guy out there today and I would put him in the top 3 of all-time.
Why the hell is Bill Burr at number 36?!

Seriously, the likes of Demetri Martin, Ellen Degeneres, and Dane Cook are ahead of him!?!

He should definitely be in the top 5 along with Louis CK who is also lower then he should be on this list.
Carlin, Williams, Pryor, Cosby were all great ones, but let's get serious. Bill Burr is the most relevant comic on the planet today! He talks about women, guns, Chinese drivers; everything that pisses you off. I laughed so hard I cried for an hour the last time I saw him.
Bill should be at least in the top ten better yet top five. His material is unbelievably funny and there's truth to it. If you're one of his podcast listeners, you know this guy is an all around funny guy, anything that comes out of his mouth he turns it into comedy.
Deserves to be higher on the list for sure. He may not be as well known as some of the big names but I think when people start to see his work more, he'll be right up there with the best. I love his breakdown of how women argue, so true and hilarious at the same time.
Real and Funny at the same time, easily one of the top class comedians of his (this) time. There is no doubt that Bill Burr is fearless when he steps on stage, no matter what topic he talks about. A must check, definitely top comedian of the decade, possibly century.
WATCH HIS SPECIALS BEFORE YOU VOTE! I agree with several others here - this guy is clearly top 5 material. The laughs just don't stop at a Bill Burr show, unlike several others on this list (with better ratings? ) that I have also seen live.
Bill is one of the funniest guys I have seen in years. If you grew up in a city like New York you will laugh out loud. I don't know where he grew up but he comes off like he grew up on your block or the floor below you. He is worth the price of admission.
This guy is a comedic genius! He doesn't even have to try in order to make people laugh! His Monday Morning Podcasts, stand ups, and especially his tours are hilarious! One of my comedic heroes!
Brings people together by making fun of everything and everyone. Anything from race, to relationships, to saying we only need 25,000 people on the planet cause the same douche has been cloned 8 million times. Guy's hilarious and has no filter.
I don't know any comedian that can make me laugh like Bill Burr can. The dude is absolutely fearless on stage but underneath all his ranting and borderline psychotic nature is a social intelligence second to maybe only Carlin.
Perfect comedian for the times - he sounds angry and frustrated all the time (much like the average person these days), and he's funny while he's doing it. He seems offensive if taken out of context, but hilarious when in context.
How the hell is he in 29th? He's arguable the best. Maybe Carlin and Hicks could be ranked higher but that's only because they were trailblazers. On an absolute scale Burr is the best and if you can't do the math on that I can't help ya.
"Let It Go" gets funnier every time I watch it - can't wait for his next show! Had me laughing the whole way through - great stuff!
I cannot believe he's this far down. His material is right behind Louis C.K. for this generation. I don't have the top ten of all time ranked in my head at the moment, but Burr is definitely in it. I was sitting in the crowd in Philly when he went off on us for 10 minutes worth of inprov. He trashed us, got booed, but I Laughed the whole time. Very talented!
Bill Burr is currently the best comedian alive. After coming across his comedy specials on Netflix, I was instantly hooked. Also had the privilege of seeing him live in Las Vegas. Thumbs up!
Why is this guy 38th? He is top 3 easily. Funniest comedian I have ever seen. I have watched all of his specials and he had me laughing the whole time. The only ones who could compete with him are Chris Rock and Daniel Tosh.
While most people would compare Bill Burr to Louis CK, I would argue that he is more like Stephen Colbert a sharp mind and a quick wit behind an idiot alter ego. He's referred to himself as &quotthat loud guy in the bar with uninformed logic&quot, which perfectly describes his stage act, which in my opinion is the ultimate angry, stupid white guy routine on stage.

To me he's the best American standup comic working today because he can kick in all directions without being a total dick and be so funny doing it that he can literarly make me pee my pants.

He's also become one of the primary voices against mass hysteria and political correctness, and he does it without falling into rants of narrow mindedness and bigotry, something comedians like George Carlin and Bill Maher unfortunatly couldn't help.
It is now 2016 and Bill Burr is finally getting some well deserved credit for being one of the best if not the best comedians in the world today. His netflix animated show F is for Family is also hilarious and is bringing this mans brilliance to a wider audience. He can also act! he was the pasty redhead that held up the train in the Breaking Bad episode " Dead Freight" as well as a few others. Whatever you do don't listen to his "me undies" commercial because that will be stuck in your head all day.
Bill burr is amazing! It's so refreshing to find a comedian that doesn't spend the majority of his time talking about his dick and overall awkward subjects. Really enjoyable and relatable. #1 comedian on my book.
Easily the funniest stand up I have ever seen (and I've seen a lot). Check out "You people are all the same" and "let it go" One of the most hilarious people in the world no doubt. Should be in the top 5 at least.
I have seen all of his specials and I have seen him live in New Orleans and in my hometown of San Antonio. He is so damn funny! If you haven't seen any of his specials, you need to stop what you're doing and Netflix his specials!