Eddie Murphy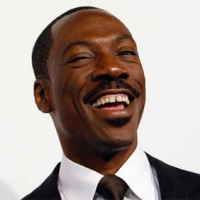 Found on awlnetwork.com
Comments
Top
Popular
Newest
Eddie Murphy no second thought. All these people don't know what comedy is and have to do insults and putdowns just to make them seem funny, Eddie Murphy is naturally funny. Don't believe me check out some of his programs mentioning some like Beverly Hills Cop 1,2, and 3. He is awesome and has been doing it strong and well for more than 20 years. Will Smith is great as well. - Undertaker15-0
There are lots of people who take offense at stuff Eddie Murphy says, like his gay jokes and crude remarks, but this guy brought comedy to a whole new level. Chris Rock himself says so. It's impossible to watch stuff like Delirious or Raw and NOT laugh at any part of it. Whether it's him talking about hectic family barbecues, to imitating singers, to Unfufu his African bush-bitch, it's so funny! He's great. He defines comedy.
Eddie should be top 3, never mind only scraping into the top 20. Now that is delirious! This man practically reinvented comedy and to me he is the greatest crossover comedian because he actually forged a very successful acting career and most importantly, remains funny. Seriously its a disgrace he is not in the top 3!

He is very funny but I wouldn't say he is that best I really like Eddie Murphy delirious that's my favorite stand up comedy by him but I really like kevin hart Eddie griffin and katt Williams so I just wouldn't say Eddie Murphy is the best but he is the funniest in this list
When I watched Delirious, going into it I was like, "this is the guy from Shrek, there's no way it can be inappropriate." I have never been so wrong in my life. As raunchy as it was, there is no denying that it was the funniest (I kid you not) 69 minutes of my life.
Was hard to choose between a young Eddie Murphy and George Carlin but his specials are before their time laugh out loud, great material. He also influenced a lot of current comedians and has been feature in a lot of top ten lists like these as one of the best. - Mandolicious
I can sit by myself and listen to "The Golden Child" & "Coming to America" over & over again. Eddie Murphy is without a doubt the funniest man on the planet. His timing is awesome, his laugh is contagious, and I wish I could see more of him.
Amazing amazing he should be on the top I am a very grumpy and I have never laughed in my life only when I was 4 months I am now 66 when I saw this guy on YouTube I laughed my head off I couldn't stop laughing in the first time in many centuries I smiled as well
Eddie Murphy is the greatest comedian cause he provokes the audience in such way, that no one els does. With his up date subjects for the time of Broadway shows (theatre) he made the viewers think and doubt the world. Also cool funny guy,
Delirious is probably the best stand up of all time in my mind. His combination of impersonations and singing and wit made me feel like I was right there beside him for every story. Also his laugh is priceless.
He is the funniest because he can do stand up (best ever), and play funny roles (Beverly Hills Cop is as good as any comedy). Only Richard Pryor can come close to his ability to do both at the highest level.
EDDIE MURPHY should be amongst the top3, that was comedy, he took it to a new level and and made profanity his own art form!
You Should really watch raw and delirious to make your judgement
I don't know if Eddie is better than Pryor or Carlin. But I will tell you that there has never been another comedian bigger than Eddie Murphy. He and Pryor are the greatest I have ever seen.
Eddy had me in stitches as a child with Delirious and Raw. Two most important stand-up routines in history of comedy. They are like Sgt. Pepper's and Dark Side of Moon in the rock world.
Best all round comedian. His "Family Cookout" is supreme comedy - a surreal bit full of everything - Body work, vocal work, cultural reference and self humor.
I don't understand how Eddie Murphy isn't top 3. He went from being completely raunchy and innapropriate with "Delirious" and "Raw", to cleaning up his act and starring in movies to this day that make a whole family laugh. Personally I like old Eddie, but both styles of comedy get the job done. It's a disgrace he's so low on the list.
You kidding me? ICE CREAM! ICE CREAM! MOM, GIMME SOME MONEY! THE ICE CREAM MAN IS COMING! Delirious is THE funniest ever, not to mention his span of work, all the different characters in SNL and in his movies like Coming to America, Nutty Professor etc. Comedic talent at its best.
Eddie Murphy is simply the best! There's no one who delivers their jokes better than him. He can talk fast (and I mean really fast), talk slow, sing, has much energy... He is number one!
whoever made this list has no idea what good comedy is.. Eddie Murphy is the best stand up comic ever.. Richard Prior Influenced him but eddie murphy perfected the act.
Poor eddie.. He hath fallen so far sense the 80-90's...
Because he is hilarious. He used to actually make people laugh. Great imitating skills, just pure funny without fake overacting, pretentiousness or censure.
Delirious is the most epic comedy ever laugh out loud he's so safe as well. Some people on this list are a joke they're not even funny... Eddie Murphy though, he's the truth.
Made Delirious and Raw. In my opinion the most famous and quoted stand up gigs of all time.
Shaped the way for comedians such and Chris Rock and Dave Chappelle.
Eddie Murphy is veteran comedian simply one of the most funniest comedian that's been doing it for a while you can't tell me he shouldn't be in the top ten.
Should be number one, he has a movie out every year he's been in the business, he just likes to make people laugh even if the movie is not a hit.
Related Lists
Best Eddie Murphy Movies
Top Ten Best 21st Century Eddie Murphy Movies
Top Ten Best 20th Century Eddie Murphy Movies
Best Eddie Murphy Movies of the '00s