Jim Gaffigan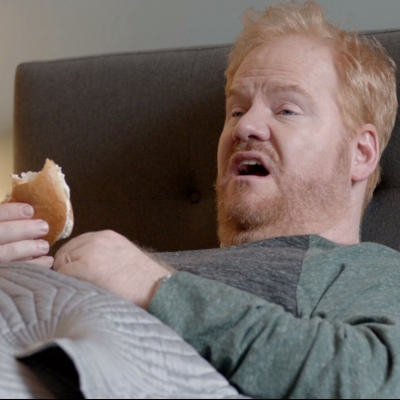 Uploaded by Bboymakinwitthefrekfreak
Info
James Christopher "Jim" Gaffigan is an American stand-up comedian, actor, voice-over artist, and author.
Comments
Top
Popular
Newest
I have a tough sense of humor. I find very few comedians to be funny actually so when I heard Jim I thought "Oh no, here we go again, another comedian using sex as a one way ticket to peoples sense of humor" but honestly, I was wrong. His jokes are clean but not cheesy. They focus on real life events and how life is irritating.But he's not complaining the whole time, he does funny voices and is a very relatable person. He brings attention to how silly things are and I just love his sense of humor.
My all time favourite Comedian. Should be #1 because he doesn't use curses for humor. I love his other voice which is an audience member as he is telling jokes. He relates to real life events, not phoney made up bits. I want to see one of his shows so bad. If I could never make one, I would regret it my whole life so my life goal is to see one of his shows.
I can listen to everything he says over and over and still laugh. Now every time I talk to people about anything, quotes from Jim always come to mind. Kitty want some candy... Meow, it's candy to the ears to listen to this genius comedian.
He is the best. Not only does he have great material, but his whispering voice is hilarious. If you get a chance to see him, do it. The last time I saw him, I not only had sore cheeks from laughing so hard, I was able to take my 17 year old and not be embarrassed.
Jim is so FunnY!

I've never eaten a pocket and been like-I'm glad I ate that, its more like I'M GONNA DIE. I paid for that?!? Die I eat it or rub it on my face? - reallyusefulbox
I know that this has been said before, so my comment is just to reiterate his relatively unique style among stand up comedians today. He keeps it family friendly. I think he deserves to have much more recognition than he has now.
A funny guy you can take your kids or mother to see and not feel like you need a shower after his act (this excludes Gallagher of course - where you do need a shower after - unless your cheap and sit in the back row).
There is the vegetarian Hot Pocket for those of us who don't want to eat meat, but would still like diarrhea. - Pitcher97
I can't believe Jim is not higher on this list. There is not a joke that doesn't make me laugh. His delivery is perfection and his "whispers" of what others are thinking crack me up.
Love him! Just watched Obsessed and laughed the entire time. He connects with everyone, and talks about things that people discuss and experience all the time. My favourite!
I'm a student of comedy live and breath it. But Jim Gaffigan really impresses me with his seamless segways, from joke to joke and his masterful use of zero profanity. It's uplifting and profound in our current world of shock and awe everything. I'm no prude but I love this guy.
Jim Gaffigan is hilarious comedian. His jokes consist of surprising twists, such as the classic "So I'm gluten fr, anyone else here gluten-free? " (Audience Cheers) "I'm just kidding, your a communist". The timing and unexpectedness makes you gasp for breath, and make you do your best to stop laughing, which you fail every time.
Jim Gaffigan is right up there with my other favorite, Brian Regan. He's hilarious without having to be nasty... that's true talent... thank God for Jim Gaffigan!
One word: HILARIOUS. This guy can make anyone laugh. If you don't think he's the best watch his special: Mr. Universe then you will know
He is so funny I almost pee my pants watching him love him, so awesome! My favorite his cake jokes and Halloween jokes so awesome!
The best there is. Jim's audience impersonations are hilarious and his humor pokes fun--and can even be dirty--in a somehow family-friendly way.
The only comedian I've ever seen who makes me laugh throughout his act. I listen to his shows over and over again, and they never get old.
Jim is an inspiration to me. I love listening to him because he can make anything funny! He is my absolute favorite comedian of all.
How is Dane Cook over Jim Gaffigan?! Jim makes me laugh without swearing or bringing up race; everybody can laugh at his material.
Jim Gaffigan is always clever, funny, and has released a few of the best clean comedy albums of all time.
this dude should be number one, cinnabun, hot pocket, cake, cathlic, pale all of his jokes are great
I hear J.G. on Serius 103, 104, & 105 all the time, I practically pee myself everytime I hear him
In my opinion? The best. Funny family man with a mostly clean routine, makes me laugh without cringing at foul language.
Gaffigan is great! He can make everyone laugh. Reguardless of your age, sex, race, interests... You can't help but laugh at this pastie white food lover. If you haven't experienced Jim Gaffigan, just rent one of his standup videos... Be prepared to laugh till your sides hurt!
'Some places you have to pay to camp, you have to pay to sleep outside. That's got to be insulting to the homeless people'
Related Lists
Best Jim Gaffigan Movies
Greatest Jim Carrey Movies
Best Jim Croce Songs

Best Jim Carrey Acting Performances