Louis C.K.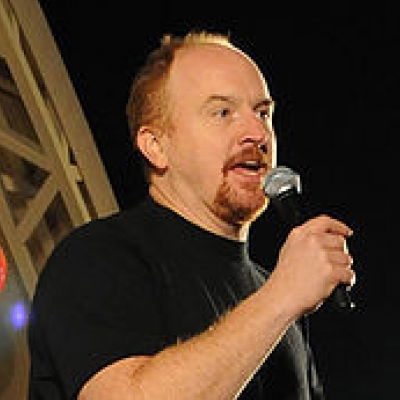 Uploaded by htoutlaws2012
Info
Louis Székely, known professionally as Louis C.K., is an American comedian, actor, writer, producer, director, and editor.
Comments
Top
Popular
Newest
Louis C. K. Is the best working comedian. There are no other comedians today who are getting new, fresh material year after year for their fans. Louis seems to be gaining more and more recognition from every person who is a fan of comedy, or a comedian themselves. You will never hear a bad word about the guy, and you will never hear a bad joke either. He is the most relatable stand-up out today, and arguably the most original in a long time. If anybody today were to take the position of a true stand-up legend, Louis will be able to if he keeps up his pace.
I hope he can maintain his down-to-earth approach with his material. Louis C.K. seems like a comedian that can evolve. His parental stories touch on a common thread with folk my age. I don't know how he will be able to keep his connection with his audience whilst experiencing celebrity. When comedians' are hungry they experience peak/highly creative moments, and when fame and fortune hits, comedians lose their grip on life's grittiness.
Cook and Russell blow imo but that's just me.. My list 1. Louis 2. Greg Giraldo who I didn't see (haters)3. Dana Gould 4. Dave Attell(makes me rofl too much not to list)5. David Cross 6. Pryor 7. Carlin 8. Seinfeld 9. Chapelle 10. Katt Williams 11. Eugene Mirman 12. Hedbirg 13. Patton Oswalt 14. Bill Hicks 15. Lewis Black a lot are interchangable in terms of my fav and there are way more like woody allen, eddie murphy etc.
He is awesome, he should be #1!

He talks a lot about his kids and even not being a father myself I can relate to what he says and I find him to be the best comedian ever!

I like "Shameless" the most but his older stuff is awesome too :D Just check that out on youtube and you will see what I mean!
On May 17th of 2012 my dad died of a drug overdose... It was devastating for the family. About one month later I happened to watch one of Louis's shows. It was the funniest I had ever heard and honestly it was the first time I had laughed or smiled in a long time. He is a comedy genius! I really hope to meet him one day!
Absolute funniest comedian in the world in my opinion. He is straight forward, honest and his whitty observations are what expands his fan base. One aspect about his comedy that I thoroughly enjoy, is how he is capable of making a variety of jokes without really offending anyone (at least I speak for myself) In other words, he doesn't rely on demeaning female jokes, or raunchy sexual humor inorder to get ahead. Although he does have bit of these kind of jokes in his act, the reality that he doesn't rely on them shows that he has a lot of substance as a comedian. He is truly talented and doesn't need to rely on any particular "kind" of joke to get ahead in his career. that is what I admire
These comments have aged perfectly fine. Louis was and still is a stand up god. We're here to judge comedians right? Meaning their comedy? Or are we here to weigh in on their personal matters and judgement calls they've made in life? His material will still go down in history as some of the best of all time. These allegations won't even be a drop in the bucket come some years time.
He puts himself down so his jokes are much easier to follow. He is like an old friend who is telling true stories for the audience instead of complaining the stupid things around him. He makes jokes on those he disagrees and those need people think about. He has the talent to make people laugh and cry at the same time. I love him.
I liked him a lot! His is very jocular and facetious! His anecdotes are actual, he took interesting topics that people even never think about. I liked when he smiled and laughed together with the audience after his jokes. It is strange to laugh after many repetitions about the same jokes, however, this makes people laugh more! Funny!
Talks about the human condition like George Carlin but in my opinion is funnier. Not necessarily wittier, but funnier. "It's funny cause it's true"... With George Carlin it's more like "a very funny lesson with a philosopher", with Louis CK its more like "funny musings by a very smart guy"
Louis C.K. is the best stand up comedian out there. His observational humor and the way he delivers his jokes are the best. He is one of the only Comedians that can actually make me laugh out loud, uncontrollably, to the point of tears. I also love his show, Louie. He is number one in my opinion.
I'm surprised he isn't higher up! He is a great comedian and says what everyone is thinking. It's probably mostly younger generations voting on this. He is easily better than most of the comics in the top 5. Great original material. I love him, especially how he includes his life in his jokes.
Louis C. K is a genius. He has mastered self-depreciative humour, he makes the audience feel at ease... I'd never laughed as loud or as hard until I watched his "Awesome Opossum" clip and every video I've seen of his since then has been top notch.
Hilarious. Laugh out loud... I can't even use that word with a straight face anymore. But as much as I laugh when his standup is on, I honestly forget about the troubles of the world. He is hold your side funny, warn the neighbors and put a pillow over your mouth funny!
Louis C. K. Is the best of the best. One the smartest comics out there, a wonderful blend of philosophical and nasty self deprecating filth! He will make you laugh so hard that you'll pee and poop your pants and your head will explode.
Raw, unflinchingly honest, self deprecating and hyper aware Louis does what he does twice as often as any comedian in his league, putting out basically an hour long special a year and writing, directing, producing, and editing his T.V. show plus he does it better than just about anyone.
George Carlin is the best of all time and Louis C.k the best of ours. No disrespect to the others listed above and below, this is just my opinion. Also I'm not saying that he's a bad comedian, but Chris rock really shouldn't be at #4. I believe comedians such as Robin Williams and Bill Burr are way funnier than Chris Rock.

Also if anyone here likes one-liner comedians, check out Stuart Francis if you haven't seen him already...really funny!
Fantastic comic! His show us great and so are his stand up specials. He is very vulgar but it fits right in. With his style of comedy. The show is a little more tone down but hyatt as entertaining and funny.
Louis CK is amazing. Best and most experience stand up comedian there is. He is easily the most underrated Stand Up artist ever. This is the guy Dane Cook stole jokes from people. That says it all.
Easily one of the funniest comedians alive. It's a shame more people haven't heard of him. Seriously. YouTube. You'll laugh!
He has got to be number one. A passer by can mark his humor as vulgar, but stick around, hear him out, and you got some really good life lessons to remember. Very under rated and very good. If he keeps it up, he will be THE top dog among the stand ups, if he isn't already.
Probably the funniest "dry comics" out there, even if you like some of the newer comedians you'll love this guy. Louis C.K. has a great show, and great stand up routines out there. Definite contender for number 1.
His humour is not only openly offensive in every possible way, it's also so very true. This is because his jokes mostly revolve around the darkest moments of people's lifes and he miraculously manages to make you laugh about money issues, obesity, parenthood and other issues.

In conclusion I can say, "It's funny because it's true"
I'm going through some tough medical troubles currently, and whenever I have to go get a procedure done, I rely on a stand-up comedian to pick me up. The only two I can rely on are Louie C.K., and Nick Swardson. But its like 90% Louis I've can depend on.
Listened to almost every one of his specials, he's the best comedian I've ever watched. I didn't even think stand up comedy could be funny until he came along. Although he made me waste a substantial amount of my life watching his YouTube videos at 2 in the morning.