Richard Pryor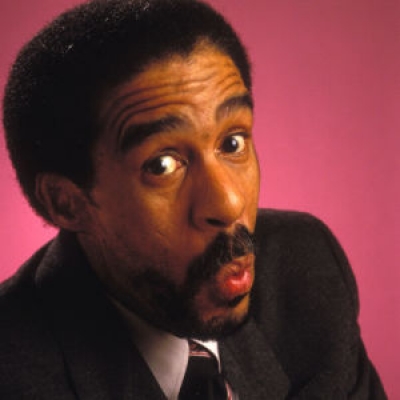 Uploaded by htoutlaws2012
Comments
Top
Popular
Newest
Why the hell is Richard Pryor not in the Top 10? He inspired George Carlin, Russel Peters and many others to become comedians. He was the one who introduced the use of colorful vulgarities into the stage and encouraged comedians to talk about things people would never dare talk about in real life. He was one of the first, along with Lenny Bruce, comedians to let us see society's real face. A classical comedian and he's positioned 12? Disappointing.
Richard Pryor pretty much started every other black comedian on this lists career, they all cite him as an influence. George Carlin is brilliant due to his personal and observational humor, a lot of people find Carlin offensive though due to his beliefs which is an unfair basis to judge his comedy in my opinion.
Richard Pryor is the best even robin williams said it himself. noone comes close.Richard didnt only do comedy he gave a lot and brought whites and black together.this is the only guy who has tears coming out of my eyes when i watch him. Rest in peace buddy - preachinpreach
Rich is the best hands down. The measurement is stand up comedian, did you listen to his work? If you want to use T.V. shows or movies ok then did you watch his T.V. shows or movies. He had a comedy album that beat rb albums on the charts. Just cause it did not happen yesterday doesn't mean it's forgotten. Forgetting history is forgetting the present and the future.
Richard Pryor is Stand up comic and anybody that watch stand up comdians knows that "Marriage is really tough because you have to deal with feelings... and lawyers."
I am pretty sure that at least 90%, if not all comedians on this list pay homage to Richard Pryor. He paved the way for Eddie Murphy, Dave Chappelle, and so many other great comedians. He is a legend, well at least in this field!
I was 9 when I discovered my parents Richard Pryor live on the Sunset Strip Album and have been hooked on comedy ever since. Richard Pryor was one of the edgiest, funniest comics I have ever listened to.
This is ridiculous Richard Pryor is #12 wow! Who writes these lists... He is definitely top 3 all time. It's basically between him and Carlin and then everybody else. Russell peters as number 1 is a joke in itself. I don't even think he's funny. - Mcbloom
I have never felt like there was not enough space for my vital organs and my capacity for laughter... Until I saw this guy's stand up! Ridiculously funny!
. Pryor this low? He is the prototype of all stand up comedies and he discusses social, political, economic etc. . . Issues in a humorous way. If he is not Number one, then he should be Number Zero.
RP just the genius. He is the best. I wonder if this guy was born to be a stand up. He did so many also. If he had only devoted himself in stand up comedy, what would he have become. But I will contribute all my life to replace him.
Kids, take some time out to actually watch some of Richard Pryor's stuff; then you will know how mislead you have been.
Richard Pryor is the comedian who set the standard for comedians. He was the original. He talked about everyday life that you could relate to.
No question Pryor is Number 1. As evident as I a black woman in my 40's and my husband's nephew a twenty-something White male can attest to since both of us were balled over with laughter listening to his Pryor's standup.
Yes, Richard Pryor was all by himself and changed comedy forever. Johnathon Winters was the first to do improv. and Richard took that to another level. He got famous clean and then talked like they really talked like. Some guys never served their country and heard talk like that before. If you didn't live where Richard and other black men lived and grew up.. Don't judge him or them.
In fairness, king richard should not be in contention... Pryor is like beethoven among classical composers... Too great and original to be compared with other mortals!
He's the core for all other great comedians. Here's how it works for me: Eddie Murphy was inspired by Richard Pryor, and Gabriel Iglesias was inspired by Eddie Murphy. - Lasvegasxavier
Every comic on the top ten list here would say that Richard Pryor was ahead of them. Steve Martin, too. And Louis C.K. he's the current number one.
Richard pryor is most definitely the one man who did the most with stand up comedy throughout his career. Its very safe to say anyone whom feels differently has a very poor sense of humor.
I'm 16 years old and Richard Pryor is the best comedian ever to live in the world and the next. Richard Pryor was the first hardcore comedian to bless the stage and the big screen. He should be #1
At the time of this writing Richard is #3. I think he deserves the #1 spot. He may have been crude in his comedy, but he CHANGED stand up comedy for generations to come.
Everybody should watch him before voting to others. Still laughing 1 month after hearing his jokes haha - BigZ
Richard Pryor is one of the greatest comedians and I'm not saying that because he's no longer with us but because he took his situations in life and used them to his benifits. Making people laugh came naturally for him. Thank God he brought him into so many ppls life and took us out of our own situations and gave us something to laugh about and with. Susan - susankramer
A lot of funny people on this list - but Pryor takes the cake. The original. If you love comedy, do yourself a favor, check him out. His stuff is still funny today.
Definitely. A lot of younger people voting here. How can you have Dave Chappelle before The king Richard Pryor? It was he who paved the way for a lot of these people listed above. His comedy was raw, uncensored and unmatached!
Related Lists
Best Richard Pryor Movies
Best Richard Marx Songs
Best Cliff Richard Songs
Best Little Richard Songs

Top 10 People Named Richard