Robin Williams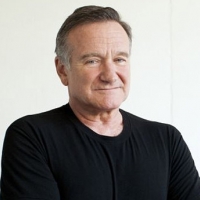 Found on i.telegraph.co.uk
Info
Robin McLaurin Williams was an American actor and comedian. Starting as a stand-up comedian in San Francisco and Los Angeles in the mid-1970s, he is credited with leading San Francisco's comedy renaissance. He died in 2013
Comments
Top
Popular
Newest
No script needed, Williams is quick on his feet and sure to get a laugh. Incredibly in tune with the human condition. Love this guy!
Surely a tragedy and will be missed by many. Williams achieved tremendous success by anyone's standards, and this man will be remembered as one of, if not "THE" greatest comic genius of all time. And that is incredible, because the man was NOT funny at all. If anything "good" comes as a result of his passing, let's hope that the terribly debilitating disease that "depression" is, gets much needed attention.
Robin Williams should be #ONE (1)! He had the quickest wit in the BIZ. ! Our brightest star has ascended to the heavens, to twinkle down on us. What memories we have of him. NO ONE was quicker with ad libs, NO ONE. Joan Rivers was right behind him. Quick, until the end at 81 years old. Someone asked her about something stupid Selena Gomez said, Joan zipped back, oh THAT college graduate!
He was a gift to all of us. definitely he deserves the #1 position. Great sense of humour, terribly funny in all his shows and in the comedy movies, played with real emotions in the HBO specials. Thanks for those unforgettable moments. Rest in peace.
"The Statue of Liberty is no longer saying, 'Give me your poor, your tired, your huddled masses. ' She's got a baseball bat and yelling, 'You want a piece of me? ", "We had gay burglars the other night. They broke in and rearranged the furniture. "
- kayebea
Amazing! I have never before seen a person his age but with such great humor. Every time I see his face I get the chills. Not that it would be bad but because it might be too goo. Robin Williams should defiantly be in at least the number two spot
He's amazing! It's impossible to tell the difference between scripted and unscripted with him. There was one time where he was in the middle of a bit and a siren went off. He immediately said, "Oops. There goes my ride." He was blindingly quick, and was easily the greatest ad libber of all time.
Probably one of the funniest men of the last millennium. One of the best of not our time, but any time. Very few could ever get to that level to the point where he is as admired by his fans, as he is also by his peers.
Sometimes Robin Williams gets a bit too smart with his quick fire retorts, but I do love his versatility. I mean, stand up is one thing; Mrs Doubtfire is something completely different! And as for God morning, Vietnam!
So random and can switch flows from joke to joke that should be nonsensical disjointed, however he make it work like clockwork and is always a good show to watch from like at the Met to weapons of self-destruction.
! He was really funny. Made us laugh. Made us feel good. Especially in Flubber and Mrs. Doubtfire. I never seen all of his stand-up, but his movies speak for themselves. His death was on the first day of school last year! Wow. RIP Robin. He's awesome. - JHLover321
Maybe he is partly telling stories (funnies) he's heard before to share the good feelings jokes can bring:-) Why not spread the laughter, and share the funny and the good more!!!
Nobody does quick witted instantly improvised comedy like the one and only robin williams. I have a condition where I tend to watch too much comedy and I have to say it started after I watched His stand up about president bush.
ROBIN WILLIAMS IS DEFINITE NUMBER 1 IN EVERY POSSIBLE WAY. NO COMPARISON TO THESE OTHERS. IF ANYTHING HE'S IN A CLASS BY HIMSELF. I
WOULD GO ABOUT ANYWHERE HE'S APPEARING!
He's great, and at his best in front of a live audience! Plus he had stood the 'test of time', he's been at or near to top of the comedy scene for over 30 years!
Robin Williams is by far the funniest man who has ever lived! Who ever made this list is seriously messed up in the head! You have people who should not even be on this list and others who should be but are not!
No one can beat this man. He has the quickest wit I have ever seen or heard. Coupled with this he is a fantastic actor. I never tire of watching him, his role in the birdcage was amazing. I have seen that movie about 15 times and I still miss little bits here and there.
I would love to have dinner with Robin Williams.
his comments on gay marriage at at Bill Clinton dinner were the best ever

Why shouldn't gays be as miserable as the rest of us That's classic.
who doesn't steal material, hes funny as hell..."robin on golf"

So hilarious in Mrs. Doubtfire! I love his fun loving energy and his smile. His impressions are amazing and I've never met anyone who didn't think he was not hysterical. - kellihoegger
Robin Williams is hilarious! You have to watch his stand-up more than once, though. He moves so quickly through jokes you miss some while laughing at the one before it!
Robin Williams is the god of comedy as well as acting. He is just so quick and is the most talented comedian I have ever seen. Also the master of improv, my hero, and the best stand up comic ever
This guy is funny, never saw his T.V. Show, but he still breaks the back of most other comedians today. Recommended over all others.
The best gifted comedian I have ever seen, his natural talent is second to none and his style is no repeatable. He is by far the most talented stand up comedian of all times
The best, the original and purely funny. Educating and honest. Love this guy. He is cool.
Related Lists
Best Robin Williams Movies

Best Characters Played by Robin Williams
Funniest Robin Williams Movies
Top Ten Best Things About Robin Williams