Russell Peters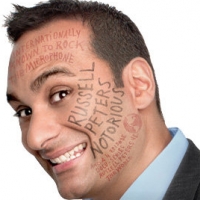 Found on entertainment.ie
Info
Russell Dominic Peters is a Canadian comedian and actor of Indian descent. He began performing in Toronto in 1989 and won a Gemini Award in 2008. He currently lives in Los Angeles, USA.
Comments
Top
Popular
Newest
Russel Peters? HILARIOUS! He can turn anything into a joke!
R. P MOM: russel! Why didn't you clean your room when I told you!?
russel: Shut the hell up!
R. P MOM: HAHAHAHA
I mean like he could joke his way out of prison if he started a terrorist attack!
And I love all of his jokes about different races he could say the most awful racist things toward you and you wouldn't even realize how hurtful they could be but your laughing even if you did understand how racist it is! He says things that a normal person would put him in a body cast for! But you don't care because he sugar coats it in a way. That and he probably has like eight thousand body guards backstage, if he didn't have them he probably wouldn't be this kind of comedian!
I laugh at his jokes no matter how many times I hear them... I love this joke though:

"you know women talk all business on the phone and men talk pure do-do"
"you hear a woman talking and the phone and shes like-yeah id like chairs with that and have your people call my people okay-(phone turns off)"

"you hear men on the phone and they try to make it look cool- talk to me... Yeah.. Oh.. Lap dancing I'll meet you there (turns off phone) business baby business (he says to wife)" - wildog47
Smooth flowing, easy to get comedy, simple yet brilliant. Russell Peters stands head above the rest. Russell finally let the world know about the secret manual for ladies that I have been asking my wife to reveal and when she saw Russell, although she cracked up laughing till her cried with tears out of laughter (secretly I was wondering if she was also crying about the disclosure of the hidden manual), I noticed the look that Russell mentioned about. Yes Russell Peters is The Man
This guy is brilliant. As a guy from Calcutta that grew up in North America I can relate to Russell Peters in a way I've never been able to relate to a Comedian. When I watch Russell Peters "I feel like a Mexican from East L.A. watching George Lopez. " Russell is always "right on the dot" with his jokes. Other comedians can try to compete with Russell but they'll never get close.. And I wouldn't attempt to get to close or else... "somebody's gonna get a hurt real bad"
Okay, George Carlin is good. Not bad, but I think Russell Peters is the best stand up comedian ever! My goodness! I don't usually laugh when a comedian does stand up comedy. I kind of just sit there like okay, "blah, blah okay, kinda funny, not funny.. " but Russell Peters makes me laugh every second! I love his accents especially his Chinese and Indian accents. I can't even breath sometimes when he does what he does. Hilarious guy man, definitely the BEST!
I think the guy is a genius and very very very funny. I love his shows, especially when he is showing the Chinese stereotype. So so authentic in every way!
Russell Peters has an extraordinarily pleasant and a refreshingly unique style. His jokes are drawn, many a times, from everyday life observations which makes them quite relatable. His is a truly funny character. I just hope he keeps making new jokes, because once you run out of watching Russell Peters, it's quite upsetting that there isn't more...
His words are simple enough for anyone that knows English to understand him, his facial expressions are great. These two are what make a great comedian in my opinion he is probably the most popular comedian in the world right now. Since he is Asian... Imagine his fan base if you know what I mean..
oh come on , be a man !! he's supposed to be in the top 10 .. better put him in the list , or somebody's gonna get a hurt real bad .. im not gonna say who , you should know the person very well .. doggie style - doggie - dog !!
He's the most hysterical comedian I've ever seen! He's not as ignorant as you may think of many comedians to be. He balances out his comedy from a variety of different background, which I LOVE! He's just straight up simply funny to anyone who watches him! I highly recommend!
R.P. is d best comedian alive in this world... He has d crown of champion of all d comedians in d planet n others known or unknown... This person will be remembered for thousands of years for his comedy n d way of presenting himself among d people...R.P. you r d best person I have ever known in my live... THANK YOU for what you do...
The most gentle comedian. Unlike others he does not get to deep on sexual issues. I like the Indian and Chinese accent he does. From all his jokes I like the military one. I get a stomachache by that. Keep it up men!
I love him so so so much. He is so funny and cute. He is good at live show. The materials of his jokes and acts come from the audiences and this can really make the audiences feel involved because it is related to their lives and cultures. I highly recommend you to watch his shows
I've seen all his shows on dvd and no matter how many times I see it I laugh my ass of I don't know how he does it but he's just brilliant I laughed so hard one time I fell on the floor. KEEP ON rocking' RUSSELL WE LOVE YOU HERE IN ROMANIA! HEY BE A MEN! ))
I love his cultural jokes! I noticed some of them as well in the past, but the way he talks about them is so funny that I cannot help laughing. Facing with cultural shock, he uses his own experience to make examples, which makes the embarrassment itself funny.
russell peters finds comedy in day to day events without sounding too crude or cursing a lot and he's way better than steve martin at least, he should be # 2, I'm surprised chris rock is not in that list
Every time he appears on the stage and says a simple "hello.. " will break you into splits. He's spontaneous, unpredictable and spares none : jokes on Indians, Americans, Chinese and even on his dad and wife! If you take offense even after this, then comedy ain't your cup of tea maybe
He has got to be the funniest person I have ever seen! I went to one of his shows, and I was about to call the ambulance to tell them " come and pick me up I'm going to die of laughter. " you have got to go and see him in person! I promise that you will not regret it.!
He tells it like it is! But in a funny way! His shows make me laugh so hard! Yes he make poke at different nationalities it he also pokes fun at his own background! Russell Peters is fantastic and can't wait for him to come this way again and perform.
Amongst all the others here, including Eddie Murphy and Bill Hicks, this guy stands out! His accent mimicries are unmatchable, comedic timing is flawless and the way he creates jokes while interacting with audience is something a natural comedian can do.
The most natural comedian plus a very versatile actor. His voice clarity as well as his facial expression just makes him one of THE best I have come across. He is definitely the pick of the comedians. I am sure many would agree to that
The Guy is a racist but yet his precision through which he describes peculiar habits of Asians is immaculate. And the best part is his Mimicry of his Father. "Somebody is gonna get hurt real bad"..
Funny and engaging. I saw him live in Toronto and in LA and both those occasions I almost burst a lung laughing. His take on Asians is so true that you have us all laughing at his insults. Love your comedy man
Screw george carlin this guys the king of comedy. I have no idea why he is not number 1 and he deserves better than this. He is one of those guys you just don't get tired of. He is amazing
I think he is the best comedian that I have seen so far. I watched all of his show that were awesome! Any part of show that just makes you laugh all the time, and you can't even forget about that for few days.