John Mayer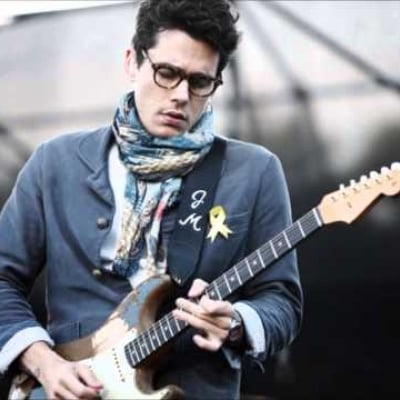 Uploaded by LightningBlade
Comments
Top
Popular
Newest
If you don't consider John as a top 10, then you probably also think his only song is Wonderland. He is probably a top 3 or 4 right now and will finish his career better than that. Not taking anything away from Hendrix, certainly not, he's a man amongst boys, but he simply didn't have a full life to finish what he started unfortunately for this world... Mayer and others are picking up what he left us and who knows where it will go. In conclusion... Mayer is sick.
John Mayer is the best guitarist on this list. He does not get the respect as a guitarist that he deserves. The baby boomer generation needs to get off this Clapton, Hendrix, Angus Young, Slash thing and give credit where it is do. He is about much more than teeny bopper pop songs, this guy can shred and has the most soulful licks I've ever heard. You don't believe it? Catch one live show, better yet YouTube Gravity Live "Where the Light is". 90 is ridiculous. He is the best!
I'm not even a big fan of John Mayer, but I have to agree that he is one of the best guitarists of the current generation. But this list is totally messed up. Billy Joe Armstrong and Kurt Cobain near the top? This is a list for greatest GUITARIST not best frontman or coolest band... They both technically suck at their instruments.
John Mayer is easily the best guitar player playing right now. Watch him play Neon from the Live in L.A. Album and tell me there's another guitar player ever who can slap an acoustic with that kind of rhythm and precision. He's incredibly versatile in his song writing and is extremely melodic in his solos. It's not like he rips a super fast finger tap solo behind a basic chord progression. His solos sound like a voice that sings behind a well thought out rhythm. Easily a top 3 guitarist of all time.
Where the hell do these voters come from? John Mayer is the best guitarist of the current generation... Add to that his impeccable vocals, and you get a dream package. Anyone doubting me should check up on "Slow Dancing in a Burning Room" and "Bold as Love" (cover)... If that's not good enough, nobody above is good enough. Surely he is a must in the top 10.
John Mayer is a genius on the guitar. He draws his inspiration from the greats, and does them JUSTICE. When he plays Hendrix and Clapton, I am not violated by the covers. He doesn't shame them. He is flawless. Listen to his John Mayer Trio stuff if you haven't. John Mayer is amazing.
He should at least be in the top 20. He is one of the best guitarists of our time. His solos in Where The Light Is Live are great. Especially gravity. Give him a chance. - judgeNugget
Very good, when he actually tries. To catch his good side, you have to be careful what you listen to. For example, a lot of his work just flat out sucks. However, most of his work is very skillful and, if found, will prove to you that he deserves to be higher on this list. Maybe not top 10, or top 20, but higher than 73.
This guy is undoubtedly the best guitarist making music now. Every song has cool parts that will almost have you singing them. If you want to hear an amazing guitar part, check out Neon and Love Song For No One, or for something a little more mellow, Queen of California. - BassettCritic
John Mayer is by far the most talented guitarist alive. Others can't even touch his skill level. It is a disgrace how low he is on this list. No disrespect to others but he is much better. Definitely worthy of a top 10 list. I've had the privilege of attending multiple concerts including a few of Mayers. His solos and playing ability is above none other. Shawn Mendes thinks he is the best, and Eric Clapton has called him a master. Please move him up this list.
The greatest guitarist of our generation. Just because Hendrix is the most popular doesn't nearly mean he is the best. Jimi wasn't better than most of the guitarists on this list. John plays things that I'm almost sure Jimi would listen to and scratch his head, wondering how the heck he played that.
He's amazing! His guitar solos are extremely soulful and touching, his live performances are as great as (sometimes even better than) his performances on records. I truly believe he is one of the greatest blues guitarists of all time. He should definitely be in top 20.
My Favorite Best Of John Mayer Is His Singing Voice How Cute He Is And He Is A Coolest Guy Ever I Went To John Mayer's Concert With My Middle Brother And Listening To John Is Incredible Night Of My Life I Had To Miss School The Other Day Because It Was A Long Night Concert And I Got Intrested Of John Mayer Because I What To Think Of How Good He Is Ans My Favorite Song That Is My Favorite By John Is My Body Is A Wonderland And Bunch Of His Other Old Songs I Heard Of But I What To Know His New Songs That I Never Heard Of Before And He Is So Good With His Music Career And He Is My Favorite Singer And Guitarist
What is wrong with this list! John mayer is one of the best blues guitarist ever. And also got to be one of the best acoustic guitar players. Listen to NEON, while he SING. The guy's a douche but no one could deny how great he is as a guitarist.
This position ain't meant to be for this great personality. On what basis do people decide the best guitar? John Mayer is the best! No matter Jimi Hendrix or Eric Clapton, John Mayer is the GOD OF THE LEGENDS!
This is a horrible list. If Mayer is not in the top 10, just keep listening. If he stays committed there is no question he will be the best. Even by- passing Hendrix, Clapton, Page, Stevie Ray and Van Halen.
Amazing blues guitarist, just listen to any songs on the album continuum, where the light is or try! His skills are amazing and really show in his music, and he has a great voice to boot!
John Mayer kicks serious ass. Watch any of his live dvd's and you'll be convinced. Does a pretty sick cover of Hendrix's Bold as Love! Best guitarist of his generation by far! Come on and vote people!
He's a genius when it comes to the guitar. Even Eric Clapton agrees.
He is the savior of blues for this generation. Not many people appreciate his genius because of his pop persona, but his talent is remarkably on par with the best that have played blues guitar - this includes his biggest idol: Jimi Hendrix. There's a reason why Eric Clapton, B.B. King, and other iconic guitarists praise this talented young man - he is one of, if not, the best guitarist of this generation. Don't believe me? We'll see in 10 years.
Yeah me too!.. I can't believe it.. John mayer must be at least on the top ten. He plays the guitar so gracefully and he's got amazing voice.
He doesn't get the reputation he deserves because of his genre, but I dare you to listen to a live DVD and try to argue this mofo isn't EXTREMELY talented.
Find me one person of current generation guitarists who can mirror image blues style Hendrix as close as this man can. And no, Stevie Ray Vaughn is not this generation.
Almost as good as clapton and Hendrix
Maybe the best songwriter of all time and most transcendent guitar player of our generation no doubt. All time great in my opinion! Still much to come!