Rory Gallagher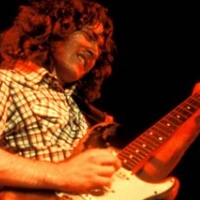 Found on ichef.bbci.co.uk
Info
William Rory Gallagher was an Irish blues and rock multi-instrumentalist, songwriter, and bandleader.
Comments
Top
Popular
Newest
Rory played with every fibre of his being and was up there in the world's top 3 or 4 guitarists all his career and still is. The music was his priority - he could have sold out on his raw gut music and become a commercial rock star but he was a true human as well as a true musician.
I love Jimi Hendrix, Jimmy Page, Stevie Ray Vaughn, Ritchie Blackmore etc. But Rory is the ONE who opened the door to the Blues for me. I am a fan for almost 40 years now and I never got bored. He was true to his music. Just like Jimi Hendrix, Jimmy Page and others. But for me Rory was and still is my hero (musically speaking). I have seen him more than 10 times and I still miss his concerts. For me Rory Gallagher is the ONE!
I think rory gallagher was one of the greatest guitarists of all time because whatever he had in his hand, he could make it sing. Whether it was his battered old strat, his martin, his mandolin or the steel guitar he was just unbelievable. He was once described by Hendrix as the greatest guitarist in the world, and if you have seen him live I bet you would agree. But the most important thing, it doesn't matter what anyone else says... He's from CORK!
Rory was the best. Walk on hot coals from Irish Tour. Just sit back and listen, nobody else could play it like that. When Jimi Hendrix was asked whats it feel like to be the best guitarist in the world he said "You better ask Rory Gallagher" John Lennon went to see Rory and said "I have seen the future of Rock n Roll, its Rory Gallagher" Just listen!
In a just world people wouldn't instantly think about Stevie Ray Vaughan when somebody drops the words "battered strat" and "blues god" but Irish guitar wizard Rory Gallagher.

So do yourself a favor and buy his records, enter his name on YouTube and check out some of his numerous, stupendously rousing live performances captured on film - and let's all try to make the world a juster place.
There are guitarists here ahead of Rory Gallagher who don't rate themselves as highly as him. Brian May, Slash and Mark Knopfler to begin with. This chart has obviously been voted on by mostly Heavy Metal lovers in America. Buckethead ahead of Rory is laughable. Peter Green, Rory Gallagher, Jimi, B.B., Muddy Waters and Buddy Guy. I've seen Clapton and he was nowhere close to Gallagher as a live performer. Santana was also excellent.
Rory was talented in many genres, not just rock. He was the greatest player and dedicated his life to his music. He's admired not just for his hard-work, pleasing his fans but for being a genuine caring human being. Rory never wavered from his belief that he didn't need to do what the music giants wanted him to do. Rory was multi-talented and deserves more attention.
Rory played for his fans, not for the fame or the money, but for the sheer love of the music. His skill on that old battered strat' was amazing and his live performances could raise the roof, wherever he played around the world. 16 after his death and his popularity is still growing. Rory Gallagher is Rory Genius!
Rory Gallagher was one of the best guitarist in the world but before being a great artist he was a great man and stay himself for all his life. Rory Gallagher is dead but his performance is still there. The recognition is with the fans. I can see that Rory Gallagher is still alive as long as all his fans continue to listen his performance. Respect, Mister Gallagher!
If Jimi Hendrix said Rory was the best who are we to argue? For passion, improvisation, blending of styles and genres (blues, rock, country, jazz) and for always being a "people's" guitarist, not one that would end up in an Armani suit, he has my vote.
If I had to go to a concert where all above and all below were playing the same night, it would be a Rory Gallagher concert I would attend for I know the entertainment value alone would be the best, if you are a true rocker, if you are a guitar enthusiast, if you want your mind blowing away by one performer and his band then you will be there with me that night.
Ask this question in other languages such as French, Spanish, Greek, German and Japanese and you will then see Rory's standing rise into the top 10. And when that happens, others will take notice and realize who is the best Guitarist of all time really is. Rory no doubt will be No1
Just one thing to say about this curiously underrated guy :

During an interview, Jimi Hendrix was asked by a journalist "How does it feel to be the best guitarist in the world? "

He answered : "I don't know. Ask Rory Gallagher."

Nothing else to say. The number 1 of this list considered that Rory was the best. - Pasympa
It's well seen that Rory was a legend in his time but that his music has been forgotten by but a few. Hopefully all the lovers of great guitar will buy his recently released CD and appreciate his talents. As noted below; the Hendrix quote is correct so Rory should be up and above Jimmy...
As a fan since I was 12, I have to say, he was the best rock and blues guitarist I ever heard. He could play in almost any style and emulate anyone but like all the best musicians, he learned what everyone else played and never played it. An example to us all.
No one better than him. He was the best slide guitarist (ahead of Duane Allman (RIP Gregg Allman)), the best guitarist, and the best blues player. He had so much passion, and there was a fire burning as he played live. He didn't care about the money and being on top, he did it for the music. He was special. He also played a great mandolin and banjo.
I'm not going to say he should be number 1. But not to have him in the top 10 is crazy. Slash at number 1 is nonsense. Rory was ten times the guitarist Slash will ever be. But people are beginning to recognize him more now. In the rolling stone list at 57. Still too low but it is an improvement on him been left out in th 2003 list.
What an absolute hero, Rory Gallagher introduced me to the blues and he also made me want to pick up the guitar I have so much to thank him for, and he deserves so much more recognition for his pure genius, and his ability to make the guitar a part of his soul.
One of the best THREE Guitarists on this list, surely. But the best MUSICIAN, COMPOSER and HUMAN BEING by far! And: Listen one time to the "Walking On Hot Coals" - Solo You never will ask for any ranking lists which can't express how deep feelings can be expressed just on six strings.
Passion, amazing guitar skills, dedication and great self-penned songs; but what really set Rory Gallagher apart from most of the other guitarist was his complete devotion for music, his vision. Never bowing to the latest trend, he simply kept doing what was his best: timeless and impeccable.
Easily the best! He should be way up the list beside Hendrix etc.. There's no way he should be this low down. However he wouldn't care... He just enjoyed played music.. Never cared about fame or acclaim which is why he didn't join The Rolling Stones when they offered him a place.
I suppose this is the price you pay when you are a true artist. Avoiding being commercial, Rory is not well known to most listeners. Too bad. Still, we few, are lucky to have stopped, listened and eventually adored this amazing musician. Rory On!
I have to agree, most of the guitarist owe something to Rory in one way or another.. He's played with them all, from BB king to slash. Mark knoffler used his tunes, he made Brian may what he is today.. Jimmy page couldn't hold a candle to this guy, that's probably why he snubbed him at the recording studios.. Rory turned down playing with the stones, which is just as well cause then you would have known how crap Keith Richards really was. Rory played all over the world from USA to Japan but was ignored in Britain because of the Troubles and that he was Irish.. My goal in life now is to play like him, but I know that deep down that's just a dream. If you think you know your guitarists check out Utube and change your perception of a great guitarist...
Rory stayed true to elementary Blues and himself. He did what he did well, knew it and honed it. He gave Blues a quality that surpassed his mentors, in my never-to-be-humble opinion; not just interpretation, but a comprehensive ability to express it in a superior arrangement to his predecessors.
Number "1" Slash together with a lot of these other guitarists have been influenced by Rory... Enough said! For those of you who haven't had the honour of seeing Rory live then get tuned into YouTube to see what you've missed. The man was Sensational.
Related Lists
Best Rory Gallagher Songs