Tommy Joe Ratliff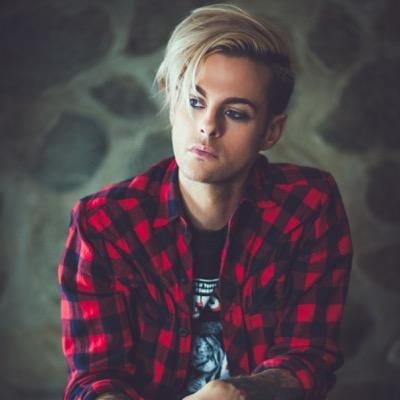 Uploaded by XtremeNerdz12
Comments
Top
Popular
Newest
He is so very talented. There are several videos on YouTube that prove just that. He can play all types of guitars from electric and acoustic to bass and does so with ease. As the only original member of Adam Lambert's backing band he has proved just how good he is time and time again. If you ever get the chance to just hear him play alone by himself as I have you will be mesmerized and sit there in awe speechless. When he was done all I could say wow and then damn that was so good. He is amazingly talented and keeps getting better and better. He should be ranked much higher then 45. Tommy you rock!
Not Only Tommy Joe Ratliff is a high ranked bassist, he is also a very good & talented Blues & funk guitarist.. & beside his talents, gorgeous looks and amazing personality, he is the most humble person you can imagine. He cares for his fans/friends and family more than ANYTHING in this world.. He is not such a kind of a person who runs after fame or fortune... He is not a copy cat.. He is ORIGINAL and respects every other talented people out there... He is UNIQUE..
I have seen Tommy plays guitar, that's AMAZING! He enjoy the music rather than be a star! He is the best bassists and guitarists in the world!
Amazingly talented! Not just at the guitar but also the base guitar! He is one of a kind, very amazing and shows such charisma and character on stage! He makes his fans & the audience want to join in! In my opinion, Tommy Joe is the best of the best! If you haven't listened to him play and/or seen him play, I highly recommend that you do! You will NOT be disappointed!
He's a very talented guitarist/Bassist through many years of hard work, determination, and just of his overall passion for music. And I believe that is what it takes to be a guitarist like no other. He needed to learn how to play the bass in order to play for Adam and he got it done. Tommy Joe Ratliff is someone who goes after what he believes in no matter what it may be. He's not afraid to go the extra mile to please his fans all the while enjoying doing so becuase it's what he loves most, but most importantly, he's not afraid to be himself and live the life he wants.
His sound is bluesy, and full of emotion. He's such a sport on stage, giving room for the singer and the band in general, but he's also willing to take the spotlight for a second if he absolutely must. :D He's energetic, fun, cute, and badass, and he shines on stage. A true artist and a wonderful supporter of the singer.
He really deserves to be #1 all the time and everywhere! This is enough to mention about his talent that he's one of the best members in Adam Lambert's band! Best definition about both, Adam & Tommy, presents when you describe them related to each other! Idols of music history!
Tommy Joe Ratliff is a guitar player but he can also play the bass. He managed to learn how to play it in such a short period of time it's impossible. He isn't just a good guitar/bass player. He's also a wonderful person with a great personality. He's friendly and very understanding. He's self taught which makes him even greater.
No matter the music genre, I love music that makes me feel something, and I find no matter what Tommy plays, he has this quality about his playing that resonates with me every single time. Didn't happen so much on bass but his guitar skills just blew me away. Every time.
Tommy's love for the music shines through when he plays. He learns his notes and music very fast. He's only interested in supporting the star (singer) rarely taking credit for a great concert. He'll do anything to make the show the best.
Tommy is the most incredible bass player I have ever seen, he is charismatic talented, he's fun to watch on stage he's mesmerizing. He just makes your heart skip a beat every time he plays he is awesome and everyone loves him to death.
The way he plays guitar and bass is incomparable. With his own understanding of the music, his performances can hold all of your passion and love! The most importantly, he only wants to enjoy the music rather than be a star! This is a real musician!
Tommy Joe plays bass and guitar is incomparable and gorgeous! The most importantly, he only want to enjoy the music rather than be a star! This is an really musician! He was shining star in the stage!
It takes someone special to learn how to play bass self-taught within months as well as the guitar skills he's been honing for years (also self taught). He's breathtaking to listen to and his solos are some of the best I've heard in recent history.
Tommy is one of the most talented guitarist alive today. The voters need to broaden their horizons and listen to him play, he's amazing. He plays many genres effortlessly, from blues to rock to metal to pop. He's absolutely captivating when he plays. His passion is only second to his talent.
I think Tommy Joe is the sexiest thing walking his guitar skills are amazing I saw him and Adam in concert here in VEGAS in 2010 and Tommy was just Amazing... I think he's the cutest guy I have ever seen in a long time He Looks so SEXY no matter what colour his hair... Is
Incredibly talented guy. He's a real bad ass! He deserves to be in the top 10! And what is really important... He loves what he does. He's one of the greatest guitarists/bassists I've ever heard!
Tommy Ratliff is an amazing and very talented guitarist. I love watching him on stage because he is so happy doing something that he really loves and it just shines through in all of his performances.
He is completely amazing!, He has so much talent that he should be high up on this list! He loves what he does, he truly loves his music and that comes across when you watch him play, I personally love his personality and persona!
I have heard Tommy Joe play live with Adam Lambert as bass player several times. As well as another couple times in LA at the Mint and Molly Malones. He is amazing! Effortless playing! I love him on bass and can't wait to hear him as lead guitar. GO TOMMY!
Tommy is an talented guitar player! When he's onstage you just can't take your eyes off him. Tommy deserves recognition and respect for his hard work!
Just... Wow!... I've never seen someone with so much talent... Amazing!... Plus he had beauty & brains... Those three are an unbelievable combination... He's beyond anyone's dreams... He so deserves to be number one...
The only reason Tommy is not at the top is because he is not well known. If he was he would definitely be NUMBER 1! I mean seriously this guy has talent, and not to mention he is self taught!
Tommy Joe Ratliff is a extremely talented guitar player. I love the funk and blues emotion he brings to Adam Lambert's songs. He is also one of the sweetest guy you would want to meet!
Personally for me, Tommy - the most talented, best, most likeable, surprising and devastating guitarist in the world! I love him with a guitar without it