Top Ten Indian TV Actresses
The Top Ten
1
Sanaya Irani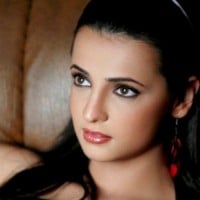 Sanaya Irani is an Indian model-turned-actress. Her first major role was in the Indian youth show Miley Jab Hum Tum.
Sanaya is a very hardworking actress as Hindi is not her ancestral tongue. She is very beautiful and gorgeous especially her eyes. She is mainly famous for her role as Khushi Kumari Gupta in " Iss Pyaar Ko Kya Naam Doon". When she acts, she really thinks about the character that she's playing and tries to relate to her. I love sanaya's personality: she is funny, kind, hardworking but also very innocent. I hope she gets best T.V. personality of the year as she really deserves it. She puts a lot of effort and work into it and I hope she will become very successful in the future.
She just amazing no words to describe her it term of personality or acting she just amazing. She is a brilliant actress,she blow your mind. She is a great idol, humble, kind, sweet, genuine person, crazy, funny, cute, wherever she will put a smile on your face. And she do what make her happy not what the community wants her to do. She is beautiful inside and out. So gorgeous and beautiful. She is a loveable person and adorable.. she is hardworking actress, She is queen and barbie of tellywood. She is globally loved. She made be in love with tellywood and Bollywood actually. She is loyal to her fans and family and friends. I love her so much. Have blessed life full of happiness and success sanaya.
My opinion if it counts.. Then I am speechless. No words to start from and no words to end with. Sanaya is best actress the television industry could have got.

Sanaya Tops the list in most desirable and second only to Priyanka Chopra in the most sexiest female.

Acting skills no one can be as good. Dancing too. As a person, though being a celebrity, Sanaya is the most down to earth person. Always concerned about people around her.

Sanaya Irani is too adorable..
Sanaya Irani is the best Indian Actress with amazing acting ability, versatility a beautiful personality, unequaled beauty and charm, and a loving nature. Her magnetic personality combined with her great acting skills bring to life and make unforgettable the characters she plays in a way no one else can, making her irreplacable in all the roles she plays. The T.V. industry is so much richer with her, and she well deserves title many have given her - Queen of Bollywood T.V.
2
Surbhi Chandna

Surbhi Chandna is beautiful inside out. Best celebrity I have come across. She has such a positive aura. Her smile is lit. She is very graceful and humble.
As an actress she's blessed. She herself doesn't know how talented she is. She is very natural be it an emotional scene, intense, romantic or comic. She is truely Versatile. Expression Queen. She is been recognised for it. All the awards and accolades are the proof that she is giving her best and people are acknowledging her efforts. Wishing her immense love, laughter and success.
Surbhi Chandna is an Actress who is phenomenal. Her portrayal of characters are so amazing. She just doesn't act but her eyes emotes. You'll never feel she's acting instead she makes it seem real. She knows to live characters and makes it come alive. In Ishqbaaaz her portrayal of different characters beside Annika proved it time and again. She can change her expressions in a seconds and so effortlessly. Her screen presence is stunning.
She is the Best Actress of Indian T.V.&the most versatile actress I have ever seen with her acting prowess reminding me of veteran seasoned actresses of yesteryears. She very well deservingly won the AVTA 2018 Best Actress award & ITA 2018 Best Actress award & Gold Award 2018 for stellar performance of the year. She lived Annika & made millions live Annika bringing her to life. She is the heart of Ishqbaaaz & TRP Queen because of whom Ishqbaaaz is alive today. She nailed so many characters on one show showing how her natural acting talent & versatility are unparalleled.
She is the most versatile actress. Never seen such a beautiful & strongest character on Indian Television before. She carried the NayiSoch of StarPlus & made Ishqbaaaz & Shivika a BRAND GLOBALLY. Won 16 prestigious awards for playing Annika. In 2018 she won 8 awards ( including the Best Actress in Indian Television Academy Awards & but Female Actor of the year in AVTA 2018). She played many characters & shades beside playing Annika. Its an era of Surbhi Chandna & nobody can deny this truth. She yet again proved that asymmetrical art is still art. Her journey in 2.7 yrs tenure of Ishqbaaaz was phenomenal.
3
Surabhi Jyoti
She is the best actress by far in the Indian television. No fakeness, no attitude... I'm her fan since qubool hai. She aces every role with perfection. She is a trp queen and proof is that among all the seasons of naagin, naagin 3 was the most watched because it had Surbhi in it...it is also one of the most watched shows of Indian TV.
She is the mosttt beautiful girl I have ever seen... Beautiful inside out... A cute bubbly doll.. Charming and cheerful... Her beauty is something out of this world... She's heavenly gorgeous ❤️... Most versatile actress... and truly a bliss for itv... She deserves all the appreciation and love... She is the best...
You are the most beautiful and talented actress. You deserve some to be at the top
Surbhi Jyoti's jodi with pearl v Puri is best. You're the best for me.
4
Sriti Jha

She is so pretty
5
Nia Sharma

Nia Sharma is an Indian television actress. Sharma is known for portraying the lead roles of Anu in Star Plus's Kaali - Ek Agnipariksha, Manvi in Star Plus's Ek Hazaaron Mein Meri Behna Hai and Roshni in Zee TV's Jamai Raja.
I have crush on her... Seriously... The way she talks.. The way she shows her personality and attitudes in a very correct and positive way she is Litrely different from other people... She is just like transparent like a water...
Nia Sharma is a very kind girl with a beautiful heart. With her, what you see is what you get.She loves to work and she does her work fabulously.. She's a great actress and a great human being
A girl confident about what she does and her style statement proves it too. Have done all her characters with hard-work and sincerity and brought out her best. Golden heart and a pure soul and lastly she loves n respects her fans
Love her for what she is..No fakeness...And her love for fans is amazing...God bless her with good health and wealth and happy family
6
Asha Negi
I love dazzling smile.. Her attitude, her eyes, her nature in short I love her everything.
You are the most talented and inspiring actress,you always deserve to be top.
7
Jennifer Winget

The only actress on Indian television that can easily slip into any role.. She makes her character comes alive truly, all her roles have been uniquely different also the first actress ever on itv that played a grey role as a main lead and received both imence love and appreciation from the audiences and critics. Her powers as an actress are tremendous! a very talented and the most versatile actress to grace Indian screens she deserves the number 1 spot when we talk about top ten actress in ITV
Jennifer winger!
Nobody can even match her...she has immense talent and is such a versatile actress!...she does every role the best!...wining international award for a role is not easy...I think that if she enters Bollywood then all the other actresses will have to get a little aware because she wld be a very big competition for them!
Jennifer proved herself in every step. I think none of the TVs actresses has won the
international award like she got last year from Asia Vision Awards from Dubai for Saraswatichandra with Gautam Rode. I m proud to be her fan... Love you Jenny
You can't define what television is without saying Jennifer Winget. Hardwork, determination, humility an angel with a heart of gold. Only a few of the special qualities she possesses. She's given it her all, and earned her place in the hearts of many worldwide. The number 1 position only has one name written all over it! ❤️ JW
8
Sanjeeda Shaikh

According to me she deserves to be first on the list..
She is charming, gorgeous, amazing acting skills, dancer..
She can portray negative as well as positive roles
Sanjeeda is the best
Wow she is amazing
9
Sonarika Bhadoria
Most beautiful and talented actress on ITV currently. She lives the character she is playing. Love her for her down to earth personality. Rare gem.
10
Krystle D'Souza

Krystle D'Souza is an Indian television actress. She portrayed the lead role of Jeevika Viren Singh Vadhera in the show Ek Hazaaron Mein Meri Behna Hai.
The Contenders
11 Ragini Khanna
12 Rati Pandey
13
Ankita Lokhande

Ankita Lokhande is an Indian television actress. She made her debut in 2009 with Zee TV's soap opera, Pavitra Rishta.
She is the best
14
Drashti Dhami

Drashti Dhami is an Indian actress who works in the Hindi television industry and is a model and dancer.
Drashti is the most underrated actress and dancer. I really do not know your criteria for this list; but Drashti deserves to be there in the list. It's so unfortunate that her talent is always overlooked and most other less than mediocre actresses make such lists. That's fine. I am sure she will get her due. All the best Drashti; you deserve so much success.
Drashti Dhami is a very beautiful and great actress indeed. She is one of the top actresses in Indian Television. She is recognised for all her roles in her 6 shows. More than she have a great personality must say she is the most humble,kind person I have ever seen
Drashti Dhami is most talented T.V. persona! Fabulous acting and dancing+ the way her eyes speak! Alag se, all her shows worked very well on T.V., which means not only online viewers but also common viewers love her! Upar se she is very sweet and friendly as a person + very down to Earth even after so much success! And this is not just a fan speaking, even Bollywood's Bhaijaan Salman Khan praised her! Drashti Dhami is total LOVE❤
Drashti Dhami deserves to be on the top to be honest. She is amazing in every sense. An amazing talented actress, fantastic dancer. She is full package.
15
Tejasswi Prakash

A truly amazing person who is multitalented. She can act, dance and sing. She doesn't act for money or fame. She does it for herself because she enjoys doing it. I love her for what she is and she is herself.
She is most beautiful and versatile actress she can play any kind of role +ve,_ve,grey,navy she is an perfect example of an actor should experiment in every shade and she done it and proved her as an perfect actress by her phenomenal performance.

P.S she is an perfect example of beauty with brain.
She's humble and genuine. She is the most versatile actress of the ITV Industry who has explore so many shades through the different shows she has done so far.
Tejasswi only the best actress. She is beautiful, cute, sweet face and smile. Tejasswi prakash is my idol. Only tejasswi prakash is the best actress
16
Shivangi Joshi

She is a very hardwoking actress and also extremely talented. She is an asset to the Indian Television Industry! No one can match her level of giving expressions. It's very rare where you get to see an actress enacting the emotions their respective characters goes through through her eyes and facial expressions. Her dialogues delivery is damn good,she is the queen of voice modulation. She is currently the only youngest actress who is immensely popular amond digital and trp audience.
Shivangi is certainly the best among the T.V. actresses today. She is a complete package with good looks, good dancer and a brilliant actor! Her emotional scenes are treat to watch.. where many actors go overboard and are loud, shivangi keeps it subtle and real never over the top which is commendable at such young age! No doubt she is winning awards and hearts as well!
She has achieved a lot just in the age of 20, and will surely reach greater heights.
She has achieved many awards and was even placed as 5th sexiest Asian woman this year.
Her acting is brilliant and has a powerful execution which creates an impact on viewers.
Don't have words her I am just speechless about her acting and beauty she is angel of the T.V. industry she should be the first in the list she is the most best and phenomenal actress I just love her attitude hotness everything no words to describe her
17
Shrenu Parikh

Shrenu Parikh deserves all the love, success and popularity. She has a real personality who doesn't try being someone she isn't. She is the purest soul who believes in spreading love and happiness wherever she goes. Give her any role and she'll slay smoothly and effortless with grace. She deserves the whole world especially after the continuous bullying she has received in the last one year and still is getting the uncalled hatred by certain fans. I'm glad she has kept her name going in the search engine for all the good reasons. I'm happy that she finds happiness in literally everything. Wish her much better years ahead with lots of luck. She is a top listed actress and it's a proven fact. I genuinly respect her patience and dedication towards work. Shrenu, my love go and kill them with success!
Besides her beauty and charm her acting is so natural. She gives such a charisma to her heroes that once you see an episode, then you are attached to the screen. This is what happened to me. I was surprised to myself that I can be so much attached to a show. Never been before. Now I am her fan forever.
She's the most, purest, humble, grounded & down to earth. She is the most versatile actress of the ITV Industry which has explore so many character shades through the show being the first lead. She deserves to be in Top Ten & wish her lot of success in future.
She is one unproblematic actress who needs to be protected from all the negativities. 2018 has been your year Shrenu, and 2019 would be even better for you. All the best for whatever you have planned to do in the future. I pray you rule the iTV once again because baby you deserve every bit of success. xoxo
18
Helly Shah

She is the cutest and talented actress. Whatever she do she will give her best performance. She is bundle of positivity At this young age she achieved a lot and inspiring young girls. Her accomplishments has no limit will increase more and more in upcoming years
She is the best.The most amazing actress beautiful inside and out
The way she loves her fans and respects them is just amazing
She is rocking,bubbly and childish
and the way she plays the characters with so much of grace is really commendable.
She has achieved so many things at such a young age.
Long way to go girl
Love you
Most Beautiful person inside and outside.
Do a lot of hard work.
Love her fans so much respect their feelings.
Your smile is our morning energy.
A beauty which is unmatchable...Those eyes speak stories...Those lips carry the enigmatic smile which hypnotise the fans...Fighting Helly Shah!
19
Hina Khan

#HinaKhan, you are an amazing person I ever seen! You are the best actress on Indian television, which you proved by your different roles of #Akshara and #Komolika. Superb performance during #KKK8 and #Biggboss11, you are winner for me and everyone else in true sense. Your transformation from akshara to Hina khan is tremendous. You are trend setter, TRP queen, Stylish Diva, Best Actress, Melodious Singer and the list goes on. I'm also proud to be your fan. You are like family.
Hina is my favourite. She is the most cute, beautiful actress. Her smile is adorable. I love her. Her acting skills are just amazing. I love her in both of her roles Akshara and Komolika. For me she is no. 1.
Hina is the definition of girl power. Everyday she proves that a girl can do anything she puts her mind to and succeed in life by overcoming every barrier.
Hina Khan You are the most Hardworking And Honest Girl...!
I am your fan because of your Bold, Opinionated and straightforward nature...! You are cutie as well as hottie...Love you
20
Niti Taylor

Niti Taylor is the epitome of sheer gorgeousness. She is adorably cute, hot and Sexy all at the same time. What makes her unique is she is naturally beautiful and likes keeping herself natural without any layers of makeup on her face. Niti makes me connect to myself by the way she is so kind, humble and behaves ordinary like any other normal girl. For me Niti is just not an actress but my inspiration.
She is a natural beauty with natural acting skills, she can ace any role with ease, apart from being an actor she is a very humble & down to earth human being & a grate fighter overcoming all the negativity & spreading positivity, a beautiful soul which stands out shining bright & brighten others world.
She is beauty with brains, someone who has an opinion and sticks to it. She is honest, she is lively, and her smiles always lits up our lives. She called each of her fan her 'fanmily' and looks out for all of them. She is a true star finding her own path.
She is best and such a natural actor...she is inspiration for many girls out here..I really admire her and she is beautiful and pretty..I love her chubby nature her behaviour...her smile is. Dammm beautiful also her honesty which I really appreciate...and the way she do things to interact with her fans is really inspiring and admirable...her positive things and motivating aura I love the most..infact I love her theosttt...I love you taybae
21
Divyanka Tripathi

She is an amazing and versatile actress
and also the 1st T.V. actor to have 10.1m followers that is huge and many more to come
We all really like your performance and that makes you best
!
She is just Charming , Beautiful and Innocent looking. Love her >3
She is my favourite
22
Aditi Rathore
She is a versatile actress...even if it is her first show as lead she had portrayed the character sooo well that her emotions in the character makes us feel it..and I can say she is the best..and she has a reserved and calm personality and also I can say she is stylish too...as she provided us many fashion goals and she carries her every attire in a beautiful way...and her cuteness and smile...what can I say it made us crazy for her...no no craziest about her for all these things...and I wish she should receive more appreciation for her work...and lastly I will say she is one of the best actress ever I saw..
She is the most versatile actor who express all emotions perfectly. I love her for simplicity.
Aditi rathore is best
23
Aalisha Panwar
One of the best actress who made herself popular in just 2 daily soaps,Ishq mein marjawan and Meri Gudiya.
The roles which she played showed people that she has talent and can do more than anyone else , And she'll do..!
24
Anita Hassanandani

Anita is ruling T.V. since 2000.Many actresses have come & gone but she is still playing lead roles.
25 Kritika Kamra
PSearch List