Top Ten Music Artists Martin Canine Started Listening to in 2016
The Top Ten
Dat Adam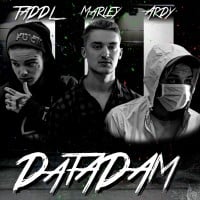 Dat Adam was a German experimental hip hop and electronica group consisting of vocalists Thaddeus "Taddl" Tjarks and Ardian "Ardy" Bora, and producer Marius "Marley" Ley, which was formed in 2014 and disbanded in 2018. ...read more.
Their debut EP "Chrome" was in 2015 but since two of them originally were YouTubers and several German YouTubers tried to record music but failed, I did not pay that much attention. Then in 2016 with their debut album "Hydra 3D" was released and the hype became unavoidably big. So I gave it a listen and I was stunned that they actually talk about something that authentically bothers them about the world, while at the same time being pleasantly experimental and anti-mainstream. They call themselves cyber hippies and it is kind of accurate. Those are intelligent, creative and aware young people who simply love making music. - Martin_Canine
The Birthday Massacre

The Birthday Massacre is a Canadian dark wave and synth rock band currently consisting of Chibi (vocals), Rainbow (guitar), Falcore (guitar), Owen (keyboard), Rhim (drums) and Nate Manor (bass), that formed in 1999 (even though the 2016 demo collection "Imagica" dates some tracks back at 1998). ...read more.
Thanks to TheTopTens, I discovered this amazing dark synth rock group. Between cute and creepy, dreamy and nightmarish, soft and hard, this band's unique sound and lyrics are full of bizarre contrasts that add tp the dark fantasy touch. In other words: the musical counterpart to "Alice: Madness Returns". - Martin_Canine
SpongeBozz

Dimitri Chpakov, better known by his stage names SpongeBozz and Sun Diego, is a German rapper of Russian descent born on March 17th, 1989. ...read more.
I made the mistake of dismissing him as a joke because of that costume and stage name (he first got mainstream attention in 2013 and released his debut album in 2015). Then I listened to some of his music and figured he is one of the lyrically most complex German rappers. His multisyllabic rhyming has Kollegah level, and he is even better at doubletime raps (clearer pronounciation), it's just that Kollegah has a whole lot more word play and a more menacing delivery. - Martin_Canine
Black Veil Brides

Black Veil Brides is an American rock band currently consisting of Andy Biersack (vocals), Jinxx (guitar), Jake Pitts (guitar), Christian Coma (drums) and Ashley Purdy (bass), that formed in 2006 in Ohio. ...read more.
I didn't know too many emo bands famous in the US because over here the big emo movement stopped when Tokio Hotel went on hiatus in 2010, which is before several of the better known became famous in the US
But I still like that subculture and was happy when I found out that on here there are several artists still popular.
BVB are among the best emo bands I think because they put much effort into music (like having a concrpt album), have lyrics that perfectly go along with their message and come across as very focused and authentic.
Many emo artists often have the problem of having slips, where they completely forget their premise and end up being unintentionally funny, but BVB seem to simply love making music and want to deliver a peaceful message, which is a good thing. - Martin_Canine
Miranda Lambert

Miranda Leigh Lambert is an American country music singer and songwriter. She is best known as a solo artist, and is a member of the Pistol Annies.
Country is not so well known over here. I mean, we know how the genre sounds like and also artists like Johnny Cash or Billy Ray Cyrus, but apart from those, Scotland's Amy MacDonald and Germany's The BossHoss, country is not popular over here. Oh, and Taylor Swift, but she's more pop.

Then I discovered this badass country rock chick with great songwriting skills and a tough attitude I just had to love browsing through AllMusic's 5 star reviews, and I immediately became a fan. Actually, much of her music is more on the rock side of country which is cool. - Martin_Canine
Beyond the Black

Beyond the Black is a German symphonic metal band from Mannheim originally consisting of Jennifer Haben (vocals), Nils Lesser (guitar), Christopher Hummels (guitar, vocals), Tobias Derer (drums), Erwin Schmidt (bass) and Michael Hauser (keyboard). As of August 2016, the members parted ways, with Haben ...read more.
German symphonic metal newcovers who had a surprise hit with their 2015 debut album. In 2016, I bought that album by chance and figured it was great. Same goes for their 2016 sophomore album. - Martin_Canine
Nina Hagen Band

Nina Hagen Band was a German punk rock band consisting of Nina Hagen (vocals), Reinhold Heil (keyboard), Herwig Mitteregger (drums), Bernhard Potschka (guitar) and Manfred Praeker (bass), that formed in 1978 and disbanded in 1979. ...read more.
I knew Nina Hagen for years because she is a superstar in German speaking countries, but I haven't listened to much of her music before, but then I stumbled across the two punk albums by Nina Hagen Band in the 70s, which are considered great classics of German music, and their debut since then became one of my favorite albums overall. Their second album is okay I guess but their debut is a whole another league. - Martin_Canine
Falling in Reverse

Falling in Reverse is an American post hardcore band from Las Vegas, Nevada, formed in 2008, signed to Epitaph Records.
Same as for Black Veil Brides, minus the good concepts. I also discovered them through TheTopTens. FiR have an equal amount of teen angst anthems and raunchy humor, and I like both. Their debut is among the best emo records I know, unfortunately their second album is a slip. But their third and fourth are cool again. - Martin_Canine
Liz Phair

Elizabeth Clark Phair is an American singer-songwriter, guitarist and pianist born on April 17, 1967 in Connecticut. ...read more.
Discovered her through Rolling Stone's 500 Greatest Albums. And I just dig music by tough rock chicks. She's somewhere between indie and pop punk, and that just works fine for me. - Martin_Canine
Garth Brooks

Troyal Garth Brooks is an American singer and songwriter. His integration of rock and roll elements into the country genre has earned him immense popularity in the United States.
This is funny. He sold such an incredibly huge amount of records in the US, but almost nowhere else in the world.
Country is not among my favorite genres, but his songs' lyrics, his vocals and the compositions sound exceptionally good.
I guess country to the US is what schlager is to Germany. Multi-platinum-selling but nobody seems to listen to it.
If that is so, then Brooks does to country what Andrea Berg does to schlager - simply getting the best out of the genre. - Martin_Canine
The Contenders
Angelspit

Angelspit is an Australian Industrial music project in the cybergoth subculture that formed in 2003. Current members are Zoog von Rock (vocals, production) and George Bikos (guitar), former members include Amelia Arsenic (vocals, production, 2004-2013), Valerie Gentile (guitar, 2011-2012) and Chris ...read more.
There's no real story behind how I discovered them. It happens when you love freaky subcultures and then google artists that are part of it. - Martin_Canine
Nickelback

Nickelback is a Canadian rock band formed in 1995 in Hanna, Alberta, Canada. The band is composed of guitarist and lead vocalist Chad Kroeger, guitarist, keyboardist and backing vocalist Ryan Peake, bassist Mike Kroeger, and drummer Daniel Adair.
This is only 50% true though.
I already knew Nickelback for very long and already owned an album, but started to actively listen to them in 2016 and got the rest of their discography. - Martin_Canine