The 50 Greatest Albums of 2018, Compiled by Martin Canine
2018 sincerely questioned what we consider an album and what not. In one week, a big name of the music scene decides that seven tracks and less than half an hour are enough for a full length experience, while the next some other artist stuffed their record to the extreme. As a result, we had a larger amount of commercially successful and usually high charting double albums than in previous years, while some other releases would have easily passed as an EP, or even a maxi-single. The shortest album on my list fits into the longest one roughly five times. Reactions about this phenomenon were naturally divided. While some said that the short albums had everything they need and kept a great quality throughout, others were furious and called it a cash grab. In the meantime, the long albums were similarly polarizing: some praised how much content you get from a single release, others found they were uneven and had too many fillers. It probably all comes down to how you consume your music: if you purchase the albums, you want to get as much music as possible from your money, while for someone who solely streams songs the length is mostly irrelevant. As I said on my songs list, I am new to streaming, but I personally do it like this: I listen to music online first, and if I really like it, I'll buy it - physically if possible, digitally if necessary.

To make it onto my list, it ultimately came down to the releases' overall quality, and if the album in its entirety can give you a rich and varied impression. Does the 22 minute record have a huge amount of different layers and facettes to explore, and did the 100 minute album feel half as long as it actually is? Then they both probably have just the right length for what they want to be. As always, the whole is more than the sum of its parts, as albums are often entirely different experiences than the individual tracks - that goes for every release, whether it's album, EP or mixtape.

This year I started writing music reviews on TheTopTens. Please know that the records I reviewed aren't all that I listened to this year - there are several more, many of which appear on here. However, there is one album readers of my posts will likely miss on this list. If you decide to browse through my couple of reviews and compare it to this list, you will notice the absence of "#TubeClash: The Album" by darkviktory and 24/7 Sound, the soundtrack of the animated web series of the same name that ran from 2014 to 2017, which I awarded full 5 stars. And yes, it's still as good, but I figured that an album that predominantly features music that was widely heard over the previous few years wouldn't quite fit on a 2018 music ranking. As I wrote in my review, it's not really a compilation, as all the tracks appear on an album for the first time, but it still felt out of place here.

A year ago, I declared "tru." by German singer-rapper-producer Cro the greatest album of 2017. 365 days later, it still stands valid as an outstanding track of the decade. Who will be the heiress or heir to the throne in 2018? We'll see.

---

Here is my full list in reverse order for more thrills (accompanying texts will only be available in the main list though):

50. Drake - Scorpion
49. Mike Shinoda - Post-Traumatic
48. Fantastic Negrito - Please Don't Be Dead
47. Migos - Culture II
46. Kids See Ghosts - Kids See Ghosts
45. Auri - Auri
44. Lil Wayne - Tha Carter V
43. Charlotte Gainsbourg - Take 2
42. Fall Out Boy - M A N I A
41. BTS - Love Yourself 轉 'tear'
40. Ufo361 - VVS
39. Malinda - Love Letter
38. Marsimoto - Verde
37. Foxes and Peppers - Spread Thy Wings
36. Beyond The Black - Heart of the Hurricane
35. Wiley - Godfather II
34. A$AP Rocky - Testing
33. GARNiDELiA - G.R.N.D.
32. Doro - Forever Warriors / Forever United
31. Scarlxrd - Dxxm
30. Kollegah - Monument
29. Jessie J - R.O.S.E.
28. Vanessa Mai - Schlager
27. Genetikk - Y.A.L.A.
26. Buddy Guy - The Blues is Alive and Well
25. Franz Ferdinand - Always Ascending
24. Poppy - Am I A Girl?
23. Herbert Grönemeyer - Tumult
22. Janelle Monáe - Dirty Computer
21. Kollegah & Farid Bang - Platin war gestern
20. Travis Scott - Astroworld
19. Sophie - Oil of Every Pearl's Un-Insides
18. Kanye West - ye
17. Lady Gaga & Bradley Cooper - A Star is Born
16. Cupcakke - Ephorize
15. Lil Peep - Come Over When You're Sober, Pt. 2
14. Pusha T - Daytona
13. Denzel Curry - TA13OO
12. Post Malone - beerbongs & bentleys
11. Conchita & Wiener Symphoniker - From Vienna With Love
10. Black Eyed Peas - Masters of the Sun, Vol. 1
9. Jaden Smith - The Sunset Tapes: A Cool Tape Story
8. Ufo361 - 808
7. Cardi B - Invasion of Privacy
6. Marianne Faithfull - Negative Capability
5. Inner Tongue - Favours
4. Bushido - Mythos
3. Christina Aguilera - Liberation
2. Kim Wilde - Here Come The Aliens
1. XXXTentacion - ?

---

This list was released on January 1st of 2019, and solely reflects my knowledge up to this day. I am not an encyclopaedia that knows every album released in 2018.



The Top Ten

1 ? - XXXTentacion
Length: 37:28
Tracks: 18

I considered not putting this album at this position. Not because I would in any way doubt it belonged there, but because of the entire situation surrounding it. If I rank the last album of an artist who died shortly afterwards, especially in such a tragic way at such a young age, the highest on my list, people would possibly say that it's only up here due to the outer circumstances, and that the myth around it made me see it through pink glasses. To avoid such confrontations, I played with the thought of giving it another place on my ranking, but truth is, it was the clear winner ever since its release when he was alive (but not well), and nothing that came afterwards, no matter how good it was, could beat it. Tormenting angst, shocking self reflexion and bled out lyricism dominate the album, which draws from hip hop as much as from grunge and emo (the 90s genre even more so than the 2000s one), and his bleak, often apathetic vocals add to the emotional intensity that unfolds from the beginning on. You won't get a joyous trap album about flexing, you are invited to the darkest of depths of a complicated and often troubled mind, and you can't go back once you pressed the play button. Lasting 37 minutes, "? " is the only proper album released by XXXTentacion, and it shows the full extent of his potential.
2
Here Come The Aliens - Kim Wilde
Length: 49:15
Tracks: 12

The 80s may be the decade in which the most pop cultural classics have been released, movie-wise and maybe also music-wise, and Kim Wilde, who also contributed a part to the characteristic sound of the decade with iconic hits such as "Kids in America" and "Cambodia", did her best to bring these golden times back in 2018. "Here Come The Aliens" feels like a second coming of the criminally cool genre called new wave that is so much more than a mere attempt at a time warp for those stuck in the past. Her vocals, the drums, guitars, even the mastering and feedback, it's as if not a single day passed since the genre's peak - and most importantly: at 57 years of age, Wilde still delivers the punk-ish energy and spirit needed to make the album a truly rocking' little collection of tracks that all have at least the same quality as her classics.
3
Liberation - Christina Aguilera
Length: 49:19
Tracks: 15

With her newest album, Christina Aguilera, still a very likely runner for the title of the best female non-classical singer alive, demonstrates to the entire world of popular music what the genre is capable of apart from its major quality of being catchy. Drawing from soul (the classic one, not neo-soul), hard rock, hip hop and reggae, Aguilera's comeback after a six year hiatus is as spectacular as it gets and manages to amaze through old fashioned, classic songwriting while still sounding very much up to date, especially in its strongly feminist touch and recurring theme of independence and freedom, personally and creatively. While the early 2010s were definitely a creative low point in her career, "Liberation" ranks next to "Stripped" as her strongest work to date.
4
Mythos - Bushido
Length: 56:02
Tracks: 15

Leaving his ties to the criminal Abou-Chaker Clan, as well as a few other fake friends, far behind and focusing on his future with his family and as the mentor of Capital Bra and Samra (who both had two and seven number one hits this year, respectively), Bushido released "Mythos" at a turning point in his extremely successful career that saw him the biggest German hip hop act ever. The music is the closest he ever came to his 2003 milestone "Vom Bordstein bis zur Skyline" again in sound and quality, his beats being mysterious, graceful and melodic, his lyrics somewhere between modern poetry and utter raw emotion, whatever fits the situation. He feels free of all expectations and now finally can only care for what he wants in his personal life, and this feeling is conveyed in the sound of his MPC and voice.
5
Favours - Inner Tongue
Length: 39:13
Tracks: 12

With barely any views and no chart position in any country whatsoever, Inner Tongue might be one of the biggest undiscovered talents to walk on Earth. Due to a risky vocal cord operation, his debut album almost didn't come to be, but with the result, we can be glad how well he recovered - his voice may still be weak and needs help of effects, but his musical vision is too huge to not be shared with the world. The first record of the Austrian independent singer-producer consists of soothing, offbeat synthie soundscapes that take you on a trip to a dreamy land of music where everything feels free and at ease, but where melancholic philosophizing on the world meets hope and imagination. It's one of those albums where you close your eyes and give in to the world that the songs open for you. It's never hectic, and never tries at all to please mainstream expectations.
6
Negative Capability - Marianne Faithfull
Length: 42:30
Tracks: 10

In the 1960s, Marianne Faithfull was the young pop sensation on the side of Mick Jagger, much like Mary Hopkin was for Paul McCartney. When her debut album dropped, she was 18 years old - now she is 72, and comparing the record to her recent "Negative Capability" is like the defining life itself, and how each year passing changes a person. Age has weakened her body but strengthened her mind. Her voice and songwriting have been gradually altered by numerous experiences of both negative and positive nature (as the title suggests, the former even more so than the latter), and over the years she learned to turn the tragedies and rough times into art. She acknowledges her age, and unlike other singers who get older, doesn't try to hide it, instead she decides to make it her music's foremost quality by sharing her thoughts and wisdom with whoever decides to listen to her.
7
Invasion of Privacy - Cardi B
Length: 48:13
Tracks: 13

In 2017, before her massive breakthrough with "Bodak Yellow", Cardi B released a great mixtape called "Gangsta B---h Music, Vol. 2" which revolved around different faces of independence and strength. A year, lots of media coverage and one entrance into superstardom later, she put out her debut album, and it kept all the promises of her tapes. Cardi B doesn't waste her time with fillers and delivers a collection of hard hitting punchlines, often innovatively funny but always with that touch of female dominance, and at some points an emotional statement not to toy with her feelings that can really boost self esteem. She rides a selection of great and varied trap beats with numerous creative ideas using her flow and rhymes, claiming the title of best female rapper of 2018, beating Nicki Minaj and Cupcakke, as well as German rappers Pilz and Antifuchs, who all delivered good albums - but Cardi B takes the cake.
8
808 - Ufo361
Length: 45:58
Tracks: 13

In 2018, Ufo361 turned from that one German trap rapper to THE German trap rapper, by releasing two studio albums that couldn't be any more different within the boundaries of the same genre. "808" is the first one, and it's a gloomy, atmospheric experience. Often, the rapper gives a completely drugged out and semi-unconscious performance, sometimes the lines range from complete boasting to utter paranoia. This is the soundtrack to a man's trippy night as he reflects on both his fame/success, and his most painful inner feelings, and drowns both in a big sip of codeine. The beats are bleak, sometimes even a bit disturbing, and perfectly capture the tone of the lyrics.
9
The Sunset Tapes: A Cool Tape Story - Jaden Smith
Length: 36:40
Tracks: 11

Jaden Smith introduces the sound of the new bohéme, somewhere between utopian freedom, postmodern values, relationships delicate and vulnerable like a newborn, and a lifestyle between wealth and luxury. The tape is set in a world of self fulfillment, and best depicts the wishes and desires of his generation, especially that of his MSFTSrep movement, with the musical soundscapes underlining the calm delivery and (sometimes) introspective lyricism. Somewhere between trap, cloud rap and Kanye-ish experimentalism, "The Sunset Tapes" departs so far from the material you'd expect from the kid who starred in "After Earth", as it feels as offbeat and freed from commercial trends as an indie artist.
10
Masters of the Sun, Vol. 1 - Black Eyed Peas
Length: 58:16
Tracks: 12

And then suddenly, they were back again. Completely vanished from the Earth's surface - at least as a combined force - they one day returned after 8 years to drop another record, which ranks among the absolute best they have yet recorded. Their past records were torn between songs that were either aesthetically or lyrically pleasing, but on "Masters of the Sun, Vol. 1", which is their most political and conscious album to date, they manage to do both at the same time throughout all of the record. Over jazz, slightly classical or electronic elements, their poppy oldschool hip hop songs deal with topics such as police brutality, technology and the media. A still anonymous female singer, as well as a few guest stars, replace Fergie, who left the group in 2017.
The Contenders
11
From Vienna with Love - Conchita & Wiener Symphoniker
12
Beerbongs & Bentleys - Post Malone
13
Ta13oo - Denzel Curry
14
Daytona - Pusha T
15
Come Over When You're Sober, Pt. 2 - Lil Peep
16
Ephorize - Cupcakke
17
A Star is Born - Lady Gaga & Bradley Cooper
18
Ye - Kanye West
19
Oil of Every Pearl's Un-Insides - Sophie
20
Astroworld - Travis Scott
21
Platin War Gestern - Kollegah & Farid Bang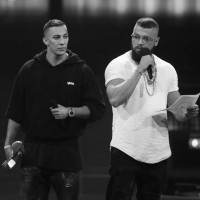 22
Dirty Computer - Janelle Monáe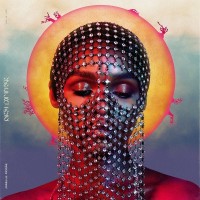 23
Tumult - Herbert Grönemeyer
24
Am I a Girl? - Poppy
25
Always Ascending - Franz Ferdinand