Top 10 Best Kendrick Lamar Songs
The Top Ten
1
m.A.A.d city

Honestly you can tell when rappers really went through the darkest that society has to offer, and you feel it in this song. He doesn't just screw around like Tyler, the Creator (his music has a time and a place). He really creates a picture in your head and that's a great accomplishment for a modern-day rapper. Which he wasn't such a sell-out workin with ASAP, Drake, and 2 Chainz laugh out loud but that's irrelevant.
This has everything you could possibly want in a record. Dope beat, great production, A+ lyrics, storytelling, conscience, metaphors, a great hook, a great feature verse, every thing. You can turn up to this, you can be angry listening to this, you can play this at parties, but you can also draw inspiration from this record. Perfect.
True poetry of the streets. Kendrick "takes you on a trip down memory lane" in this song, and he does a magnificent job of it. From early childhood to the start of his career, this song illustrates his life growing up I Compton perfectly. It's a rhythmical and lyrical gem to say the least.
Kendrick really goes off on this one. You can feel the dark vibes and lyrics throughout the song, which feel genuine and real. Unlike Drake, Lamar has really been through tough things. One of his best songs to date. The industry is full of bad rappers, but Kendrick is one of the GOAT.
2
Swimming Pools (Drank)
This song not only discusses a very important aspect of adolescent livelihood, but also touches base on one of the most important lessons you can learn, self-control. The song features a conversation with his own conscience and explains his struggles with alcohol and the social norm for the use of stuff like it. It truly is his poison of choice and he worries if it will mean the end of him. He refuses to smoke pot as explained in m.A.A.d City because of some pretty nasty experiences with the stuff, however, he is still worried about collapsing under the weight of the poisons and substances that he does take in. Great song, most likely not his most meaningful but contains some of his greatest flows and an incredibly catchy hook. The bridge before the chorus is also one of the most climatic drops featured in any of Kendrick's songs ever. Two thumbs up for the king of west coast Hip-Hop.
Perhaps one of the darkest looks at alcoholism ever made, Kendrick perfectly captures a dark party where he ends up going against what he does now, and that is do a lot of drinking, causing him to pass out drunk with Sherane. 6/5, 10/10.
Its just an amazing so that should be more recognized for what it is. The workmanship and time that went into this masterpiece shows his dedication and love for music. Plus its fun
It might be more Trap influenced and it sounds like a party anthem but it's actually a song about how alcoholism and peer pressure affects someone.
3
Money Trees
Pretty great song about the desperation of people to be rich, while jay rock has a great verse. No wonder Black Hippy is arguably the best rap collective around because they always find something meaningful to rap about and express it very well. And they don't always brag about their wealth, although they actually rap about the effects that rap and fame has on them.
The synergy of this song is incredible, everything fits together so snugly, a true modern day masterpiece. The final verse by Jay Rock is a heavy weight swinging for the fences in the final round, topping off a stellar song.
Not only the best Kendrick song, but I argue this is the greatest rap song ever written. Great flow, great lyrics, and not to mention an absolutely incredible verse from Jay Rock makes this my favorite song of all time. HiPower is great, too.
Everything is great... Great instrumental, great meaning/lyrics, great flow, great guest verse by Jay. Considered best rap song of 2012 by many. Up there with swimming pools.
4
Sing About Me, I'm Dying of Thirst
This is Kendrick Lamar's Best song of all time so far. He just pours out his soul into this song on a beat that makes you feel so sentimental when listening to it. He touches on his family life as well as problems in Compton, and problems that young African Americans are facing. The title is also perfect, and is symbolic of how he was at a point in his life when he was lacking spirituality.
This is the greatest song of all time. I have never heard anything else like this in my life. Should be number 1 and will go down in history as the greatest.
This is my favorite song of Kendrick, and at least in my top 10 of all time, 12 minutes of pure honest rapping about his killed friend and finding protection by god. The memorable, great beat and the chill flow makes this song an absolute masterpiece and Kendrick's best song
This song show why Kung Fu Kenny is a living legend.

The first verse is one of his favourite from the album. It has been said that the killer from this verse is the person he talking to in 'these walls'. WOW

Keisha song is also related to this.

It is my favourite track from him
5
Hiiipower

This was kendrick's breakthrough showing us what he was and still is capable of. It's one of his most underrated songs he's ever written. If you never heard of Kendrick Lamar before and are interested in what he's like, I would strongly recommend giving this track a listen.
Kendrick bodies this beat. Lyrics are amazing as usual but he really connects with a lot of today's issues in society. Metaphors are great as well, they actually work with the song unlike pointless metaphors thrown in by other rappers to get spins
I is still my favorite Kendrick track, but HiiPoWeR is without a doubt his most powerful song. The angry yet passionate delivery, the dramatic, almost somber beat, some of Kendrick's best writing to date, and Alori Joh's powerful bridge make this one of the greatest black pride anthems ever written.
Fantastic beat. Amazing lyrics. Many songs could be up here at number 1, this is top 3 for sure, it's between cartoons and cereal and money trees too. Swimming pools as well. He has too many 10/10 songs to put in the top 3 it's not fair
6
The Blacker the Berry
It was really tough for me to choose which Kendrick Lamar song is the best, since they're all pretty good, but I have to say that "The Blacker the Berry" is his best song. In this song, Kendrick just lets everything go and you can just hear and feel his emotions. I don't think any other rapper, even Tupac, has expressed their emotions better than Kendrick did in this song. The beat, Kendrick's lyrics, and his flow all combine to make this masterpiece of a song. He addresses the topic of racism very well and also reveals it's hypocritical nature.
By far one of his deepest songs he ever written. Talks about how racism/hate is not one sided concept and its hypocritical to think that it is so, because we all partake in it. One of the best songs of 2015.
I, too, started off listening to Kindrick's more mainstream songs (such as Alright, Swimming Pools, M.A.A.D City, etc.), but this song delves to a whole other level in Kindrick's lyricism. Don't let the initial message fool you- this song is deep and guaranteed to have you coming back for more.
The lyricism and flow of this song is unreal. Kendrick is really proud to be a black man and he don't care about what white people think about him!
7
King Kunta
This is where we see Kendrick going back to his roots. He goes back to the old west coast style of hip hop where they focus on a funky beat instead of a beat based off of bass. If you're listening to the song, and you don't immediately start dancing, you're doing it wrong.
This is such a weird song, but also one of the easiest to enjoy once you listen to it a few times. I used to hate it, and now it is one of my favourite songs of all time and definitely my favourite by kendrick. This gets my vote
I love the funky vibe and lyrical genius of this song. It may not be his best in terms of being deep or meaningful, but every time I listen to it I have to listen 10 more times because it's so good.
Love singing along to this song, not really that inspiring just makes me want to punch a hole in the wall or something, just seems really angry in this song and I rally like it.
8
I
I was going through a rough period in my life. I never thought I would be happy again, untill I heard this song. It puts a smile on my face every time I hear it. It is nowhere near his best song lyriacly or flow wise, but I would lie if I dindt say this was my favourite. And Kendrick is the best rapper of our tine, and a realistic G.O.A.T contender at this point, and I believe that he doesn't have a bad or even average song out.
Not even a fan of Kendrick but this song is something the industry needs more of. As someone who plays bass... I really appreciate the way he flows over such a great bass line. Complete art, deserves more respect in regards to talent and the message it sends.
This is probably one of the most positive hip hop songs. Instead of rapping about doing illegal drugs, and things like that he makes a catchy song, telling us, "I love myself". You don't find much rap songs like this one.
One of the most important hip hop songs of all time. It is the axis of hip hop, taking pride in yourself, in being black, and eschewing the self hatred that your inundated with.
9
A.D.H.D

Easiest song to understand what his saying goes with the beat.
Love the flow on this. Definitely one of his best
Best Kendrick Lamar song hands down!
Great production + amazing lyrics!
10
Bitch, Don't Kill My Vibe
Let me explain what this song is about: *ahem*
It's about how Kendrick is NOT happy with where hip-hop is going.
That's enough to make it one of the most meaningful rap songs of all time.
This pumpin' me every time while I listen it.Why only 8? Should be in top 3 with mad city and swimming pool. "Look inside in your soul and you find nothing..." Kendrick Ukraine love you.
This song has the best beat, and it also has awesome lyrics. It shows what Kendrick Lamar's all way.
One of the greatest lyrical song oat. The storytelling is beautiful + the ending is legendary
The Contenders
11
Alright
I could talk for hours about how genius this entire album is, but this is my favorite track. The production by Pharrell is amazing, and makes for one of my favorite instrumentals in hip hop history, and even with all the darker lyrics that Kendrick writes, this song always brings me up every time I listen to it. And it has one of the catchiest choruses I have ever heard in a song. And the music video is brilliant.
Lyrics, beat, vibe. What song has better connections between these three than this very song. This song ain't alright. It's amazing
I don't know, why this is in 14th! This Song deserved to be in the Top 3!
Deep lyrics, Kendrick really shows his emotion on this one.
12
Humble
Should be higher, amazing lyrics and beat, superb for those times rap. I mean come on with this rap he has a grammy award.
Out here roasting Drake, Big Sean and others. Really great song and music video
Best song of 2017. Right up there with California dreamin' and castle on the hill
Why is this song so low? This is a masterpiece.
13
How Much a Dollar Cost
This song has an amazing story to it. It talks about how everyone should treat everyone with respect regardless of who they are. The song conveys the story of a homeless man asking Kendrick for a dollar at the gas station. Kendrick denies the man who actually turns out to be Jesus Christ.
If you really follow Kendrick's lyrics on this track (as you should for all of this genius's work) then there's no way your spine didn't drop to 0K at the end of that last verse. Damn near turned me into a religious man.
I'm not religious but the message this sends is important. Kendrick is very critical when it come to moneY and he explains very well how important it is to be selfless.
The message behind this story is just truly incredible. If everyone listened to this song the world would be a better place.
14
DNA.
I am completely addicted to this song. His flow in the second part of the song is incredible. The beat gets me pumped, and the bass, especially in the second part is insane.
Best track from Damn. It sums up his life with a perfect beat and the gimme some ganja is actually important as it symbolizes his struggles with marijuana smoking.
Kendrick wears his heart on a sleeve with a fierce intensity that we have yet to see from him. I think this is his best work.
When I first heard this song I fell in love with it. It should definitely be in top 10.
15
Backseat Freestyle
I just want to say that the snare in this track is possibly one of the best snares I've ever heard. The EQing gives it such a satisfying "pop."
Other than that, this is a great song. Kendrick has a great flow, and the lyrics paint the perfect picture of his younger, more arrogant self.
Showcases Kendrick as an ignorant teenager, with a passion for money, sex, and violence. Despite the deeper meaning, it's a pretty fire song too
Even though its different from his normal lyrics, it goes into the mind of a 16 year old kid over a fire beat.
Not 'classic Kendrick' but straight fire. Aggressive, fast-paced, old-fashioned bars.
16
U
Arguably Kendrick at his most emotionally potent, featuring a smooth backing track with a lazy brass accompaniment, contrasting with a broken hotel raido and Kendrick's pained accusations levied against himself. Deeply personal yet incredibly relatable, it is a must listen for anyone who has ever hated themselves and those who want to understand the depressed mind.
This really should be higher. Its one of the best songs off To Pimp A Butterfly. It's so emotional and a little scary how depressed and self lothing Kendrick is here. The first part was nice but the second part where his voice starts to break is amazing.
A song has never made me cry as much. I never listened to it fully until recently because it sounded weird but once I did it was so worth it because the last 2 verses relate to me so much.
One of the best songs ever made, all around. The pure emotion put across is astonishing. I just want to give K-Dot a hug and say we gon be alright.
17
Wesley's Theory
This is one of the best intro's to a new album you will ever hear. I still think this is one of the best songs on the album.
If you haven't, listen to this album before others.
This is the beginning of he story that lamar tells in TPAB and it is incredible. Every time you listen to this, each beat, each verse grows. This is perfection and needs to be in the top 5.
This is epic. No words to describe the production and lyrics. And Dr. Dre's verse is awesome. Kendrick all the way!
My ultimate favourite song from Kendrick Lamar! Such a great beat and flow. So underrated; should be a lot higher
18
Cartoon & Cereal
Everything about this song is perfection. Beats, vocals. It's a hip hop track that doesn't sound like a hip hop track. Meaning, this song is the definition of music, or it's better than a lot of music out period. This song may have not flowed if it was put on gkmc, but this song would have been a perfect fit for TPAB!
This is top 3 for sure. Too many people just bump with his new stuff when he has just as good if not better songs from back when he wont as popular. Great lyrics, and I love the flow of the verses!
This song drills into your bones. The beat and lyric combination is second to none. This is true hip-hop and one of Kendricks greatest works.
Wow. Really weird hook, but I guess the beat drop makes up for it. In fact, the hook enhances the rest of the song dramatically. Deserves to be in the top 5
19
Rigamortus

Lyrically this song is easily number 1, not through his story but purely sentence and word structure.
His flow in this song even challenges the great Notorious B.I.G. A must listen for fans.
This should easily be up in the top ten, best lyrics I've ever heard Kendrick drop.
Amazing rapping by kendrick bodies the awesome trumpet beat perfectly amazing song
20
Mortal Man
This is one of the most important songs on To Pimp a Butterfly. He is questioning his fans loyalty and he is literally interviewing Tupac on this song! And later he explains the reason for the title of the album. Deserves to be in top 10 at least.
I'm sorry, I think there was a glitch in the system. This is as #35, but it really needs to be #1. The admin will hopefully fix this in the future.
The message is simple, are you believing in Kendrick's integrity or are you going to abandon him and turn on him when things get bad?
Just listen to it people. I know it's at the end of the album but I guarantee if you listen to it this will be in your top 5
21
Poetic Justice
I concur, Poetic Justice has a great flow, rhyme scheme, lyrics, and feel... And feel is the most important part of music.
How is this not at least in the top tens, I swear people have no taste!
So good, except for Drake's part, but even that had a purpose.
Great beat, good lyrics. This should be number 1
22
Momma
If you want to know who Kendrick Lamar truly is, listen to this song.
Simply outstanding, gives me chills.
23
These Walls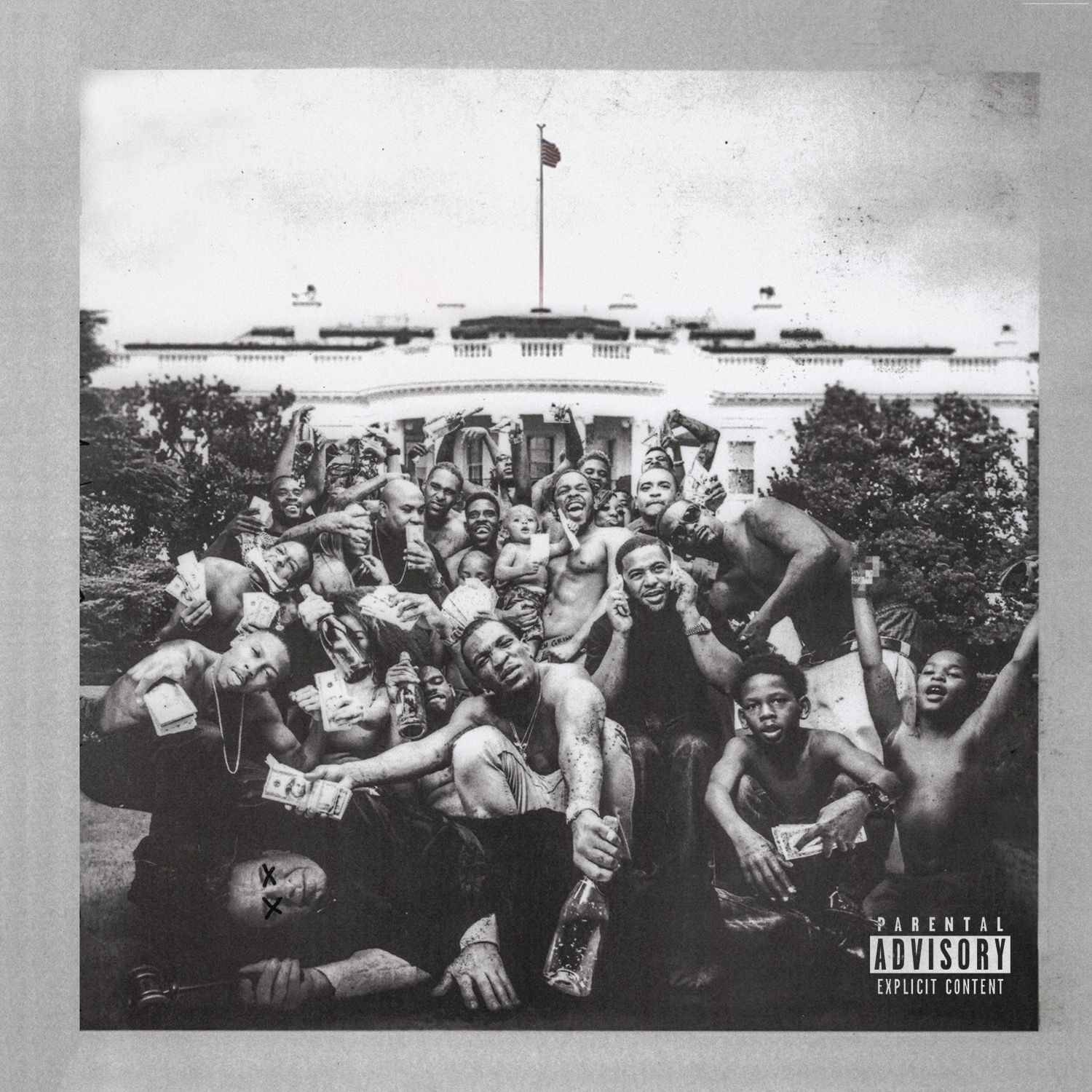 One of the best songs about sex. Mostly because of that Funk influenced beat and the fact it's more or less surrounding sudden fame and when a rapper can't handle it too.
How isn't this higher? ¿ as kendricks most treasured song on the album, it deserves to be at least top 10. great story telling and metaphor uses in this song, combing 3 topics into 3 verses accompanied by an amazing compton funk beat. the flow ties the song together and kendricks voice just adds the icing on the cake. definitely my favourite pick of kendrick showing is lyricism and poetic values.
This song isn't much of a rap joint, but it's groove is electrifying. Love the vocals, commentary, and instrumental. Very underrated
Easily his best song. The entire song is a quadruple entrendre, it's incredibly deep and layered in it's lyricism. Also it's jazzy vibe is amazing.
24
Ronald Reagan Era (His Evils)
Absolutely one of the best songs on Section.80. The first time you hear this song, you need to listen again. The beat is inspiring and the lyrics are brilliant.
The second of the two singles from Section.80, this one is underrated and has a good beat and great lyrics from Kendrick.
Should be at least number 10. This one had a great beat and great lyrics (just like all of his songs)
25
XXX.

Really underrated, middle verse is insane, think that verse alone makes it one of husband best, up there with duckworth and fear on DAMN. in my opinion
Yesterday I got a call late from my dog like 101. Said this song was badass. I listen. It was badass.
The middle verse is the hardest thing I've ever heard, easily his most emotive and raw track.
Likely my favorite song ever. Such a strong message and great flow.
PSearch List