Best Louis Armstrong Songs
In other names Satchmo or Pops, he is the popular American jazz trumpeter and singer from New Orleans, Louisiana.

The Top Ten

1 What a Wonderful World

We are truly living in a wonderful world. This song demonstrates the beauty of life. With such a slow paced song. It's such a shame that in the old days we had better music than now. I love this song. All of you brothers/sisters should love everything. Even your nightmares because it's all a part of life. Everyone experiences it, even if it's only once. What a wonderful world.
This song brings me peace, yet reminds me of Armstrong's death, the same way See You Again reminds me of friendship and Paul Walker's death. Some songs represent a person's life. Best Armstrong song.
The combination of the beautiful and truthful lyrics plus Lousi Armstrong's unique voice makes this song one to remember and treasure.
2
Hello, Dolly!
His voice is so deep and so rich its just beautiful to hear, during this song. When he comes on stage, he just lights up the whole audience. He is truly one of the greatest singers ever!
It is the best
Nice song I love it
3
Potato Head Blues

When I first heard this piece, I was blown away. This is truly a masterpiece, and something that everyone should listen to.
This was recorded in 1927 and was so ahead of it's time. Still sounds great today.
My favorite trumpet playing song. I'm in awe
4
Heebie Jeebies

Adore Louis Armstrong. Adore Heebie Jeebies, thank you very much!
Wow I love this song
5
La Vie En Rose

I absolutely adore this song, I could listen to it all day! It is just so beautiful... My favorite song at the moment! Something tells me Louis Armstrong is the only singer I will be listening to for the next few days!
My son, who's three, and I love this song! He does because it's featured in the Disney movie Wall-E and myself because it is just such a great, emotive, heartfelt song!
Beautiful song.. Could listen to it all day; makes me feel like I am in France!
6
Ain't Misbehavin'

I am a college student working on a podcast for an education class. I want to center it around introducing the topic of jazz/blues. Great song!
7
When the Saints Go Marching In

It is the greatest jazz song ever.
This song is known all over the world!
That's a wonderful song
8
Mack the Knife

Heard this recently. Just gorgeous. I love this man. MatrixGuy, check out my list of Best Male Jazz Singers Of All Time if and when you feel like it.
I think this song is the best.
This song is swag
9
St. Louis Blues
I play the trumpet myself and this piece is incredible!
Easily the greatest song of Louis Armstrong and also one of the 10 greatest songs of all time. The way he has sung the song and played the trumpet, just elevates this song to an ethereal sphere! WHAT AN UNALLOYED GENIUS?
I'm currently play this at upper Darby high school, and it's by far my favorite Louis Armstrong song
10
All of Me

It was either this or A Kiss To Build A Dream On. But I've made my choice, I'm sitting right here. Love him in High Society.
Sweet!
The Contenders
11
Gut Bucket Blues

12
West End Blues

13
A Kiss to Build a Dream On

The mix I have of this song is bad and the solo is way too forward, but this is still my #1 Louis Armstrong song. Louis' voice is just right for this love song and the tempo puts me in mind of watching the clouds on a sunny day - daydreaming. Wonderful World is right up there with this one.
Fallout 2... Turned out to be a pretty average game but when this song came on their great taste in music helped me forgive them.
This song is closely followed by "What a wonderful world" and "La vie en rose".
Fallout 2 did his job brilliantly by opening this glorious song to me. Love all Louis work, but this one is special
14
We Have All the Time In the World
Recorded in the late-60's as the B side of secondary Bond theme. It came to mainstream public attention in 1994 when it featured in a Guinness advertisment campagin and reached number three in the UK Singles Chart, his last UK hit to date.
Like 'What A Wonderful World' it's a great traditional sounding Jazz love song, I've got it on vinyl.
If you're Americian you may be be unaware of the song as it is best known here in the UK, click listen to sample before you make your mind up.
My Pops was always singing this; it was his absolute favourite. The lyrics seem even more poignant now.
15
Porgy and Bess
16
Go Down, Moses

17
(Back Home Again In) Indiana
18
When You're Smiling

Simply a wonderful song.
19 You Are So Beautiful
20
'Zat You, Santa Claus?
21
That's My Home

22
Blueberry Hill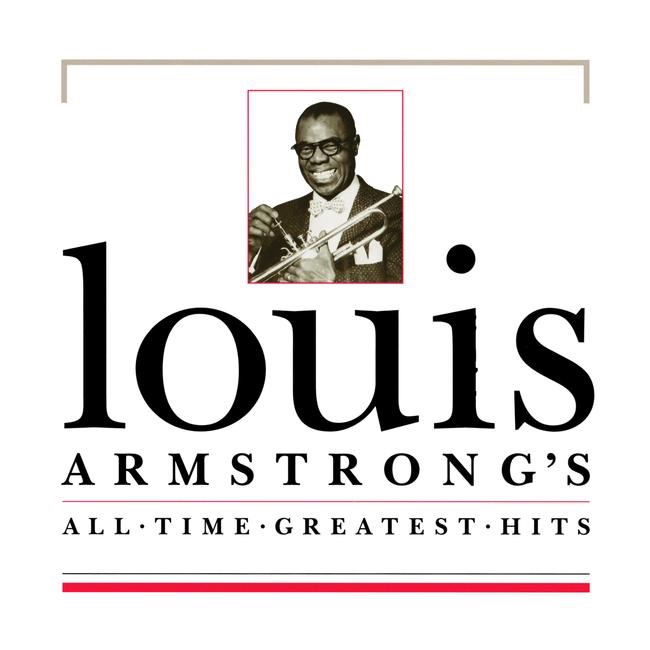 23
Kiss of Fire

24
Solitude
25
I'm In the Mood for Love
PSearch List